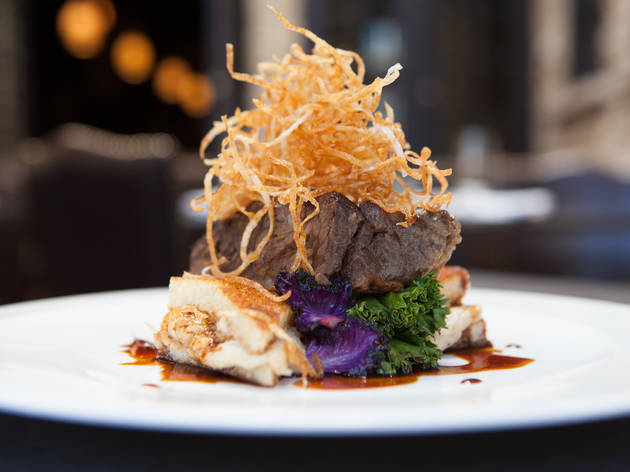 1/17
Photograph: Martha Williams
Knife & Tine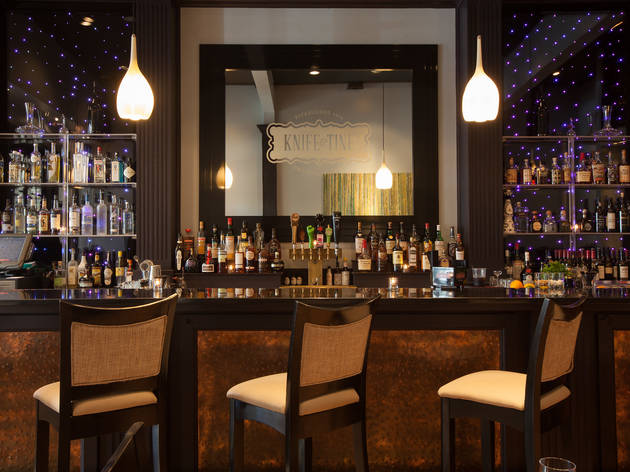 2/17
Photograph: Martha Williams
Knife & Tine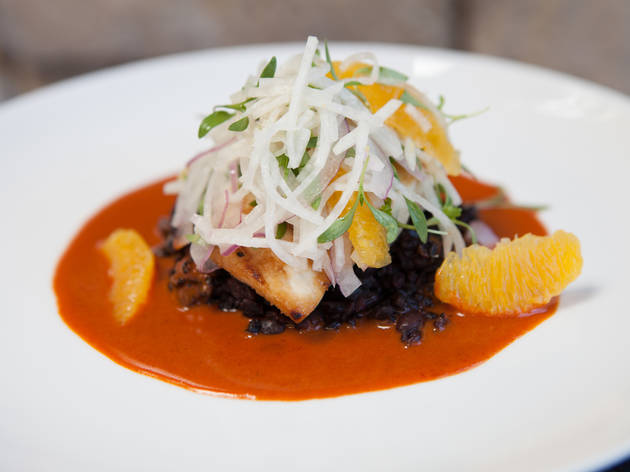 3/17
Photograph: Martha Williams
Knife & Tine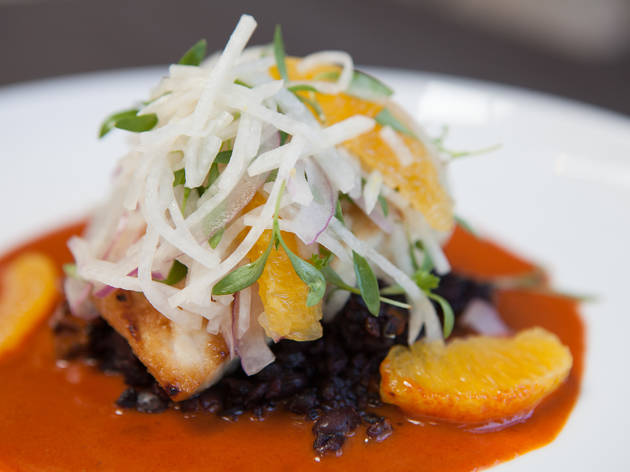 4/17
Photograph: Martha Williams
Knife & Tine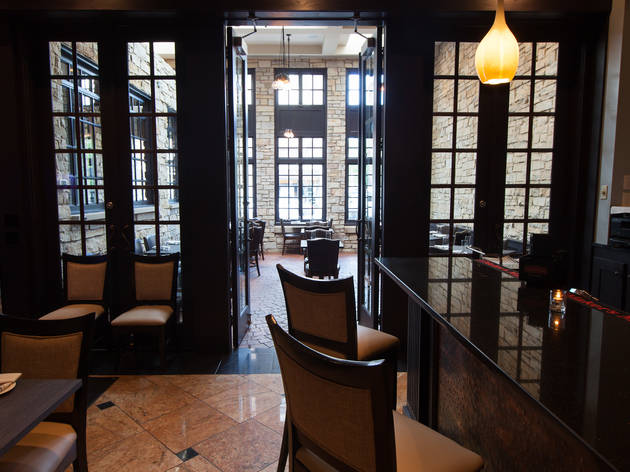 5/17
Photograph: Martha Williams
Knife & Tine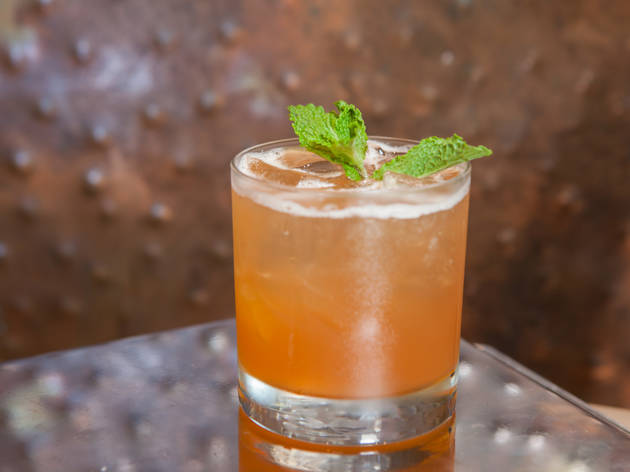 6/17
Photograph: Martha Williams
Knife & Tine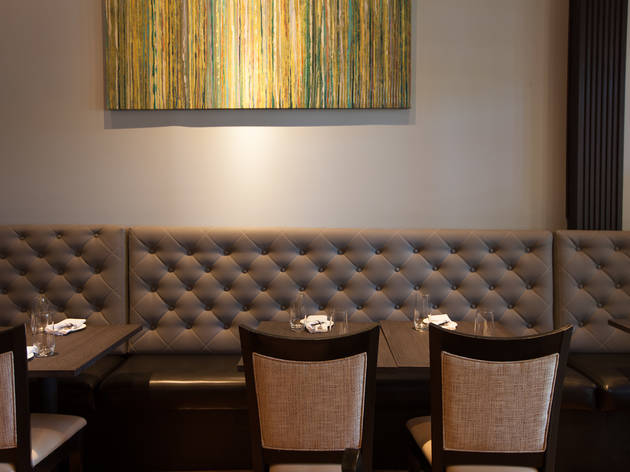 7/17
Photograph: Martha Williams
Knife & Tine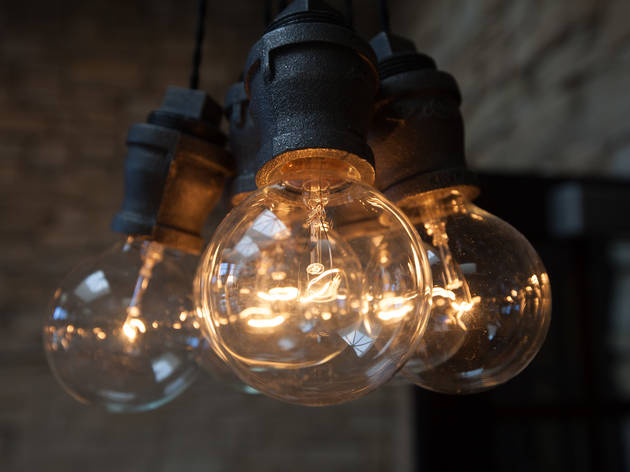 8/17
Photograph: Martha Williams
Knife & Tine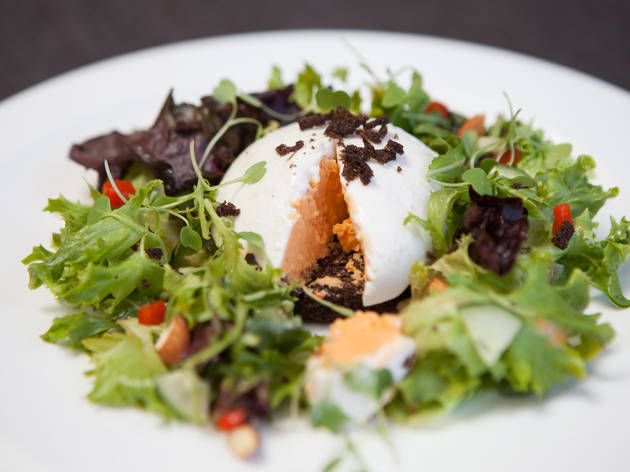 9/17
Photograph: Martha Williams
Knife & Tine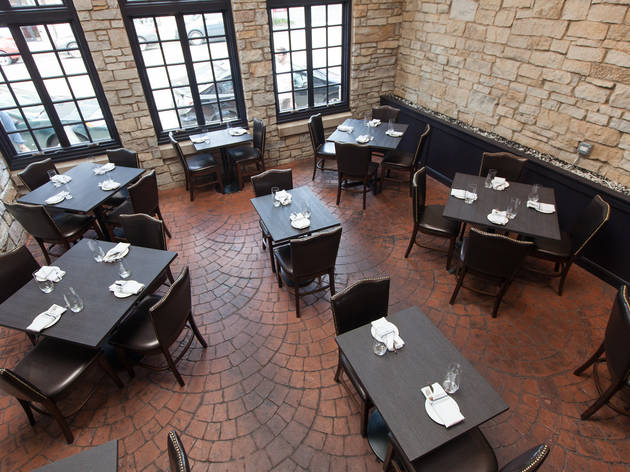 10/17
Photograph: Martha Williams
Knife & Tine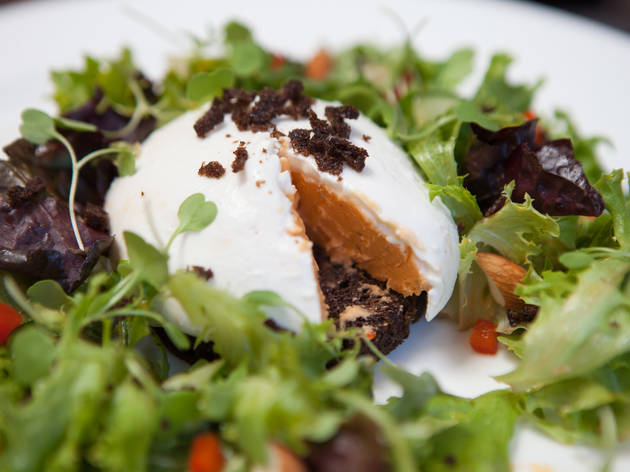 11/17
Photograph: Martha Williams
Knife & Tine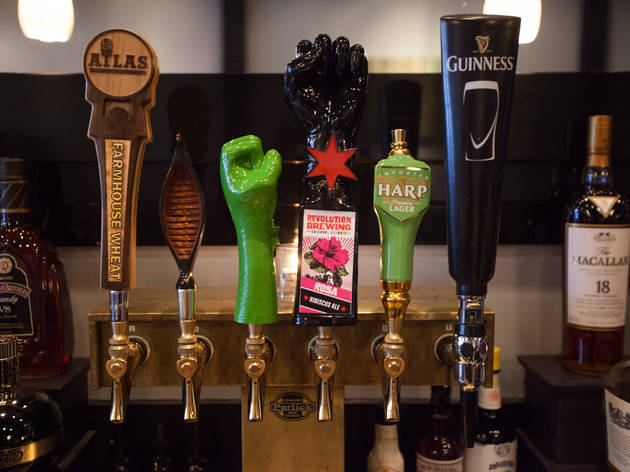 12/17
Photograph: Martha Williams
Knife & Tine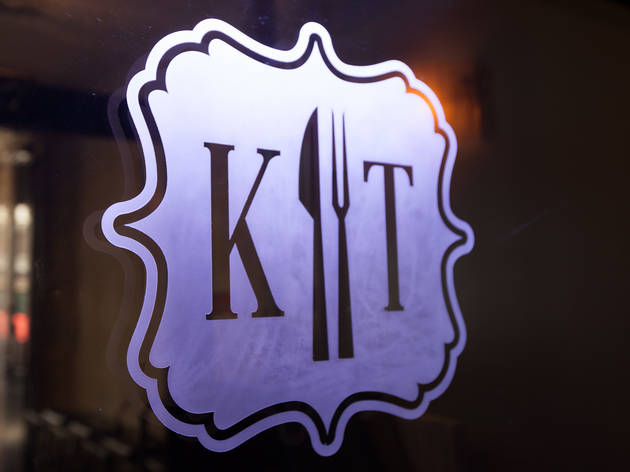 13/17
Photograph: Martha Williams
Knife & Tine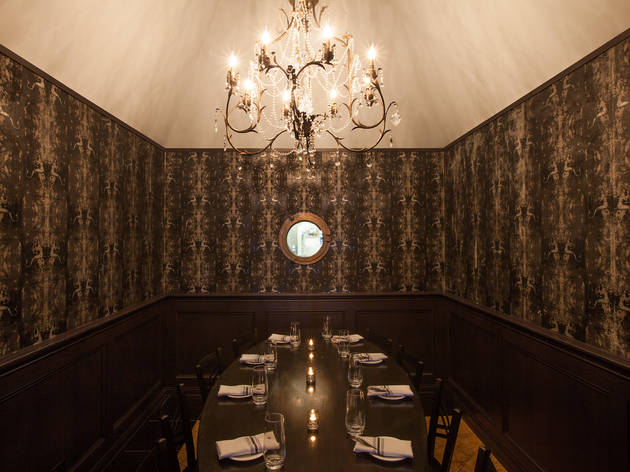 14/17
Photograph: Martha Williams
Knife & Tine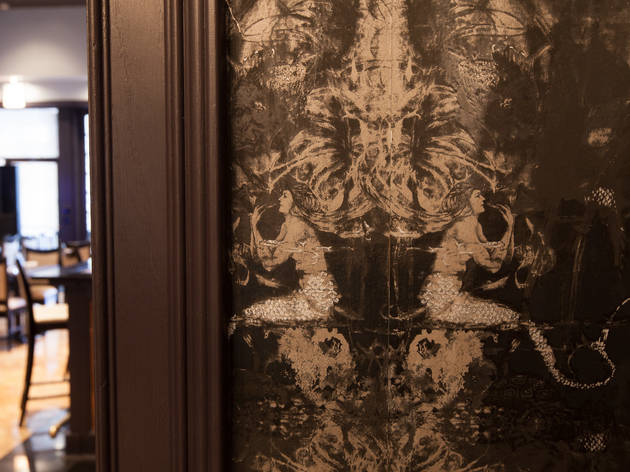 15/17
Photograph: Martha Williams
Knife & Tine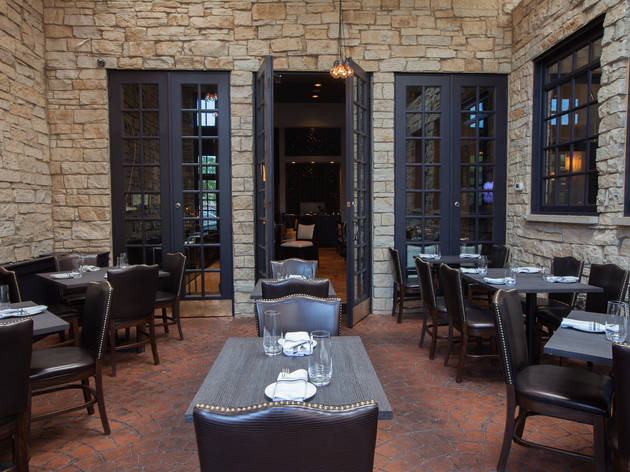 16/17
Photograph: Martha Williams
Knife & Tine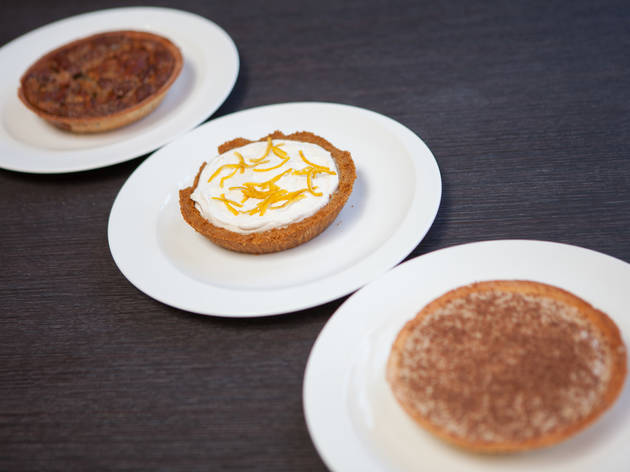 17/17
Photograph: Martha Williams
Knife & Tine
Time Out says
Friendly warning! We're working hard to be accurate. But these are unusual times, so please check that venues remain open.
Restaurant review by Amy Cavanaugh
I've never been to Springfield, Illinois, so I've never eaten a horseshoe, the open-faced sandwich consisting of Texas toast topped with meat, fries and cheese sauce. And I likely never will, if the $25 "horseshoe" I ate at Knife & Tine, a new Lincoln Park restaurant, is any indication of what the dish is like.
Knife & Tine's play on the diner dish consists of a cheddar brioche sandwich topped with a giant hunk of shortrib, a few sheets of kale and a tangle of crispy potatoes. The short rib is beautifully tender, but the brioche is soggy and the dish is such a salt lick it's inedible. We picked at the meat but left everything else on the plate, which a neighboring table was also doing.
Located in the old Sprout space, Knife & Tine is the new project from an ownership group that includes chef Nate Park (Baume & Brix, iNG, Moto) and GM Carissa Shaffer (Perennial Virant), among others. One of these owners, who served me at the bar on my second visit, told me the horseshoe is his favorite dish. His other favorite? The Cup-O-Ramen, which has a flaky piece of black cod (again, it's well-cooked), with turnips, mushrooms and wedges of crispy ramen served with a shallow pool of "Asian ramen broth." I'll let you decide if you have an issue with the broth's name, but I certainly took issue with the heavy hand that went into flavoring the salty-sweet broth, and if it was supposed to slightly soften the hard noodles, it failed. Some people enjoy eating uncooked ramen right from the package, but I'd be willing to bet that number is not high.
We waited about 40 minutes for these dishes, during which time my friend and I drank our cocktails and wondered what was happening. With dishes like a cheese ball and ambrosia, the menu seems to want to update forgotten dinner-party food from the 1950s, or offer an updated, upscale take on humble dishes, such as the ramen or grits and pork, in a neighborhood setting, but every dish was overwrought, with at least two ingredients too many. There's no cocktail list—but "the bar will make you anything you want!" "A Negroni? A Manhattan?" our server asked. We ordered the Negroni and Manhattan, both of which were essentially glasses of vermouth. It's confusing that there's no cocktail list, because the bar includes bottles like Letherbee Besk, which would suggest a serious cocktail program. You'd be better off sticking to wine or beer, since there's a decent selection of each.
Since I'd already had the ramen and horseshoe on my first visit, the co-owner suggested the escolar, which he promised I "would love." I did not, since the overcooked and oversalted white fish sat atop black rice and beans, swimming in a spicy chile and coconut sauce. Orange segments (seeds included), thin shreds of jicama and red onion were piled on top. "It could very well be the best thing we have on our menu," another server told me as I was eating it.
Things weren't better with the starters. Our server told us the yolk on the "chef-inspired daily" deviled eggs was pureed with bacon cured with brown sugar and coffee. "It's perfectly smooth," he promised. It wasn't, and the too-sweet filling was lumpy with bits of bacon and garnished with a watermelon radish. Ricotta gnudi, a normally ethereal bite, was alternately dry and gummy, and was served with intensely peppery fig mostarda, feta and pinenuts. While the name "ranch potsticker" elicits concern, I'll often try the most bizarre combinations to see if a chef has come up with an inventive, delicious combination. This ranch potsticker consisted of salty potato filling stuffed into a wrapper that was hard and undercooked. You swipe it through a pool of buttermilk ranch dressing on the plate, on which a mix of plain vegetables—including tiny carrots and radishes, greens and all—were piled. It's a dish you don't quite know how to eat.
I wish I could stop here, but there's more. For dessert (which was comped, since we waited so long for our entrees), a blondie was topped with what can only be described as "salt sauce," which had me wondering if the kitchen mixed up its sugar and salt. The bread beginning the meal was dry and served with a sweet horchata butter. The menus were dotted with food stains, which is forgivable when you're a cheap hot dog joint, but unforgivable when you're charging $28 for entrees. Service was also erratic: When I sat at a table, long periods of time went by with no one coming over, and when I sat at the bar, there was constantly someone over my shoulder. "Sexual Healing" was playing during dinner.
But maybe the most alarming thing of all is that there are currently 22 Yelp reviews for Knife & Tine: 21 of these are 5-star reviews, and one is a 4-star review. If the restaurant is appealing to the masses, then good for them. But if I'm spending approximately $50 per person for dinner (not including drinks), it had better not be one disaster after another.
Details
Address:
1417 W Fullerton Ave
Chicago
60614

Cross street:
between Janssen and Southport Aves
Transport:
El: Red to Fullerton. Bus: 74.
Contact:
Opening hours:
Tue-Thu 11:30am-11pm, Fri 11:30am-midnight, Sat 10am-midnight, Sun 10am-9pm
Do you own this business?