Dishes you can only get after 10pm (or later)
There's tons of late-night food in Chicago, but you can do better than greasy fries. Try these 8 dishes you can only get after 10pm.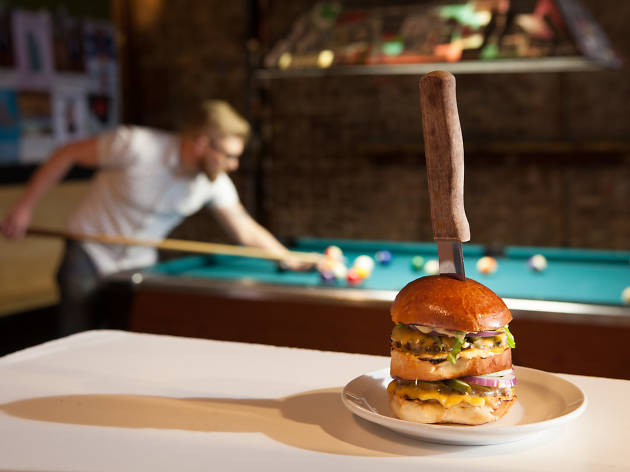 You've been there—it's hours after dinner, you've had a couple rounds at some cocktail bars, and you want a late-night snack that's substantial enough to see you through till morning. It's not hard to find a 24-hour Chicago diner or other spot for a quick snack, but these dishes, only available after 10pm, are much more fun (and delicious) than your average late-night food. From one of the best burgers in town to tamales served out of a cooler, here's what to eat in the waning hours of the day.
Best late-night food in Chicago
Restaurants, Contemporary American
Brendan Sodikoff's nouveau diner serves chilaquiles each day after midnight (and also at weekend brunch). This is a late-night snack that requires reinforcements, and the massive serving is probably big enough to feed your whole group of friends. The huge stack of tortilla chips comes topped with guacamole and pickled onions, and you can drizzle them with warm tomatillo salsa, which is served on the side.
After 10pm each night at Bite Cafe, order the Bite Mac, its take on a Big Mac. With two beef patties, pickles, onions, special sauce and American cheese, this towering burger is a lot of food for $7. Bonus: If you're at the Empty Bottle, head to the order window to sate your late-night craving.
Restaurants, Contemporary American
For dinner, you can get the Brixton burger, with bacon, cheddar and pickles on a brioche bun. But from 10pm–midnight Tuesday–Friday and 11pm–midnight Saturday, you can also get a second burger—the special diner burger, which is only listed on the late-night bar menu. It comes with lettuce, onion and special sauce, layered on a brioche bun.
The Charlatan takes late-night snacking seriously—it has a menu of daily specials available 10pm–12:30am Sunday-Thursday and 11pm–12:30am Friday and Saturday. Some specials, like the chicharrons, are available each day, and daily specials include fried chicken on Mondays, Italian ramen on Wednesdays and a stack of lemon-ricotta pancakes with bourbon-maple syrup on Sundays.
When you've had a night, head to Jeri's for The Mop. As the name implies, the dish—hashbrowns topped with biscuits, then doused with pork sausage gravy and sprinkled with chunks of bologna—will help mop up some of your bad decisions. The Mop is available from midnight–6am.
The ramen at Ramen-San is available late at night, but from 10pm–1am each day, the ramen restaurant adds a heartier dish—fried rice. The rice regularly rotates in terms of which ingredients are packed into it, but past combinations have included short rib with kimchi and a fried egg, or a breakfast-like mix of bacon with an egg, herbs and lime to brighten it up.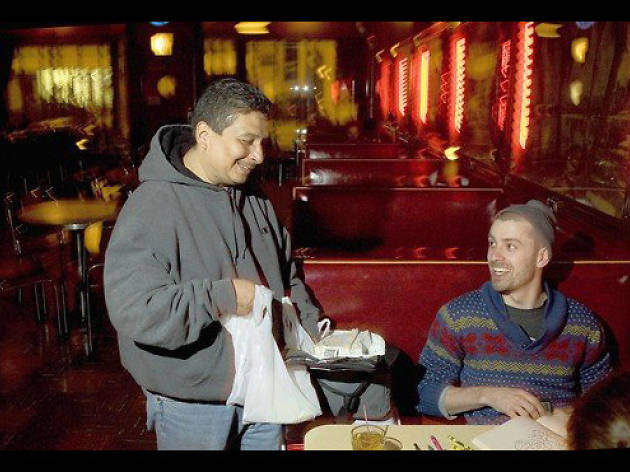 When a bar doesn't serve food, the greatest hope for hungry bar-goers is the Tamale Guy will appear, calling "tamale! tamale!" and toting a red or blue cooler packed with chicken, pork or cheese tamales. He only appears at night, and you never know when he'll arrive—all you know is ordering a bag of these is probably one of the better decisions you'll make all night.