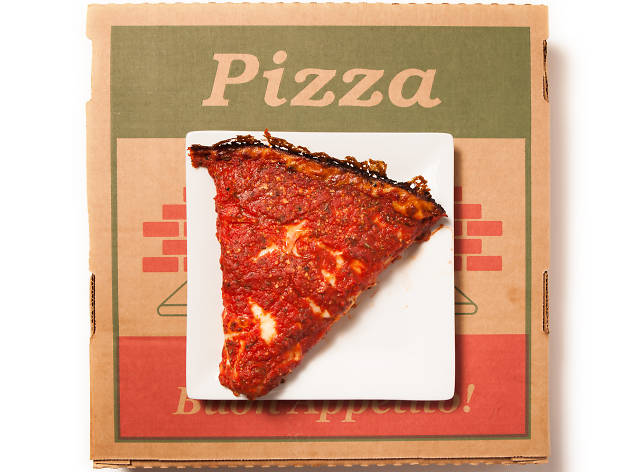 Time Out says
With exposed brick and plasma-screen TVs, Pequod's is firmly a neighborhood bar. But Pequod's is a bar that serves some of the best pizza in the city. The signature pan pizza is ringed with caramelized cheese, and slices are massive—one piece makes a meal. Add veggies to lighten it up a bit, or go all in, with the sausage pie, dotted with perfectly spiced, Ping-Pong ball–size pieces of seasoned ground pork.
Details
Address:
2207 N Clybourn Ave
Chicago
60614

Cross street:
at Webster Ave
Transport:
Bus: 9, 74.
Price:
Average pizza: $18
Contact:
Opening hours:
Lunch, dinner
Do you own this business?
Average User Rating
4.8 / 5
Rating Breakdown
5 star:

12

4 star:

3

3 star:

0

2 star:

0

1 star:

0
Pequod's is great pizza, but their recipe came from Burt Katz, formerly of Burt's Place. He also was the originator of the deep dish at Gulliver's, somehow missing from this list. For my deep dish $$, Burt's is the place.
I do not get this. We went there last year and it was horrible. Growing up in Chicago, I have tried lots of deep dish pizza. Pequods was all bread and had very little flavor, or anything. It was all bread. How is it possible that this is the best pizza in Chicago? What about Lou Malnati's? or Pete's Pizza on Western? This is crazy. Really.

Basically, if you get into an argument with someone about the best deep dish pizza place (which inevitably you will), just ask them - BUT - DO YOU LIKE BURNT CHEESE? And if they say no, then stop being friends with them immediately. If they say yes, say that pequods has the answer to all of life's problems.
Pequod's is my favorite pizza in all of Chicago! Always great flavor and my personal favorite thing about Pequod's is the sauce! Love how they load on the toppings and make every pizza to your liking. Never have had a bad experience with pick up or dine in. Always bring friends from out of town here to get away from the tourist trap pizza places and everyone always raves about how great the pizza is.
Pequod's is amazing! We have gone here numerous times and at all of their locations, but their crush has to be one of the best I have ever had for a Chicago-style pizza. Nothing can really beat it. The wait times are extraordinary long, but the wait it generally worth it. But, this can sometimes lead to non-attentive staff at times and there is not an ample waiting area due to the space. But, the food is worth going there for!
Of course Pequod's has a perfect rating. They obviously deserve it, and I will continue to sing their praises! Hands down, best deep dish in Chicago, but also, the best environment to eat deep dish in Chicago! Guaranteed waits, but now that they bought the pub next door for overflow, it's easier. Even if you have to wait, it's worth it. Have a beer until your little buzzer goes off!
Specialty ingredients and delicious carmelized crust propels Pequod's above other great pizza joints like Lou's & Gino's. Blackhawks bar status certainly does not hurt, as you can hear game sound during games and enjoy the memorabilia that adorns their walls.
Don't listen to Bourdain and Jon Stewart and their uppity beliefs on deep dish. They're just jealous they're stuck eating greasy cardboard with cheese on top for pizza. And they live in cesspool NYC.
Being a Southsider I was a newbie checking out Pequod's pizza and I must admit it does indeed live up to the hype! The decorum is fun but the deep dish pizza is absolutely delicious crust, sauce and toppings! Yes, yes and yes!
If you've ever got friends in Chicago who want to try deep dish, take them to Pequod's. It's covered floor to ceiling in Chicago sports gear and the pizza is incredible--it almost feels like an SNL sketch it's so Chicago.
Pequods is my favorite deep dish spot. I am a sauce person and i love how they put the sauce on top of the cheese. Every time i have friends in town, this is definitely a stop in the tour.
This is one of my favorite spots for Chicago Pizza. The crust of caramelized cheese, the melting cheese when the waiter serves this pie, makes your mouth water. This is a place you can come with friends or family. It has a sport bar feeling, clearly home of hawk fans. They have an upstairs area that allows you to host birthday parties, bridal showers, or any kind of party. The price point is fair and the drinks are plenty. The staff is friendly and attentive. No reservations are accepted. If you go on a Friday or Saturday night you might find yourself waiting an hour or so. They do allow you to place your order while you wait so that by the time you get seated your pizza is soon to arrive. I would highly recommend this restaurant to anyone looking for a new place to try.
Don't think it looks like much from the outside? Haven't you ever heard the saying, don't judge a book by its cover? I had lived near here for months and I can't tell you how many times I passed this place without ever thinking twice - that is until I heard just about every single one of my friends mention it.

So I broke down to check it out and I'm so glad I did. The night I was there both floors were filled with a diverse clientele including young couples on a casual date night, college kids coming in for a study break, and large parties with three generations of family members all enjoying the food, college football, and atmosphere.

The pizza was phenomenal, especially the sauce and the crust sets it apart from some of the other standard Chicago pizza favs. I personally love the fact that you get the idea this was once someone's home turned into a pizza joint that still makes you feel as comfortable as if you were in someone's home.

It has become one of my all-time favorite Chicago pizzas!
For my first review on TO, I knew exactly where my loving opinion must live: Pequods Pizza. Pequods is some of the best pizza you can get in Chicago (Chicago Pizza and Over Grinders, you deserve a shout-out here too.) I've taken many of my friends and family here and it's safe to stay I've created a few spokesperson for the place (including my dad who up until his first visit to Pequods, only ate thin crust. Yep-thin crust.) A must- visit but make sure you call ahead 24 hours before. They don't do reservations but calling ahead can save you a ton of wait time.
Hands down this is the best pizza in Chicago. So many people will recommend other chains, but trust me this is the place you want to be. The crust is buttery and caramelized which is what sets this pizza apart. This place is always crowded with an insane wait on weekends if you don't show up early. If you can come here on a Monday or Tuesday when the weekend crowd isn't taking it over.
If I have to eat deep dish pizza, you better believe that's its gonna be Pequod's. This Lincoln Park pizza parlor is no-frills, but the pan pizza they serves (which features the all-important caramelized cheese crust) is like something from another world. There's usually a line to get inside and you'll have to wait at least half an hour for your pie to come out of the oven, but when you take your first bite, you'll forget the preceding ordeal.