Dating IRL
We convinced two single Chicagoans to ditch the apps and embark on a choose-your-own-adventure date through Chinatown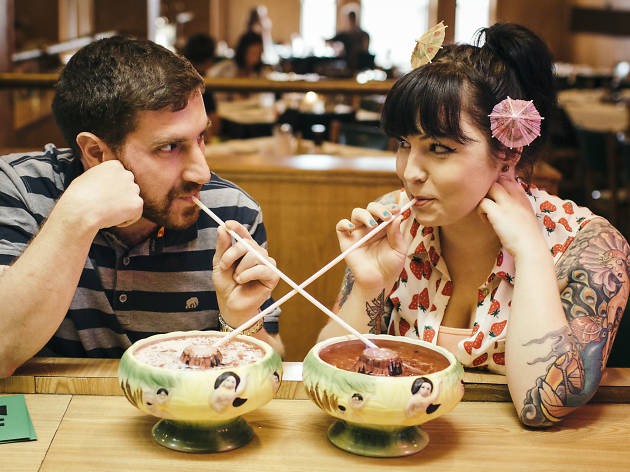 The dates:
Brian, 30:
Recruiter, world traveler, live music aficionado; Old Town
Justine, 30
Writer, hot dog enthusiast, dance-off champion; Humboldt Park
Stop 1: Nine Dragon Wall
Justine
"He's the polar opposite of who I typically date. My type is usually tattooed guys who are in creative fields. He was super friendly and didn't seem nervous, which put me at ease and set the tone for a fun evening exploring Chinatown."
Brian
"I was kinda nervous walking up to the wall, both because I had never been to Chinatown ­before and wasn't confident I'd be able to find the wall and because I had no idea what Justine would be like. She was immediately fun and outgoing,
which I appreciated."
Stop 2: Won Kow Restaurant
Justine
"We ordered drinks for each other, and he picked one of my favorites, a Singapore sling. We sipped our bowls o' booze and talked about how this didn't have any of the pressure we often feel on a first date. Or maybe that was the gallon of gin?"
Brian
"Won Kow was probably my favorite part of the date. The menu had random drink names like Scorpion but didn't list ingredients. In true blind date fashion, I suggested we order each other's drinks. I figured this would break the ice. Luckily, we both chose options the other liked."
Stop 3: Phoenix Restaurant
Justine
We had a nice little view of the skyline and hashed out the creative merits of Breaking Bad and House of Cards. How is there not a dating app that pairs people up based on what you watch on Netflix? Get on that, tech people.
Brian
The next card had us choose between ramen or dim sum. We went with dim sum, and while the conversation still flowed, the food was a little lackluster. It was just cordial, friendly conversation. There wasn't much flirting or attraction involved."
The Verdict?
Justine
"I had fun with Brian. He totally went with the flow. There wasn't a spark for me, but I did think of my single lady friends who would probably dig him. So hey, Brian! Let me play matchmaker. (That's weird, right?)"
Brian
"The date was fun. I liked not knowing anything about the other person. It took away a lot of the preconceived notions you often have on first dates. Justine's very pleasant, has a great personality, but just not what I'm looking for!"
The Date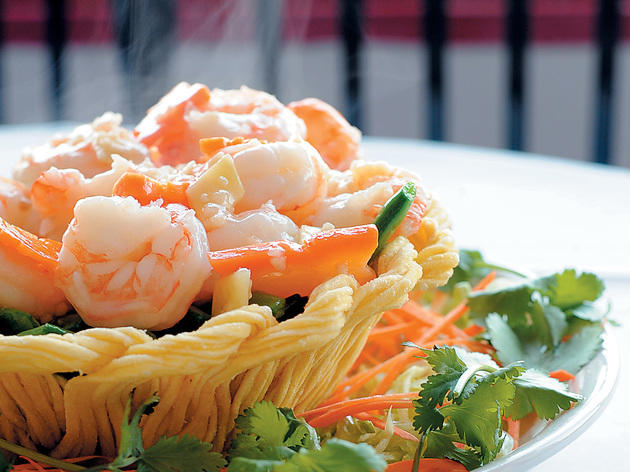 Phoenix Restaurant
Nine-to-fivers will have to skip work to avoid the crowds at this dim sum stalwart, but it's worth it to bypass the weekend frenzy. What's the fuss? Hangover cures in the form of fried or steamed dough stuffed with savory, sometimes spicy pork. The classic bao are proper pillowy buns, Malay steamed cake is soft and spongy, deep-fried red bean dumplings are sweet and greasy (this is not a bad thing), and crêpes are characteristically silky wraps for shrimp, beef or greens—try the pan-fried version of both for a bit of crispness. Save room for interesting options like tender baby octopus with a slight curry flavor and crispy eggplant stuffed with steamed squid.
Book online
The Second Option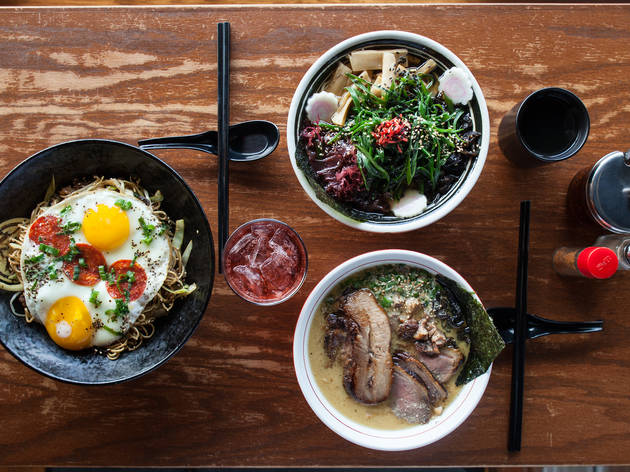 Strings Ramen Shop
Heat things up over bowls of piping hot ramen. Bonus points if you slurp your noodles up Lady and the Tramp-style.
Book online