Heads up! We're working hard to be accurate – but these are unusual times, so please always check before heading out.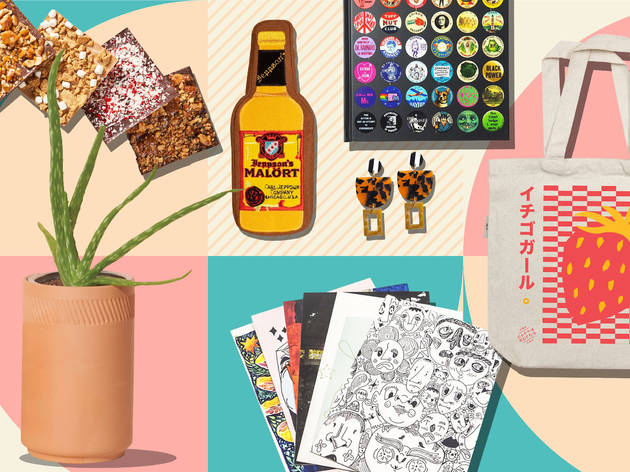 15 amazing holiday gifts made in Chicago
There's never been a better time to shop local and support small businesses
We all deserve a present for making it through 2020, but first, we must buy them for the people we love. (Hey! We don't make the rules.) This year, we're exclusively shopping local and throwing our dollars behind the small businesses that are the lifeblood of Chicago. No matter who you're shopping for this year—your favorite USPS worker, your virtual yoga instructor or the friends you haven't seen in months—you don't need to look far for personalized gifts. We did the legwork for you, shopping Chicago makers and small businesses for art, jewelry, books, booze, plants and dog toys. So pour yourself a glass of eggnog, have your credit card handy and settle in for an online shopping spree that fuels the local community.
To learn more about how you can support Chicago businesses this holiday season, follow Time Out's Love Local campaign.
Chicago gifts to shop this year
Photograph: Courtesy Lost Lake
Lost Lake Cocktail Club ($60 per month and up)
What do you get the person on your list who has everything? Booze. Specifically, a monthly membership to the Lost Lake Cocktail Club, which includes a rotating lineup of tropical drinks mixed by the pros every month. The experts at the famed Logan Square bar even toss in tasting notes and educational materials and invites to cocktail classes. Plus, as long as you're a member, you get 10 percent off every purchase at Lost Lake. Might as well get one for yourself while you're at it.
Photograph: Courtesy Chicago Bulls
Chicago Bulls City Edition jersey ($130–$270)
We don't know exactly when the Bulls will take court in their snazzy Art Deco-inspired City Edition jerseys, but you can snag one for the Chicago sports fan in your life to wear in their living room before the end of 2020. The Madhouse Team Store is currently accepting pre-orders for various replicas of the sleek uniforms, which will officially go on sale on December 3. If you really want to go the extra mile for your recipient, customization options are also available.
Photograph: Courtesy Gucha Gucha
Ichigo Girl tote bag, Gucha Gucha ($20)
We all have a Tote Person in our lives—you know, the kind of family member or friend who just can't stop accumulating New Yorker bags and various Baggu sundries. We bet your Tote Person will go wild for this sweet strawberry bag from the printing studio Gucha Gucha, especially since it's made of heavyweight cotton that's sturdy enough for everyday use.
Photograph: Lucas Torres
The Latasha earrings, Vintage Royalty ($46)
Zoom calls aren't going anywhere in 2021, so dress up your top half with a pair of earrings from Chicago maker Meena Osei-Kuffour, who crafts stunning acrylic pieces by hand. Dubbed the Latasha, these lightweight danglers are inspired by one of Osei-Kuffour's dearest friends, whom she describes as "strong, unique and unexpected." Perfect for that hard-to-shop for fashion fiend.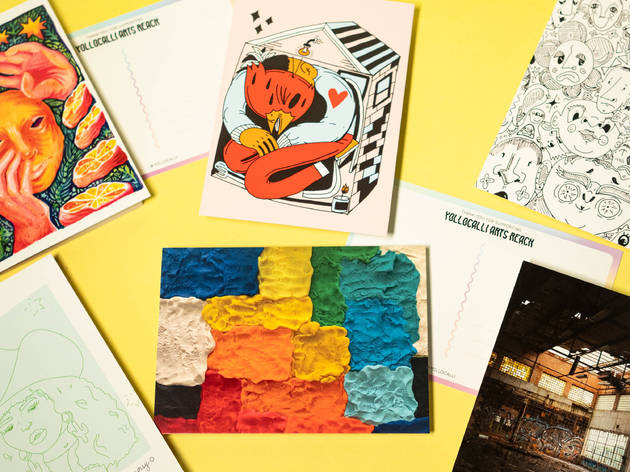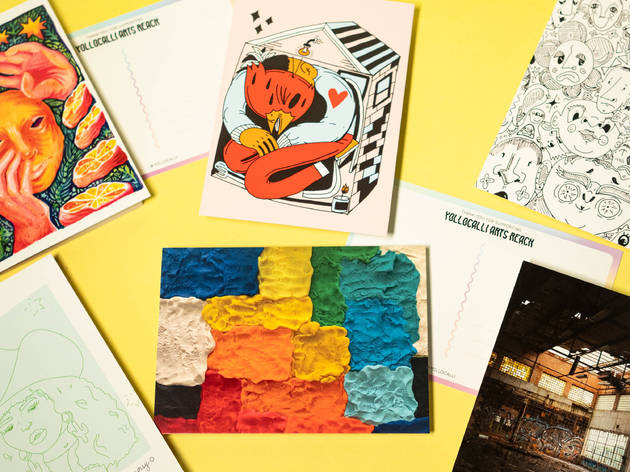 Photograph: Courtesy Yollocalli Arts Reach
Postcard pack, Yollicalli ($20)
Sick of socializing via phone call catch-ups and Zoom hangs? There's (arguably) never been a better time to strike up an epistolary correspondence with a faraway friend than the present. Kick off the chain of letters by gifting your pal these ultra-cool postcards, which were handmade and designed by six young artists from Yollocalli Arts Reach in Pilsen.
Photograph: Drew Mitchell
Quarantunes package, 606 Records ($20–$200)
It can be hard to pick out records for the discerning music lovers on your list, so why not let an expert do the crate-digging for you? Give the folks at Pilsen record store 606 Records a budget (and provide a few of your recipients favorite artists or genres) and they'll put together a "Quarantunes" package of LPs, drawing from an inventory that includes releases from local labels like International Anthem and the Numero Group as well as sought-after international imprints like Allchival and Mr Bongo.
Photograph: Courtesy Modern Sprout
Hydroponic tumbler garden kits, Modern Sprout ($30)
You don't have to have a green thumb to get these Chicago-made grow kits started. Just open the package, add water and set the terracotta planter in a sunny window. Before long, you'll have a new green friend to keep you company in lockdown. Choose from plants like healing aloe, prickly pear cactus, evergreen spruce and coastal palm.
Photograph: Stephanie Warsen
Yappy Hour dog toy, Jeppson's Malört ($18)
Malört is only approved for human consumption (and even that might be a stretch, if the wormwood liqueur's detractors are to be believed), but the folks at Jeppson's have come up with a way to share the infamous beverage with your furry friends. This bottle-shaped dog toy bears the Chicago flag-inspired crest, squeaks when squeezed and probably won't inspire a "Malört face" reaction from your pet. And if Old Style releases a dog toy next Christmas, you can teach your pup the Chicago Handshake.
Photograph: Angela Venarchik
Frozen Lake tea set, Angela Venarchik ceramics ($178–$244)
Chicago's winters are polarizing, to say the least. But regardless of whether your giftee is a lifelong Midwesterner or a cold-averse transplant, they're sure to appreciate the beauty of this tea set inspired by the frozen expanses of Lake Michigan. The low-slung cups are crafted with a different pattern of cracks, echoing those that cover the lake each season—a unique homage to our city's icy winters.
T-shirt, Semicolon Bookstore & Gallery ($25)
Show some love for Chicago's indie bookstore scene this season! We'll let the bookselling pros take the lead in recommending good reads for everyone on your list, but these eye-catching graphic T-shirts—designed by local artist Ahmad Lee for Semicolon Bookstore & Gallery—would make an excellent gift accompaniment to any number of book titles.
Photograph: Courtesy Cresco Labs
Dosed chocolates, Mindy's Chef Led Artisanal Edibles ($30–$35)
End the year on a high note with cannabis-infused chocolate from Chicago chef and edible expert Mindy Segal. Just in time for the holidays, she's rolling out a line of candy bars that are studded with everything from peanut brittle and marshmallows to toffee and peppermint chunks. Each treat is dosed with 100mg of THC and includes 10 breakable pieces for easy munching. Who says the holidays won't be lit this year?
Photograph: Courtesy Princeton Architectural Press
Button Power: 125 Years of Saying It with Buttons ($25)
History nerds and design geeks alike will flip over this coffee table tome devoted to the pin-back button, charting its role in everything from presidential elections to the Black Power movement. It's co-authored by Christen Carter, the founder of Chicago-based Busy Beaver Button Company, which hosts an in-house museum devoted to notable pins from throughout history. After flipping through pages packed with photos and cultural commentary, you'll come to realize the undeniable power of the humble button.
Photograph: Nathan Keay
Cotton coffee filters, The Weaving Mill ($9)
You'll charm all your sustainability and coffee-loving friends with these reusable cotton coffee filters, which have a trifold eco-friendly appeal: First, they're crafted with recycled scrap fabric; second, they replace wasteful paper pourover filters; and third, they're handmade locally by the textile-spinning folks at The Weaving Mill.
Photograph: Courtesy Steve Shanabruch / The Chicago Neighborhoods
Rainbow Cone print, Chicago Neighborhoods Project ($38)
For the eternal South Sider or the ice cream aficionado in your inner circle, this cheerful homage to Rainbow Cone should do the trick. In fact, you can find something for just about any Chicagoan when you shop the Chicago Neighborhoods, a design project that Steve Shanabruch started back in 2011. His virtual storefront is filled with loads of great prints featuring noteworthy landmarks and nabes, from Thalia Hall in Pilsen and Fireside Bowl to The Blues Brothers jump.
Photograph: Courtesy Ed Marszewski
Ice tie-dyed clothing, Forever Friends by Jim and Reuben ($16–$165)
If you've been to Pizza Fried Chicken Ice Cream or Kimski recently, you may have spotted staff at the Bridgeport restaurants sporting trippy aprons and shirts. The groovy ice tie-dyed threads are part of a locally made collection called Forever Friends, a collaboration between two local artists who go by the pseudonyms Jim Dye and Reuben Kincaid. You can snag aprons, T-shirts, sweatshirts and even socks that are decked out in colorful patterns—all appropriate attire for whenever you're able to see a jam band in concert again.
Even more holiday magic
There's something about strings of tiny, twinkling bulbs that puts you in the holiday spirit. Throughout December (and most of November), you'll find lights strung up at the Lincoln Park Zoo, along the Magnificent Mile, inside the Museum of Science and Industry and beyond!