Shopping in Evanston
You'd think a college town would be all American Apparel and the Gap. You'll find that when shopping in Evanston, but also indie boutiques and quirky shops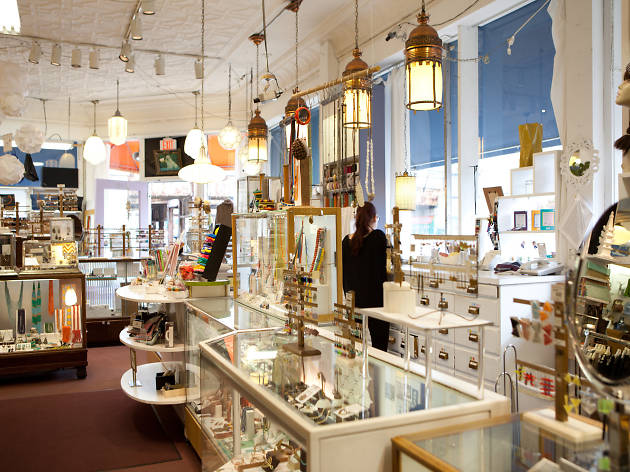 Evanston may be home to a bunch of college kids, but these Evanston shops prove that grown-ups really run the show. Walk these quaint city streets and you'll unearth gems and stems, spices and spirits, and so much more. Here's our guide to shopping in Evanston, from wine stores to baby shops.
RECOMMENDED: Explore our complete guide to Evanston
Evanston shopping
Open since June 2014, this quaint bookshop offers an eclectic mix of new, and speciality discount books in the former space of Bookman's Alley. Owner Nina Barrett (an award-winning journalist) seeks out titles that appeal to the community's educated, diverse population, and regularly organizes events, author readings, workshops and more. Customers also will discover a mix of local antiques, toys, stationery and area-themed gifts for sale.
Home to some of the city's finest, most-hard-to-find labels, this elegant boutique is a cut above the rest. Browse investment pieces by designers such as Chloe, Balenciaga and Nina Ricci, as well as up-and-coming lines such as Rosie Assoulin and Hellessey. Owners Sharon Watrous and Carrie Kane also frequently host trunk shows, which gives customers the rare chance to meet designers face-to-face.
The Evanston location of Revolution (there is a second in Mount Prospect) is about as tidy, organized and welcoming as a comic book store gets. There are no overwhelming stacks of bins and boxes of back issues to dig through, which might put off some hardcore collectors, but this is the perfect shop for casual (and primarily mature) readers. The week's new releases are front and center. An equal amount of space is given to trade paperback collections. The indie books are the first thing you see when you enter, which is a welcome change from being inundated with DC and Marvel fodder when you walk in. The back room holds a decent selection of manga and art books, as well as some fiction and nonfiction.
At just 20 years old, owner Dave Douglass opened his first rock shop selling minerals and fossils he'd collected. More than 40 years later, his rock shop is still just as down to earth despite being filled with an incredible collection of everything from a Tyrannosaurus Rex tooth to gemstone jewelry and Native American art.
You could go to H&M or Forever 21 to find the kind of affordable, trendy items that The Mexican Shop carries. But wouldn't you rather support a local shop (and not see your sweater on every woman on the street)? This gem is also the place to go for great gifts, from unique earrings to cute purses. Hair accessories are adorable and often handmade.
Paramour Bungalow is the refined arts and crafts project of David Kafer and Jason Hall, a side hustle of sorts to their successful boutique hair salon company, RED 7 SALON. Paramour Bungalow focuses on the home rather than hair, selling creative, eclectic and handmade accessories to decorate every room of the house. Not to be confused with a home and furniture store, this boutique specializes in "everything you don't necessarily need, but have to have."
Follow the spice trail to this suburban location where you can stock up on staples like sea salt and whole peppercorns, plus learn the difference between cinnamons (there are many) while splurging on saffron and snacking on crystallized ginger.
Wine shops can be intimidating to the amateur drinker, sometimes feeling more like showrooms than stores, with men in ponytails taking deep sniffs of Sangiovese while proclaiming themselves "oenophiles." Not Vinic. This Evanston alcohol outpost is overloaded like a cool record shop, casual and friendly. The wines are cheap and described in delectable, approachable terms. It's the kind of place you can feel comfortable just picking a pretty label without worry of feeling inferior or grabbing some vinegary swill. The back room packs loads of craft beer and regional artisanal booze, bitters, mixers. Vinic gets you into wine without having to be into wine.