The best shops near Midway
The vast Midway area is also home to quite a lot of storefronts, from candy and casual wear to comics and edgy fashions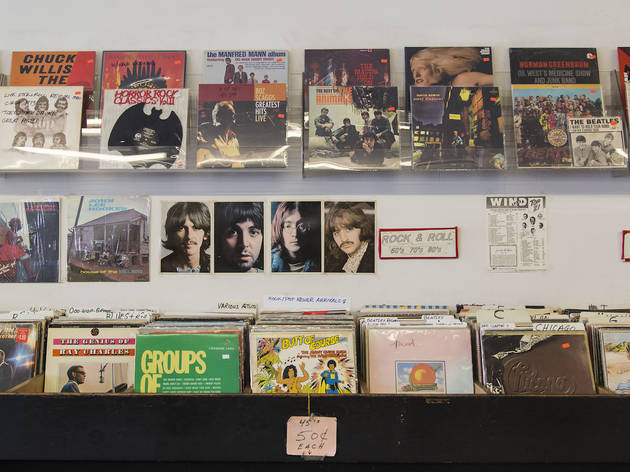 The best shops near Midway
Carmen's has been offering the best in bikes since 1971 and continues to deliver top-notch service and products. Stop by for a tune-up or drop in for some advice. You won't walk away disappointed.
Read more
Prepare for sensory overload at the local candy and party supply superstore Dulcelandia, where a seemingly endless assortment of colorful bulk sweets and rows of princess and superhero piñatas vie for your attention. Much of the candy here is imported from Mexico, and the flavors skew toward the tropical (think tamarind and coconut). On a recent visit, we picked up a tasty confection of milk candy wrapped around sweet-tart guava paste, as well as a rather adorable (and spicy!) elote lollipop.
Read more
Smoked meats cooked the old-fashioned way are the name of the game at this local spot, still owned and operated by the founders' families. You can pick up anything you need, from bacon and hot dogs to loins and smoked sausage. 
Read more
Browse the plethora of records, CDs and DVDs—all at fair prices—at this Midway favorite. And don't be fooled by the unassuming exterior of this storefront. If you're a vinyl nerd, you'll want to stop. The staff here knows their stuff, and they have all of the hard-to-find 45s, too.
Read more
Find more great shops in Chicago
The best gift shops in Chicago give you plenty of options for anniversaries, weddings, birthdays, the holidays or "just because." Maybe you want to give the one you love a night out at one of Chicago's best fine dining spots or tickets to a Cubs game. But honestly, there's no better feeling than watching a friend or loved one unwrap that perfect gift.
Read more