23 things you'll never hear a Bears fan say
Yes, Chicago Bears fans actually say "Da Bears." But here are some statements you'll never hear them utter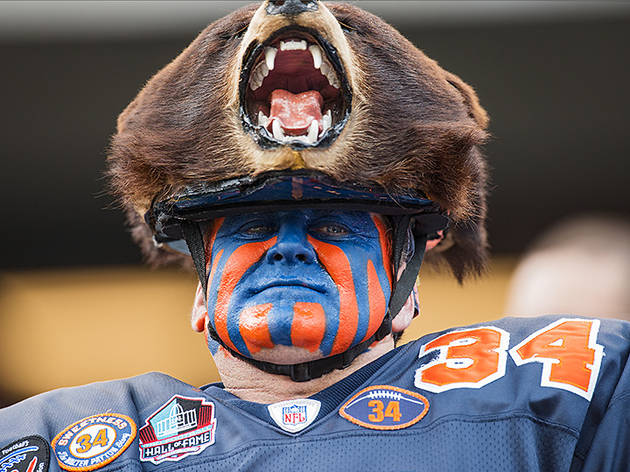 We've already told you 51 things that a Chicagoan would never say. Now, we're getting more specific. Whether you're tailgating outside Soldier Field, or knocking back some Old Style in a Bears bar, we're pretty certain you'll never hear any of these statements.
RECOMMENDED: Our guide to the Chicago Bears
1. I can't decide whether to name my son "Peanut" or "Lovie".
2. Why doesn't Dave Wannstedt have his own steakhouse too?
3. Leave the cheesehead on while we have sex.
4. Cade McNown deserved another chance.
5. Eh, if we lose, we lose. At least I have the Cubs to fall back on.
6. Not only should we retire Jay Cutler's number, I think the entire NFL should retire it.
7. If William Perry was The Refrigerator, than Robbie Gould should at least be The Cooler.
8. I'm tired of hearing the word "smashmouth."
9. I really love what they've done with Soldier Field.
10. Look at all these hipsters in the stadium with their ironic mustaches.
11. Sometimes I wish I were a Lions fan.
12. If Cutler goes down, at least we have Jimmy Clausen.
13. I hope Nike redesigns our uniforms to have more ombré and teal, like the Jags.
14. Y'know, in a way I'm glad Marion Barber ran out of bounds and fumbled, because at least we got to help build the mythic legend of Tim Tebow.
15. I'm not really feeling hot dogs today.
16. Why can't Clark the Cub be at Bears games, too? I mean, he is technically a bear.
17. A hundred bucks is a totally reasonable price for a nose-bleed seat at a preseason game against Jacksonville. At least I get to see Jordan Palmer and Blake Bortles face off.
18. We need to draft more guys outta Northwestern.
19. Let's hope Ego Ferguson at least lives up to his name.
20. It still eats me up that the Cardinals moved away from Chicago.
21. Marc Trestman eats guys like Jim Harbaugh for breakfast.
22. They should sell a cocktail at training camp in Bourbonnais that is a mix of bourbon and mayonnaise.
23. Da ballet.​