Heads up! We're working hard to be accurate – but these are unusual times, so please always check before heading out.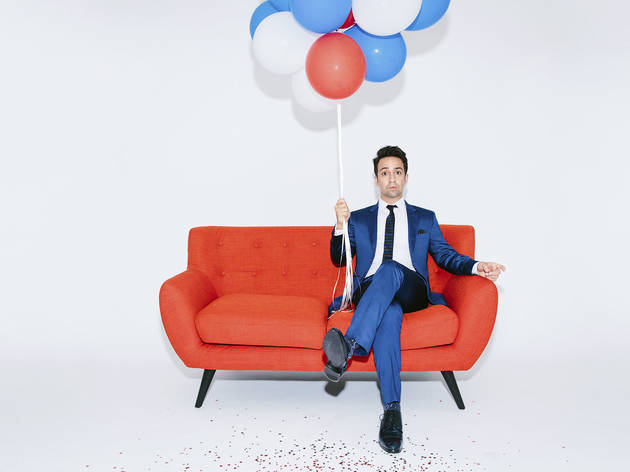 Lin-Manuel Miranda on recreating Hamilton's success for Chicago
There's no debating: 'Hamilton' has made American history hot. Now that it's elected Chicago as its first post- Broadway home, get ready to enter the ticket lottery early and often.
Hamilton. Perhaps you've heard of it? The biggest and, in some ways, most unlikely theatrical phenomenon in a generation, the musical about Alexander Hamilton and his fellow Founding Fathers of the United States, has smashed past low bars like "Broadway hit."
After a buzzy Off Broadway premiere at New York's Public Theater in early 2015, the hip-hop– and pop-flavored take on American history, written by certifiable genius Lin-Manuel Miranda (In the Heights) to be performed by actors of color in modern vernacular, transferred to Broadway's Richard Rodgers Theatre that summer.
RECOMMENDED: Our complete guide to Hamilton Chicago
By the time the Broadway reviews hit, tickets had become all but impossible to get, unless your name was Oprah, Beyoncé or Obama (all of whom attended). Miranda was awarded the Pulitzer Prize for Drama, while the show made stars of Leslie Odom Jr., Renée Elise Goldsberry and Daveed Diggs, now all Tony winners. This summer, Hillary Clinton quoted the show in her speech accepting the Democratic nomination for President: "Though 'we may not live to see the glory,' as the song from the musical Hamilton goes, 'let us gladly join the fight,'" Clinton told the crowd in Philadelphia, lifting from the Act I song "The Story of Tonight."
Now, as 2016's unpredictable presidential race revs into high gear, Miranda and the show's creative team prepare to open a second production of Hamilton in Chicago, with an entirely new cast. In this high-stakes election season, the show's 200-year-old themes about the birth of a nation feel improbably resonant.
"The thing that is so funny about the show is that it is about the themes and the contradictions inherent in the founding of our country, and those don't ever go away," Miranda says on the phone a few days before Clinton's DNC speech.
Miranda, who won two Tony Awards for Hamilton in June—Best Score and Best Book—was also nominated for Best Actor in a Musical for his turn in the title role. (His castmate Odom won for the colead role of Aaron Burr, who serves as Hamilton's nemesis and the show's narrator.) He left the Broadway cast in early July; when we speak, he's on a well-deserved vacation with his family, including his nearly two-year-old son, Sebastian, who wants to answer some of my questions himself.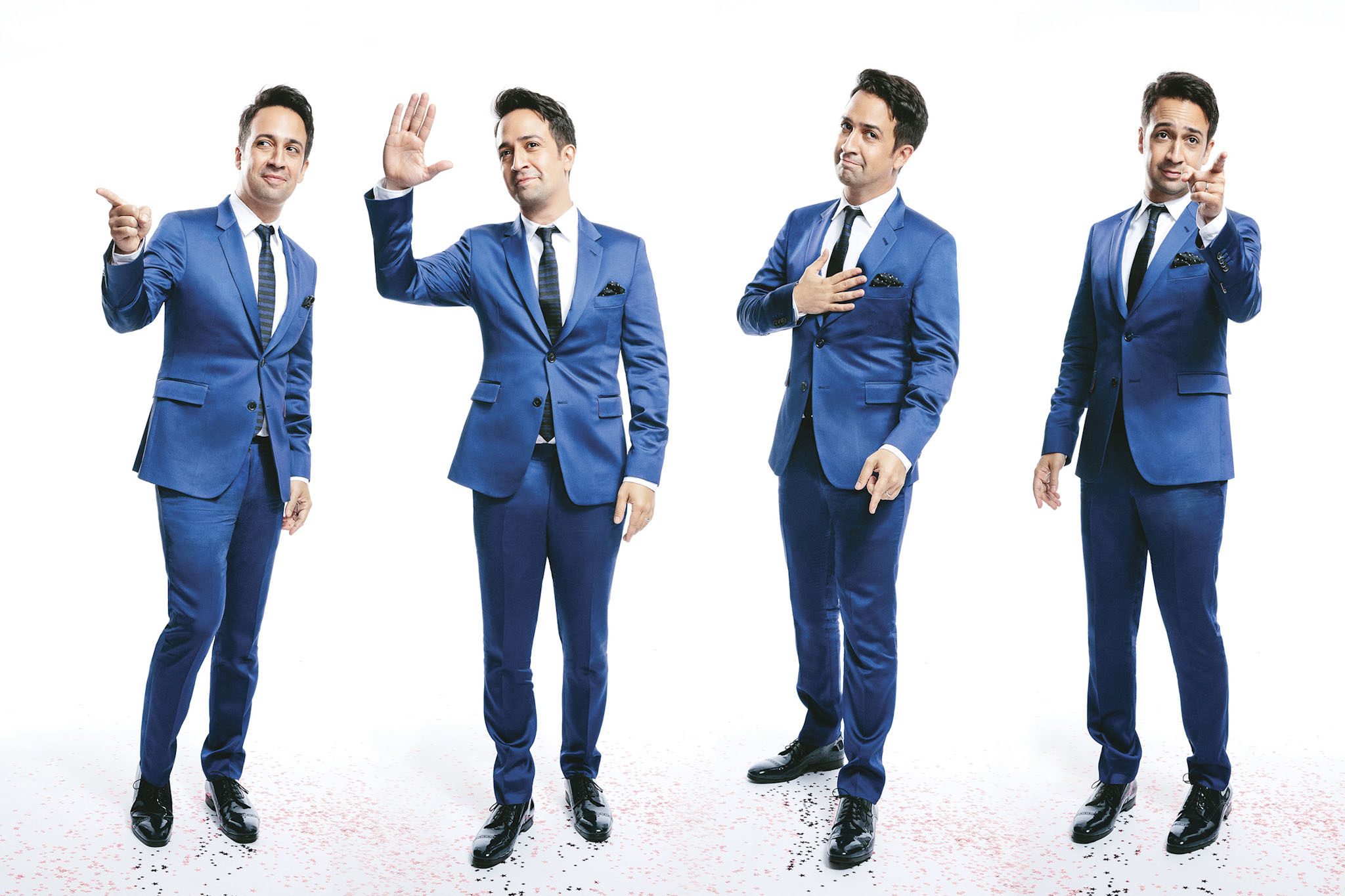 Photograph: Tawni Bannister
People would say the same thing about Hamilton's election-year resonance in 2012 as they would in 2020, Miranda thinks. "Because the things we fight about as a country, they're just our things. It's like when you fight with members of your family; you're not having a new fight with your brother or sister. You're having variations on the same fight you've been having since you were 8 and 10 years old, right?"
Those fights, as Miranda enumerates them, do sound like never-ending ones: federalism versus states' rights; the legacy of slavery versus how it reverberates. "The notion of finances, of who pays your taxes, of how involved are we in the affairs of other countries—for them the French Revolution, for us: Name a country.
"And the notion of immigrant having both incredibly positive and negative connotations in American society," he continues. Hamilton, the show, was famously inspired by Miranda's reading of Ron Chernow's hefty biography of the man who became the country's first Secretary of the Treasury but began life as an impoverished kid propelled from the Caribbean to New York City on the strength of his striving and smarts; Miranda saw a hip-hop narrative.
As the Burr character asks in the show's opening lines, "How does a bastard, orphan, son of a whore and a / Scotsman, dropped in the middle of a / Forgotten spot in the Caribbean by providence / Impoverished, in squalor/ Grow up to be a hero and a scholar?" But the show also depicts another side to the idea that Hamilton "Got a lot farther by working a lot harder / By being a lot smarter / By being a self-starter."
"We love the up-from-the-bootstraps narrative, but there's always a point in which it will be used against us, to arouse suspicion," says Miranda. "Those are all things that happened to Hamilton before they happened to anyone who's alive today."
Photograph: Tawni Bannister
The musical lived in close proximity to modern politics since before it was really a show. Invited to perform at the White House as part of an evening of spoken word and music back in the first year of President Obama's first term, Miranda rapped those opening lines of what became the show's opening number, "Alexander Hamilton." As can be seen in the YouTube video that's now been viewed nearly 3 million times, Miranda described the nascent project then not as a musical but as a mixtape.
"The White House song was remarkable and incredibly stimulating and impressive, but it was just this one song," says director Thomas Kail, Miranda's collaborator on both In the Heights and Hamilton. "So the fact that anything would come after it wasn't proven. It was just a stand-alone thing that I thought he did beautifully."
It was two years later, when Miranda presented a second song in front of an audience at the small NYC theater Ars Nova in June of 2011, that Kail saw stage potential.
"When he wrote the second song, what became 'My Shot,' and I was actually in the room watching the song interact with an audience live, that's when I knew. It was relatively immediate," says Kail. "We had a conversation that night at this little gathering afterward where everybody was, you know, patting him on the back and plying him with snacks, and that's when I said to him, 'Great, let's get going. We're relatively young now, but we're going to be pretty old if you keep up this pace.'"
Five years later, Miranda, Kail and their other collaborators, including music director Alex Lacamoire and choreographer Andy Blankenbuehler, are tasked with capturing lightning in a second bottle for the Chicago company, which sold out most of its initial six-month block of tickets long before any casting was announced. But there's more than just that massive advance and the Broadway production's 11 Tony wins (one shy of The Producers' record of 12) setting the sky-high expectations for Chicago's Hamilton.
The show has a huge and hugely loyal base of fans who've never seen it. They're fueled in part by the hit cast album, produced by the Roots; its October 2015 launch was the highest debut by a cast recording on the Billboard 200 chart in more than 50 years, and it also became the first-ever cast album to reach No. 1 on the rap chart.
And then there's Hamilton's expert social media presence, led by Miranda's prolific tweeting to his nearly 780,000 followers. For In the Heights' 2007 Off Broadway debut and 2008 Broadway bow, Miranda had gained permission from his producers to make YouTube videos promoting the show to nontraditional audiences. With Hamilton, on the other hand, potential fans got to follow Miranda through the entire creation of the show. "I kind of got addicted to Twitter while I was working on Hamilton. And that has provided a weird way in for a lot of people. I find that's an interesting substitute for coffee when my stomach hurts, to have the dopamine of interacting with people in real time while I was working to unlock the thing that was very hard to unlock."
Phillipa Soo and Lin-Manuel Miranda in the original Broadway cast of Hamilton
Photograph: Joan Marcus
That generous openness found another online outlet after Hamilton opened on Broadway, when Miranda began putting together eclectic street performances for the fans waiting in line for the show's daily $10 ticket lottery. Dubbed the #Ham4Ham Show, the preemptive consolation prize for dedicated lottery entrants became a treat in its own right on YouTube; with frequent guest appearances by stars from other shows, #Ham4Ham became a homegrown marketing campaign for Broadway as a whole. (Expect a version of it in Chicago as well.)
Thus, Hamilton has developed a community of deeply invested fans who've yet to set foot in the theater. "What's wonderful about most Hamilton fans is they fall in love with the show the same way I used to fall in love with shows; it's the cast album," says Miranda, recalling rifling through his parents' collection of Broadway records as a kid. "I can't tell you how many hilarious Tumblr posts I've seen of, like, 'Hamilton as I picture it in my head since I haven't seen the show.' People imagine the show, and I love that because I think Hamilton is gonna be around hopefully long enough for most people to get a chance to see it. But also, I've never seen a production of Camelot, but I can tell you the version in my head, and it's incredible."
Those who do get in to Hamilton in Chicago will see a cast that includes Tony winner Karen Olivo and two-time Tony nominee Joshua Henry, alongside a raft of lesser-known actors, such as Miguel Cervantes in the title role.
"It's a really thrilling mix of people you know and people you don't who we think are stars. Which was kind of how we felt about our Broadway cast—there were names you'd recognize and names you'd never heard of that you know now because of the success of the show," says Miranda. "I'm confident that's going to happen again in Chicago."
Meet your #HamiltonCHI cast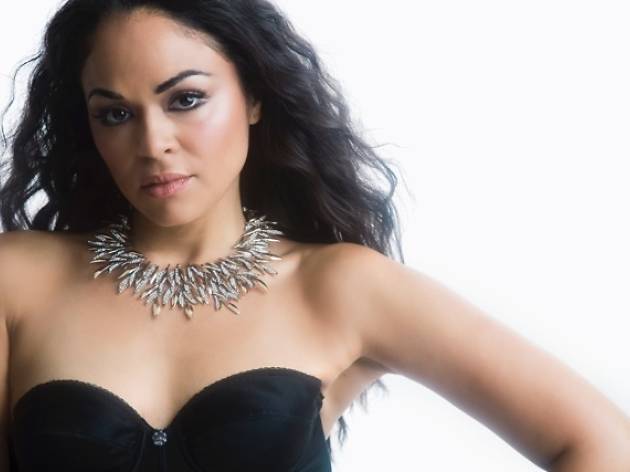 Karen Olivo (Angelica Schuyler)
"I knew that if I went back to work, I would not be going to the coasts, because I've done that and that's not where my family or my community is," says Olivo, who originated the role of Vanessa in In the Heights and won a Tony Award as Anita in the 2009 revival of West Side Story. The actor moved to Madison, Wisconsin in 2013, where she's worked in advisory capacities with local theaters and directed student shows at the University of Wisconsin.

Olivo saw Hamilton at its Broadway opening night, and recalls someone asking her if she was sad to not be on stage. "I said, 'You know, I wouldn't trade this experience for the world.' Now I get the best of both worlds: I get to be a fan of it and love it and be in awe of it, and then now I get to get inside of it and figure out how it works."
In Chicago, Olivo will play Hamilton's sister-in-law, Angelica Schuyler—the role for which Renée Elise Goldsberry won a Tony earlier this year. "It was just like on my news feed somewhere that said they would be opening a company in Chicago," Olivo says. "I texted Tommy Kail and said, 'Are you gonna let me audition for Angelica?' I think he thought I was kidding at first."
Olivo visits Chicago frequently, often seeing theater when she does. "Being here in Madison and going to Chicago so often to see theater, it's basically New York in my backyard, right?" she says, laughing. "It's like the other New York as far as the level of talent and the level of art and the way that people respect it. I'm pretty excited just to get to know everybody in Chicago. Every time I go and see theater there, I'm always so blown away."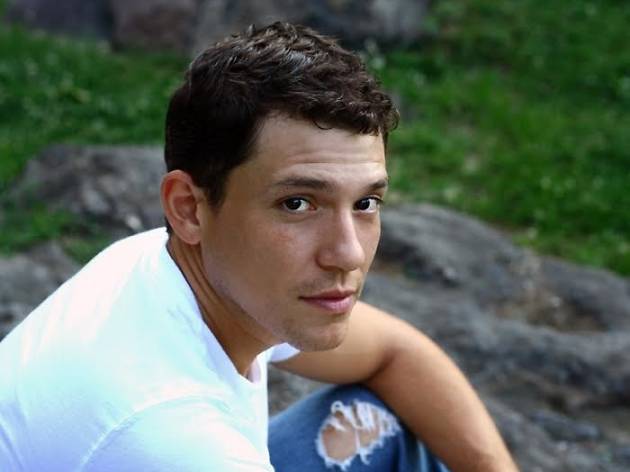 Miguel Cervantes (Alexander Hamilton)
"It's actually the biggest sort of role I've ever had, just on paper. It's more words than I've ever said," says Cervantes, who takes on the role originated by show creator Lin-Manuel Miranda. "And as we've learned, it's more words than anyone's ever said," he adds, referencing a FiveThirtyEight analysis that determined Hamilton averages more than twice as many words per minute than typical musicals.
Cervantes, whose Broadway credits include If/Then and American Idiot, sees a great responsibility in his role, especially given the way the show has impacted young fans. "I have parents who are saying, 'My kid knows every word.' Someone said to me something so amazing, which was all of a sudden, George Washington to a lot of young people will be a mixture of this old white guy in a wig, and a big black man."
Cervantes says he's curious how he'll be received compared to Miranda: "Lin has this sort of mystique threaded in, that you see him do the show and know that all of these words came out of his brain," he says. "And then there's little me, little Miguel coming in to step into this role. To be able to carry the flag into this whole other area of the country is—I don't think I have any idea how it's all going to go down."
Ari Afsar (Eliza Hamilton)
A San Diego native, Afsar was a contestant on the eighth season of American Idol and won the Miss California pageant in 2010, finishing in the top 10 at Miss America. Check out her website and you'll see her modeling work and links to original songs on SoundCloud. Acting is another of her varied interests. "Ever since I was 14, my parents would take a day off of work once a week and drive me up to L.A. for five-minute auditions," she says. "I grew up doing musicals since I was seven [and] did some regional theater; in San Diego I was in [How the Grinch Stole Christmas] as Cindy Lou Who at Starlight, which was a big theater that has now closed. But nothing that's comparable to Hamilton, let's be real."
Afsar got a one-way ticket to New York City last year almost on a whim, she says. Guess it worked out for her;
Hamilton
is the first audition her new agent sent her out on. "Timing is everything, because the opportunity of
Hamilton
wasn't there five, six years ago or 10 years ago, and it couldn't have been—having a pop background and the opportunities for diversity, it's just really fantastic that Lin-Manuel created such an amazing opportunity for all types of people," Afsar says. She booked the show without having seen it: "In my callback, Tommy Kail was in the audition and he asked me if I'd seen
Hamilton
. I was like, 'No, I've been trying to get tickets every day!'"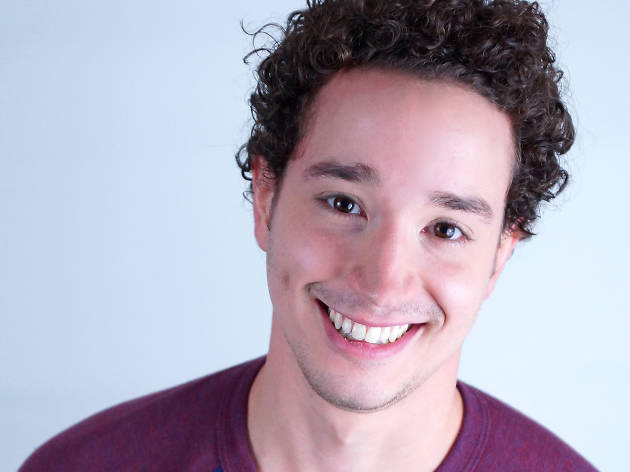 Jose Ramos (John Laurens/Philip Hamilton)
When I call Chicago native Ramos early on a Friday morning a week before rehearsals begin for Hamilton's Chicago company, he's eating breakfast in New York's Bryant Park before heading to his last shift at his day job—promoting Broadway shows in Times Square. Ramos attended high school at the Chicago Academy for the Arts and moved to New York soon after graduating. "I was like, I've gotta do something, I know where Broadway is, so why not go where Broadway is," he says.
He first auditioned for
Hamilton
's Off Broadway run at the Public Theater; though he made it through a couple of callbacks, he didn't get the gig. "So then I had to wait and see it become the monster and the awesome thing that it is. It was crazy because I do work in Times Square, so I would literally see the buzz of
Hamilton
happen. And I kinda made a promise to myself: You are going to be a part of this, don't worry, just wait, wait, wait."