The best free things to do in Chicago in August
Concerts, street festivals, the Air and Water Show, movies screenings and more free things to do in August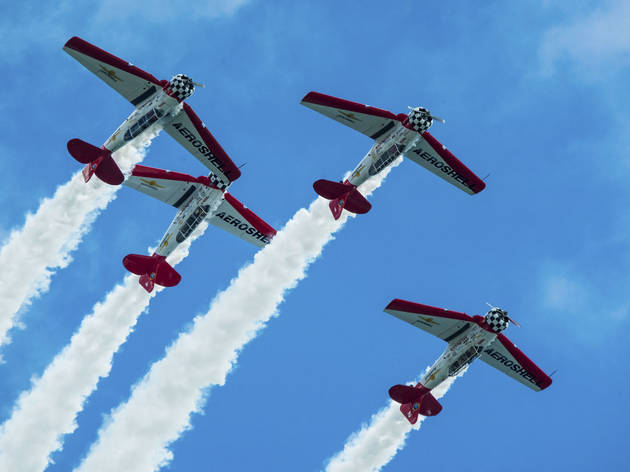 August is the penultimate month of summer in Chicago, which means that it's packed with excuses to get outside and soak up the warm weather, including many events that are free to attend. August is the final month to check out a free Millennium Park film screening or concert, so mark your calendar unless you want to wait until next summer. You can also watch a free taping of the NPR show Wait Wait... Don't Tell Me!, attend the Chicago Air and Water Show or catch a free music festival. Explore all the gratis fun you can have this month with our list of the best free things to do in Chicago in August.
Free things to do in Chicago in August
Audiences at comedy shows don't get much more supportive than the ones that fill Camp every week in the Village Tap's beer garden. The summer camp-themed showcase gives comedians a place to test out new material and take risks, whether they're developing a new set of jokes or working out the kinks of a wacky character. Hosts Tessa Orzech and Samantha Berkman act as counselors, keeping the evening lively with sketches and unexpected hijinks.
Things to do, Literary events
This eclectic reading series is where good writing and good beer mix. Every month five local writers and authors put together pieces to read while you order off Hopleaf's extensive beer menu.
This twice-weekly "live magazine" is a cavalcade of culture, politics and wit featuring journalists, actors, comedians and musicians offering idiosyncratic reports on the news of the day. Head to Uptown's iconic Green Mill for drinks, hot takes and laughs; the longstanding Saturday afternoon edition tends to run about two and a half hours, while the new "Cocktail Hour" Wednesday show is a tight 90 minutes with no intermission.