Heads up! We're working hard to be accurate – but these are unusual times, so please always check before heading out.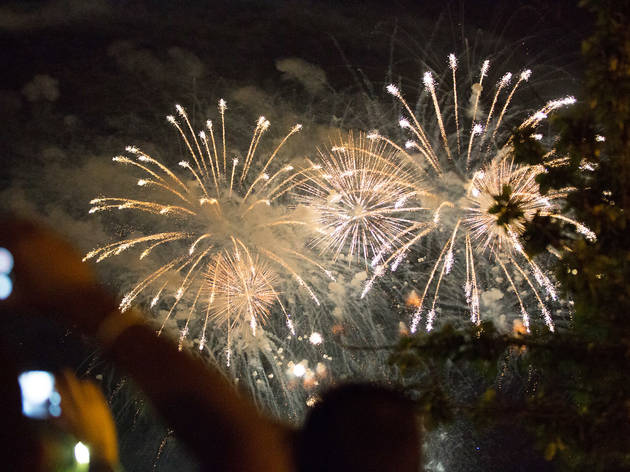 Guide to Navy Pier Fireworks
Cozy up on a beach blanket or get to a downtown rooftop to watch the spectacular Navy Pier fireworks light up the lake.
When you hear the pops and booms over Lake Michigan, it's a sure sign that summer has arrived. You don't have to wait for 4th of July in Chicago for an amazing display of fireworks that light up the lake and cityscape. The colorful Navy Pier fireworks show is a great way to cap off your day at Chicago's beaches or exploring the best rooftop bars.
What is the Navy Pier fireworks show?
Twice a week during the summer, fireworks are set off from Navy Pier. Each show lasts 10 to 15 minutes.
When are the Navy Pier fireworks?
The fireworks begin Memorial Day weekend and end Labor Day weekend. They take place every Wednesday at 9:30pm and Saturday at 10:15pm.
Where are the Navy Pier fireworks?
Navy Pier is located on the shoreline of Lake Michigan at 600 E Grand Ave. You can get a good view of the fireworks from Navy Pier, the Chicago beaches, harbors, downtown rooftops and anywhere north or south along the shoreline near Navy Pier.
Do the Navy Pier fireworks cost anything?
Nope, the fireworks are completely free to watch.
Navy Pier fireworks 2017 schedule
May 27, Sat, 10:15pm
May 31, Wed, 9:30pm
June 3, Sat, 10:15pm
June 7, Wed, 9:30pm

June 10, Sat, 10:15pm
June 14, Wed, 9:30pm
June 17, Sat, 10:15pm
June 21, Wed, 9:30pm
June 23, Sat, 10:15pm
June 28, Wed, 9:30pm
July 1, Sat, 10:15pm

July 4, Tue, 9:30pm
July 5, Wed, 9:30pm
July 8, Sat, 10:15pm
July 12, Wed, 9:30pm
July 15, Sat, 10:15pm
July 19, Wed, 9:30pm
July 22, Sat, 10:15pm
July 26, Wed, 9:30pm
July 29, Sat, 10:15pm
Aug 2, Wed, 9:30pm
Aug 4, Sat, 10:15pm
Aug 9, Wed, 9:30pm
Aug 12, Sat, 10:15pm
Aug 16, Wed, 9:30pm
Aug 19, Sat, 10:15pm
Aug 23, Wed, 9:30pm
Aug 26, Sat, 10:15pm
Aug 30, Wed, 9:30pm
Sept 2, Sat, 10:15pm

Oct 31, Sun, 9:30

Dec 31, Sun, Midnight