The 27 ways you know it's finally spring in Chicago
Do you detect the heady melange of semen, chocolate and dog poop in the air? Why, it must be spring in Chicago!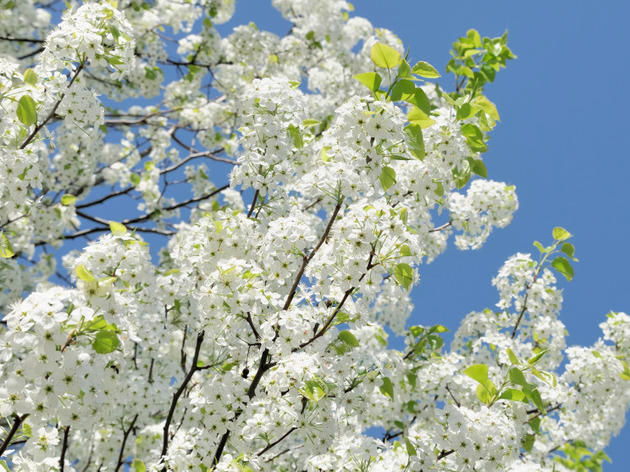 Spring is easily the most glorious and cruel season. One day it's gorgeous, sunny and warm-ish and you're eating at an outdoor patio, and the next you're freezing your ass off at the Chicago Cubs home opener. Let's keep our spirits up, Chicago, by hitting every spring event we can, and making mental notes of all these signs that spring is here...or at least on its way.
RECOMMENDED: More things to do in spring in Chicago
1. Starry-eyed Bears fans are fantasizing about their first-round pick in the upcoming draft.
2. People are drinking margaritas on the patio at Big Star—in winter coats.
3. Forlorn brown branches cover the outfield walls of Wrigley Field.
4. The bewitching sight of grass (and condoms, chicken bones and cigarette butts) festooning the parkways.
5. Bros in Gap cargo shorts are flashing some man calf.
6. Plastic bags flap loudly in every tree.
7.The sidewalks and streets are covered with tiny tar rocks that were supposed to fill the potholes, and did—for about three minutes.
8. The soaring glory of 65 degrees.
9. The soul-crushing heartbreak of 31 degrees 24 hours later.
10. The sight of your pale, flaccid belly in the mirror.
11. You've lost at least one shoe in thigh-deep mud.
12. Gorgeous Bradford pear trees are blooming, sending the intoxicating aroma of semen into the air.
13. Cab drivers unroll their windows to yell at cyclists.
14. Ankle-deep dog poop. Everywhere.
15. Hunter boots. Everywhere.
16. Bulls fans clog the sports-talk stations, predicting Derrick Rose's triumphant return from injury after surgery (again).
17. Farmers' markets are open and packed, even with their meager offerings of asparagus, tiny lettuce and small berries.
18. City drivers move their scrapers from the front seat to the back seat, but not all the way out of the car.
19. Jerky families post pics of their fabulous spring break vacations on Facebook.
20. More empty seats than usual at U.S. Cellular.
21. Lake Michigan looks like water again, instead of a giant hunk of ice.
22. The smell of Blommers's chocolate re-emerges downtown.
23. The most popular parent playground conversation becomes: "Did you get into Chicago Park District day camp for the summer?"
24. The sun. The glorious, wonderful sun.
25. You search desperately for beer gardens with those fancy outdoor heaters.
26. You chortle at the Blackhawks' playoff beard tradition while secretly gazing lustfully at the otherworldly handsomeness of Patrick Sharp.
27. You're so desperate for signs of spring in Chicago that you read lists like this.