Chicago bike routes for casual riders
Even if you don't bike regularly, you'll be able to handle these casual routes throughout Chicago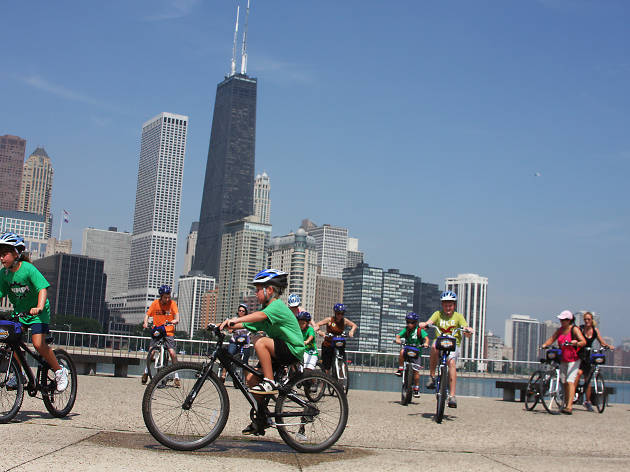 If you've frequented your local bike shop and tuned up your ride, you're ready to tackle some casual routes throughout Chicago. For the most part, you won't have to worry about dealing with traffic—these routes stick to paths and trails that are cyclist-friendly. Along the way, you'll encounter hot dog stands, scenic views and some reminders of the city's rich history. Hop on your bike, bring a lock and prepare for a leisurely roll.
RECOMMENDED: Check out more Chicago bike routes
For casual riders
Jackson Park to Washington Park (3.6 miles)

Heading east on 51st Street from the Green Line station that bears its name, enter Washington Park through Ellsworth Drive, keeping an eye out for parkgoers. Pedal south along Morgan and Payne Drives, taking in all that greenery (without getting perilously distracted, please). As you come to Midway Plaisance, take a left and continue, breezing past the University of Chicago, until you reach the heart of Jackson Park.
PIT STOP: Experience history at the DuSable Museum of African American History, an institution nestled on the east side of Washington Park that's dedicated to the appreciation of African-American culture.
North Avenue Beach to Museum of Science and Industry (10.4 miles)

Escape the crowds at North Avenue Beach, and head south on the Lakefront Trail (which, to be fair, will also likely be packed with fellow cyclists and pedestrians). Drink in views of the skyline as you whirl through Museum Campus and pedal south toward Hyde Park. Once you pass Promontory Point, exit the trail near the Museum of Science and Industry.

PIT STOP: Take a quick break at Promontory Point, a man-made peninsula that provides the Chicago skyline view you've been waiting to Instagram.
Forest Glen Woods to Caldwell Woods (3.2 miles)

Begin your ride to the north of the Forest Glen Metra station, entering the North Branch Trail from North Forest Glen Avenue. The trail winds northwest through woods, following the North Branch of the Chicago River before curving around the Edgebrook Golf Course. When you hit Devon Avenue, continue through the Sidney Yates Flatwoods before depositing yourself at a picnic area near Devon and Milwaukee Avenues.

PIT STOP: Fuel up after your ride at the Superdawg Drive-In, an old-school restaurant that serves Chicago-style hot dogs on a bed of crinkle-cut french fries.