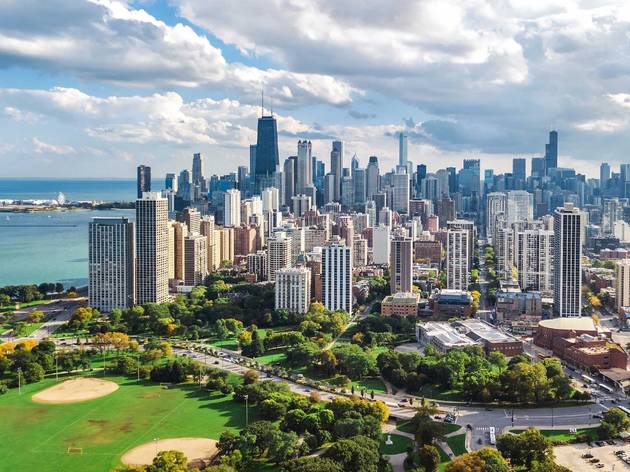 Here's what you can and can't do outside in Chicago right now
Not sure what outdoor activities are permitted in Phase 4 of Chicago's reopening? We're here to clear things up.
As the weather warms up and sunny days become commonplace, you (and plenty of other Chicagoans) are probably feeling the urge to spend more time outside.
As of June 26, Phase 4 of Chicago's reopening plan has started, offering new opportunities for outdoor recreation as well as a gradual reopening of indoor businesses. While the city of Chicago has placed some restrictions on where and how you're able to spend time outdoors, there are still lots of things you can do while enjoying some fresh air.
We've pored over the Chicago guidelines and Illinois guidelines to determine exactly what you can (and can't) do outside at the moment. Keep in mind that Chicagoans are subject to some additional restrictions that go beyond the state's guidelines.
We'll keep updating this information as conditions change and the city and state reopening plans are modified, hopefully offering more ways for residents to enjoy the outdoors.
You can be outside in general
Go ahead, get outside! Just remember that even though the "stay-at-home" order has ended as of June 3, many of the safety precautions it introduced for people venturing outside of their homes are still in place in Chicago. You should continue maintaining 6 feet of social distance from others and wear a face covering in public places where you can't be 6 feet apart. And if you're feeling sick, please stay home!
You can gather with groups of 100 people
After weeks of seeing your friends through video chats, you have the official green light to start seeing them in public! Just keep in mind that outdoor, non-business, social gatherings are limited to 100 people or less (and indoor gatherings are restricted to 50 people or less).
You can walk, run, jog and walk your dog
Getting exercise outdoors is more important than ever, especially if you've been cooped up indoors for much of the past few months. Don't want to run while wearing a mask? According to Chicago Department of Public Health guidance, a face covering is not required while exercising as long as you maintain a 6-foot distance from others. That being said, if you're walking, jogging or running on a public sidewalk, you might want to keep a face covering in your back pocket if you don't feel comfortable moving into the street to avoid encountering others.
You can go for a bike ride
Go ahead and dust off that old bike and pedal around the neighborhood—people aren't driving as much, so there's less traffic than usual. Don't have a bike? Bicycle shops are considered an essential business, and many of them are still open for all of your bike-shopping and tune-up needs. Divvy is also still operating, though you may want to bring something to wipe down your shared bike. Skateboarders, roller bladers and scooter fanatics, you also have the go-ahead to roll around the city.
You can dine and drink al fresco
Tired of eating takeout on your couch? Phase 3 of Chicago's reopening plan allowed restaurants to reopen and offer outdoor dining. Bars and breweries have also been added to the mix, though you won't be able to stay for more than two hours. As you'd expect, there are plenty of safety procedures involved: Guests will need to wear a mask when not seated, you'll be seated 6 feet away from other tables, and groups of diners cannot exceed six people. You'll probably have to get a reservation, as most bars and restaurants will have limited outdoor space. Not all bars and restaurants with patios will offer al fresco dining, so call ahead to confirm that it's an option.
You can go boating or kayaking
Chicago's harbors officially reopened at the end of June, allowing residents to get on the water, whether they're lucky enough to own a personal boat or are joining a tour group.
The city has provided strict capacity restrictions for personal boats, based on length. Similarly, boat tours and rentals are only allowed to operate at 50 percent capacity or a maximum of 100 people, whichever is less.
If you'd rather paddle, many kayak rental locations have reopened, allowing guests to float along the river on their own or with a tour guide. Just be aware that being on the water doesn't mean that you shouldn't let your guard down when it comes to face mask use and social distancing.
You can visit the Lakefront Trail or the 606
The barriers that blocked access to the Lakefront Trail and the 606 for the past few months didn't stop some Chicagoans from sneaking in some scenic recreation, but as of June 22 both attractions are open to the public once again. Use is restricted to transit and exercise only, and you'll need to keep moving—no picnics by the lake or overlooking Damen Avenue. You can walk, run, bike or rollerblade, just make sure to wear a face covering and keep your distance from other groups—social distancing ambassadors are stationed throughout each path to remind guests of the rules.
You can spend time in one of Chicago's public parks
Chicago is packed with amazing parks, and many of them are open to visitors, as long as they're wearing face coverings and practicing social distancing. You can still gaze at the lagoon from the Humboldt Park Boat House or climb to the top of "Mount Bridgeport" in Palmisano Park and admire the skyline. Check the Chicago Park District website to see which parks are closed to the public. And remember that playgrounds remain closed—sorry, kids.
You can visit a state park
Need to escape to spend some time in the wilderness? Governor J.B. Pritzker has reopened more Illinois state parks, making them available for wildlife observation, hiking, biking, equestrian use, fishing, camping and mushroom hunting. Of course, social-distancing guidelines still need to be observed and residents are being asked only to travel to parks that are near them (there's no need for a road trip to Southern Illinois to visit Cave-in-Rock right now).
You can exercise or dine on the Chicago Riverwalk
The Chicago Riverwalk is open again, whether you want to go for a job along the Chicago River or dine al fresco at a waterfront restaurant. The entire Riverwalk is open for receration from 5–10am every morning, including walkers, runners and cyclists. From 11am–9pm, businesses along the Riverwalk open to customers and several "passive recreation areas" along the path offer spots to sit down and admire the sights.
You can go for a walk on Navy Pier
As of Wednesday, June 10, the popular attraction has reopened many of its outdoor areas, including Polk Bros Park, the North and South Docks and Pier Park. Navy Pier is even offering free summer programming, including outdoor movie screenings, concerts and yoga.
You can visit the Chicago Botanic Garden
After closing in March, the Chicago Botanic Garden is reopening on June 9, allowing visitors to traverse a 2.3-mile trail that loops around the park. You'll need to make a reservation for a timed ticket on the garden's website if you're arriving by car, but cyclists and those walking from the nearby Metra station will be admitted without tickets. The Chicago Botanic Garden hopes to reopen more of its grounds later in June.
Mayor Lightfoot is allowing golf courses that are not located along the lakefront to reopen in Phase 3 of the city's plan. While Illinois guidelines state that foursomes may play together and tee times must be spaced 10 minutes apart, Chicago has yet to release a set of rules for courses in the city. We recommend calling ahead to see what is (and isn't) allowed.
You CANNOT go to the beach
We know you're going to be tempted to pack a towel and find a good stretch of sand to sunbathe, but all of Chicago's beaches remain closed to the public indefinitely by order of Mayor Lightfoot. The Mayor has expressed interest in reopening beaches at some point this summer, so keep your bathing suit handy.
You CANNOT play contact sports
Yes, a quick game of hoops would be a great way to blow off some steam right now, but most sports involve coming within 6 feet of other people, so they're not allowed at the moment. According to Chicago's outdoor attractions guidelines, activities are "limited to non-contact sports in small groups only." That means that hitting the tennis court or throwing a frisbee is allowable, but any activity that gets you close to others will have to wait.
Best selling Time Out Offers