Time Out Market Chicago reveals final chef lineup and opening date
Come November 21, you'll be able to enjoy 50,000 square feet of culinary awesomeness at Time Out Market Chicago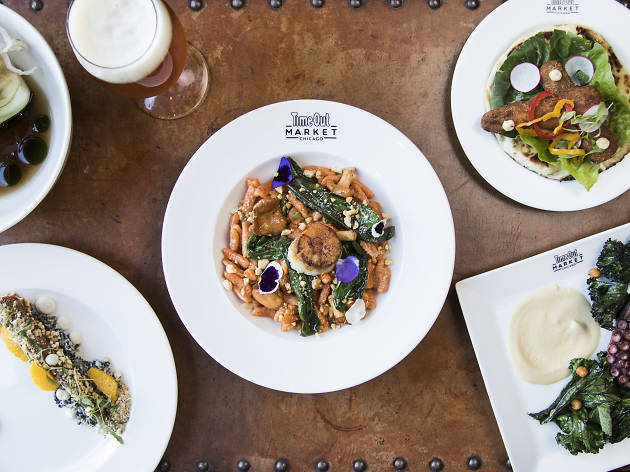 The wait is finally over: Time Out Market Chicago opens to the public on November 21 at 8am at 916 W Fulton Market, in the heart of the West Loop. The 50,000-square-foot building is home to 18 decorated chefs, three world-class bars, a demonstration kitchen, an all-season rooftop and cultural spaces programmed with music and interactive events. In other words, be sure to come hungry.
We're rounding out our star-studded chef lineup in style with three new additions: Michelin-starred brewpub Band of Bohemia expands its repertoire as one of the Market's signature chefs; Duck Inn chef-owner Kevin Hickey reveals his new concept, Decent Beef, which–despite its non-celebratory name—makes incredible, elevated Italian beef sandwiches; and Sugar Cube will serve whimsical sugar-laced treats to ensure every meal ends on a sweet note. Additionally, noodle experts Tortello will bring pasta-making classes to the second-floor demonstration kitchen, and we'll roll out a series of amazing events throughout the year. Of course, you're going to need something to wash down all those amazing eats. Time Out Market Chicago beverage director Jonathan Kahn has you covered with a roster of imaginative cocktails, locally crafted beers, top-rated wines and some funky non-alcoholic options to boot.
These newcomers join the chefs we revealed in our first and second announcements: Abe Conlon, the Art of Pizza, Bill Kim, Brian Fisher, Dos Urban Cantina, Duck Inn Dogs, Erick Williams, FARE, John Manion, Lost Larson, Mini Mott, Pretty Cool Ice Cream, Purple Pig, Secret Sound, Split-Rail and Thai Dang. Read up on our latest additions below:
Band of Bohemia: Armed with the admirable mission to upgrade classic brewpub grub, Alinea vets Michael Carroll and Craig Sindelar turned heads when they left the fine-dining powerhouse to open Band of Bohemia, in Ravenswood, in 2015. With their all-star team, the duo serves up mind-blowing beers and flavor-packed dishes, like the signature eggplant naan with creamy Old Bay aioli and punchy sport peppers. But perhaps we've buried the lead: Band of Bohemia was the world's first brewpub to earn a Michelin star, which it has retained since 2016.
Decent Beef: You didn't think we'd open Time Out Market Chicago without an Italian beef, did you? The iconic delicacy is a deliciously messy rite of passage for locals and out-of-towners alike. At Decent Beef, chef Kevin Hickey (The Duck Inn) elevates the handheld classic with juicy shaved prime rib, a rich beef jus, hot giardiniera and sweet peppers—all tucked inside a crusty roll. Pro tip: Vegans and vegetarians will love Hickey's ingenious Beet Street sammie, which subs meat for delicately sliced roasted beets and umami jus. Save yourself the return trip and grab some napkins now.
Sugar Cube: Ready to get hit right in the sweet spot? Local industry vets Jason Chan (Juno, Butter, Urban Union) and Christine McCabe (Interurban Café, JoJo's Milk Bar, Charlie Trotter's) are cranking out a parade of classic, feel-good desserts that are packed with whimsical nostalgia. Sink your fork into a towering slice of layered confetti cake and let candy-colored, cloud-like meringues melt away in your mouth. While McCabe's creations have become Instagram darlings, one bite will convince you that they aren't just a feast for the eyes. At Sugar Cube, it's always a good time for dessert.
Tortello: Take your skills to the next level with Tortello's hands-on pasta-making classes, part of the market's rotating culinary programming. Hosted at the second-floor demo kitchen, diners will learn how to make various pasta shapes from Tortello's head sfoglina Alex Mulgrove. Following the class, guests will enjoy a family-style dinner, prepared by the team at Tortello led by executive chef Duncan Biddulph, who draws from his personal experiences in Italy as well as Italian native owner Dario Monni's family recipes.
Time Out Bar: Chicago, we know you're thirsty, which is why we put a bar on every floor of the Market in addition to our secret speakeasy from Lost Lake co-owners. The editorially curated beverage program features inspired libations created by leading mixologists at Arbella, Best Intentions, Billy Sunday and Flora Fauna. Plus, beverage director Jonathan Kahn dreamed up a roster of sippers inspired by Chicago markets past and present, like the CH Vodka-based Green City Bazaar with carrot juice and turmeric-ginger-pineapple tea syrup. He rounds out the menu with top-rated wines and a selection of Chicago-made brews from the likes of Pipeworks, Cruz Blanca and Moody Tongue.
Second-floor cultural activations: Time Out Chicago magazine isn't just about food, and neither is Time Out Market. Guests can expect cultural experiences and activations that run the gamut from storytime with drag queens and holiday craft markets to wellness workshops and themed tasting menus.
Stay tuned for more delicious details on Time Out Market Chicago, opening to the public on Thursday, November 21 at 916 W Fulton Market. Time Out Market Chicago is open Sunday through Thursday from 8am to 10pm and Friday through Saturday from 8am to 11pm. Select eateries will serve breakfast items in the morning, while most others will open at 11am; bars will stay open until midnight on Friday and Saturday.