Heads up! We're working hard to be accurate – but these are unusual times, so please always check before heading out.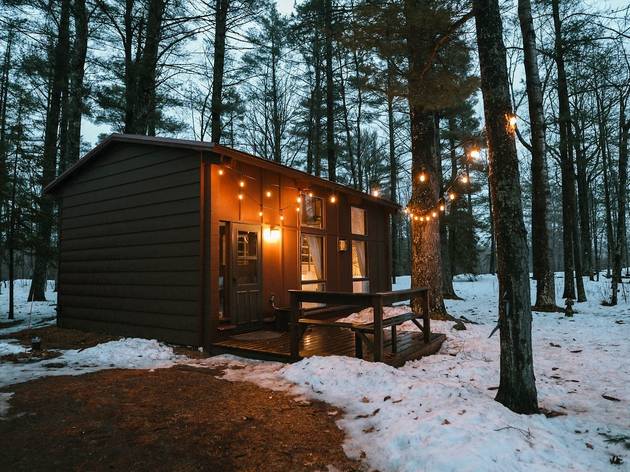 Day trips from Chicago—here's what you can and can't do
Stay safe with the most up-to-date guidance on taking day trips from Chicago right now.
Thinking about taking a day trip (or a longer journey) from Chicago? Travel guidelines and recommendations have continued to evolve as the COVID-19 pandemic progresses, which can make it difficult to get the most up-to-date information.
Illinois is no longer under a "stay-at-home" order (though Chicago is under a stay-at-home advisory), so taking a trip is still technically allowable, though it's being discouraged in various ways. We've taken a closer look at the available modes of transportation, out-of-state travel and destinations outside of the city. If you're going to journey outside of city limits, here's what you need to know.
Editor's note: We'll update this guide as regulations change, but it's always wise to check in on city and state guidelines regarding travel before packing up and hitting the road.
There's nothing stopping you from traveling out of state, but the Centers for Disease Control and Prevention cautions that "travel increases your chances of getting infected and spreading COVID-19."
Chicago is discouraging interstate travel with its latest emergency travel order, which recommends avoiding travel to any state experiencing a seven-day average of more than 15 daily cases per 100,000 residents. If you decide to go to one of these states, the order states that you should self-quarantine for 14 days upon your return to Chicago (if you're visiting a state with between 15–60 daily cases per 100,000 residents, you can also a pre-arrival negative COVID-19 test no more than 72 hours prior to arrival in Chicago).
Even if you're traveling to a state with fewer than 15 daily cases per 100,000 residents, the emergency travel order advises avoiding "non-essential travel."
Am I required to quarantine after traveling?
Chicago's emergency travel order instituted a daily $500 fine (up to $7,000) for those found in violation of the rule, including the post-trip 14-day self quarantine. But the city hasn't actually enforced its rules—CBS Chicago reported that as of October 2, Chicago hasn't issued a single ticket for violations of it emergency travel order.
But the city's lack of enforcement doesn't mean that you should ignore the rules. If you're coming to Chicago from a state where cases are on the rise, you really should quarantine for 14 days to ensure the safety of yourself and those you may encounter. It may be inconvenient, but it's an easy way to help control the spread of COVID-19.
Yes, there's nothing stopping you from hitting the road, whether you're traveling within Illinois or taking a trip to another state. Just keep in the Chicago emergency travel order in mind as you plan your return to the city, as well as CDC guidance that states, "Staying home is the best way to protect yourself and others from COVID-19."
A U.S. Department of Homeland Security document deemed car rentals "critical infrastructure," allowing them to continue operating even as some states begin to limit access to non-essential businesses. Most national car rental services have ramped up cleaning procedures and established contactless methods of picking up your ride.
Metra is still operating, though service on most lines has been reduced as ridership has dropped. Metra introduced a $10 all-day pass at of June 1 and encourages riders to purchase their fares using the Ventra app to reduce contact. Face coverings are required for all riders on Metra trains, as maintaining six feet of distance between other passengers can be difficult. Check the Metra website for the latest train schedules and information.
Amtrak trains are still departing from Union Station, but many routes are operating under modified schedules or have been temporarily suspended. Amtrak has reduced the capacity of each of its trains, has enhanced cleaning protocols and is requiring the use of face coverings by all passengers. See the Amtrak website for updated schedules and safety measures.
Yes, you can still take flights throughout the United States, though you may want to think carefully before hopping on a plane. Many airlines have started fogging the plane with disinfectant before boarding, utilizing High-Efficiency Particulate Air filters that recycle air dozens of times per hour, allowing food and drink to be brought onboard en lieu of cart service and mandating that all flight attendants wear masks. (Be sure to check the individual airlines' policies on their respective sites.)


But
should
you? Chicago emergency travel order discourages interstate travel and the CDC warns that, while air circulation makes airplanes relatively safe, trips to the airport come with some risk. The CDC notes that airport security lines and terminals can bring you in close contact with others and that crowded on flights "sitting within 6 feet of others, sometimes for hours, may increase your risk of getting COVID-19."
If you decide to scrap your plans, here is
everything you need to know about getting a refund
, according to the U.S. Department of Transportation.
What parts of Illinois have reopened?
None of the four regions of Illinois have reached the final phase of the state's reopening framework, indicating a return to relative normalcy.
All regions of Illinois, including Chicago, have moved into Phase 4 of their reopening plans, but as of November 20, Gov. J.B. Pritzker put the entire state under Tier 3 mitigations that restrict You can see the status of each region of Illinois here.
Can I visit a state park?
Most Illinois state parks remain open, allowing visitors to hike, camp and enjoy nature while observing social distancing measures. This is in line with the state's Tier 3 mitigations, which allow for "outdoor sports and recreation."
Once you arrive at a park, make sure that you continue to practice social distancing, wear face coverings when necessary and consider leaving if the area becomes especially crowded.
Yes, most hotels in Illinois (and across the nation) are still accepting guests, though most have institued a variety of safety guidelines. Under the state's Tier 3 mitigations, hotel room occupancy is limited to registered guests only and all event and meeting spaces are closed. Chicago's industry-specific guidelines dictate that all event venues—including meeting rooms, banquet centers, private party rooms, private clubs and country clubs—may not host indoor or outdoor gatherings.