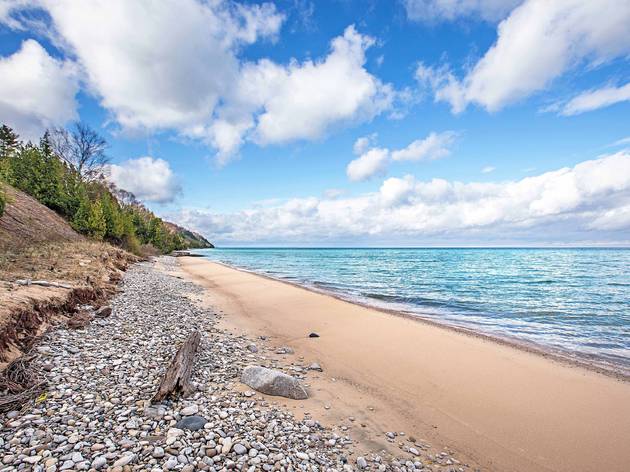 Day trips from Chicago—here's what you can and can't do
Stay safe with the most up-to-date guidance on taking day trips from Chicago right now.
Summer in Chicago is just around the corner, and after months spent cooped up in your apartment, you might be craving a quick escape from the city.
The state and city's "stay-at-home" order officially ended at the beginning of June, and on June 26 Chicago entered Phase 4 of its reopening plan. While there's clear guidance about what businesses can reopen, some Chicagoans are still fuzzy on whether or not they can hop in a car and hit the road for a weekend away. Let's take a closer look at modes of transportation, out-of-state travel and other destinations in the surrounding area. If you're going to journey outside of city limits, here's what you need to know.
Editor's note: We'll update this guide as regulations change, but it's always wise to check in on city and state guidelines regarding travel before packing up the car and hitting the road.
Yes, Illinois roads are open, but the state advises residents to follow travel guidelines set forth from the Illinois Department of Public Health (IDPH) and the Centers for Disease Control (CDC). Both sets of guidelines recommend that travlers avoid non-essential trips to destinations with level 3 travel notices. Older adults and those with medical conditions should also consider postponing travel altogether. In other words, take a look at where you're traveling to and whom you're traveling with before hitting the road.
Do I need to quarantine after traveling?
As of July 6, Chicago has issued an emergency travel order, requiring anyone entering or returning to the city from a state where cases are on the rise to self-quarantine for 14 days. The current list of states included in the order (updated every Friday) can be found here.
While the quarantine is mandatory and fines of up to $7,000 can be imposed on violators, Mayor Lightfoot has made it clear that the city won't actually be enforcing the order. Instead, she is counting on residents to take responsibility for their actions and protect others by abiding by the 14-day quarantine requirement.
So, if you're coming from a state where cases are on the rise, you really should quarantine for 14 days to ensure the safety of yourself and those you may encounter.
A U.S. Department of Homeland Security document deemed car rentals "critical infrastructure," allowing them to continue operating. Most national car rental services have ramped up cleaning procedures and established contactless methods of picking up your ride.
Metra is still operating, though service on most lines has been reduced as ridership has dropped. Metra is introducing a $10 all-day pass (beginning June 1) and encourages riders to purchase their fares using the Ventra app to reduce contact. Face coverings are required for all riders on Metra trains, as maintaining six feet of distance between other passengers can be difficult. Check the Metra website for the latest train schedules and information.
Amtrak trains are still departing from Union Station, but many routes are operating under modified schedules or have been temporarily suspended. Amtrak has reduced booking to 50 percent of each service's capacity, has enhanced cleaning protocols and is requiring the use of face coverings by all passengers. See the Amtrak website for updated schedules and safety measures.
Yes, you can still take flights throughout the United States. Here are the changes many airlines have instituted in their cabins: fogging the plane with disinfectant before boarding, utilizing High-Efficiency Particulate Air filters that recycle air dozens of times per hour, allowing food and drink to be brought onboard en lieu of cart service and mandating that all flight attendants wear masks. (Be sure to check the individual airlines' policies on their respective sites.)


But
should
you? It's worth checking out how the states you're in and traveling to are faring with cases, which you can track on the
CDC site
. The trouble is that once you're onboard, it's difficult to stay six feet away from other humans, even with stricter guidelines in place. The CDC also notes that "traveling to visit family may be especially dangerous if you or your loved ones are more likely to get very ill from COVID-19."
If you decide to scrap your plans, here is
everything you need to know about getting a refund
, according to the U.S. Department of Transportation.
What parts of Illinois have reopened?
None of the four regions of Illinois have reached the final phase of the state's reopening framework, indicating a return to relative normalcy.
All regions of Illinois, including Chicago, have moved into Phase 4 of their reopening plans, and mayors have the ability to set guidelines that are specific to their cities. You can see the status of each region of Illinois here.
There's nothing stopping you from traveling out of state, but the Centers for Disease Control and Prevention cautions that "travel increases your chances of getting infected and spreading COVID-19."
If you must hit the road, take a close look at the city you're traveling to and ensure that COVID-19 isn't spreading where you're going; you should also analyze your own community's status and ensure that you're not putting others in risk by visiting their area. You might also reconsider visiting a state that is part of Chicago's emergency travel order, which mandates a 14-day quarantine after travel to the city from states where cases are on the rise.
The CDC has plenty of other guidelines to consider, but generally speaking, don't travel if you're feeling sick.
Can I visit a state park?
Under new staffing restrictions and safety measures, every state park in Illinois has been open since May 29, allowing visitors to hike, camp and enjoy nature while observing social distancing measures. Additionally, concession providers inside of state parks will be able to reopen under the same guidelines applied to restaurants throughout the state.
Once you arrive at a park, make sure that you continue to practice social distancing, wear face coverings when necessary and consider leaving if the area becomes especially crowded (nice weather is likely to draw crowds to popular parks like Starved Rock and Matthiessen State Park).
All of Chicago's beaches are currently closed by order of Mayor Lightfoot, but a few other patches of sand lining Lake Michigan are open to visitors. According to a report by the Chicago Tribune, beaches in Highland Park are open to runners, cyclists and walkers, while the city of Evanston has opened four of its beaches as of July 1.
If you must soak up some sun on the sand, you should still be following social distancing guidelines.
Phase 4 of Chicago's reopening plan (and the state's) brings with it the reopening of park facilities west of Lake Shore Drive, hotels, outdoor attractions and golf courses.
Airbnb has also introduced a 24-hour waiting period between guests and new cleaning guidelines to make travelers feel more comfortable booking stays, while major hotel chains have implemented new room cleaning procedures and measures to encourage social distancing in lobbies and other shared spaces.