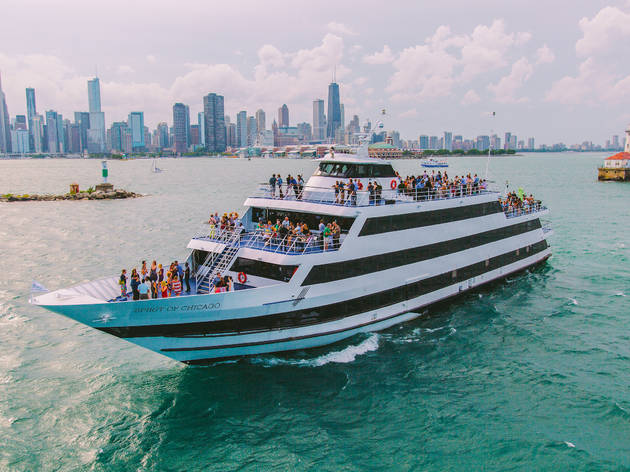 The 14 best Chicago boat tours
See the skyline from dazzling new vantage points aboard the best boat tours in Chicago
If you're looking to see some of the most incredible skyline views of Chicago, look no futher than the city's top boat tours and cruises. The Chicago River and Lake Michigan each offer unparalled vantage points for gazing at the city, and many of these boat tours also provide unique insight into Chicago history and culture with the help of their highly trained guides. There's a cruise for every mood: Whether you want to dine, snap photos or simply gawk at iconic Chicago attractions from new angles, the best boat tours in Chicago—from stately tall ships to wind-whipping speedboats—have got all of your nautical needs covered. Anchors aweigh!
RECOMMENDED: Find more to explore with one of the best things to do in Chicago
Best Chicago boat tours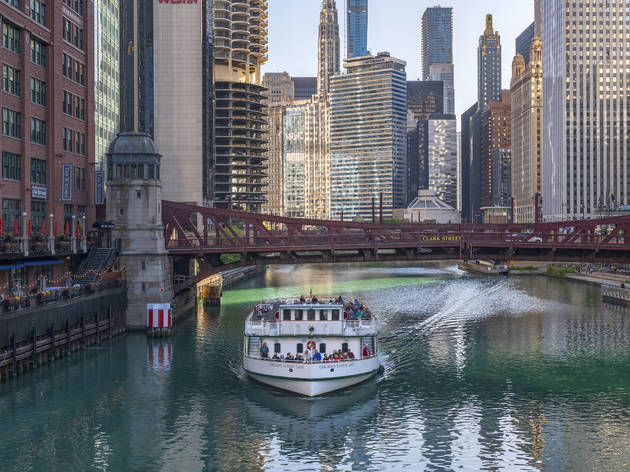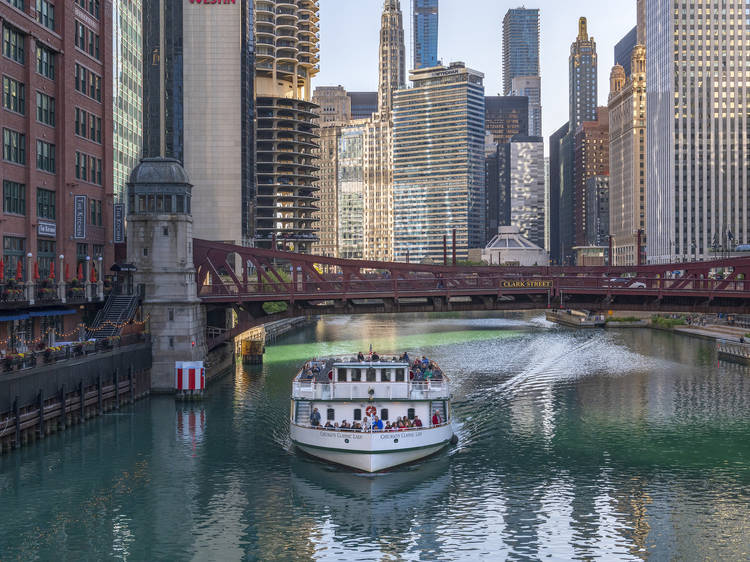 Photograph: Barry Butler
1. Chicago Architecture Foundation Center River Cruise
Certified Chicago Architecture Center guides point out more than 50 buildings on this comprehensive and entertaining 90-minute tour of the city's riverfront that departs throughout the day and in the evening. All tours leave from the Chicago First Lady Cruises dock on the south side of the Michigan Avenue Bridge and are a great entry point to learning about the city's history and architecture. Plus, for an extra $5 you can gain admission to all of the exhibitions on display at the Chicago Architecture Center.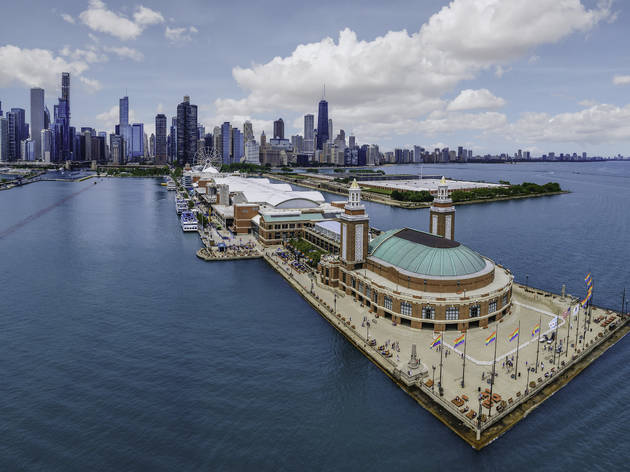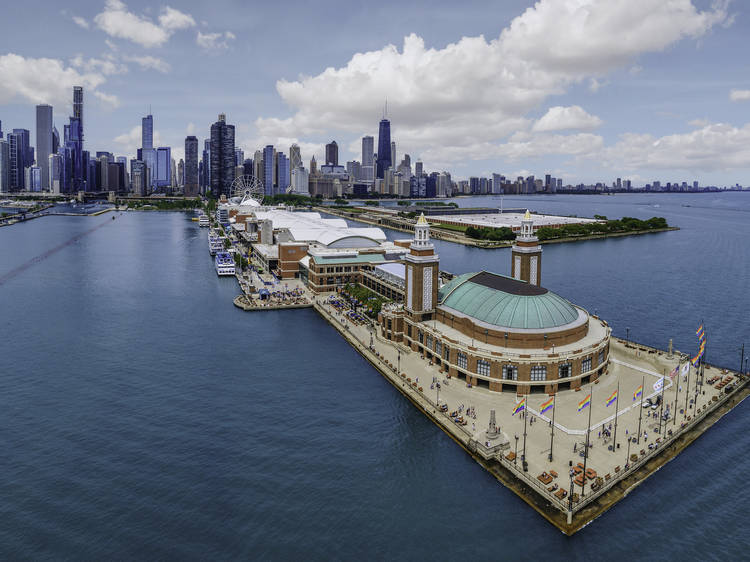 Photograph: Courtesy Navy Pier
2. Shoreline Sightseeing Classic Lake Tour
Want to see Chicago from the water but don't have much time to spare? You can peep the skyline in just 40 minutes on Shoreline's Classic Lake Tour, which departs from Navy Pier and boasts some of the best views you'll find on Lake Michigan. The commentary on the city's architecture and history is pre-recorded, so you won't miss out on any information because your guide ran out of time (and if you've heard it before, you can sit back and enjoy the sights).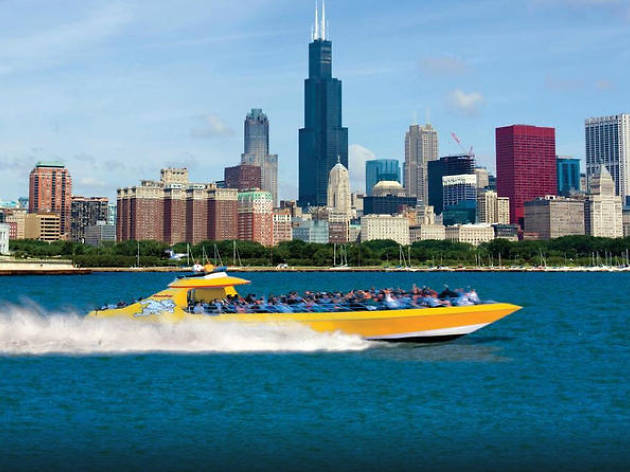 Photograph: Courtesy Seadog
3. Seadog Lakefront Speedboat Tour
If you balk at the idea of traipsing around museums and galleries all day, this whistle-stop boat ride is the tour for you. See every worthy Chicago landmark in 30 minutes on Seadog's speedboat, which can sometimes feel like a floating rollercoaster. Launching from Navy Pier, the captain will efficiently guide you (with a running commentary) around Lake Michigan, past Museum Campus, Magnificent Mile, Grant Park and more.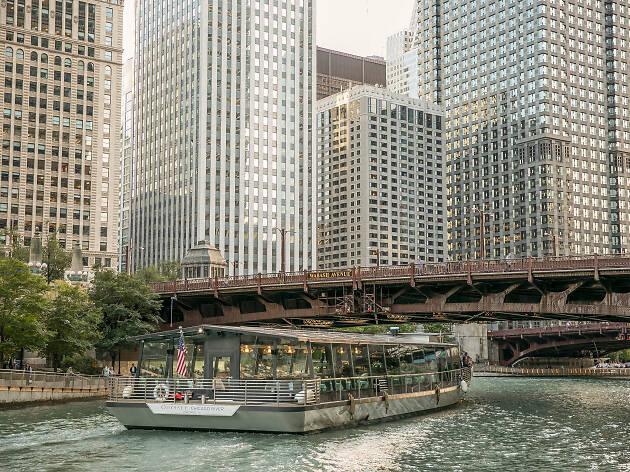 Photograph: Courtesy Entertainment Cruises
4. Odyssey Chicago River Dinner Cruise
Enjoy a leisurely dinner on the water in the Odyssey Chicago River, a glass-enclosed boat that offers sweeping views on the skyline surrounding you. Departing from the Chicago River Esplanade near the NBC Tower, this cruise includes a three-course plated dinner, allowing guests to choose from entrees like braised beef short rib and pan seared Pacific cod (vegetarian and vegan options are also available). The 2.5-hour ride takes you down every branch of the Chicago River, with a cash bar and a dancefloor to keep you entertained.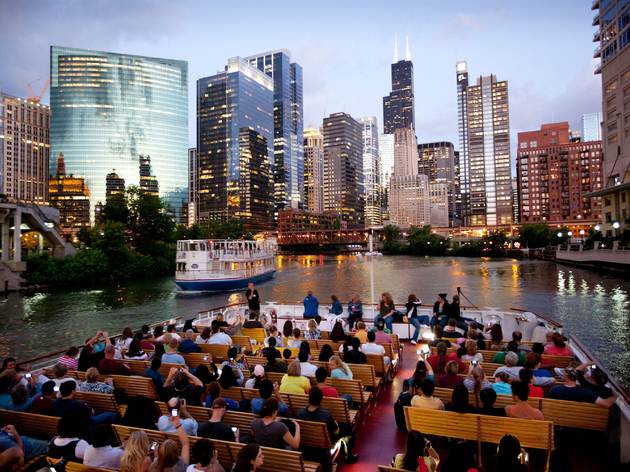 Photograph: Courtesy Shoreline Sightseeing
5. Shoreline Sightseeing Architecture River Tour
Departing from Navy Pier's Polk Bros Park or the northeast corner of the Michigan Avenue Bridge, this 75-minute trip packs in all of the architectural sights that visitors want to see. Tour guides highlight more than 40 towering Chicago landmarks, including 875 North Michigan Avenue (the former John Hancock Center), the Wrigley Building and the Aon Center.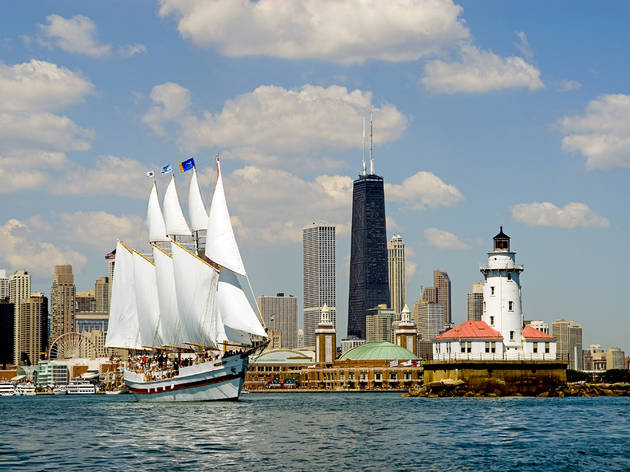 Photograph: Chuck Eckert
Let the wind carry you to stunning views of the city from aboard the Tall Ship Windy, a four-masted, 148-foot topsail schooner. The 75-minute trip cruise brings guests on a scenic route running along the Lake Michigan shoreline, where you can take in lovely skyline vistas and glimpses of the sunset. Head to the aft salon of the boat to find snacks and drinks for sale.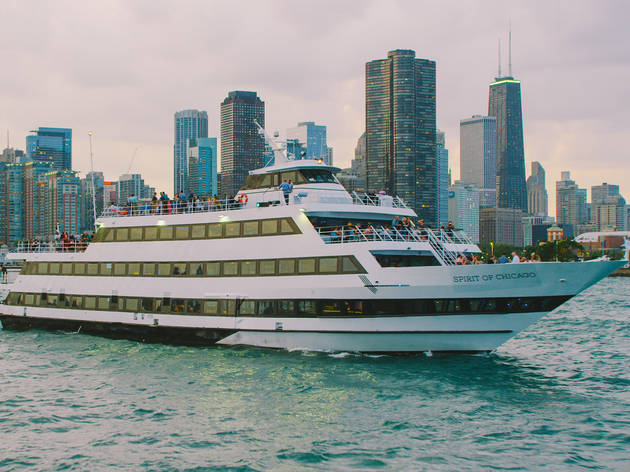 Photograph: Courtesy City Cruises by Hornblower
7. Spirit of Chicago Dinner Cruise on Lake Michigan
If you're looking for dinner with a view, you could do worse than watching the sunset against the skyline aboard this 2.5-hour Lake Michigan dinner cruise. Grab a group of friends book a table—ideally one with a window-facing view—for a buffet-style meal before making your way to the dancefloor for an evening of DJ-curated music. Unlimited coffee, tea and water will be on hand, but you can also visit the bar for some stronger libations.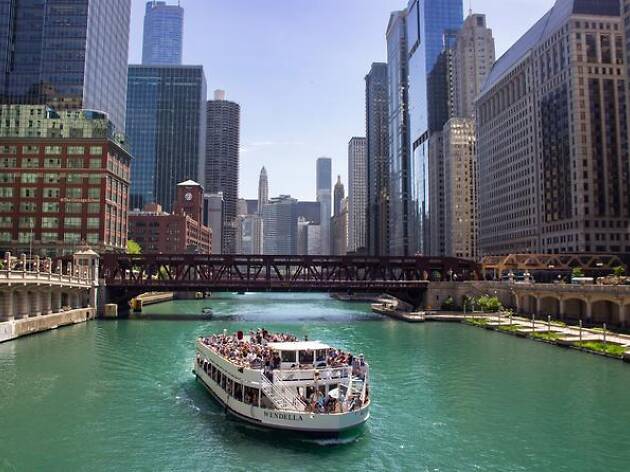 Photograph: Courtesy Wendella
8. Wendella Chicago's Original Architecture Tour
If you're weighing your options, Wendella's architecture tour (which it claims is Chicago's original) is another way to explore all of the beautiful structures that line the river. Over the course of the 90-minute tour, you'll navigate all three branches of the Chicago River, while your guide fills you in on the stories behind some of the skyline's most prominent edifices. This tour departs from the Wendella Dock, located at the northwest corner of the Michigan Avenue Bridge at the foot of the Wrigley Building.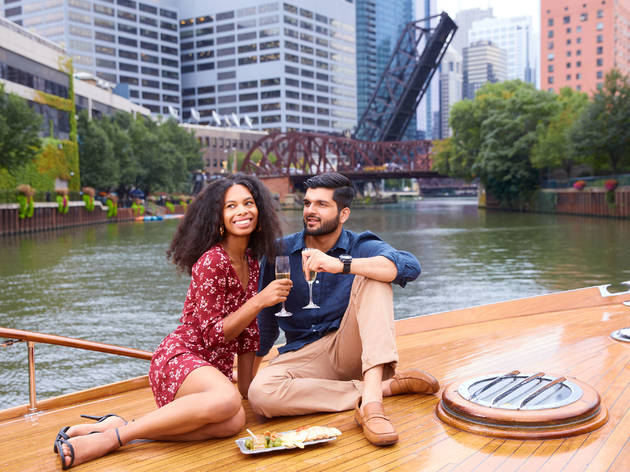 Photograph: Courtesy Chicago's First Lady Cruises
9. Lady Grebe Chicago River Experience
Want to feel extra posh? Grab a group of up to six friends and book a private cruise aboard Lady Grebe, a 48-foot vintage yacht that can be reserved for 90-minute trips along the Chicago River. The reservation comes with non-alcoholic drink service but you can also opt to kick things up a notch with various beverage package options (or, for an educational twist, book a Chicago Architecture Center docent to give a guided tour).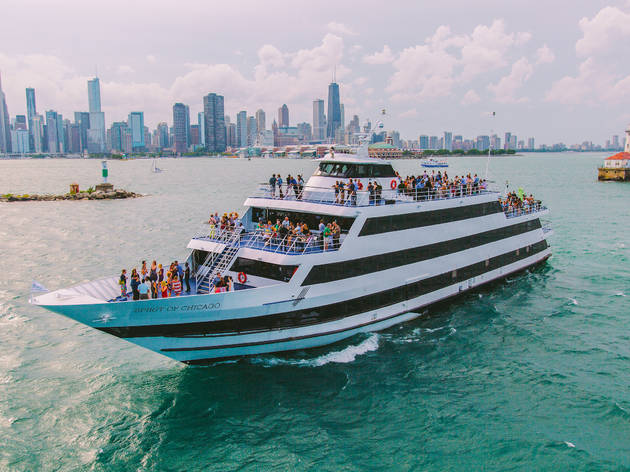 Photograph: Courtesy City Cruises by Hornblower
Why settle for lunch at a land-lubbing restaurant when you could eat your meal on Lake Michigan? The Odyssey's lunch cruise includes a lunch buffet and all the coffee, hot tea, iced tea and water you can drink. Visit the cash bar to buy wine, beer and cocktails and enjoy the views on this two-hour tour.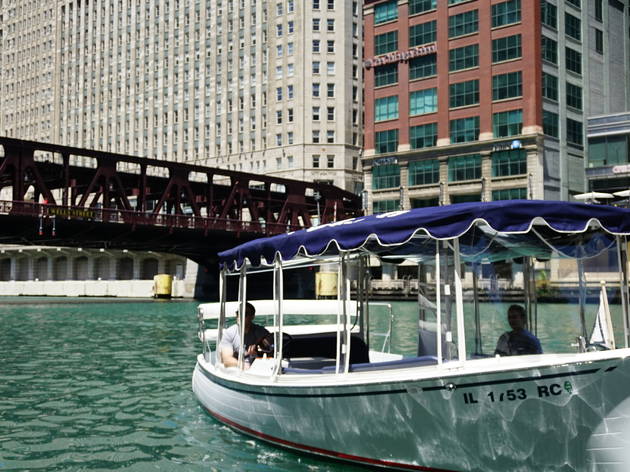 Photograph: Courtesy Chicago Electric Boat Company
11. Chicago Electric Boat Company Tour
Want to be the captain of your own Chicago River tour? The Chicago Electric Boat Company will let you steer the ship yourself—you just need a valid drivers license and the time to watch a 10-minute tutorial. With docks in Avondale, on the Chicago Riverwalk and at Marina City, you can select a time, rent a boat and decide if you'd like to hire a personal tour guide or a captain for your nautical journey. There are various boats available, each with different capacities, so find what works for you and personalize your river tour.
12. Chicago Fireboat Tours Historical and Architectural Cruise
Hosted on the bright red Fred A. Busse Fireboat, which served the Chicago Fire Department until 1981, this architectural tour of the Chicago River lasts anywhere from 90-minutes to 2-hours. A docent will fill you in on the history of buildings lining the river as well as the story of the boat you've boarded, which formerly traveled the city's waterways to fight fires. Departing from DuSable Harbor, the fireboat doubles as a floating museum, packed with vintage firefighting artifacts and photos.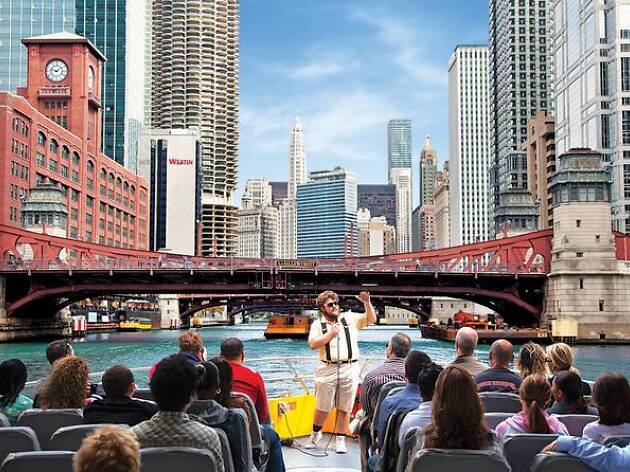 Photograph: Courtesy Seadog
13. Seadog River and Lake Architectural Tour
Those with a need for speed and sightseeing will be right at home on Seadog's Architectural Tour. First, you'll hop on a speedboat for a guided tour of the city's architectural wonders, including the Lyric Opera and Willis Tower, and an explanation of how the Chicago River was reversed. After you've seen the sights, this 75-minute tour ends with a thrilling ride across Lake Michigan, where you'll zoom past Museum Campus and Grant Park. The tour departs from the Seadog dock at Navy Pier throughout the summer.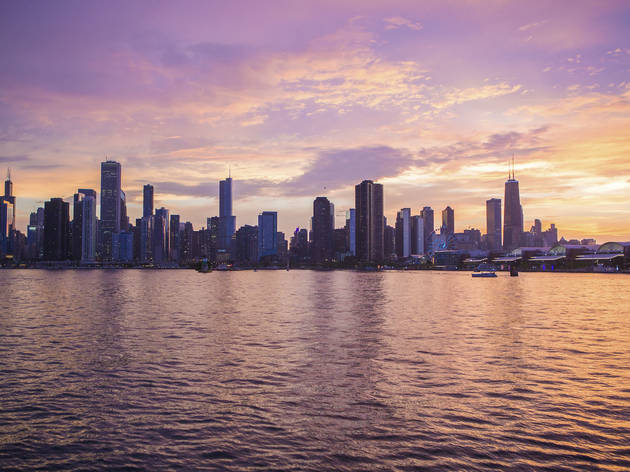 Photograph: Jordan Avery
14. Wendella Chicago Sunset Cruise
How do you end the perfect day of sightseeing? With the perfect sunset, obvs. Setting off from Wendella Dock (at the northwest corner of the Michigan Avenue Bridge at the foot of the Wrigley Building), this 90-minute cruise will breeze along Lake Michigan as the glint of the sun on Chicago's skyscrapers is replaced by twinkling city lights. Wine, beer and cocktails will be available onboard, too.