The best Chicago boat tours
Get on board and see the Chicago skyline from the river or lake on some of the best boat tours in town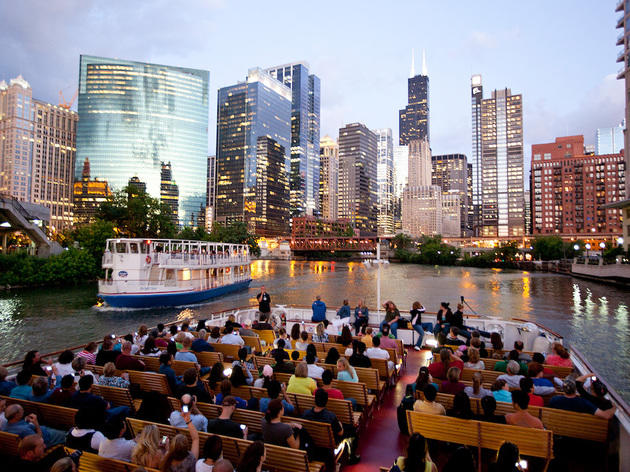 Most visitors get a view of Chicago from the sidewalk, the back of a cab and on the L train, but the best way to see the city is from the water. Board a boat tour and you'll be treated to amazing views of beautiful buildings, the iconic skyline and maybe even a few fireworks. You can cruise down the Chicago River, learning about the city's history, or eat dinner while gliding across Lake Michigan. Trust us: most of Chicago's best attractions look even more gorgeous from the waves. Check out our selection of the best boat tours in Chicago.
RECOMMENDED: Find more to explore on the best Chicago tours.
Best Chicago boat tours
1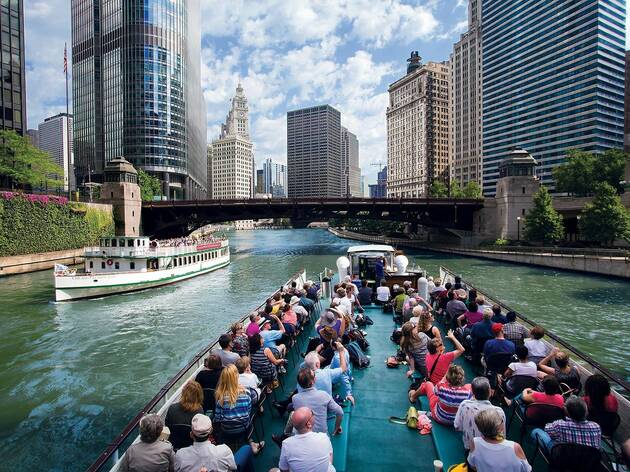 Photograph: Courtesy Chicago Architecture Foundation
Chicago Architecture Foundation River Cruise
Certified Chicago Architecture Foundation guides will document more than 50 buildings on this comprehensive, 90-minute tour of the city's riverfront. Snap happy? There are versions of the tour that cater to photographers (where you can move freely around the boat) and one that departs at twilight. All tours leave from the Chicago First Lady Cruises dock on the south side of the Michigan Avenue Bridge and are a great entry point to learn about the history and architecture of the windy city.
2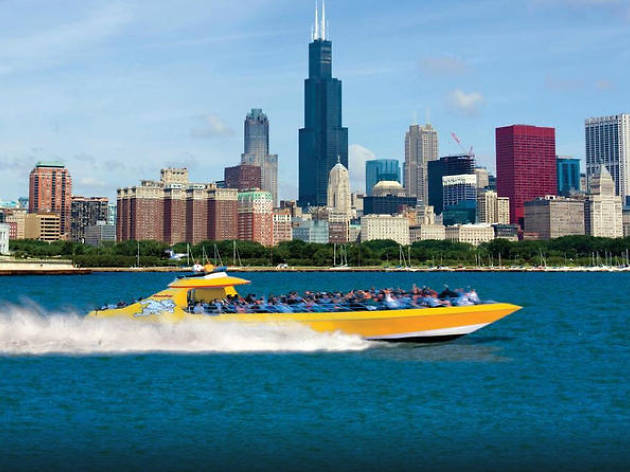 Photograph: Courtesy Seadog
Seadog Lakefront Speedboat Tour
If you balk at the idea of traipsing around museums and galleries all day, this whistle-stop boat ride is the tour for you. See every worthy Chicago landmark in 30 minutes on Seadog's speedboat. Launching from Navy Pier, the captain will efficiently guide you (with a running commentary) around Lake Michigan, past Museum Campus, Magnificent Mile, Grant Park and more.
3
Mystic Blue Chicago Boathouse Cruise
Put a little fizz in your boat trip with games, DJs and a dance floor, courtesy of Mystic Blue. While onboard you can partake in cocktails (including "adult lemonade" and daiquiris) and order appetizers and small plates a la carte. The 1.5- to 2-hour tour departs from Chicago's Navy Pier every weekday and Sunday afternoon and is ideal if you're planning on hosting any kind of celebration.
4
Shoreline Sightseeing Classic Lake Tour
Want to see Chicago from the water but don't have much time to spare? You can see the skyline in just 40 minutes on Shoreline's Classic Lake Tour, which departs from Navy Pier and boasts some of the best views you'll find on Lake Michigan. Take the tour in the evening and you can watch the Navy Pier fireworks before you return to the dock. Plus, the tour is narrated so you'll get some great snippets of info, too.
5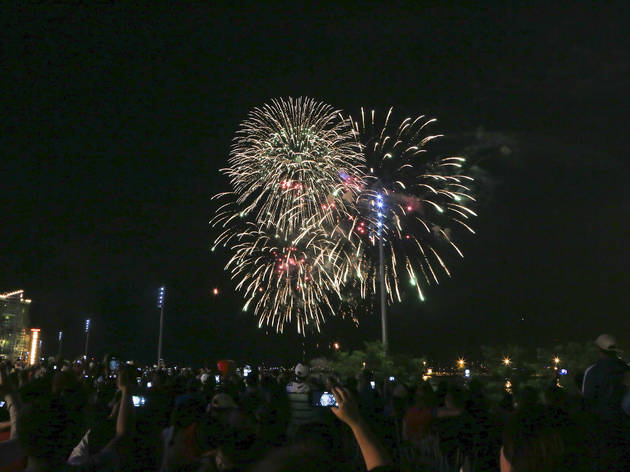 Photograph: Jordan Avery
Mercury 3D Fireworks Cruise
Whenever there's a fireworks display at Navy Pier (Wednesdays and Saturdays during the summer), there's a Mercury 3D fireworks cruise that allows you to watch them from a unique vantage point. All guests get a pair of special glasses that add some extra pizazz to the aerial display. The two-hour tour departs from the southeast corner of the Michigan Avenue Bridge.
6
Shoreline Sightseeing Architecture River Tour
Departing from Navy Pier and the northeast corner of the Michigan Avenue Bridge, this 75-minute trip packs in plenty of architectural sights. Tour guides highlight more than 40 Chicago landmarks, including 875 North Michigan Avenue (the former John Hancock Center), the Wrigley Building and the Aon Center.

7
Why settle for lunch at a land-lubbing restaurant when you could eat your meal on Lake Michigan? The Odyssey's daily lunch cruise includes a three-course meal and all the coffee, hot tea, iced tea and water you can drink. Visit the cash bar to buy wine, beer and cocktails and enjoy the views on this two-hour tour. Plus there's enough space to bring everyone you know along with you, for a proper sea-based knees-up.
8
Photograph: Courtesy Chicago Line
Chicago Line Architectural Cruise
Chicago Line presents one of the most in-depth architectural tours in town, touching on everything from city planner Daniel Burnham to Aqua Tower designer Jeanne Gang. Plus, you'll find complimentary Starbucks coffee, tea, soda and cookies on the boat. The 90-minute cruise is offered several times each day and departs from the the Lofts at River East on Odgen Slip.
9
Spirit of Chicago Sunset Dinner Cruise
Maybe you can't afford a luxury cruise to some exotic locale, but you can probably swing the cost of admission to Spirit of Chicago's Sunset Dinner Cruise. You'll get the full cruise ship experience, including an all-you-can-eat buffet, unlimited (non-alcoholic) beverages and tunes from a DJ. Tours depart from Navy Pier and last 2.5 to 3 hours.
10
Mercury Urban Adventure Cruise
This family-friendly 1.5-hour cruise offers the best of both worlds, with a trip down the Chicago River to admire the architecture followed by a quick spin in Lake Michigan where you can take in the skyline. All tours depart from the southeast corner of the Michigan Avenue Bridge.
11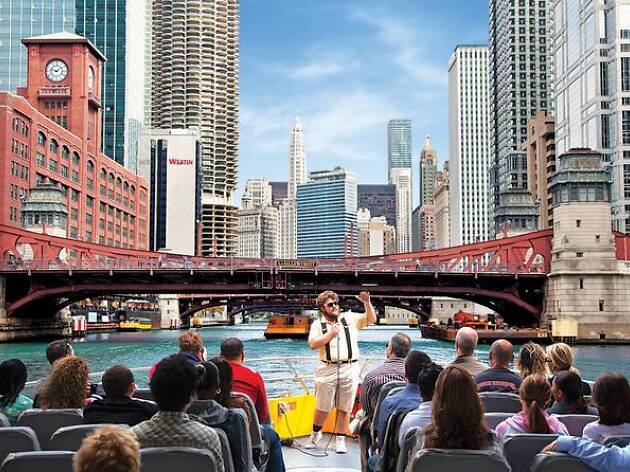 Photograph: Courtesy Seadog
Seadog River and Lake Architectural Tour
First, you'll hop on a speedboat for a guided tour of the city's architectural wonders, including the Lyric Opera and Willis Tower, and an explination of how the Chicago River was reversed. After you've seen the sights, this 75-minute tour ends with a thrilling ride across Lake Michigan, where you'll zoom past Museum Campus and Grant Park. The tour departs from the Seadog dock at Navy Pier throughout the summer.
12
Photograph: Courtesy of Wendella Boats
Wendella Chicago River Experience
Hop onto a Chicago water taxi and breeze down the river during this 45-minute crash course in the history of the city and its architecture. This tour departs from the Wendella Dock, located at the northwest corner of the Michigan Avenue Bridge at the foot of the Wrigley Building.
More to explore