Streets throughout central Zagreb will shut down this upcoming Saturday, October 1 for the 30th annual Zagreb Marathon. The main event begins at 3pm and the route snakes east-west across Zagreb, passing several iconic landmarks.
The marathon will make two laps around the city and happen concurrently with a half-marathon which will make one. There are more events events scheduled for Sunday, with a kids' race beginning at 10am, as well as a 10km run starting at 2pm.
All races will begin and end at the city's main square, Trg bana Josipa Jelačića. Watching other people run 26.2 miles can be pretty exhausting, so here's our guide to the best places to spectate the race in a little more comfort than those participating.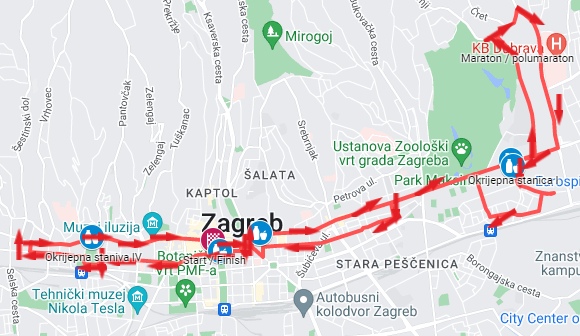 Trg bana Josipa Jelačića
You won't want to miss either the kick-off or the finish, and both of will happen at Zagreb's main square. After the race has been run at 9pm, the square will host a free concert by Croatian musician Filip Rudan and the Sarajevo pop-rock band Letu štuke.
Draškovićeva & Jurišićeva ulice
Two streets east from the starting line, the course makes its first turn at the intersection of Draškovićeva and Jurišićeva, which form a small square with several fountains, a few cafés, the impressive Greco-Roman façade of the Croatian National Bank, and the nearby drveni nebođer or the wooden skyscraper.
Masarykova & Nikole Tesle ulice
Located after about an hour of running from the starting line for participants, but only a few minutes' walk for everyone else, are some of the best cafés and restaurants in Zagreb. Gathered around these two streets is a number of excellent places to grab a coffee or a bite to eat while cheering the runners on. Check out Pingvin a classic Zagreb street-food joint, or Burgeraj for the best burgers in the city, both on the south side of the route.
Croatian National Theatre
Just down the street is Zagreb's Austro-Hungarian period opera house and theatre. The grounds are some of the most beautiful and open spaces in the city centre. The theatre steps and the many benches surrounded by colourful flower arrangements are a picturesque place to give the runners much-needed moral support.
It should take a little over two hours for the first runners to cross the finish line, so be sure to make it back to the main Square for the dramatic finish just after 5pm. Information on how to participate in the race or volunteer can be found at the Zagreb Marathon website.