Korčula and Pelješac gourmet tour
Croatia has long been recognised for its grand old cities and its wonderful swimming, sailing and beaches. But strangely, it doesn't have a reputation for its cuisine. Rob Orchard goes on a foodie road trip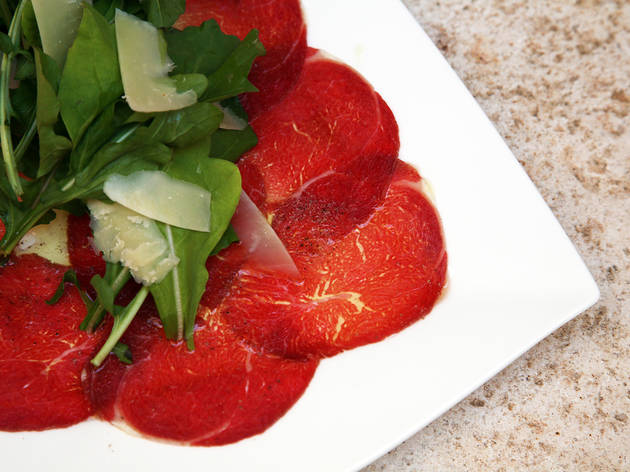 The local ingredients are tremendous, the cooking is straightforwardly stylish and there are dozens of wineries, all of which will be delighted to welcome you in for tastings accompanied by authentic local dishes. We'll go back to Pelješac and Korčula again and again – it's got just as much sun, comparably good food and far friendlier locals than Tuscany, without the latter's Chiantishire overcrowding.
It was three o'clock in the morning and the manager of the Lešič Dimitri Palace, a former opera singer, was belting out 'You'll Never Walk Alone' in between swigs of lemon rakija. The assembled hotel guests, glowing with good wine and small-hours camaraderie,were enraptured. The Liverpool supporter sat next to me was close to tears, and gazed adoringly at the wild-haired, barrel-chested singer now tipsily segueing from Gerry And The Pacemakers to 'Nessun Dorma'.
We were on the island of Korčula, just off the tip of Pelješac (pronounced 'Pellyshatz') – a beautiful peninsula which juts out into the Adriatic – and had just come to the end of a foodie road trip. It had kicked off four nights earlier in Dubrovnik, a decent foodie destination itself and a city whose beauty compares with Venice, its main rival for centuries.
From there we made our way along winding mountain roads to Ston, at the foot of the Pelješac peninsula. Ston is famous for three things: it's home to the second longest wall in Europe (after Hadrian's); it produces excellent sea salt; and it has some of the world's best oysters, which we knocked back by the dozen, along with a bottle of honeysuckle-tinged pošip white. We liked the wine so much that later on, during a tour of the island of Korčula, we visited the vineyard it came from, Krajančić Luka and met its creator, Luka.
He seemed a quiet, gentle character, but lost all his inhibitions after a couple of glasses of the good stuff, and started spontaneously and passionately quoting his own poetry at us – in Croatian. He was also a superb cook: as he talked us through a tasting session, conducted in his cabin on the beach, he plied us with amazing octopus stew, cooked in his own 'Intrada' wine, fresh-baked caraway seed bread with high-octane olive oil and smoky barbecued crayfish.
Vines and ancient olive groves
The peninsula is slim – you're never far from a sea view – and hilly, covered in vines and ancient olive groves, with the occasional flurry of orange trees. Wild thyme, rosemary and lavender grow in great thickets along the roadside (one of the reasons the lamb here tastes so good is that they feed on the herbs, effectively ensuring they're marinaded while still alive). Some areas, like Dingač, are so steep that vines are planted on 60-degree slopes, and grape pickers have to harness themselves to ropes and abseil down to gather the crop.
Pelješac is scattered with small villages and hamlets filled with centuries-old stone buildings, and is sparsely populated for much of the year, with spikes over the summer and in the olive harvesting month of November. The sun beats down from March to early December, and swimming off the rocky shoreline is superb.
We travelled around in a minibus, listening to a mix of soft rock and klapa, the music of local a cappella singing groups, and, in between the gluttonous indulgence, we stopped off at vineyards, restaurants and several settlements.
An especially lovely break was Korčula, the main city (although it's still pretty tiny) on the island of the same name, which has maintained its simple beauty despite having been invaded on a near-continuous basis throughout much of its existence. The streets there are staggered, to stop residents being chilled by the powerful Yugo and Bora winds which blow across the island, and the cathedral is blessed with a beautiful Tintoretto painting as its centrepiece. There's also a hilarious gargoyle of an elephant, created in the fourteenth century by a stonemason who had never seen an elephant but made the best hack at it he could based on hearsay.
Memorable meals are everywhere in this region, and you don't have to pay a fortune to get them. One of the best we had was in a rough and ready konoba (farm tavern) called the Antunović, in the village of Kuna on Pelješac. A forest of hams hung from the roof, alongside net-wrapped sausages, sides of pork ribs and strings of garlic, and everything sold was made by the farmer-cum-restaurateur who was drinking and talking politics with his mates at the next table.