The 12 best things to do in Darwin
Looking for things to do in Darwin? You will have a snapping good time swimming with crocs and exploring the food scene
The best things to do in Darwin share a common thread; this destination has a reputation. It's that far northern city where people put ice in their beer, dodge cyclones and take their life into their hands if they ever step into the sea. And while there is something a little untamed about Australia's northernmost capital city, that's what makes it so much fun to visit. Whether you're here to access the majesty of Kakadu and Litchfield National Parks, check out the incredible international food scene or just planning to kick back by the water in this tropical paradise while the rest of the country shivers through winter, there's something in Darwin for everyone.
Done something on this list and loved it? Share it with the hashtag #TimeOutDoList and tag @TimeOutEverywhere.
Find out more about how Time Out selects the very best things to do all over the world.
Best things to do in Darwin
Photograph: Sarah Mackie
What is it? A not-for-profit outdoor cinema down by the water.
Why go? Seeing a movie at the Deckchair is like a right of passage for anyone visiting Darwin. As long as you're visiting in the dry season you can expect to recline in striped lounge chairs on a balmy evening, and if you don't have a cushion, they have a box of them on a first-come-first-served basis. They show blockbusters, indie releases and arthouse films. A different local business does the catering for each movie so you can get dinner and a drink beforehand while the sunsets. Just be careful the possums don't steal your snacks.
2. The Darwin Sailing Club
What is it? A beachfront sailing club
Why go? Watersports are a way of life in Darwin, not just because you can't swim in the water due to the apex predators. There are multiple sailing clubs, but the one in Fannie Bay has the kind of beer garden that tourism brochures live for. The huge green lawn is set with big white plastic tables that extend down to the point where the grass meets the sand of the beach. This is where you want to sit in the afternoon sun under the palm trees, with a local green ant gin and tonic in hand.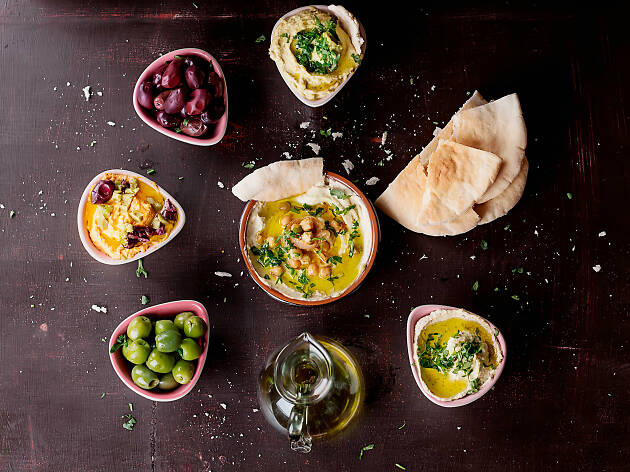 Photograph: Shutterstock
What is it? A classic Greek restaurant in the heart of the city
Why go? Darwin has a huge Greek community, which is why you can buy Retsina (a piney white wine) at the local shops. It also means that this classic blue and white restaurant in the heart of the city is always packed. You definitely want to book ahead on weekends so that you don't miss fluffy taramasalata, chargrilled prawns in the shell, octopus, and a melt-in-your-mouth lamb that you'll be thinking about for days afterwards. They also have live music on weekends so make it a later dinner if you want to embrace the party vibes.
4. Museum and Art Gallery of the Northern Territory
What is it? A museum and gallery housing natural history displays, art retrospectives and exhibitions.
Why go? This is the leading cultural destination in Darwin. You start with a full evolutionary history of the region, covering geology, sealife, birds, reptiles and mammals, with a particular focus on the ones that can kill you. They also have an exhibit dedicated to Sweetheart, the legendary saltwater crocodile who liked chewing boat motors in the 1970s. There is a permanent exhibition that looks at the devastation of Cyclone Tracy in 1974, and touring exhibitions – on our visit it was 'Defying Empire', the third National Indigenous Art Triennial.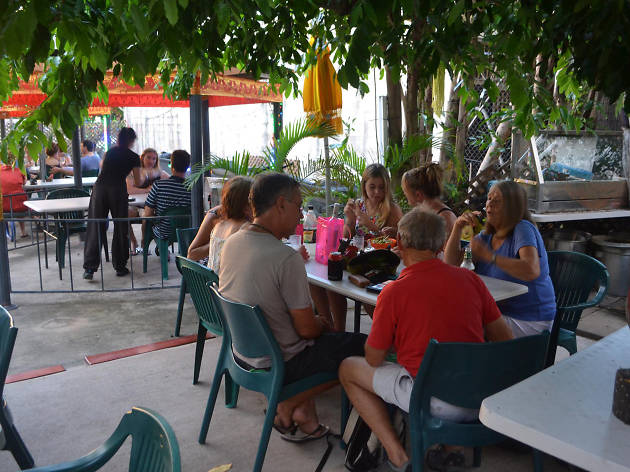 What is it? A famous cheap eat known for their charcoal chicken.
Why go? You will drive right past this simple establishment on the highway as you criss-cross Darwin, but the locals know to factor in a visit to Warung Ibu Amye, as it is also known, especially on a Friday when they are doing their famous charcoal chicken with an addictive chilli sauce. This is one of those local gems that Darwin residents are fiercely proud of.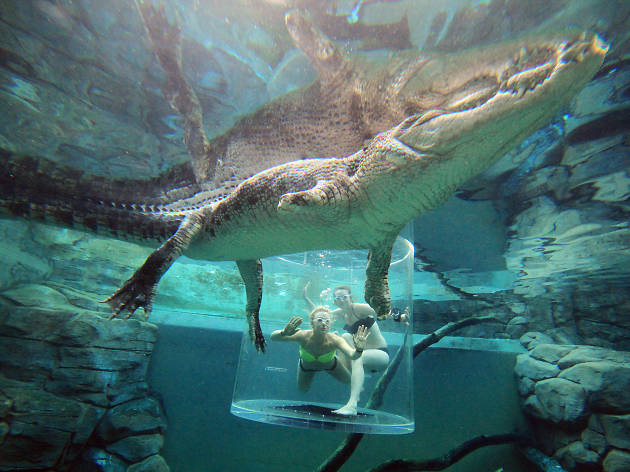 What is it? A wildlife park specialising in the local apex predator in the centre of town.
Why go? Do you dare to enter the cage of death – where you will spend 15 minutes submerged with the ultimate apex predator lurking only metres away – or are you more a feeding a sweet baby crocodile type? You can do both at Crocosaurus Cove in central Darwin. There's also a pool with glass panels into a crocodile enclosure, and you can attend reptile shows and feeding demonstrations daily.
What is it? A no frills lunch spot in the city with a devoted following.
Why go? Follow the trail of city office workers on weekday lunchtimes and you'll end up in the sparse dining room of this beloved cheap eat. We're talking a bain marie, mixed plates, plastic tables and a TV in the corner – the food is the star of the show. Each day they have a selection of Indonesian curries and stir-fries that you can order with rice. The beef rendang is excellent, as is the okra, and you can add seasoned boiled eggs and sambal if you like things extra hot.
8. Aboriginal Bush Traders
What is it? A shop stocking the work of local designers and artists.
Why go? If you want a genuine souvenir from a local Aboriginal artisan, this shop stocks a wide assortment of items, from paintings and sculpture, to printed fabrics, bags, jewellery and cosmetics. They also stock preserves, teas and spice made from bushfoods.
Parap Markets
What is it? A weekly ritual for spicy noodle soup.
Why go? We're told that locals in Darwin wake up craving laksa on Saturday mornings, so entrenched is the ritual of heading to the Parap Markets and joining the queues for a spicy noodle soup. There are also stalls selling every fried snack you can think of from Southeast Asia, juice vendors, barbecue carts and banana stands. This is where you can see the full diversity of migrant populations that call Darwin home, and try some of the best regional cuisine in the city.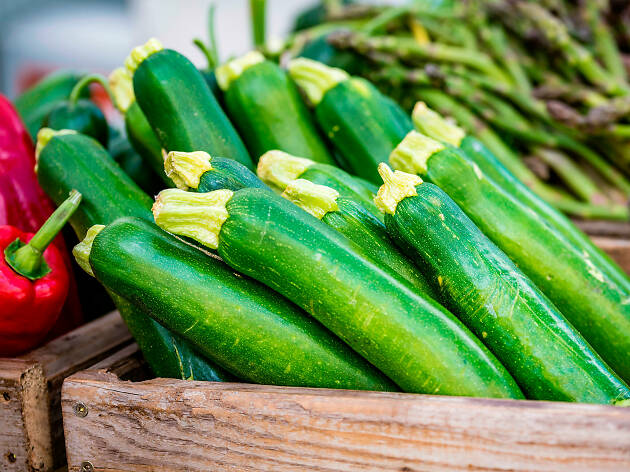 Photograph: Shutterstock
What is it? A local produce market for groceries and snacks.
Why go? The sheer scale of fresh produce available at these local markets is staggering: you can smell the fresh herbs in the air and buy exciting ingredients like winter melon, Meyer lemons, whole turmeric, tempeh so fresh it's still warm, and locally roasted coffee. Once your shopping bags are full, head out the back to where the food trucks are and get a tropical juice with lime and honey, a green papaya salad, tofu and fish skewers.
What is it? The easiest way to get your hands on a muddie.
Why go? Mud crab is not a cheap delicacy, but it is huge in yield, delicious, and an essential bucket list item for your trip. This friendly pub has an ongoing special that lets you order a half a mud crab in a mild red sauce, with turkish bread, rice and salad for $49, or if you're going the whole hog you can get a whole, one kilo crustacean for $89.
12. Spectacular Jumping Crocodile Tour
What is it? A boat tour where you can see live saltwater crocodiles.
Why go? It's a bit of a drive to see crocs in the wild, but one of the most popular ways to get closer to these living dinosaurs is on a cruise where the wildlife handlers offer the crocodiles buffalo meat to bring them into close range and see them jump out out of the water in pursuit of lunch. You definitely want to keep arms and legs inside the boat for this tour.
Best selling Time Out Offers