The best cheap eats in Edinburgh
You don't need to drop a wad of cash to enjoy a great meal in Edinburgh. Here are some of the best cheap eats options in Scotland's capital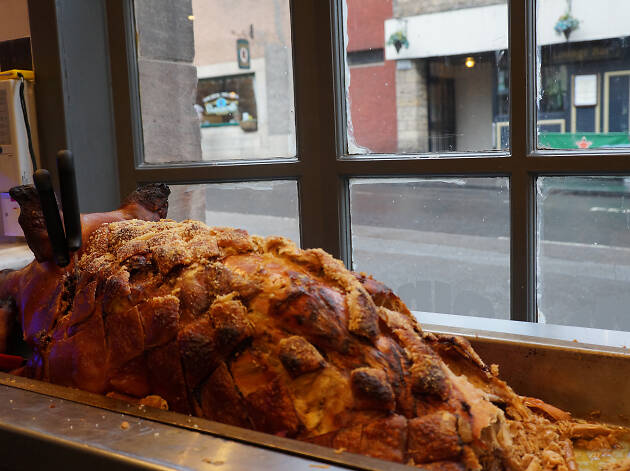 Looking for a decent meal but don't want to break the bank? Worry not – there are options to suit your taste and your wallet in Edinburgh, where Indian, Thai, Sudanese, Italian, Chinese, British and (of course) Scottish cuisine are all available for a tenner or less. See below for our pick of the best. Cheap eats don't get a lot better than these. But if you really want to go and spend a small fortune? Well, feel free to try these fine dining restaurants.
Edinburgh cheap eats
Next door to a mosque, and in the heart of studentland, Nile Valley has been doing cheap and filling food for nearly two decades. It serves tasty Sudanese and Middle Eastern cuisine, and keeps the prices down – expect falafel and baba ganoush wraps, rich tagines, spicy Egyptian lamb molokhia, chicken wings, tabbouleh or fish curry.
Oink – about halfway down Victoria Street, with another branch near the foot of the Royal Mile – is a tiny shop serving hog roasts, and you'll probably smell it before you see it. It sells fluffy morning rolls stuffed with moreish roast pork, crackling and a choice of sage and onion stuffing, apple sauce, chilli relish or haggis. The Piglet (£2.95) suits a smaller stomach, the Oink is somewhere in the middle (£3.95), and the Grunter (£4.95) is better for bigger appetites. A soup of the day and hot and cold drinks are also served.
From 5pm (and 12.30pm on Saturdays and Sundays) Origano serves up excellent, well-priced antipasto, pasta and pizza. The pizza dough and bread is made in-house and is probably the main pull here; pizzas are nicely thin, topped with gorgeous cuts of prosciutto, spicy sausage and salty olives, and available in three sizes (starting from £6.95).
Highlights of the Ting Thai menu (and there are many) include succulent marinated chicken dish gai cha plu and the nam tok nua, a fresh, spicy take on the traditional Thai beef salad. Although it's the same menu throughout the day, prices and portions go up slightly at night, so expect to pay anything from £4 to £9 as the day progresses.
This noodle bar invites you to tailor-make your order from a selection of ho fun, ramen, udon, egg or rice noodles, then add duck, vegetables, tofu, pork, chicken or beef. Throw in three bits of colour and roughage, customise things with options of chillis, spring onions or coriander, and finally pick from one of ten sauces. One of these paper Chinese takeaway boxes filled to the brim will set you back an overdraft-friendly £5.60.
A stalwart of Edinburgh's budget dining scene since it opened in 2008, The Dogs has managed to retain a decent buzz about it, despite the newer competition cropping up around town. Mostly, this is because it's stuck to what it does best: producing (for the most part) tasty British food in charming surroundings, at decent prices.
Modern décor and a decent buzz make this friendly bistro an obvious pit-stop for local professionals and hungry neighbours, keen to indulge the tasty à la carte or very reasonable lunch or early evening menus. Fish features on the menu, but by no means dominates it – there are some tasty meat options too, plus some surprisingly original dishes for vegetarians.
A full belly, and change from a fiver. That's the main draw of The Mosque Kitchen – a no-frills, queue-up-with-a-tray canteen-style set-up, with plastic cutlery and plastic plates. The owners aren't angling for anything more ambitious than filling up their customers with cheap and tasty Indian food – and the curry is good, so, as mission statements go, they deliver.
With its turquoise shop front and neon sign glowing the words 'Halal, Indo-Pak, East Indian and Kebabs' in the window, Kebab Mahal's been a student favourite for decades because of its low prices and filling platefuls. Most of the main courses (mostly lamb and chicken dishes, with one or two fish dishes and a good range of vegetarian options) come in around a fiver (rice and naan bread are extra), and are best enjoyed with a glass of mango lassi.
This tiny, excellent Turkish restaurant in the Southside has built up a solid reputation over the past decade. The cold and hot mezze are a good place to start, with Turkish cannellini beans and red onion (piyaz), hummus, spicy garlic sausage, melon and feta or hot squid and walnut salad sitting alongside the odd Scottish finger food, including Orkney herrings.
Edinburgh's premier takeaway burrito hut, Los Cardos serves very, very good, densely packed bundles of black beans, guacamole and spicy chicken and beef to takeaway. The classics are all there – tacos, quesadillas, burritos and fajitas start at around £5, as well as a few new creations, including a haggis and steak taco, or a tortilla-less bean bowl with no rice for those trying to dodge carbs.
The curry laksa soup here is filed under a section of the menu called 'Big Bowl' – and they're not messing around. For £6.30, steaming troughs of slippery noodles, prawns, chicken pieces, tofu, bean sprouts and crab sticks come in bottomless quantities. Not to be confused with its equally delightful sister restaurant Kampung Ah Lee on Clerk Street.