My conversation with Sarah Jessica Parker is awkward. Rather, it starts awkwardly, and I'm glad for that. We've met to talk about her return to TV in Divorce. If you need to assess her new show in relation to Sex and the City—the HBO megahit Parker is synonymous with—where Sex is brightness and candy colors, Divorce is all browns and greens (the title of the show should give away what it's about, though it's a comedy), with beautiful but muted clothes, fraught friendships and barbed dialogue. Sharon Horgan (Pulling, Catastrophe) is the creator and writer, and fans of the latter—about a couple who have a weeklong fling, then find themselves pregnant and eventually married—might see Divorce as Catastrophe 15 years down the road, when it's hard to imagine how the twosome at the heart of things were ever in love (or even in like).
It takes us a while to get to the show, though—one that Parker also executive produces—because talking to her is like talking to your most thoughtful, well-read friend. So we meander and touch on about a million other things first. But, oh, yeah, about that awkwardness: SJP and the women of Sex and the City were on the cover of Time Out New York once, she tells me as we head to Dream Downtown for the interview. This is confusing because I'm pretty sure the magazine has never shot her before. It was in the ramp-up to the first SATC movie, she says, in 2008, and the cover featured a stock photo of the women with their mouths taped shut.
"Isn't that interesting?" she asks me. It's a common refrain—she peppers her speech with this question the way you and I and other lesser humans add "like" and "hmm," and you get the sense that she truly does find whatever you're talking about deserving of thought and attention. When I mention offhand that I was once an adjunct professor, she eagerly asks what I taught and where. Similar curiosity abounds when I tell her that my parents live on the Upper East Side and that I loved the so-divisive-it-could-end-a-friendship The Goldfinch, as did she. ("I've never been able to really talk to [Donna Tartt] because I'm so daunted by her presence, so flipped out by being around her," she says. Her own star wattage genuinely does not seem to occur to her.)
When we get to the Dream, we immediately pull up the 2008 cover on my laptop, and there it is: a stock photograph of the foursome with duct tape photoshopped onto their mouths. "No sex!" the cover line screams. "Enough already. We love 'em, but it's just too much. Inside: 1,965 ways to enjoy your New York, guaranteed Carrie-free." Carrie is, of course, Carrie Bradshaw, SJP's alter ego turned global brand incarnate. "It was very curious, that cover. I never got it, really. We were like, 'I wonder why Tom Cruise can go on tour for 9 million Mission Impossible movies'…I'm not judging it—but all those guys, James Bond, they can do product placement in all those movies. Men can do that. This was our first movie, and it was a massive success. Why was that objectionable?" She pauses, then, "Isn't that interesting?"
It is interesting—and also mortifying. But I'm glad for the segue, because I want to talk about feminism—and specifically, her recent interview in Marie Claire, in which she says she's not a feminist. I tell her that I'm pretty sure she is. "I feel like I was born a feminist," she clarifies. "My mother didn't talk about it, we didn't have empowerment lessons or conversations, and there was no consciousness-raising in our house. I was born and reaped the benefits of a movement. And it was after having worked with Wendy Wasserstein that I started thinking about what it meant to be in the world." Humanist, a term cribbed from Wasserstein, is her preference.
"I started thinking that there was a whole group of other people who I didn't feel radically different from in terms of equality, wanting to be heard, being marginalized, feeling diminished. And I didn't think that women were alone anymore, but that the world had evolved and we now needed to include LGBTQ communities, people who are disabled, immigrants, mothers working three jobs. To say I was a feminist sort of separated me from a conversation that should include more people."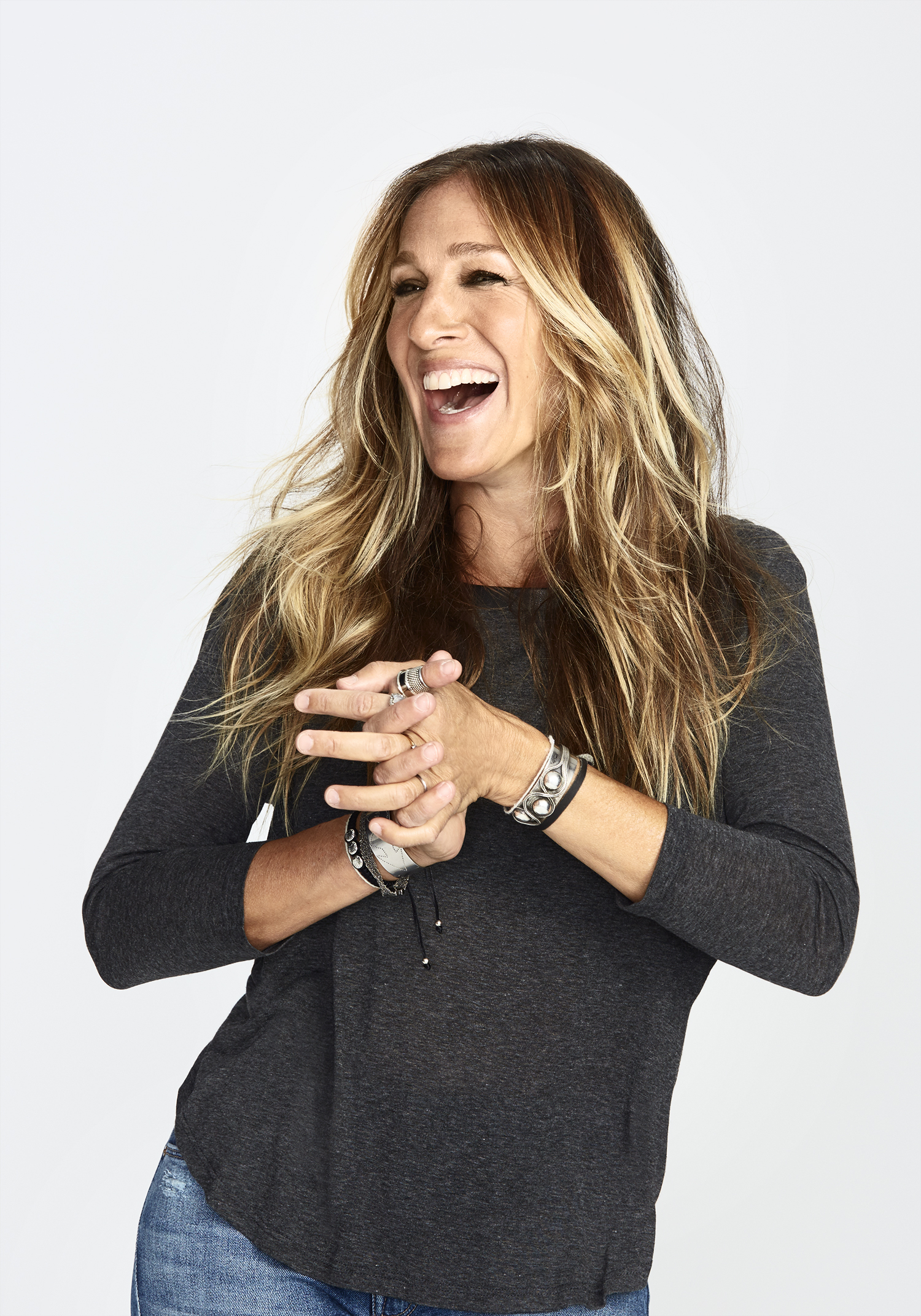 Photograph: Danielle Levitt
This gives me a neat transition to another topic that also isn't Divorce: politics. Parker's openly left leaning—she famously hosted an Obama for America fund-raiser at her home in the run-up to the 2012 election—and I'm curious what she thinks about the state of our country. "The thing I keep saying is that even if—please, God—Trump is not elected, I'm afraid there is now a climate that has said in silence that it is okay to hurt anybody you not-so-secretly disagree with. Whether it's how they look or the lifestyle you think they're leading or the color of their skin, or they've come here to, you know, take advantage of this country. I'm terrified." Her lunch arrives just as she's getting going, and she pauses to express her gratitude for the burger with kale apple slaw (no parsley, she's allergic) that's just been delivered to her. "So gorgeous. I can't even believe it. I feel like I'm on vacation."
Parker—perhaps because she's an actor, someone whose body is her instrument—feels the pervasive rage in this country physically: "I said to [husband Matthew Broderick], I feel like someone is just going to hit us. They're just going to reach out and smack us or beat the shit out of us or, I don't know, shoot us, shoot my friends. I'm not being dramatic when I think about this. I'm shocked."
She is quick to add, though, "I will fight to the very end for you to go and vote for Mr. Trump. Go do it. But you don't have to hurt me to do it. And you don't have to hate me to do it. I don't hate you; I wish I understood you." She sounds anguished, almost stammering: "I am terrified to say anything bad about Donald Trump, because I don't want to be on the receiving end…."
"I'm afraid there is now a climate that has said in silence that it is okay to hurt anybody you not-so-secretly disagree with."
Church and Parker in Divorce
Photograph: Craig Blankenhorn/HBO
It finally seems time to turn our talk to happier things—divorce (and Divorce). Perhaps the cloud to the silver lining of having played one of pop culture's (and certainly New York City's) most iconic characters is that it's hard for people to separate Carrie Bradshaw from Sarah Jessica Parker. Carrie's had a stunningly long tail of influence when you consider that the show wrapped 12 years ago. Just last month, I met someone who moved from New Jersey to New York City "because of Carrie." ("Really?!?" Parker says with a gasp.)
So it may be jarring for people to see Parker as Frances—though, as she's been a working actor her entire life, it shouldn't be—a mom of two who's cheating on her dopey husband, Robert (Thomas Haden Church), and who isn't always that nice or likeable. "There will be no confusion about, 'Is this Carrie Bradshaw in another chapter?'" says Parker. She can be "prickly, unkind, chilly—she's like a lot of really smart people who make surprisingly poor choices."
Rather than look on the bright side, Divorce's gang of misfits—in addition to Parker and Church, Talia Balsam, Molly Shannon and Tracy Letts—seems perpetually drawn to the dark. All seem developmentally arrested—the first episode involves Shannon's character pulling a gun on her husband at her own birthday party—though they have careers and children and do most of the things adults are supposed to do. So it's a comedy but not a "ha ha" one.
"There are a lot of really good shows about marriage on television, but I felt there was another story to be told," she says. "I was curious about how affairs affect marriages. I've sort of seen it all, I'm sure you have too: marriages that survived affairs, marriages that were undone by affairs. People coming out of divorce completely triumphant or like they barely survived war. It seemed time to do it, and I wanted the female in the relationship to have had the affair. I wanted her to be at a certain point in her life and in her marriage where she felt like it was no longer within her capability to salvage it."
Just as quickly as we're on Divorce, we're off it, hopping all over the place: books (including The Girls, which her 13-year-old son, James Wilkie, read this summer, and American Heiress, Jeffrey Toobin's new book on Patty Hearst, which I just started and the perpetually reading Parker has already finished); the "terrible" closing of Gray's Papaya; and the pressures of being Carrie for eternity. "Honestly, the only downside is that I cannot always take a picture with you."
Then, suddenly, we're out of time—Parker has to go pick up her kids—even though it feels like we've just gotten started. She hugs me, tells me to get in touch if I need anything else, and she's off, leaving a thousand unfinished conversations hanging in the air.
Divorce premieres Sunday, October 9 at 10pm on HBO.