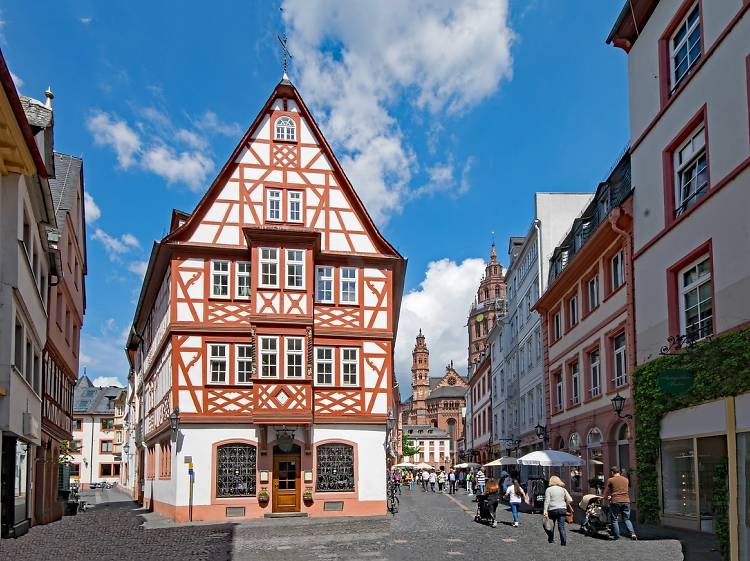 Built on the site of a Roman citadel where the Rhine and Main rivers meet, Mainz has long been an important trading centre, particularly for wine. The city was heavily bombed during the Second World War, and much of the city has been repaired or rebuilt since. Although the gorgeous cobbled Old Town, imposing Romanesque cathedral and some Roman ruins remain intact, much of the city is modern – and not particularly pretty. But what Mainz lacks in good looks, it more than makes up for in personality: as Germany's wine capital and a lively university town, the capital of Rheinland-Pfalz is known for its warm, friendly locals who gather in wine taverns or at festivals, at the Mainz 05 football stadium and during Karneval, throughout the city, to have a really, really good time. Mainz is a straightforward 40-minute train ride from Frankfurt.
EAT
Local specialities here are generally hearty snacks for accompanying wine, usually bought by the glass. Head to a traditional wine tavern such as cosy, half-timbered Weinhaus Spiegel to try Handkäse mit Musik (a hard, sour cheese marinated in vinegar and caraway), Spundekäse (a cream cheese dip with crunchy pretzels) or a platter of Winzerteller (local cold cuts).
DRINK
Mainz was once famous for its beer as well as its wine. At the Eisgrub-Bräu, you can drink beers brewed on site, sharing the rabbit warren of rooms with the beer-making equipment itself. Try the aromatic Helle Märzen, which they've been brewing here since 1989.
DO
The Gutenberg Museum is named after the German printer Johannes Gutenberg, credited with inventing modern typography. Tucked away in the square behind Mainz Cathedral, the museum is devoted to the history of writing, printing and books, with exhibits that include medieval manuscripts, old printing presses and two 15th-century Gutenberg bibles.
STAY
The award-winning Hyatt Regency isn't cheap, but that's because it's very central, and boasts a spa, restaurant, beer garden-cum-riverside terrace and comfortable, modern rooms, some with fabulous views of the Rhine.
If you only do one thing...
Go to Liebfrauenplatz on a Saturday between March and November to experience Mainz's legendary market breakfast (Marktfrühstück). Bag a seat at a shared table and enjoy Weck, Wurst und Woi (a bread roll, Fleischwurst and glass of wine) with the locals.