Heads up! We're working hard to be accurate – but these are unusual times, so please always check before heading out.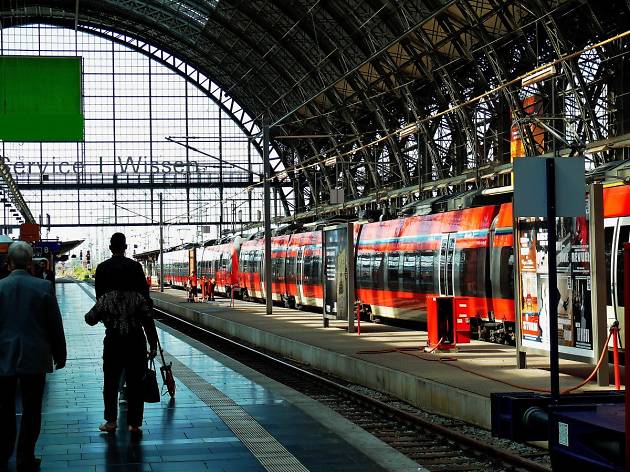 Your guide to public transportation in Frankfurt
Get from point A to point B like a pro with our guide to navigating the city's train, bus and metro systems
Germany is known for the efficiency, speed, and reliability of its transport systems, and Frankfurt is no exception. Navigating the metro, tram and bus lines that make up the Rhine-Main Transport Association (RMV) transportation network is straightforward and likely faster than a car (a luxury most locals do not have). Touch-screen ticket machines in stations usually have an English option. One ticket will gain you access to metro, tram and bus lines, and as the tickets are time-stamped, they doesn't need to be validated. While there are no turnstiles, plainclothes controllers may check your ticket at any time–getting caught schwarzfahren ("riding black") or even with the incorrect ticket means a 60-euro dent to your wallet. Don't expect sympathy for being an out-of-towner—the penalty is strictly enforced. For a day trip, the country's state-run rail network Deutsche Bahn is well-connected to Frankfurt via several long-distance rail stations, in addition to its main station, Frankfurt (Main) Hauptbahnhof (more familiarly known as Frankfurt HBF).
RECOMMENDED: Your essential Frankfurt travel guide
Public transport options in Frankfurt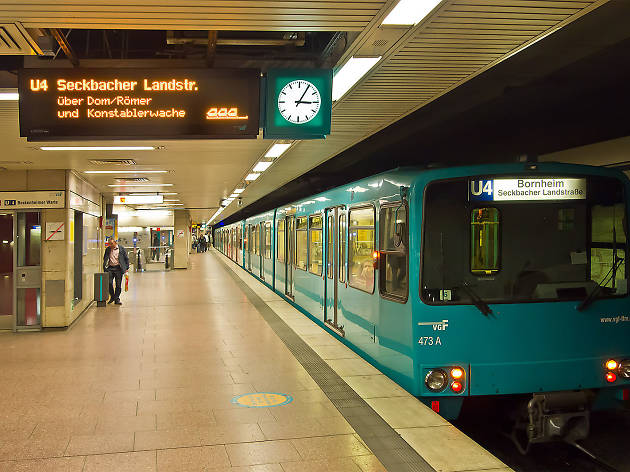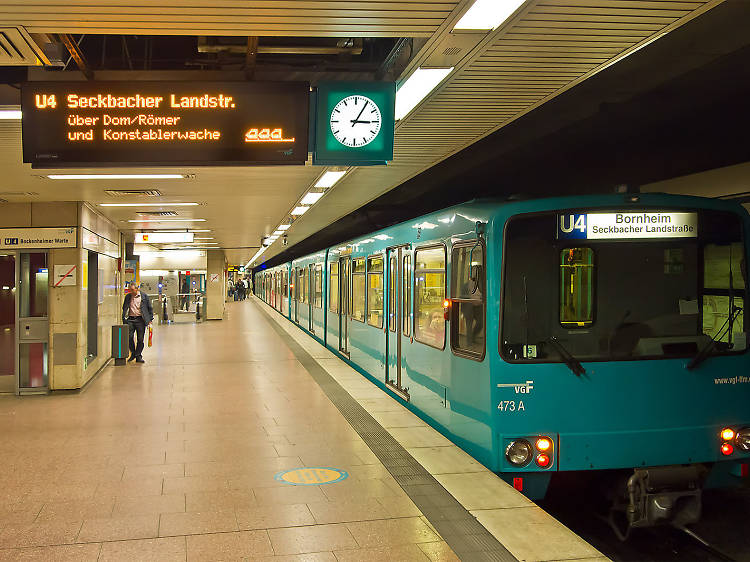 Photograph: Courtesy CC/Wikimedia Commons/Pedelecs
Frankfurt's metro system is composed of the S-bahn (nine routes of suburban rail) and the U-bahn (nine routes of combined tram and underground lines). While you can map out your journey on the RMV website or via Google Maps, we recommend downloading the RMV app on your phone. The app comes with a navigation service and connects directly to the credit card of your choice. This is both time-saving–the ticket machines, which only take credit cards with chips, can have lines–and convenient. Tickets can only be purchased in stations or on trams–not on the metro lines. As a bonus for business travelers declaring expenses, the app saves all your receipts in one spot.
Prices depend on how many zones you hit, but generally are 2.75 euros for a journey for one adult in one direction to most city sites; children are eligible for a reduced fare. For a journey of less than two kilometers, select 'Kurzstrecke' for a short-trip ticket, priced at 1.85 euros for adults. At 22 euros for 24 hours, the Frankfurt Card–which you can print at home and use to travel from Frankfurt Airport or Frankfurt HBF–is a real bargain for groups of up to five. The card includes discounts on several of the main attractions. Tip: While bikes can be taken on Frankfurt's metro system free of charge, they are discouraged (and can be refused) during peak hours.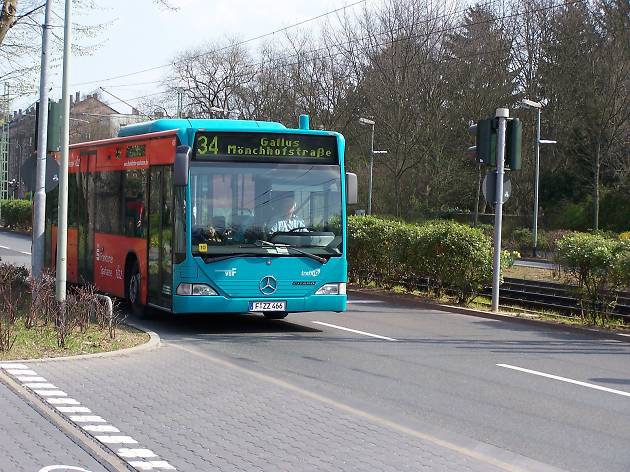 Photograph: Courtesy CC/Wikimedia Commons/Sebastian Kasten
Pickings can be scarce for the S-bahn and U-bahn lines between the hours of 1am-4am, depending on the day of the week. However, buses run 24 hours a day, and cross-town routes are a convenient and inexpensive way to soak in the city. Most bus stops have a roof overhang for protection from the elements and tickets can be purchased on-board. While foldable bikes can be taken on buses, those that don't collapse are discouraged–though the driver may let one slip by during off-peak hours.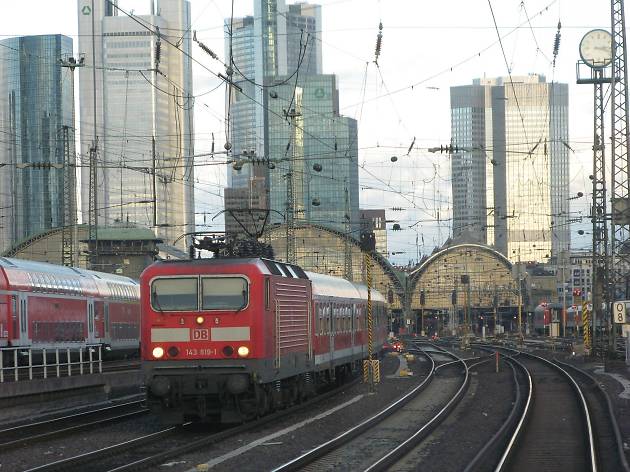 Photograph: Courtesy CC/Wikimedia Commons/Jimmy Kreislauf
Looking for an escape to a nearby town or a day of swimming at one of Germany's pristine lakes in summer? Deutsche Bahn carries some 5.5 million travelers every day on its 33,300-kilometer modern rail network, and a wide network of regional trains connect to Frankfurt's surrounding areas. Tickets, not available for purchase on-board, are available on the Deutsche Bahn website; and the earlier you purchase tickets for long-distance journeys, the cheaper they will be. Regional day tickets, weekend tickets, or day tickets for all of Germany are offered. Check for special offers, including group rates, for Germany or beyond.