Seven Super Vegetarian-Friendly Restaurants in Tel Aviv
We're spilling the beans on the freshest spots for vegetarians
With tomatoes that taste as sweet as candy and Israeli markets all over the city, eating vegetarian in Tel Aviv has never been so easy. Every menu in the city has vegan and vegetarian options, though unlike other hipster havens like Portland and Williamsburg, here in Tel Aviv, the lines are often blurred between the two. We've already explored the best vegan restaurants in superfood central, the juiciest vegan burgers in the city, and even the prime slice of cheese-less pizza; from a neighborhood café on Montefiore to a California dream off Dizengoff Street, we're giving a shout-out to the vegetarians out there with our list of the best Tel Aviv restaurants with delicious vegetarian selections.
Tel Aviv restaurants with stellar vegetarian offerings
This laid-back neighborhood café has mastered the art of Instagrammable food. Their bowl-centered menu means that you can go big on extraordinarily healthy. Pick your base from zoodles, noodles made of spiralized zucchini, quinoa, or lentils and pile on the toppings from huge slices of sweet potato, crème fraîche, kale, cauliflower, and marinated beets, or opt for white tahina and cornichons. Also, on the menu (and on trend): Matcha lattes, charcoal lattes, and avocado toast. Don't forget to pull out your phone before you take a bite.
2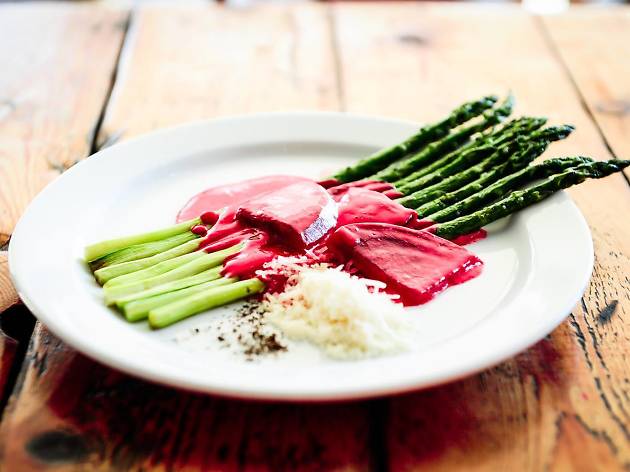 © Omri Barel
Located in an industrial area in South Tel Aviv, A La Rampa is a homey pub that serves up a hyperlocal vegetarian menu, that is creative, hearty, and even a bit nostalgic. On the menu, there are options like the creamy polenta with hearts of artichokes and truffles, parmesan dusted asparagus atop a beet puree, cheddar fries, and lots of other vegetable-centric dishes and fresh pastas and breads, all made in house. This is a true vegetarian restaurant with excellent food, a hidden gem that should not be missed.
This adorable café serves up a long list of vegetarian comfort food items – from fresh handmade burritos with sour cream and black beans to the black bean veggie burger in a carrot and chia seed bun. You'll even find gluten-free options too, like the corn pancakes with chipotle sour cream, avocado, and two fried eggs. The cozy vibe and healthy versions of comfort food make this an amazing spot for any day of the week.
Ha'arba'a Street's high-end Thai restaurant has the whole dining experience spot-on: an authentic vibe, attention to detail in service and everything surrounding your experience, as well as the complexity of the dishes. Though, this is not a vegetarian restaurant, the lengthy vegetarian menu showcases items like the corn soup with glass noodles and coconut and lemongrass, a picante papaya salad, tofu rolls with grapefruit and lime and cauliflower tempura.
Restaurants, Mediterranean
This buzzing spot, located in Jaffa's Shuk Hapishpeshim, is on point with both the detailed local food and the happening, lively, bar atmosphere. The menu is Middle Eastern with a huge Turkish twist, and salads here take center stage. Though there is meat on the menu, the vegetarian dishes are abundant. Check out the mezze menu, which is basically a long list of cooked and raw salads budding with spices – it's totally harmonious with their in-house baked bread.
A hop, a skip, and a jump away from the Nahalat Binyamin craft market and the Carmel Market, this local institution has been redefining salads since 1962. A mix of the young and of a certain age mingle here, tasting from rows and rows of salads, quiches, and beans with every vegetarian dish that your little green heart can think of. Come hungry because for NIS 50 (cash only) you can eat this buffet to your heart's content.
This no-frills eatery serves up homey South Indian food. From the curry of the day to smoked eggplants with raita or even sweet potato masala with cashews, this small spot offers detailed vegetarian comfort food. All the ingredients, are sourced daily from the best farmers and small producers making this a worthy spot for local fare.
See more vegetarian-friendly restaurants in Tel Aviv