March's hottest hand-picked events
Get out your smartphones and mark these events down in your calendars
Spring into a month full of arts, culture, nature and entertainment. It's plenty warmed up for you to get out of the house and explore some of the wonder taking place across Israel this March. From ancient musical traditions sweeping the streets of the Old City, to intriguing world-renowned contemporary dance, to incredible natural phenomenons soaring over Eilat, to music legends from reggae to psytrance, there are enchanting events spread far and wide ready to show you something extraordinary.
The best things to do in Israel this month
1
For the fifth year running, Jerusalem is introducing the Old City's rich musical traditions to the public. From ancient to modern, music will sweep the whole city, connecting us to the stones in the ground and the diverse people of Jerusalem.
Read more
3
Birds and birders are flocking from all over the world to the Eilat Birds Festival for spring migration
Read more
4
Using inspiration from the Dutch masters such as Rembrandt and Van Gogh, and mixed media including oil paints, acrylic acid, and different types, Van den Bug creates a beautiful and inspiring new take on painting and portraiture. While serving as the Dutch royal family's official portrait painter, he conducts complex chemical procedures to create vibrant large-scale portraits, earning his name "the Alchemist." Amsterdam-based Piet van den Boog's work is displayed in prominent museums across the world. Explore his unique and enticing style of portraiture at his solo exhibition in Tel Aviv.
Read more
5
Celebrating 15 years, this edition of the French Film Festival will include films with almost 40 nominations for the French César Awards and many other french film competitions.
Read more
6
Using a complex array of synthesized bass, analogue instruments, feature vocals and wild drum tempos, Infected Mushroom is one of the best-selling groups in Israeli music history. Originally from Haifa, Erez Eisen and Amit Duvdevani keep busy with an average of 120 world concerts every year, performing psytrance, electronica, and psychedelic music in packed venues with raging energies against trippy multimedia backdrops. This new show will feature three extraordinary music systems; the first combines the electronic world and the classical world with a string and wind orchestra, the second is dedicated to the big hits, mixing with the most important artists in Israel, before the final leg of the night where concert turns into a trance style- party with special guests. If you're ready to go wild, don't miss this opportunity to rage with Israel's most insane artists.
Read more
7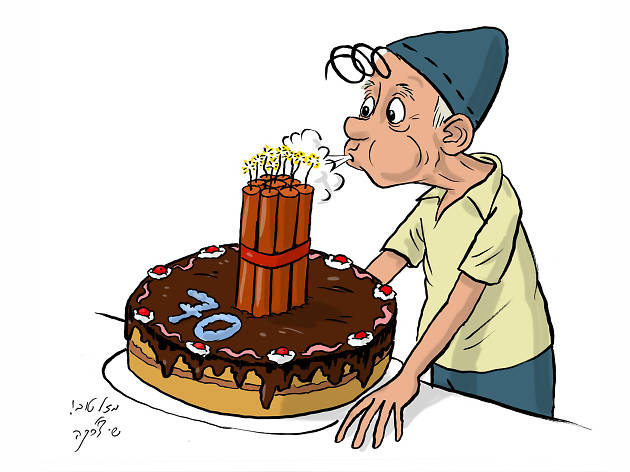 Throughout its exhibitions, the Israeli Cartoon Museum has exposed 20,000 children, families, students, tourists, and adults to a unique, approachable, and influential medium to analyze Israeli society. © Boris Erenburg This spring's exhibition will revolve around themes of Israeli Independence, along with various motifs and ideas that have characterized Yom Ha'atzmaut throughout Israel's years of statehood. Leading Israeli cartoonists will take us on a nostalgic journey from the joyous establishment many moons ago to today's annual celebratory barbecue culture. © Boris Dikerman Displaying a creative variety of perspectives, the event will include three different exhibitions, including Cartoon in Uniform, which displays caricatures about the army drawn by various artists participating in a two-year "Cartoon in Uniform" competition, alongside leading Israeli cartoonist Friedel Stern. In another exhibition, Like a Fish in the Water, Dudi Shamai plays on the connection between people and fish to make social and political statements in an absurd and intriguing manner. © Dudi Shamai Come explore Israeli history and its iconic Independence Day through a thought-provoking lens at The Israeli Cartoon Museum's spring exhibit opening March 28th (61 Haim Weizman, Holon).
Read more
8
Softness can both be a physical quality and describe a behavior, perspective, or persona. Using soft material in sculpture is an innovation of the 20th-century and has become a dynamic means of expression. Five artists have come together in this exhibition to explore the characteristics of softness and its connotations of elasticity, playfulness, and elusiveness. You're invited to feel the materials on display and deeply immerse yourself in the intricate notion of softness.
Read more
9
Ron Arad has showcased works at the MoMA in New York, won the 2011 London Design Medal, and was recently selected for an international competition to design the British Holocaust Museum in London. With constant work on big name design projects worldwide, the London-based design mastermind is simultaneously creating an intriguing exhibit in his hometown, Tel Aviv. Critics have trouble describing his complex and introspective work, explaining that his style "refuses to be subordinated to one criterion of high art, industrial design, or architecture, but breeds the boundaries of all these definitions." This exhibition will include an especially large installation piece tailored to the Gordon Gallery space – blurring the boundary of art and design.
Read more
10
With an acoustic folk sound and sweet, honest lyrics to match, you can't help but fall in love with Jane Bordeaux. The musical trio have reached critical acclaim in Israel, performing at festivals and concerts around the country. Between the sound of their acoustic guitar, mesmerizing harmonies, and palpable chemistry, this performance is well worth the ticket. 
Read more
Show more
see what's on next month