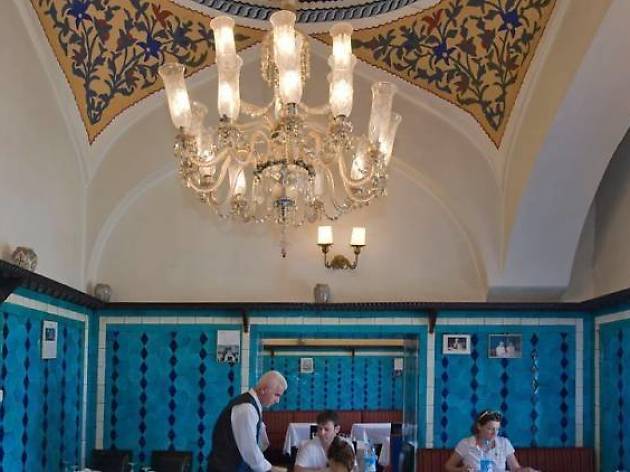 1/2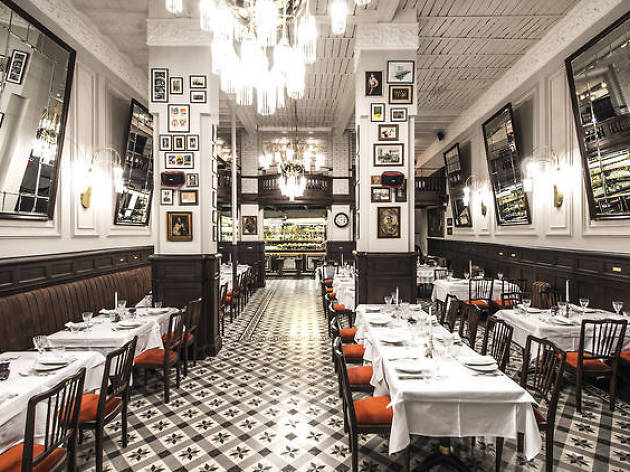 2/2
1924 Istanbul
Heritage Restaurants
Ediz Pekinli revisits Istanbul's legendary eateries
The story of Istanbul's heritage restaurants, is in a way, the story of Istanbul, a testament to the city's multicultural heritage and rich history. From provincial immigrants leaving their villages to seek fame and fortune in the city to Russian émigrés fleeing the Revolution who have called Istanbul home, the success stories behind these surviving icons tell extraordinary tales of becoming an Istanbullu. In coming up with this list, we've selected restaurants that are at least half a century old and still feel historic, have greatly contributed to Istanbul's culinary legacy, and have maintained a sense of continuity, most often operating from their original shops serving up family recipes passed down from one generation to the next.
Around the turn of the century, Pandeli, the son of a Greek shepherd from Niğde, moved to Istanbul and started what was to become a legendary culinary career. After working odd jobs as a dishwasher and a barber's apprentice, Pandeli began selling piyaz (bean and onion salad) and köfte (meatballs) in the vicinity of where he would later open his eponymous restaurant. After half a century of operating eateries across Istanbul, Pandeli opened his current restaurant on the upper floor above the entrance of the Spice Bazaar, a location allocated to him by order of the state after his previous restaurant was looted during the 6-7 September pogrom of 1955.
Hardships have always been part of Pandeli's saga and the legendary restaurant closed down in 2016 due to financial difficulties. Now, thanks to new investors, the Istanbul icon has once again opened its doors and is looking as good as ever with Abdullah Sevim, its chef of 20 years, back in the kitchen. Pandeli's hünkar beğendi, slow-cooked lamb served on a bed of charred eggplant puree, remains unparalleled, and the famous eggplant pie served with a leaf of döner kebap on top is still one of our favorite dishes in the city. Round it off with the oven-baked quince, which comes slathered with thick syrup and clotted Buffalo cream. As Pandeli is closed for dinner, stop by for lunch before or after visiting the historical peninsula. Pandeli is only open until 18:30 and no alcohol is served.
Without a doubt one of the most important restaurants in Istanbul, Hacı Abdullah was established in 1888 and licensed by Sultan Abdülhamid II himself, who entrusted its founder Abdullah Efendi with hosting foreign dignitaries visiting the Empire. One of the last bastions of Ottoman palace cuisine, Hacı Abdullah has remained true to tradition and not simply with the traditional fare it serves. The restaurant upholds a system of apprenticeship where the kitchen staff and waiters undergo years of training before being deemed fit for the job, and ownership of the restaurant is handed down from master to apprentice.
Now maintained by its third-generation founder Abdullah Korun, Hacı Abdullah keeps the flame burning and pots brewing in its Beyoğlu location, which it has occupied since 1958. When we recently visited the restaurant on a snowy winter's day, the brothy okra soup (kuru çiçek bamya çorbası) did wonder to warm us up. Follow it up with keşkekli kebap, wonderfully smoky meat, and wheat stew, or the signature kuzu tandır, slow-cooked lamb. Hacı Abdullah is famous for its fruit compotes and the colorful jars lining the walls of the restaurant contain some that are several decades old. The mixed fruit compote is a great way to end your meal – and rest assured it won't come down the wall but has been prepared fresh that day. Since there is no alcohol served and most of the food is cooked in the morning, visiting Hacı Abdullah for lunch is ideal.
Beyti
In 1945, when the weary days of the war were over, Beyti Güler and his father opened a modest roadside eatery in Küçükçekmece with four tables. The fame of their delicious döner kebap soon spread and the intimate affair became a 200-seat restaurant that was the talk of the town. In the late 1960s, Beyti Güler's restaurant catered daily to Pan American Airlines, and during his first state visit to Europe, President Nixon ate Beyti's döner in his private aircraft. To meet growing demand, Güler moved his restaurant to the upscale residential neighbourhood of Florya in 1983.
Güler continues to run his restaurant and holds the distinction of being the only man alive to have a kebab dish named after him. Though beyti kebap is now served in meat restaurants and street food stalls throughout the country, it doesn't really compare with the original, which is made from a cutlet of lamb wrapped around a loin, while its common namesake is usually made with mixed, kneaded meat. The restaurant is in close proximity to Atatürk Airport so it might be a good idea to taste Beyti's beyti on the commute to and from your flight.
The White Russians
One of a number of restaurants opened by White Russians fleeing the Russian Revolution, Rejans was frequented by many interesting characters throughout the years including Mata Hari, Greta Garbo, Atatürk, Agatha Christie and, according to urban legend, a number of spies when the city was teeming with film noir style espionage in the 1940s. After its 80-year run on a quiet backstreet off the hustle and bustle of Istiklal, Rejans closed its doors in 2011. Following a four-year hiatus, however, the folks behind 360 Restaurant set out to bring this historic eatery back to life, renaming it 1924 (though Rejans was in fact founded in 1932). Picking up where Rejans left off, 1924 is an eatery that combines the old and the new, paying tribute to its precursor without completely relying on the past.
Russian classics like pelmeni dumplings with leek, beef stroganoff and chicken Kiev are made exceptionally well here. The restaurant also draws inspiration from Eastern European cuisine to add colour to the menu, as Russian fare on its own might seem a bit too 'country' for a restaurant like 1924. A strong suit of the menu is undoubtedly the desserts section, featuring delights like the chestnut cream profiterole. 1924's homemade vodkas make for a great aperitif or digestif and the lemon infused variety is our hooch of choice. If you're feeling adventurous, try the salmon vodka, which is certainly not for the faint of heart. 1924 is a place to visit for its historic feel as well as its good food.
Opened in 1943 by the Russian Boris Kreschsanovsky and his Hungarian wife Madam Judith, affectionately known as the 'Countess', Ayaspaşa Rus Lokantası catered to a different sort of crowd, frequented by those who preferred the low-ceilinged intimacy of Ayaspaşa and the homestyle cooking of the Countess to the heady and grand atmosphere over at Rejans. After Madam Judith passed away, Cemal Ok, who had entered the restaurant as a young waiter before learning all of the original recipes from the Countess herself, took over the management and today runs the eatery together with his son Serkan Ok.
One of the most intriguing items on Ayaspaşa's menu is the veprevo koleno, which needs to be ordered three days in advance. The juicy leg of pork is cooked in beer and served with a side of pickled cabbage and mashed potato. The borscht soup served with a dollop of cream is wonderfully tangy and hors-d'oeuvres like the Russian salad, fluffy piroshky pastry with mushrooms, and blini pancakes with caviar go nicely with their signature black pepper vodka. For the grand finale, try the medovik, a layered honey cake that is served every day except Friday and Saturday.
Keep the ball rolling
Serving its customers for over a century, Meşhur Filibe Köftecisi was founded in 1893 by Mehmet Saltuk, who moved to Istanbul from the Bulgarian town of Filibe (Plovdiv), hence the restaurant's name. One of the prominent taste destinations in Sirkeci, Filibe's round and plump buttons of flavour are an ode to simplicity, as the only ingredients involved are ground beef, onion and cumin, and they are made daily by hand. Now looked after by the fifth-generation descendants of Saltuk, Filibe's no-frills menu also includes piyaz, çoban salatası (shepherd's salad with tomatoes and onion) and the delightful sponge cake revani.
While its imitators continue to sprout like mushrooms in the city, Tarihi Sultanahmet Köftecisi continues to maintain its popularity and quality from its outpost in the eponymous neighbourhood, now managed by the fourth-generation descendants of its founder Mehmet Seracettin Efendi. The köfte is just as tasty as it always was and the marble tables and creaky stairs still seem to date back to 1920, which is when the shop was founded. In addition to the famous main fixture köfte, which is characteristically flat and chewy, the menu also features piyaz, lamb skewers, rice, pickled peppers and lentil soup. You can't go wrong with the delectable irmik helvası (semolina dessert) with your with your post-feast tea or coffee.
Walking Along the Cobblestoned Streets of Balat, past decaying Ottoman-era buildings and a few surviving synagogues and churches – the area was once home to a significant Jewish and Greek population – always feels like a trip through the past. Like the rest of its surrounds, Köfteci Arnavut feels preserved in time. Opened in 1937, the intimate eatery serves up succulent, square-shaped meatballs that provide reason enough to venture out into the historic neighbourhood. The eatery is currently run by its third-generation heir Mine İştay, who is one of the only women running a business in the area. Having come to Balat from Albania the late 19th century, the İştay family are experts in making the milky trileçe desert that is ever so popular in Balkans.
Sweet Nostalgia
Karaköy Güllüoğlu
Tray after Tray of baklava, the world-famous lozenge-shaped sugar bomb, will get you drooling as soon as you enter Karaköy Güllüoğlu, run by the Güllüoğlu family who have been in the baklava business since the 1800s. Making a pit stop at Güllüoğlu while waiting for the ferry to arrive at nearby Karaköy Pier is customary. Open until midnight, Karaköy Güllüoğlu's baklava comes in original flavours like chocolate, and their sugar-free 'diabak' is suitable for diabetics.
Situated just steps away from the east entrance of the Spice Bazaar lies Kurukahveci Mehmet Efendi's iconic shop, purveyors of the finest Turkish coffee since 1871. The shop is manned by a workforce in brown overalls dispensing packets of freshly roasted coffee, the scent of which wafts through the backstreets.
The iconic İnci Pastanesi opened in 1944 on Istiklal, quickly becoming famous for its profiteroles and classic interior. In 2012, the gentrification that has driven away almost all of the original small business owners on Istiklal also forced İnci to move to a nearby backstreet, abandoning its home of nearly seven decades. Though the new location isn't quite the same, the taste of İnci's heavenly profiteroles hasn't changed in the slightest. As İnci remains open until midnight, it's common practice if you're eating out in Beyoğlu to ditch dessert after dinner and head straight here.
In 1919, a 16-year old Philip Lenas left his home in the Epirus mountains in Greece and moved to Istanbul to work in one of the first chocolate factories established in the country. Four years later, Lenas set up his own patisserie in Beyoğlu, which would soon be frequented by leading literary figures now often collectively referred to as the 'Baylan bunch'. The oldest surviving patisserie in Istanbul, Baylan currently operates its main branch in Kadıköy and a newly-opened brasserie in Bebek. Offering a mother load of sweets, Baylan is renowned for its legendary ice-cream-based dessert kup griye, which comes topped with whipped cream, honey-almond and caramel sauce.
Altan Şekerleme
This classic candy shop is a blast from the past and features a variety of age-old sweets that are hard to come by these days in Istanbul. There are lots of lousy variations of the rock candy akide to be found in the city, but Altan Şekerleme makes the real deal. Opened in 1865, the shop has been in the same family's hands and is a relic in a city that is changing.
Vefa Bozacısı
Making fermented magic since 1876, Vefa has become synonymous with boza, a malt drink traditionally consumed during winter. Their historic shop in Fatih is one of the few places in town where you can sit down and enjoy a glass of thick boza served with a sprinkle of cinnamon and a smattering of roasted chickpeas.
Ali Muhiddin Hacı Bekir
While the French were busy with their revolution, Hacı Bekir was making lokum (Turkish delight) in his Eminönü shop. Opened in 1777, Ali Muhiddin Hacı Bekir still occupies the same building today and keeps making the best lokum money can buy. Try the double-roasted pistachio kind for a taste of heaven on earth.
Meşhur Bebek Badem Ezmesi
In business since 1904 at its current location in the waterfront neighbourhood of Bebek, Meşhur Bebek Badem Ezmesi is a family-owned confectioner renowned for its scrumptious badem ezmesi (marzipan) – the best in Istanbul, we dare say.