Istanbul's best charcuteries
Enjoying the best charcuteries means paying top dollar. We picked the best charcuteries in the city so that you don't search for deli pleasures in the wrong place.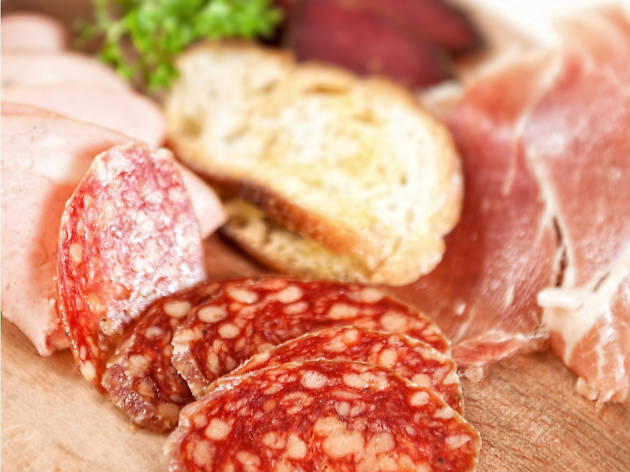 Here is a mixed list of the city's best, old and new, adept charcuteries scattered throughout the city.
Enjoying the delicious food at charcuteries is worth paying top dollar for. We compiled a list of the city's best charcuteries so that you don't go to the wrong one.
Istanbul's Best Charcuteries
Located across the way and neighbors with Firuzağa Kahvesi, Antre is a treasured, quaint shop for Cihangir residents. Antre, established in 2001 by Neşe Aksoy Biber and Berrin Bal Onur, mainly features cheese varieties.
Read more
With its lunch and dinner alternatives, deli, wine cellar, and bar, Delicatessen is undoubtedly the most popular venue in Nişantaşı. This is a venue where you can find everything when it comes to charcuterie products. It won a Time Out Istanbul Eating and Drinking award for its décor the year that it opened.
Read more
We wouldn't be exaggerating if we said Doğa Şarküteri was a lifesaver. When you're craving something in the middle of the night Doğa Şarküteri comes to the rescue.
Read more
The grocery section features much more than just delicatessen products. With local and imported products, it is a haven for everyone who loves food. In accordance with Eataly's principles, the venue exudes an Italian atmosphere and radiates freshness and goodness. Even knowing that the mozzarella is made fresh, daily, on the premises is reason enough to become a regular.
Read more
In 1998 Mehmet Kapan created Gourmet Garage and since then it has come a long way in Istanbul. Gourmet Garage is now a delicatessen chain with branches in many parts of the city. The venue features deli and cheese products with many imported and local varieties. Prosciutto, bresaola, pastirma, it is all at your disposal. In addition to imported products, the sausages and sucuk they produce themselves are very popular.
Read more
Gözde Şarküteri has been the pride and joy of the Kadıköy Bazaar since 1986, providing customers with over 1,000 types of products on its shelves and making almost 150 types of mezes everyday.
Read more
The very charming Myka Charcuterie has proven itself through its sandwiches. The Bayern delicious sandwich features pear slices, a unique touch. The sandwich is complimented with mayonnaise and dil cheese and its source of protein is Fleischkäse, a kind of German sausage.
Read more
Milka has been serving customers since 1885 and is one of Moda's nicest charcuteries. When it comes to breakfast, you can find everything that comes to mind including all kinds of pastirma, dried meats, salted and smoked fish, pickled bonito fish, salami, and ham varieties. At Milka you can find imported cheeses from all around Europe, especially Italy, the Netherlands, and France and many delicious mezes. The light mezes made with seasonal vegetables, fried dishes, desserts, meatballs, dolma varieties, and mezes with sauce and yogurt, are made in the deli's kitchen. Milka has a rich wine cellar with options ranging from Öküzgözü to Kalecik Karası. Milka Şarküteri also sells Swiss Lindt chocolate.
Read more