The 15 most romantic restaurants in Las Vegas
Celebrating an anniversary or special occasion with your loved one? Head to these romantic restaurants in Las Vegas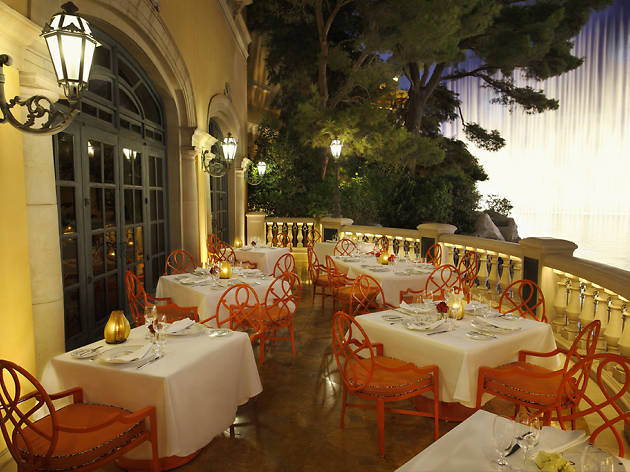 Las Vegas doesn't exactly scream romance. From the best Las Vegas hotels to top Las Vegas attractions and the best Las Vegas casinos, most people visit Sin City to be, well, sinful. But for those city dwellers looking to kick it up a notch in the love department, these romantic restaurants in Las Vegas are ideal destinations. Celebrating your anniversary? In town for a special occasion with your loved one? You'll want to make a reservation at each one of these local eateries.
Romantic restaurants in Las Vegas
1
Romance is everywhere at this 10-year-old restaurant from Michelin-starred French master Guy Savoy. It's cooked into the velvety artichoke soup with black truffles, the lobster "candy," the foie gras served with brewed-to-order tea infusion and the caviar tasting menu that recently launched in the lounge. It's even in the bread cart, laden with golden-crusted carbohydrates. A meal here is an event to savor slowly. Share it with someone special.
Book now
Read more
2
When a restaurant's unofficial nickname is "the Mansion," you can bet you're in for a remarkable experience, and the Michelin-starred Robuchon doesn't disappoint. From the moment you step through the arched doorway, you're transported to a luxurious enclave that feels worlds away from the casino chaos. Take your time, revel in the wines, absorb the details of French fine dining delivered with proper pomp and circumstance and taste as much as you can afford.
Book now
Read more
3
It'd be easy to fall for this restaurant based on the setting alone: outdoor tables just beyond the spray of the Bellagio's dancing waters and a stately dining room decked with original paintings by Pablo Picasso himself. But astoundingly the food lives up to those lofty accompaniments, French- and Spanish-inspired cuisine from chef Julian Serrano that's earned Michelin stars, James Beard nods and nearly two decades of devotion from diners in the know.
Book now
Read more
4
This airy Cosmopolitan eatery channels the Greek isles with a menu revolving around fresh seafood zipped from the Mediterranean to the Strip. Grab a table on the patio, then stroll past the seafood bar and select a whole fish to be baked in sea salt and finished with a drizzle of sumptuous olive oil. This is one decadent meal that will leave you feeling energetic enough for more intimate pursuits.
Book now
Read more
5
Chef Shawn McClain makes a case for the relevancy of modern American fare at this elegant Aria eatery that feels almost too sophisticated to be plopped in the middle of the Strip. Grab a well-crafted cocktail at the bar then continue on to the purple-tinted dining room for cooking that shows off fresh ingredients in unexpected ways and tiptoes the line between familiar and far out.
Book now
Read more
7
Like the real Eiffel Tower, the Strip's downsized homage to the Parisian landmark is home to a dining destination. Unlike its French counterpart, Chef Jean Joho's Eiffel Tower Restaurant is an elevated experience, perched 11 stories above the Strip. That magnificent view—hello, Bellagio fountains—the plush crimson interior and the menu of classic French cuisine have made the restaurant a must-book for Valentine's meals and marriage proposals. If you want to put a ring on it, this is the place.
Book now
Read more
8
In a city packed with lavish interiors, no restaurant oozes as much straight-up sex appeal as this New York import, which arrived at Aria in 2016. Book a scarlet booth set below a dazzling crystal chandelier and prepare to be pampered by throwback dining "captains" who deliver pleasing renditions of Italian-American dishes like veal parm and linguine and clams with a practiced panache.
Book now
Read more
9
High above the Palms, Andre Rochat's Alizé is a gem, where precise French cooking pairs with a phenomenal view of the city. Whether you spend your evening admiring the lights, the meal or your dinner companion, Alizé is the kind of restaurant where you'll be tempted to splurge on a 2-pound lobster thermidor and where everything takes on an especially magical shine.
Book now
Read more
10
When you're on glass number three of wine while perched 800 feet above Las Vegas Boulevard, the city unfurls like a carpet of stars. It's a view that never gets old but couples can't subsist on skylines alone, so Top of the World serves a full menu of well-prepared American cuisine along with that delicious vista.
Photograph: Courtesy CC/Flickr/Stratosphere Hotel & Casino
Book now
Read more
Show more