Heads up! We're working hard to be accurate – but these are unusual times, so please always check before heading out.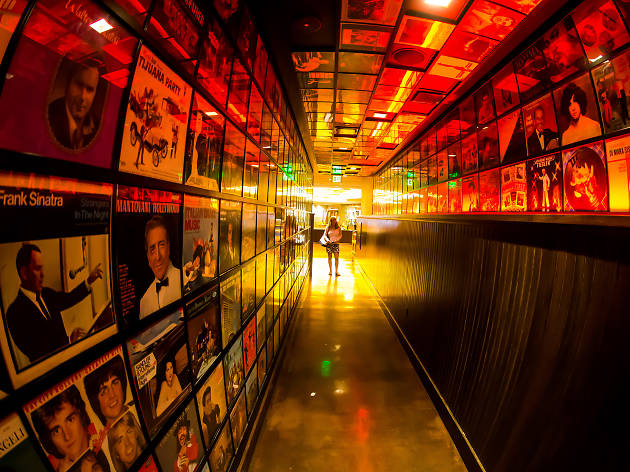 11 secret Las Vegas spots you need to know about
Look beyond the flash of The Strip, to find these secret Las Vegas hideaways and hidden gems
To the untrained eye, Vegas is an over-the-top, in-your-face destination that earns its reputation as Sin City, but there's also a secret Las Vegas just beneath the surface of the glittering Strip. Hidden among the Las Vegas casinos and tucked away in the back rooms of the bars in Vegas and the restaurants in Vegas, you'll find these hidden gems ... if you look hard enough. Or you can escape to some of the lesser known, underrated attractions in the area, where you'll find unexpected art and nature. So after you check off your bucket list of things to do on the Strip, discover the hidden gems that make up secret Las Vegas.
RECOMMENDED: The best things to do in Las Vegas
Secret Las Vegas
Start off at the Palms, wind your way through the functioning arcade (right out of the 1980s) and find the soda machine in the back. No cold drinks here: In speakeasy fashion, it leads to Green St. Kitchen. The large, eye-catching space screams gritty SoHo NYC, with graffiti, bright colors, and a fab street art collection. There's even a real Banksy. The menu features fresh, organic, innovative fare. Pair that with excellent cocktails and it's a great secret spot for groups or a solo outing.
Fans of mezcal and tequila will want to seek out this hard-to-find bar within the Block 16 Food Hall at the Cosmopolitan. Behind a green door with a pink donkey on it is a funky little speakeasy with glowing red lights, donkey art, and a massive selection of mezcal. Try a flight or order a cocktail, then sit back and enjoy the sounds of reggaeton, cumbia, and other Latin music. To eat? Go with the eclectic black truffle nachos.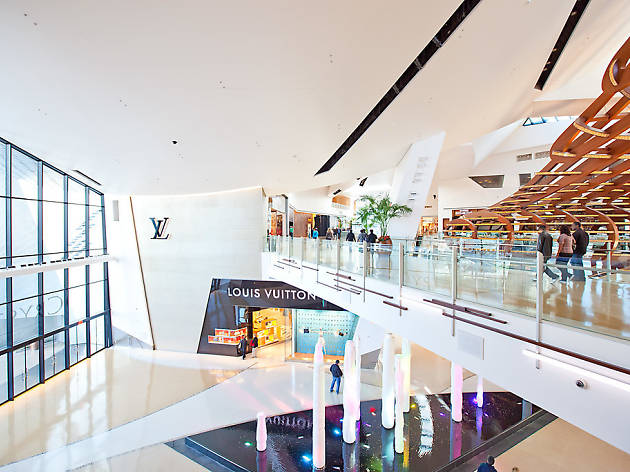 Photograph: Flickr/Fenstermacher Photography
Hidden within a Louis Vuitton store in CityCenter, you'll find a dazzling installation by artist James Turrell. Named for an ancient Egyptian word supposedly meaning "pure water," the piece is an immersive visual show. Two chambers are filled with slowly changing light comprised of brilliant colors and hues. Reservations are required, so be sure to book months in advance to lose yourself in this incredible 24-minute experience.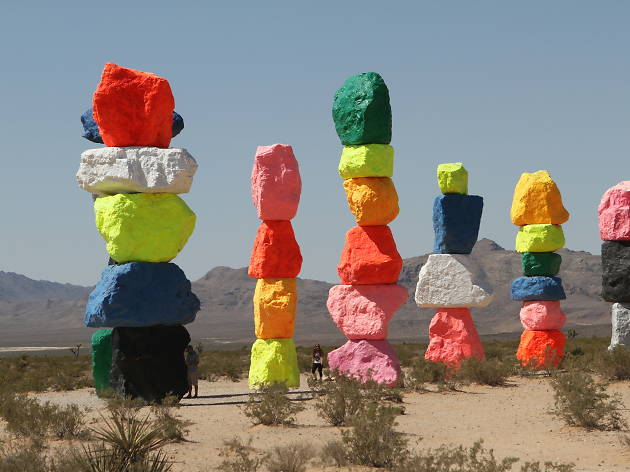 Photograph: Sarah Feldberg
This hidden gem actually became so popular that while its installation was meant to be temporary, its run was extended until 2021. But it still feels like you've stumbled upon a secret in the desert. Designed by Swiss artist Ugo Rondinone, it features towering 30-foot stacked boulders painted in fluorescent colors. Meant to represent an intersection of natural and artificial, it's a must for art lovers and Instagrammers.
The Silverton Casino's Mi Casa Mexican Grill and Cantina—serving faves like fajitas, tacos, and lots of tequila—has a little secret inside. Hidden within the larger restaurant, Su Casa is an Asian concept featuring sushi rolls, ramen, ceviche, poke bowls, and other seafood-focused dishes. Enjoy with sake or signature Asian-influenced cocktails.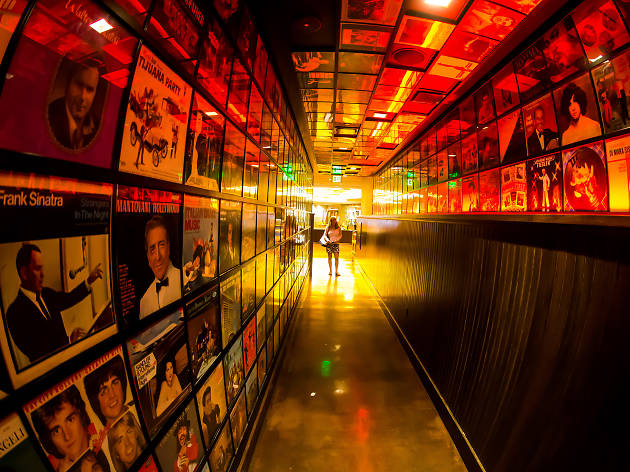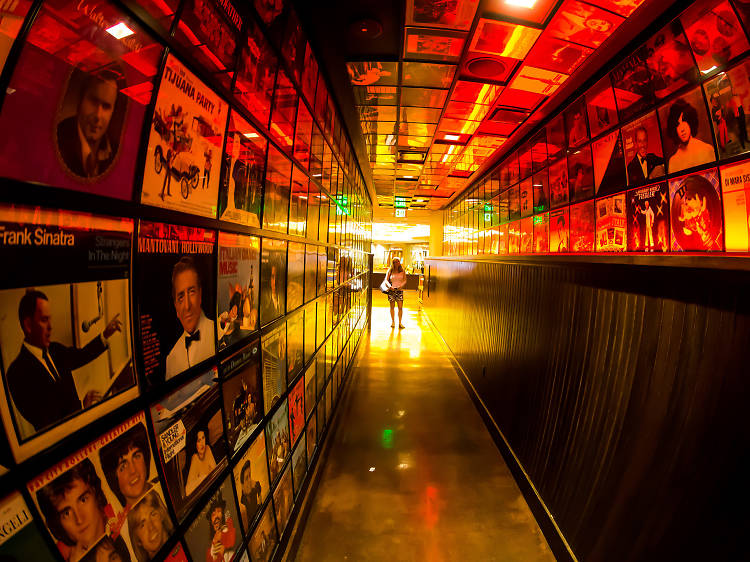 Photograph: Flickr/Thomas Hawk
Craving a late night slice? Buzz has put this joint on the map, but it still takes some searching to find it. A narrow hallway in the Cosmopolitan, bedecked with album covers by Sinatra and the like, leads to an unmarked entrance that draws hungry late-night diners in search of New York-style pizza. The tiny eatery, named The Pizzeria but known as Secret Pizza, serves up after-hours slices and beer. You can order a whole pie to go, just play some pinball while you wait.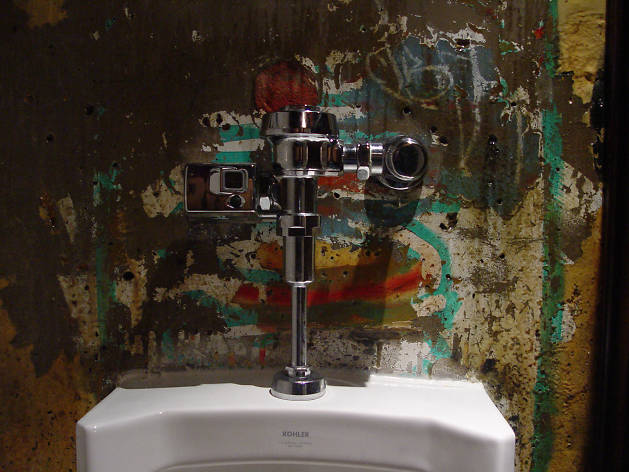 Photograph: Flickr/Fuzzy Gerdes
By the time the 28-mile fortification separating East and West Berlin was knocked down in 1989, the western side was covered with graffiti. You can make your own "mark" on remnants of the wall, which are mounted behind the men's urinals in one restroom at Main Street Station Casino. The wall is protected by glass, so you won't be defacing history or anything, but it feels good nonetheless. Visit the property's excellent brewpub to prep for the occasion. Ladies can ask for an escort to see it.
One of the best and most popular cocktail bars in Vegas, The Chandelier at the Cosmopolitan has a couple surprises. Head to Level 1.5 of the multi-story bar and you'll feel like you've discovered a secret hideaway. The cocktails here are exceptional, featuring intriguing ingredients like black pepper honey, salted churro syrup, and pine liqueur. But the real (albeit worst-kept) secret is an off-the-menu drink called the Verbena—a tart, tequila-based drink garnished with a szechuan flower that numbs your tongue and then creates a sensory explosion in your mouth.
Learn about the history of the mob at the Mob Museum, then get ready for a real speakeasy experience. Head to the basement, ring a bell, then provide the password to enter The Underground. It's a Prohibition-era bar and working distillery decorated with artifacts from the 1920s. Order up a moonshine or a classic cocktail and get transported back in time. Enjoy live jazz on weekends.
Take a scenic drive to find a little serenity amidst the Vegas hustle. An hour northeast of Vegas, Valley of Fire is a lesser-known gem that's perfect for a day-long nature adventure in the desert. See stunning geology, hike scenic trails, and spot 3,000-year-old petroglyphs made by Native Americans. In the right light, the curving red sandstone looks like flames rising from the dirt. Highlights include formations such as Rainbow Vista, Atlatl Rock, Elephant Rock, and Gorilla Rock.
Also known as Big Spring, this is where legendary Old West explorers Kit Carson and John Fremont parked their horses in the mid 1800s. The sprawling site features two museums, botanical gardens, and nature trails. You can rent a bike, ride a train, or visit Boomtown 1905 for a taste of way-back-when. It's an underappreciated gem that deserves a visit.
Explore more Sin City
If you think you know Las Vegas, take another look around.