The 15 best Las Vegas date ideas
Forget about dinner and a movie and opt for these romantic Las Vegas date ideas that will woo your significant other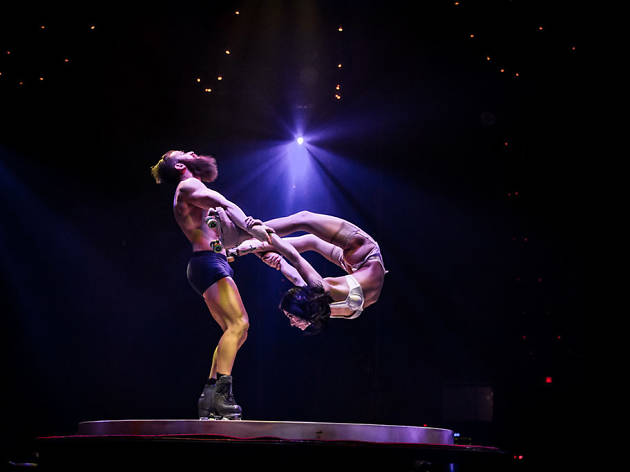 Dinner and a movie? You can do better (yes, even if that involves a meal at the most romantic restaurants in Las Vegas). Date night a la Vegas means flying through the sky at 60 miles per hour (here are the best Las Vegas helicopter tours), cooking in the kitchen of a French legend, channeling your inner pinball wizard or laughing out loud at the best comedy clubs in Las Vegas. Whether you prefer decadent meals or major league sports, we've got a memorable adventure made for a first date or an enduring romance on this list of romantic Las Vegas date ideas.
Las Vegas date ideas
1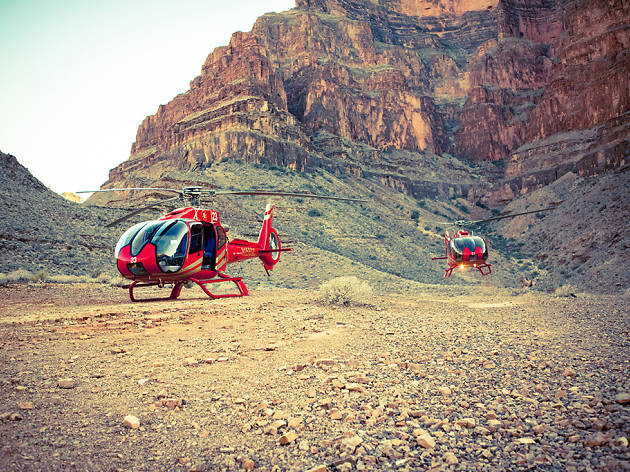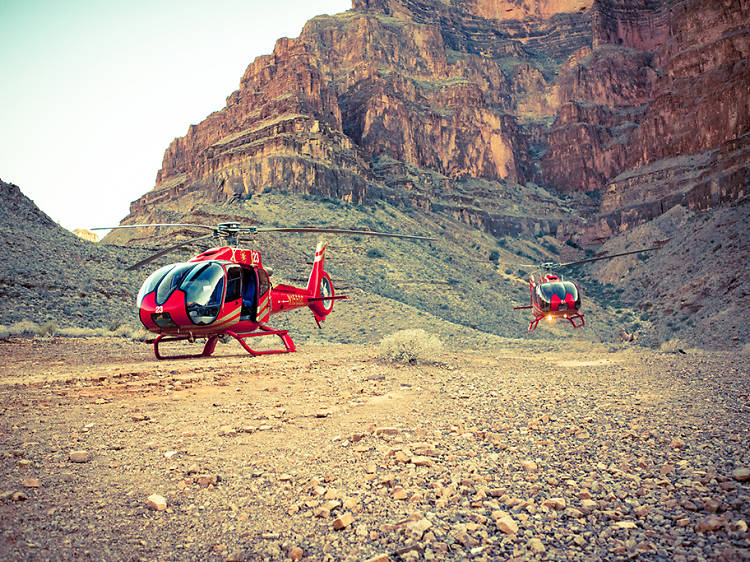 Photograph: Courtesy CC/Flickr/Josh Janssen
Hop a chopper to the Grand Canyon
Want to take your date's breath away? It doesn't get much better than the Grand Canyon, where the Colorado River has carved a mighty chasm in the earth's crust. From Las Vegas, it's a 45-minute trip by air and getting there is half the fun as you soar over the Hoover Dam, Lake Mead and the Arizona desert. Land beneath the rim, raise a glass of champagne, then return to the city just as the lights are coming up on the Strip.
Photograph: Courtesy CC/Flickr/Josh Janssen
From Memorial Day to Labor Day, Cosmopolitan's Boulevard Pool transforms into an outdoor movie theater on Monday nights. Hollywood classics and blockbusters play on the marquee while the audience lounges on pool chairs or cools off in the water with a cocktail in hand. Complimentary for hotel guests, it's $5 for everyone else. It's basically like a drive-in—with beach towels.
Sundays are made for relaxing over brunch—preferably an expansive spread of crab legs, sushi, fresh waffles, pastries and a carving station with an extra menu of made-to-order treats like French toast bread pudding and poached eggs Oscar. Add all-you-can-drink mimosas, sangria or champagne, stop by the dessert table, then kick back and let the live jazz band close the weekend with a bang.
4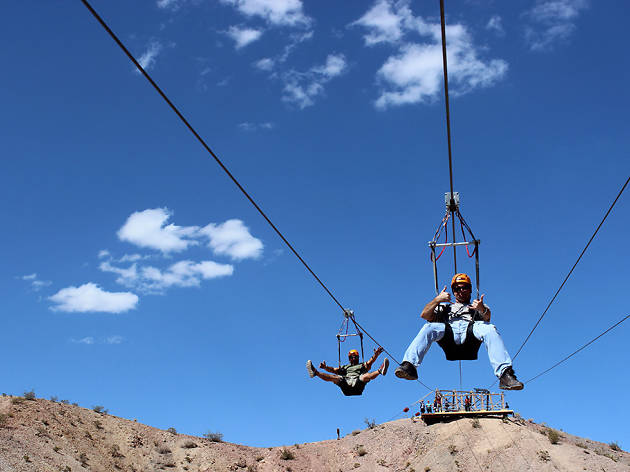 Photograph: Courtesy Bootleg Canyon Flightlinez
Zoom through the sky at Bootleg Canyon Flightlinez
Flushed cheeks, heart racing, butterflies in your stomach, either you're falling in love or you're about to step off the summit of Red Mountain on a zipline that reaches speeds of up to 60 miles per hour. Fly over Boulder City's Bootleg Canyon on a series of four lines that stretch a cumulative 1.5 miles. If the adrenaline pumping through your veins doesn't ignite some romance, maybe the panoramic views will.
You and a hot date walk into the private therapy pool at the Bellagio. That's not the start of a bad joke, it's the beginning of a seriously steamy date at the resort's spa. The two-hour couples aqua massage is less about separate treatments in the same room and more of a primer on how to support and soothe your partner using aqua massage. After the lesson wraps, you get an extra 30 minutes to practice your technique in private.
6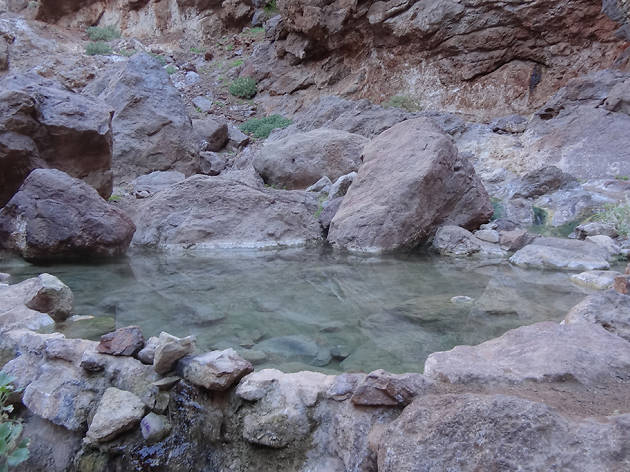 Photograph: Courtesy CC/Fickr/momo go
Hike to hot springs in Goldstrike Canyon
A popular Southern Nevada hike, this rough desert route leads travelers scrambling over boulders and obstacles with an assist from some well-placed ropes. The reward for your efforts is a series of natural hot springs where you can sit and soak on your way to a picnic-perfect meeting point along the Colorado River. One word of caution: The canyon is closed from May to September when temps get dangerously high.
Photograph: Courtesy CC/Fickr/momo go
This off-Strip sushi restaurant isn't your average miso soup and spicy tuna spot. It is a shrine to Japanese cuisine where pristine ingredients are treated with the utmost respect. With its hushed atmosphere, Yui's probably not the place for awkward first date conversation, but for sushi snobs this is as good as it gets in the U.S. Expect gorgeous fish carved and caressed by a master's hand. Reserve seats at the bar to see the drama unfold and savor every last bite.
For years, Las Vegas has pined for a pro sports team. Now it's getting two. The Raiders likely won't arrive till 2020, but the Las Vegas Golden Knights are taking the ice this fall inside the T-Mobile Arena as the NHL's latest expansion squad. Grab dinner at the Park, then walk to a hockey match right on the Strip. Beers optional, heckling mandatory.
Museums, Special interest
It doesn't look like much from the outside, but behind the facade of this local landmark you'll find an arcade wonderland stocked wall to wall with pinball machines. From vintage games to tricked out new releases, this gamer heaven makes for a fantastic—and cheap—date. Don't forget your quarters.
If the way to one's heart is through their stomach, the private cooking class at Guy Savoy is like taking a shortcut. Step inside the Michelin-starred kitchen where executive chef Julien Asseo will walk you through the process of preparing one of the restaurant's signature appetizers and entrees. Best of all, when the lesson is complete, you and your date can sit down and devour all of your hard work.
Show more