Things to do in Leeds this month
Check out the best events coming up and find great things to do in Leeds this month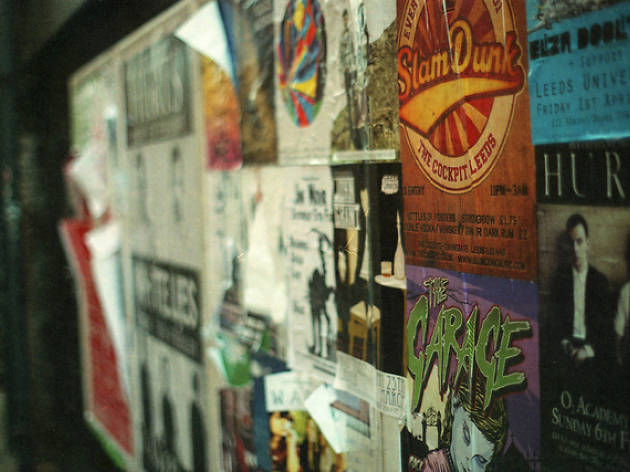 Things to do this month
Eyewitness accounts from British families who were caught up in the events of the time.
Read more
Printed works explore the notion of creativity and individuality. Features works by students.
Read more
A new commission of work by the Berlin-based creator whose sculptures investigate how technological advances impact on communication and culture.
Read more
Examples by the pioneering artist establish his innovative work and impact on the narrative of British sculpture.
Read more
The Irish-American dancer and choreographer directs this dynamic dance-theatre spectacular about the Little Spirit, who travels through time to help the Lord of the Dance protect his people from the Dark Lord.
Read more
Show more
Films showing this month
The first miracle of Barry Jenkins's exquisite coming-of-age drama 'Moonlight' – and this heartbreaker of a film is filled with miracles – happens around a kitchen table. We've already seen quiet, sullen Chiron (Alex Hibbert), a 10-year-old with frightened eyes, being chased by bullies. The two adults sitting around the table aren't his parents (one of them is actually the drug dealer selling crack to Chiron's addict mum), but somehow they know the exact words to say when the boy softly asks them, 'Am I a faggot?' Jenkins, an indie director whose first feature, 'Medicine for Melancholy' (2008), delved into a whole universe of African-American issues rarely explored onscreen, now goes even further, and with an uncommonly poetic voice. The barely-getting-by Miami of 'Moonlight' – a place of needle-strewn drug dens and cheapo diners – bears little resemblance to the one we usually see in the movies. But the film is more radical for articulating an internal sexual turbulence that doesn't fit the stereotype. It's not the one laid down by 'Brokeback Mountain' or other key gay stories but something new, seething with anxiety, similar to the vibe you feel in the tense, ticking beats of Frank Ocean. Chiron grows into a pinch-faced, haunted teenager (Ashton Sanders), the second portrayal of the character, who is played by three actors in the film. (Trevante Rhodes's muscle-bound adult Chiron, hiding his pain behind a scary facade, is yet to come.) The script is based on Tarell McCran
Read more
The British explorer Percy Fawcett – driven crazy by his obsession to find a lost Amazonian city – vanished in the jungle in 1925. His story has everything you could possibly want in an adventure tale: treacherous colleagues, cannibals with bubbling pots, spears flying out of nowhere, shrunken heads, piranhas, even an opera troupe singing Mozart in the wild. But in the hands of 'The Immigrant' director James Gray (adapting David Grann's thrilling 2009 book), it has something that most modern filmmakers would skim over in favour of action: a soulful sense of unresolved wanderlust, and an exquisitely developed tension between family responsibilities and the call of greatness over the horizon. Shot by mighty cinematographer Darius Khondji ('Seven'), 'The Lost City of Z' feels like it comes out of that epic 1970s moment when filmmakers like Francis Ford Coppola and Werner Herzog dived into the mud on their own personal tests of will. Gray works at a relaxed pace; this isn't 'Raiders of the Lost Ark'. Instead, he places the forward momentum wholly on leading actor Charlie Hunnam (producer Brad Pitt originally intended to star himself). His occasional coarseness is a perfect match for Fawcett's early frustrations as a colonel officer from a modest background – or, as one snob puts it, has been 'rather unfortunate in his choice of ancestors'. A Bolivian mapmaking job presents an opportunity for advancement and, with his bushy bearded aide Henry (Robert Pattinson), Fawcett leaves b
Read more
The virtue of courage is high up on the list of Disney princess must-haves (just below kindness, beauty and a strapping prince in tight trousers). And three cheers for director Bill Condon and star Emma Watson for having the courage to make a live-action musical adaptation of the adored 1991 animation with 2017 gender politics and a diverse cast. Not only is Belle the most feminist Disney princess ever, 'Beauty and the Beast' also features the first (and second) ever interracial kiss in a live-action Disney movie and the first openly gay character in a Disney movie fullstop. And it's all done with a lovely feeling of integrity too.This is a lavish pull-out-all-the-stops musical. Watson brings sincerity to the role of Belle, the only bookworm in the village in eighteenth-century France. (Her singing isn't bad either). Luke Evans is hilarious as her sexist meathead suitor Gaston, whose charming chat-up lines include: 'Do you know what happens to spinsters in the village when their fathers die? They beg for scraps.' Josh Gad (Olaf the snowman in 'Frozen') is his adoring sidekick Le Fou. The pair's get-a-room bromance is a highlight.Belle's inventor dad (Kevin Kline) is on his way to market when he takes a wrong turn and finds himself locked in the gothic castle belonging to Beast (Dan Stevens from 'Downton', hiding behind a furry face). Of course, the Beast is actually a dashing prince, transformed by a kind witch as punishment for his cold-heartedness. Only true love – as Célin
Read more
America lies on the brink of ruin in this bleak and bruising comic-book road movie. It's 2029 and Logan aka James Howlett aka The Wolverine (Hugh Jackman) is working as a limo driver in El Paso, Texas, occasionally hopping over the Mexican border to deliver much-needed pharmaceuticals to his Alzheimer's-stricken former mentor Charles Xavier (Patrick Stewart). The mutant race has been all but wiped out thanks to a combination of shady government interference and Charles's own inability to control his powers. But when Logan is tasked with looking after Laura (Dafne Keen), the first mutant child born in decades, he's forced to make a decision: keep running, or gear up for one final stand. Jackman has repeatedly suggested that 'Logan' will mark his farewell to a character he's been tied to for 17 years and seven films. If so, it's a fitting swansong: in stark contrast to most Marvel movies, particularly last year's peppy but pointless 'X-Men: Apocalypse', this feels more like a wake than a party. The colours are muted, all rust-red and glowering grey, and the themes are weighty: loss, ageing and deep, almost unbearable regret. We're never given a full picture of how the world got so messed up, just glimpses of institutional brutality and corporate power, of ordinary people ground under the heel of an increasingly uncaring system. Given that the film went into production well before the earth-shaking events of November 2016, it all feels frighteningly prescient. It's also, with
Read more
"It's morphin' time!" fans will yell, as waves of light explode, color-coded armor creeps onto bodies, and tears of recognition are wiped away. Rarely has a franchise dominated childhoods as thoroughly as the '90s-era live-action 'Mighty Morphin Power Rangers', devoured on TV and cemented with action figures and toys. Today's grown-up kids aren't ready for the reboot, but they should be: The movie knows to make playground fun out of the material. Set against the suburban backdrop of California's fictional Angel Grove, the story (for those not in the know) follows a rag-tag team of teens chosen to defend Earth from evil Rita Repulsa. What this 'Power Rangers' does—unlike the show—is explore the complexities of our core team: They're imperfect but perfect enough to be selfless and save the world. Despite spending the majority of its running time with lead heroes Kimberly (Naomi Scott) and Jason (Dacre Montgomery), the main player of the group is autistic Billy (Me and Earl and the Dying Girl's RJ Cyler), whose enthusiasm and charm are contagious. Kudos to the movie's subversive streak for using a great talent like Bryan Cranston to basically play a gigantic head (Power Ranger mentor Zordon). Bill Hader does justice by robot Alpha 5's iconic squeals while Elizabeth Banks delivers an exaggerated yet powerful villain that should have hit the airwaves 25 years ago: she makes it look like a blast, while devouring gold (don't ask—it's part of her plan). Here, Rita takes a little ti
Read more
You can't recreate your past, but you can relive it in your head over and over again, seeing it differently as you become someone new each year, month, week and day. That's the big, trippy idea at the heart of Danny Boyle's 'T2 Trainspotting', a frenetic but also reflective film about the past colliding with the present. It has some soaring highs and a few lows – but it's never lazy, even if it never matches the one-off magic of the 1990s Britpop-era original. Frankly: how could it? 'T2' sees Renton (Ewan McGregor) arrive back in Edinburgh from Amsterdam where he's been working in 'stock management software for the retail sector' (choose life, indeed) and where his personal life has taken a hit. Back home, he seeks out Spud (Ewen Bremner), to whom life hasn't been kind in an altogether more devastating way, and he reconnects with Sick Boy (Jonny Lee Miller), who is now running a blackmail and prostitution racket with business partner Veronika (Anjela Nedyalkova in one of several underwritten female roles; Shirley Henderson and Kelly Macdonald suffer the same fate). The missing piece of the jigsaw is Begbie (Robert Carlyle), who's still seething about being stitched up by Renton all those years ago and who's stuck in jail – but not for long. 'T2' is a sequel, but it's not just about continuing a story. It knows how much is riding on our nostalgia, and it wants to prod and play with it. That 'T2' tag could easily stand for 'take two': a second look at the story of friendship
Read more
There may be intelligent life hidden on Mars, but there's precious little of it hidden in Hollywood if this feeble 'Alien' clone is anything to go by. Exactly how this clunky, by-the-numbers sci-fi horror managed to blast free of the DVD bin and engage A-list stars like Jake Gyllenhaal and Ryan Reynolds is hard to figure out, because it certainly wasn't the script. Maybe the idea of floating round a tin can gesticulating at blue-screen beasties just sounded like a fun way to kill time. That said, nothing about Gyllenhaal's performance suggests he's enjoying himself. As the International Space Station's in-house doctor David Jordan, he's so glum and low-key that you suspect he's trying to blend into the steel-grey background, hoping that if he keeps quiet no one will notice he's even in this misfire. Reynolds is louder but not much more fun, and they're joined by a global cast of dead-meat space technicians whose principal mission is to spout statistics and get picked off one by one. Which they duly are, by a mysterious Martian life form that's been frozen in the planet's crust for millennia and has now been brought to Earth for study. There's nothing particularly memorable about the critter in question – it's smart, strong and insatiably hungry, but aren't they always? A handful of tense moments and some neat 'Gravity' style effects just about keep 'Life' ticking along. But the direction by Daniel Espinosa (he of the dire 'Child 44') is seriously shoddy – there's a moment t
Read more
The breakout star of 2014's 'The Lego Movie' now gets his own action-packed, completely batshit superhero spinoff. The first Lego film was a real surprise: what could have been a lazy cash-in turned out to be sweet, funny and fiendishly original in the way it acknowledged and celebrated its own artificiality. And one of the film's highlights was its take on Batman: a self-involved millionaire playboy who dresses in black body armour to fight crime and chase chicks. The inept egomaniac is a time-honoured comedy archetype – think Jack Sparrow, Daffy Duck or Donald Trump – but thanks to razor-sharp writing and Will Arnett's snarling, impossible-to-hate vocal performance, this Batman felt fresh and fun. Happily, the same goes for his solo debut, a ferociously paced, wildly silly pastiche of those comic-book blockbusters we're all getting a bit sick of. The plot may draw on another creaky comic cliché – Batman inadvertently adopts adorable orphan Robin (Michael Cera) and has no idea what to do with him – but 'The Lego Batman Movie' is so jam-packed with ideas, asides and barmy cameos (Lego Bane! Lego Marlon Brando! Lego gremlins!) that there's barely time to notice. Some of it might go over kids' heads – there's a running gag about 'Jerry Maguire' that will bemuse anyone under 35 – but they will lap up the frenetic action and slapstick. Like its predecessor, 'The Lego Batman Movie' also manages to find an emotional centre among all this mayhem. Batman may be outwardly invincible
Read more
Denzel Washington directs and stars in this powerful, respectful, occasionally shouty screen version of August Wilson's 1983 play about an unhappy working-class African-American family in 1950s Pittsburgh. It's muscular, solid, sturdy – all those things you expect from classic mid-to-late twentieth-century American drama. Washington and co-star Viola Davis play struggling husband and wife Troy and Rose Maxson, embracing the theatrical DNA of the film. (Which is unsurprising considering that they starred together in an award-winning 2010 Broadway revival of the play and that Wilson, who died in 2005, is credited as the film's writer.) Most of the action takes places in and around the Maxsons' home as Troy's resentments and weaknesses spill out into daily family life. Troy has difficult relationships with his two sons, and his behaviour finally brings his marriage to breaking point. The past doesn't just hang over the present, it shapes it: the Maxsons' house is funded by compensation paid to Troy's psychologically damaged brother Gabe, injured in the war. Troy himself has never recovered from his career as a baseball player being cut short as a younger man. It's easy to throw accusations of staginess at film adaptations of theatre like this, which honour the limitations of theatre and make only limited attempts to open up the play. But there's a hothouse atmosphere to this domestic drama that works well on screen, even if the symbolic power of the fence itself – which Troy i
Read more
Show more