Things to do in Leeds this week
Check out the next seven days, all in one place, and find great things to do this week in Leeds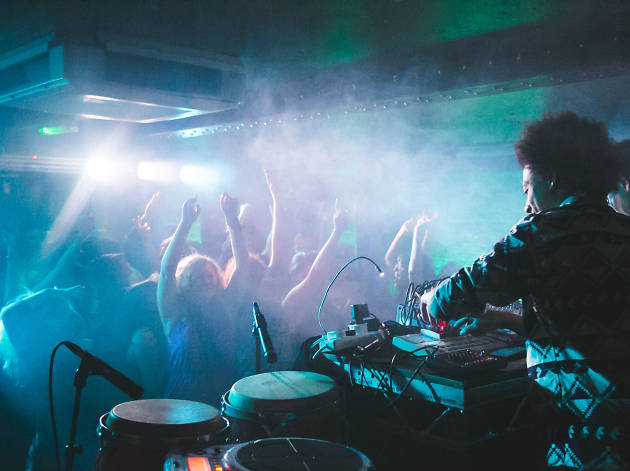 Got your social diary sorted yet? We're here to help – there are tons of great things to do in Leeds this week. Have a look through our round-up of all the best events and films that Leeds has to offer. You'll find theatre, art, music and more in our list, so have a look and plan a week's worth of things to do in Leeds.
Things to do in Leeds this week
Hip hop, pop and garage comes to the decks, courtesy of Mixtape residents.
Read more
This showcase features appearances from a wide range of soul, Latin, funk and hip hop artists, plus DJs. Live appearance by Regime and Mairaj & The Family.
Read more
Dougie Scarfe conducts the ensemble for Britten's Symphonic Suite: Gloriana, Puccini's Fantasia: La Boheme and Holst's The Planets.
Read more
Rochdale meets Fukuoka Prefecture, Japan, in this innovative jazz-fusion outfit consisting of multi-instrumentalist Tom Southerton, pianist Tachibana Yoichi and drummer Ito Kooryo.
Read more
Ice skating frolics through the wonderful world of Disney, from high-speed stunts to adventures under the sea, join a fantastic cast of Disney characters including Ariel, Buzz Lightyear and Woody, Anna and Elsa and many more in a dazzling display of non-stop fun.
Read more
Indie-rock cult favourites, J Mascis, Lou Barlow and Murph, hit the road more than 30 years after they formed to promote the album Give A Glimpse Of What Yer Not.
Read more
Show more
Films showing this week
The film that first brought Miyazaki to international attention remains an animated achievement almost without parallel. The first half delicately captures both mystery and quietness as two little girls move with their father to a remote new home in the country while their mother recuperates from TB in hospital, and only gradually become aware that something's stirring in the trees outside. While younger viewers will adore the furry creatures, including the house-sized Totoro and the twelve-legged cat-bus, adults will perhaps best appreciate the film's delicate rendering of atmosphere (rainy afternoons in the country, as night falls), and its attuned understanding of the anxieties and wonders of childhood. And the lack of sentimentality will be utterly refreshing to those raised on a diet of Disney.
Read more
Not the movie the notorious ice-skating flameout Tonya Harding probably deserves – but happily (for us) the one she's gotten – 'I, Tonya' is a dazzlingly complex and exuberant treatment of a disgraced figure. It flies along like 'Goodfellas': Director Craig Gillespie never passes up the chance to needle-drop on classic rock (from Supertramp, ZZ Top, etc.) or break the fourth wall with an into-the-lens confession. But as with Martin Scorsese's 'I always wanted to be a gangster' crime epic (or more aptly, Paul Thomas Anderson's 'Boogie Nights'), the combination of supercharged style with so tawdry a story creates an unshakable tension, the kind that has you laughing and cringing at the same time. Ultimately, 'I, Tonya' feels like a major reclamation, not of Harding's reputation but of the sports biopic itself, fallen into clichés since 'Raging Bull'. Setting the tone with a surly, confrontational stare and her fuming lit cigarette, Margot Robbie – making the most of this gift of a role – drops the film into the touchy realm of paranoia and class envy. She refuses to be judged in the film's series of faux interviews, and even as Steven Rogers's satisfying script sends us backward in time to the angelic young Tonya (Mckenna Grace from 'Designated Survivor') twirling on the ice, we're never far from a scene in which money is the film's not-so-secret subject. Her Oregonian mother, the raging LaVona (a revelatory Allison Janney, swearing up a storm), constantly browbeats her daught
Read more
A sweet, deeply personal portrayal of female adolescence that's more attuned to the bonds between girlfriends than casual flings with boys, writer-director Greta Gerwig's beautiful 'Lady Bird' flutters with the attractively loose rhythms of youth. Anchored by an expressive mother-daughter story in which unconditional love and enmity often seem one and the same, and elevated by an entrancing Saoirse Ronan (easily among the best and most intimate actors of her generation), Gerwig's accomplished second directorial effort makes you wish she'd spend more time behind the camera. With her keen ear for female familiarity (she co-wrote 'Frances Ha' and 'Mistress America'), Gerwig sets 'Lady Bird' during that exhilarating, confusing period known as high school senior year, when childhood-defining friendships start slipping away, hormones begin calling the shots and a better existence seems to await elsewhere. We follow the rebellious, opinionated Christine 'Lady Bird' McPherson (Ronan, vanishing inside her funky, disorderly character) as she completes her final year of Catholic school in 2002. This is right after 9/11, during the Iraq War (often referenced in the background) and before cell phones got smart, further complicating teenagers' lives. 'Lady Bird' spends her days quarreling with her equally strong-willed mother, Marion (Laurie Metcalf, invincible), slacking off with her good-natured best friend, Julie (a pitch-perfect Beanie Feldstein), and dreaming of a liberal East Coast
Read more
There aren't many writer-directors who could tell a story of small-town rape, murder, grief and guilt at the same time as taking you down all sorts of black-comic paths and having immense fun with the writing and acting along the way. But Martin McDonagh ('In Bruges', 'Seven Psychopaths') is one of them, and his bloody and ballsy third film, 'Three Billboards Outside Ebbing, Missouri', takes his work to a new level of versatility and surprise. It's almost a year since Mildred Hayes (Frances McDormand, on absolutely roaring form) lost her teen daughter to an unknown rapist and murderer. She's angry, as well as distraught, and she pays for a series of disused billboards outside her town to carry huge posters asking why no one has been arrested yet. She points the finger at Chief Willoughby (Woody Harrelson), simply because he's the sheriff, and that makes her public enemy number one. Everyone takes against her, from her abusive and philandering former husband (John Hawkes) to a rash and racist hothead young cop, Dixon (Sam Rockwell, a blinding performance, brilliantly comic, but so much more). Even the priest sits her down for a chat. But she's having none of it: she just becomes more determined to fight anyone who gets in her way. From there, 'Three Billboards' takes all sorts of unexpected turns, and what starts off looking like a story of a wronged mother fighting for justice becomes much more muddy, unusual and meandering. Sure, she's shaking things up, but is she going t
Read more
For all their global dominance, everybody wants these superhero movies to be better: funnier, smarter, more inclusive, more super. A huge step in the right direction, 'Black Panther' is that dream come true. Proudly African – even if its Africa comes in the form of the fictional country of Wakanda, a powerhouse of secret technologies – Marvel's latest is, from top to bottom, a conscious reversal of racial paradigms. Handsomely mounted by 'Creed' director Ryan Coogler and starring an enviable slate of black actors that makes cameoing comics godhead Stan Lee almost seem lost, the film is provocative and satisfying in ways that are long overdue, like its ornate, culturally dense production design and the deeper subtexts of honor, compassion and destiny. Wakanda's young king, T'Challa (a dignified Chadwick Boseman, well-seasoned after playing onscreen versions of James Brown, Jackie Robinson and Thurgood Marshall), recognizes that the world outside his peaceful realm is a divisive place. Still, even as his own armor-clad excursions as Black Panther set up an internal tension between isolationism and responsibility (yes, this is the rare blockbuster with something on its mind), tensions within Wakanda—fomented by exile-turned-rebel Erik Killmonger (Michael B. Jordan, on fire)—threaten to bring him down. In their script, Coogler and Joe Robert Cole take inspiration from the Black Panther's 50-year history on the page, including a dazzling current run by author Ta-Nehisi Coates, an
Read more
Sure, Christopher Nolan's 'Dunkirk' blew us away with its immersiveness. But if you prefer your WWII movies to have a little dialogue, some shapeliness and a bit of powerhouse acting, director Joe Wright's tense profile of the rising prime minister Winston Churchill is the war film to beat. Wright, it's worth remembering, has been on those gory French beaches before with 2007's ''Atonement', capturing the whole of the British evacuation and its surrounding chaos in a legendary five-minute tracking shot. As if pulling a been-there-'Dunkirk'-that, he now shifts to the tense strategy sessions, bunker hand-wringing and political gamesmanship that fed into England's finest hour. 'Darkest Hour' is a film of verbal ammunition, and its calibre is high.At first you won't believe your eyes, seeing Gary Oldman – still, in some perverse way, the alive presence from 'Sid and Nancy' – buried under what must be pounds of prosthetic facial architecture. (The radical makeup work is by artist Kazuhiro Tsuji.) But your mind quickly gets you where you need to be, as we watch Oldman's Churchill roughing up our expectations: crouching on his bedroom floor to capture a wayward cat, downing a breakfast of Scotch and cigars and mixing it up with his cowed, dutiful secretary Elizabeth (Lily James). The performance is a marvel, not merely leaping over what could have been a stunt, but deepening into a soulful portrayal of wartime leadership, tinged with ego, doubt and the demands of a terrible moment.C
Read more
Hitchcock used to say that if one of his movies was working, you could follow it with the sound off. By the same measure, he'd have approved of this taciturn Chilean character piece. It's a quietly devastating story of prejudice that often seems to be powered solely via the infinitesimal registers of its lead, startling newcomer (and the country's first transgender actress) Daniela Vega. You barely need to refer to the subtitles to know what's going on: it's written all over her face. Vega plays Marina Vidal, a trans lounge singer seeing a much older man, printing proprietor Orlando (Francisco Reyes). Their rapport suggests a long-term relationship full of easy certainties and shared realities. But when she sings 'Your love is like yesterday's newspaper' as he watches on at her club, it's weirdly prophetic. Before the day is out, he's lying dead on a hospital slab, felled by chest pains and badly bruised by a subsequent fall. Little does she know, but she'll soon be stripped of her stake in their life together by his grasping, disapproving family – right down to their beloved dog. Before all that, the cues of a traditional thriller are toyed with in an opening that if not actively Hitchcockian, is at least Hitchcock-ish. A gruff female detective quizzes Marina about Orlando's death, suspicions raised by her flight from the hospital, as Matthew Herbert's score helps amp up the brooding atmosphere. Will she have Orlando's death pinned on her? And what's in that mysterious loc
Read more
Reliably, director Guillermo del Toro's mind goes to squishy, sexual places. He's a true voluptuary, not just the guy behind those bony creatures from 'Pan's Labyrinth' but also, per last year's Crimson Peak', a believer in grand, melodramatic flourishes. Del Toro's latest, the tremblingly romantic 'The Shape of Water', should be an orgasmic flood for his fans, who want their fantasies served with a side of adultness. If you can imagine an aggressively adorable (and somewhat effortful) version of 'Amélie' in which our hero sleeps with 'The Creature from the Black Lagoon', then you'll totally be feeling this. It's 1962 and Elisa (Sally Hawkins, delivering a flow of enraptured expressions) is a mute loner who works – somewhat improbably – in a secret government facility in Baltimore. (Go with it.) Even though Del Toro hammers you over the head with every green-hued retro detail, try to stay focused on Elisa. She loves watching musicals on her tiny TV, and she adores her closeted gay neighbour, an illustrator named Giles (Richard Jenkins, also the film's narrator). Basically, though, her life is empty, until a metal tank is wheeled into her office, containing an organism that could be a 'god,' a merman or an alien. Made of sinewy muscles and quivering scales (he's performed, balletically, by del Toro regular Doug Jones), it turns out this 'asset' is actually Elisa's Romeo, and – as she starts to flirt with the mystery man, feeding him hard-boiled eggs and pressing up against th
Read more
With this impressionistic and often daringly enigmatic thriller taken from a short novel by Jonathan Ames, British fimmaker Lynne Ramsay ('Ratcatcher', 'Morvern Callar') is back on top form with a vengeance – quite literally, though that emotion is not hers but part of the story. 'You Were Never Really Here' centres on burly, big-bearded, taciturn hitman Joe (Joaquin Phoenix in determinedly unglamorous mode), whom we encounter in the opening scene already carrying out a contract – though we never find out who's the victim or what it's all about. In fact, Ramsay's film gives mere visual and aural hints as to Joe's backstory, motives and character. The briefest of flashbacks suggest he's been in the military and the police, and that as a child he suffered a brutal father. But apart from seeing him carry out his work – his preferred weapon a hammer – all we know about Joe is that he lives with and cares for his elderly mother. Still, we do witness his dealings with a contractor, who lines up a job for him: to discover the whereabouts of and return to her politician father an underage girl abducted into sex slavery. All this may bring to mind 'Taxi Driver', but Ramsay's film is very different. Not wanting to distract us with the precise details of the storyline, or those of the world Joe inhabits, she focuses instead on his inner life. She uses Phoenix's subtly expressive face and body language, a complex soundtrack, an elastic editing style and Thomas Townend's wonderful cinem
Read more
Show more