Things to do in Leeds this weekend
Check out this weekend's events and find great things to do this weekend in Leeds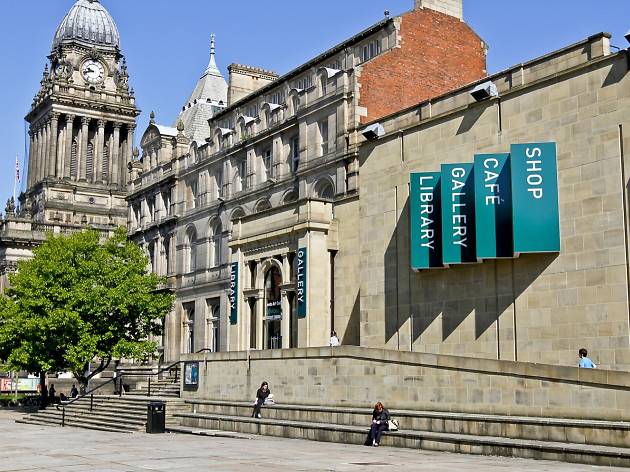 We've rounded up some of the best things to do in Leeds this weekend, so there's no excuse to let your downtime go to waste. Whether theatre is your bag, you're mad for music or you'd rather stroll around an art exhibition, you'll find it all in our list, plus much, much more.
If you're looking for things to do in Leeds beyond today, plan ahead with our round-up of things to do this month.
Things to do in Leeds this weekend
A new commission of work by the Berlin-based creator whose sculptures investigate how technological advances impact on communication and culture.
Read more
Eyewitness accounts from British families who were caught up in the events of the time.
Read more
The Irish-American dancer and choreographer directs this dynamic dance-theatre spectacular about the Little Spirit, who travels through time to help the Lord of the Dance protect his people from the Dark Lord.
Read more
The orchestra performs Sibelius's Tapiola Listen, Bruch's Scottish Fantasy Listen and Strauss's An Alpine Symphony Listen with violinist Jack Liebeck. Conducted by Aleksandar Markovic.
Read more
Gareth Hudson leads the Orchestra of Opera North, who are joined by leading vocal artists of the Bond repertoire Mary Carewe and Simon Bowman, in this performance of songs from the film series.
Read more
Show more
Films showing this weekend
The first miracle of Barry Jenkins's exquisite coming-of-age drama 'Moonlight' – and this heartbreaker of a film is filled with miracles – happens around a kitchen table. We've already seen quiet, sullen Chiron (Alex Hibbert), a 10-year-old with frightened eyes, being chased by bullies. The two adults sitting around the table aren't his parents (one of them is actually the drug dealer selling crack to Chiron's addict mum), but somehow they know the exact words to say when the boy softly asks them, 'Am I a faggot?' Jenkins, an indie director whose first feature, 'Medicine for Melancholy' (2008), delved into a whole universe of African-American issues rarely explored onscreen, now goes even further, and with an uncommonly poetic voice. The barely-getting-by Miami of 'Moonlight' – a place of needle-strewn drug dens and cheapo diners – bears little resemblance to the one we usually see in the movies. But the film is more radical for articulating an internal sexual turbulence that doesn't fit the stereotype. It's not the one laid down by 'Brokeback Mountain' or other key gay stories but something new, seething with anxiety, similar to the vibe you feel in the tense, ticking beats of Frank Ocean. Chiron grows into a pinch-faced, haunted teenager (Ashton Sanders), the second portrayal of the character, who is played by three actors in the film. (Trevante Rhodes's muscle-bound adult Chiron, hiding his pain behind a scary facade, is yet to come.) The script is based on Tarell McCran
Read more
You can't recreate your past, but you can relive it in your head over and over again, seeing it differently as you become someone new each year, month, week and day. That's the big, trippy idea at the heart of Danny Boyle's 'T2 Trainspotting', a frenetic but also reflective film about the past colliding with the present. It has some soaring highs and a few lows – but it's never lazy, even if it never matches the one-off magic of the 1990s Britpop-era original. Frankly: how could it? 'T2' sees Renton (Ewan McGregor) arrive back in Edinburgh from Amsterdam where he's been working in 'stock management software for the retail sector' (choose life, indeed) and where his personal life has taken a hit. Back home, he seeks out Spud (Ewen Bremner), to whom life hasn't been kind in an altogether more devastating way, and he reconnects with Sick Boy (Jonny Lee Miller), who is now running a blackmail and prostitution racket with business partner Veronika (Anjela Nedyalkova in one of several underwritten female roles; Shirley Henderson and Kelly Macdonald suffer the same fate). The missing piece of the jigsaw is Begbie (Robert Carlyle), who's still seething about being stitched up by Renton all those years ago and who's stuck in jail – but not for long. 'T2' is a sequel, but it's not just about continuing a story. It knows how much is riding on our nostalgia, and it wants to prod and play with it. That 'T2' tag could easily stand for 'take two': a second look at the story of friendship
Read more
An orphan girl dreams of becoming a dancer in this charming animated kids' film set in 1879 France. Flame-haired Félicie (voiced by Elle Fanning) runs away from her Brittany orphanage with her friend Victor (Dane DeHaan). In Paris, he becomes an apprentice to Gustave Eiffel, and she joins the Opera as a ballerina – by assuming a rich girl's identity. It's a classic rags-to-riches set-up that captures the thrill of success while delivering a lesson about the need to work jolly hard to get there. Fanning's earnest voiceover helps make Félicie a winning heroine, while DeHaan's Victor is a sweet, smitten teen. Laughs come here and there, but this is more about the magic of dreams and dance: the choreography uses motion capture of Paris Opera Ballet dancers to uplifting effect. The film is also visually opulent – the velvet frocks look sumptuous to the touch. It's a shame that the magnificent 'Swan Lake' is combined with cheesy modern pop ditties. 'Ballerina' is at its best when harking back to the past.
Read more
A prodigiously talented cast is drowned out by a cacophony of gunshots in 'High-Rise' director Ben Wheatley's entertainingly absurd riff on a 'Reservoir Dogs'-style crooks 'n' quips caper. It's the kind of guns-blazing free-for-all that might be described as a 'bullet ballet'. But this is more like bullet fringe theatre: a bold, stagey, intentionally repetitive and borderline experimental attempt to strip the crime flick down to its absolute bare essentials: criminals, cursing, double-crosses and lots and lots (and lots and lots) of shooting.     Set in Boston in 1978 (but shot, weirdly, in Brighton), the opening half-hour is a riot of cool tunes, hot threads, big hair and vintage motors, as IRA operative Chris (Cillian Murphy) cruises along to an arms deal hosted by brokers Justine (Brie Larson) and Ord (Armie Hammer). The seller is Vernon (Sharlto Copley), a touchy South African with a van full of Beretta machine guns. As the parties convene at a remote dockland warehouse, it turns out that they've each brought along at least three friends – the cast expands to include Michael Smiley, Sam Riley, Noah Taylor and Jack Reynor (channelling Seth Rogen as a bearded stoner). But when it turns out two of these jokers have an existing beef, everything goes to hell very quickly. And stays there.   The last hour of 'Free Fire' is one long, noisy and increasingly bonkers shootout, as treachery is uncovered and allegiances shift, and the characters get picked off one by one. Wheatley
Read more
The young writer-director Damien Chazelle has followed his Oscar-winning drama 'Whiplash' with another entirely novel film steeped in the world of music. His soaring, romantic, extremely stylish and endlessly inventive 'La La Land' is that rare beast: a grown-up movie musical that's not kitschy, a joke or a Bollywood film. Instead, it's a swooning, beautifully crafted ode to the likes of Jacques Demy's 'The Umbrellas of Cherbourg' and Stanley Donen's 'Singin' in the Rain' that plays out in the semi-dream world of Los Angeles and manages to condense the ups and downs of romantic love into a very Tinseltown toe-tapping fable. 'La La Land' boasts stars to fall in love with: Ryan Gosling is Seb, a brooding pianist and jazz purist who dreams of running his own nightclub, while Emma Stone plays Mia, a more sunny studio-lot barista and aspiring actor who dreams of putting on her own plays. The film follows them from winter to fall and back to winter as they meet, argue, flirt, fall in love and face a growing conflict between their personal passions and romantic hopes. There are tender and imaginative moments to die for: Stone mouthing along to a cover version of 'I Ran' at a pool party; the pair watching their legs discover the power of tap while sitting on a bench; the two of them flying into the stars and waltzing while visiting Griffith Observatory - a moment inspired by a trip to see 'Rebel Without a Cause'. There are songs, there are dances (and Gosling and Stone prove easy n
Read more
Before you get funny, no, they haven't come for his cat this time. Keanu Reeves is back as the taciturn ex-assassin prone to murderous rages: 2014's 'John Wick' saw him taking on the Russian mobsters who killed his dog (it reminded him of his dead wife, so he was all upset). But now it turns out John's unsanctioned rampage broke the laws that all hired killers follow, and he'll have to face the consequences. The ensuing hijinks will take him from New York to Rome and back again, staying one step ahead of his former colleagues. 'John Wick: Chapter 2' opens with a movie projected on a wall, as our hero races past an outdoor screening of a silent slapstick comedy. It's an unsubtle but appropriate image: none of this is meant to be taken too seriously, just sit back and enjoy the stunts, the speed, the style. Reeves has more than a touch of Buster Keaton about him too, staying stony-faced as he blasts, karate-kicks and throat-punches his way through literally hundreds of faceless underworld goons. And what a stupendously entertaining ride it is. Director and former stuntman Chad Stahelski is back in the director's chair, and he knows his craft inside out: every punch lands hard, every gunshot roars like thunder. Neon-lit and gloomy, the film is lovely to look at – think Nicolas Winding Refn without the pretension. The humour is charmingly self-deprecating – a series of adversarial grunt-offs between Reeves and fellow assassin Cassian (Common) are a highlight – and the testoster
Read more
This charming animated family movie about a teenage Polynesian girl fighting to save her Pacific island's future feels like business as usual for Disney in many ways. There's a strong young female lead, catchy show tunes, lush landscapes and talking animals – a hermit crab with a fondness for trinkets almost steals the film and a dim chicken offers light relief. But this tale from the directors of 'Aladdin' and 'The Little Mermaid' also feels like progress. Moana (voiced by Auli'i Cravalho) is a young woman of colour set to take over from her father as the leader of an island community way back in the past (their beliefs are based around sea-travel and the island's creation myth). When the plants on Moana's island start to wither, the ocean chooses this 16-year-old to defy her father's orders and set sail in search of a muscled demi-God Maui (Dwayne Johnson, self-mocking and funny), who can help her secure her people's future. There's not a prince or potential husband in sight; Moana's future is entirely defined by her leadership and ability to fend off the mansplaining know-it-all Maui. As messages go, we'll take them. The story is a fairly simple quest tale as Moana takes to the open water in uneasy cahoots with macho Maui. His animated tattoos are among the film's visual highlights, alongside the azure waters lapping the sand. There are some belters on the soundtrack, a few of them courtesy of man-of-the-moment Lin-Manuel Miranda, the creator and star of the Broadway sma
Read more
Take two much-loved British actresses, put them in scenarios that could have been ripped from an 'Inbetweeners' movie and you'll get 'The Time of their Lives'. Joan Collins (Alexis from 'Dynasty') stars as a fierce, washed up Hollywood actress who flees her old people's home to go to a funeral in France. Pauline Collins ('Shirley Valentine') plays her warm but downtrodden partner in crime. Together they find a new lease of life on an impromptu road trip on the Continent. The journey sees them challenge ageist and sexist stereotypes with scenes involving stealing cars, smoking weed and having casual sex. On the surface it's all fun and games, but lurking below are themes of controlling husbands, failed life choices and, above all, death. This film should be like a 'Shirley Valentine' sequel but unfortunately falls a little flat. It's badly paced, has too many plotlines crammed in and gives Joan's character one-liners that come off as mean rather than Alexis-sassy. Both she and Pauline Collins deserve better.
Read more
'Bend It Like Beckham' director Gurinder Chadha winds back the clock to the eve of Indian Partition for this big-hearted but frustratingly basic upstairs-downstairs drama. The upstairs is as high as you could go in 1947 India: Lord Louis Mountbatten (Hugh Bonneville) is the last viceroy of India. His job is to transfer the country to independence and he's joined in a sumptuous Delhi palace by his wife (Gillian Anderson) and daughter (Lily Travers). Downstairs, meanwhile, is a microcosm of wider tensions: opinions vary among the Indian staff, Hindus and Muslims, about whether their country should remain united – the preferred option of Gandhi (Neeraj Kabi) and Nehru (Tanveer Ghani) – or split into India and Pakistan, in accordance with the wishes of Muslim leader Muhammad Ali Jinnah (Denzil Smith). The escalating crisis is awkwardly echoed in the soapy love story between Mountbatten's servant, Jeet (Manish Dayal), a Punjabi Hindu, and his childhood sweetheart, Aalia (Huma Qureshi), a Muslim. As a simple walk through the headline history of the time, 'Viceroy's House' is vaguely illuminating. We meet all the main political players and Mountbatten is presented as a charming pragmatist who is relatively powerless in the face of the iron will of Winston Churchill. But, at the human level, this is shallow, and Chadha clumsily fuses political drama with romantic melodrama. It's also odd how, having plumped for the below-stairs angle of 'Downton Abbey', she has cast its lead Hugh
Read more
Show more