Things to do in Leeds this weekend
Check out this weekend's events and find great things to do this weekend in Leeds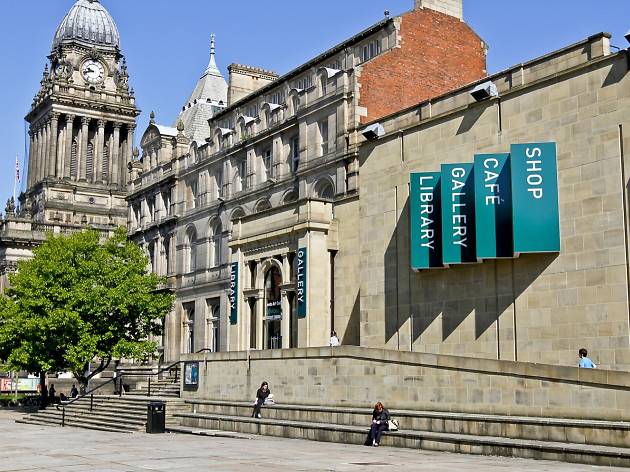 We've rounded up some of the best things to do in Leeds this weekend, so there's no excuse to let your downtime go to waste. Whether theatre is your bag, you're mad for music or you'd rather stroll around an art exhibition, you'll find it all in our list, plus much, much more.
If you're looking for things to do in Leeds beyond today, plan ahead with our round-up of things to do this month.
Things to do in Leeds this weekend
The soul singer from Bristol leads the outfit featuring James Graham, Adam Holgate, Adam Newton, Liam Treasure, John Pratt, Nicholas Malcolm, Hannah Nicholson, Victoria Klewin and Jai W Jones.
Read more
The veteran punk outfit performs a set filled with classics from their extensive back catalogue as well as more recent songs.
Read more
The residents will be supplying a wide selection of styles from disco to deep house.
Read more
Musicians and bands from the local scene and beyond perform alongside the city's top funk and soul DJs. With Terri Shaltiel and DJ Lubi.
Read more
This showcase features appearances from a wide range of soul, Latin, funk and hip hop artists, plus DJs. Live appearance by Regime and Mairaj & The Family.
Read more
Show more
Films showing this weekend
A sweet, deeply personal portrayal of female adolescence that's more attuned to the bonds between girlfriends than casual flings with boys, writer-director Greta Gerwig's beautiful 'Lady Bird' flutters with the attractively loose rhythms of youth. Anchored by an expressive mother-daughter story in which unconditional love and enmity often seem one and the same, and elevated by an entrancing Saoirse Ronan (easily among the best and most intimate actors of her generation), Gerwig's accomplished second directorial effort makes you wish she'd spend more time behind the camera. With her keen ear for female familiarity (she co-wrote 'Frances Ha' and 'Mistress America'), Gerwig sets 'Lady Bird' during that exhilarating, confusing period known as high school senior year, when childhood-defining friendships start slipping away, hormones begin calling the shots and a better existence seems to await elsewhere. We follow the rebellious, opinionated Christine 'Lady Bird' McPherson (Ronan, vanishing inside her funky, disorderly character) as she completes her final year of Catholic school in 2002. This is right after 9/11, during the Iraq War (often referenced in the background) and before cell phones got smart, further complicating teenagers' lives. 'Lady Bird' spends her days quarreling with her equally strong-willed mother, Marion (Laurie Metcalf, invincible), slacking off with her good-natured best friend, Julie (a pitch-perfect Beanie Feldstein), and dreaming of a liberal East Coast
Read more
Sure, Christopher Nolan's 'Dunkirk' blew us away with its immersiveness. But if you prefer your WWII movies to have a little dialogue, some shapeliness and a bit of powerhouse acting, director Joe Wright's tense profile of the rising prime minister Winston Churchill is the war film to beat. Wright, it's worth remembering, has been on those gory French beaches before with 2007's ''Atonement', capturing the whole of the British evacuation and its surrounding chaos in a legendary five-minute tracking shot. As if pulling a been-there-'Dunkirk'-that, he now shifts to the tense strategy sessions, bunker hand-wringing and political gamesmanship that fed into England's finest hour. 'Darkest Hour' is a film of verbal ammunition, and its calibre is high.At first you won't believe your eyes, seeing Gary Oldman – still, in some perverse way, the alive presence from 'Sid and Nancy' – buried under what must be pounds of prosthetic facial architecture. (The radical makeup work is by artist Kazuhiro Tsuji.) But your mind quickly gets you where you need to be, as we watch Oldman's Churchill roughing up our expectations: crouching on his bedroom floor to capture a wayward cat, downing a breakfast of Scotch and cigars and mixing it up with his cowed, dutiful secretary Elizabeth (Lily James). The performance is a marvel, not merely leaping over what could have been a stunt, but deepening into a soulful portrayal of wartime leadership, tinged with ego, doubt and the demands of a terrible moment.C
Read more
In the wake of Quentin Tarantino's two acerbic westerns confronting the legacy of slavery in America ('Django Unchained', 'The Hateful Eight') comes a racially charged oater from down under. In 'Sweet Country', an Aboriginal farmhand, Sam Kelly (Hamilton Morris), is loaned by a benevolent preacher-farmer, Fred Smith (Sam Neill), to his volatile neighbour, Harry March (Ewen Leslie), to help build a fence. Kelly is cooperating out of Christian charity, but March, a shellshocked alcoholic, considers the man and his wife Lizzie (Natassia Gorey-Furber) as livestock to be exploited. When it all ends badly in a hail of gunfire, Kelly goes on the run into the outback, and an ageing sergeant, Fletcher (Bryan Brown), organises a posse to bring him in. Australia has a special place in its heart for outlaws named Kelly. Ned Kelly, who robbed banks wearing a homemade suit of armour, is a revered folk hero, a point underlined in Sweet Country when a picture show comes to town to screen 1906's 'The Story of the Kelly Gang' to a cheering mob. That same mob has little sympathy for the Indigenous Kelly, an irony that director Warwick Thornton ('Samson & Delilah') plays to the hilt. As in the great westerns, the landscape is a key player, with Brown's dogged trooper braving heat, scorpions and hostile tribes to get his man, while Neill tags along like the film's conscience, anxious that Kelly not be condemned by the colour of his skin. Chase movie becomes outdoor courtroom drama, and Thornton
Read more
As irresistible as the fresh carrots that grow in Mr. McGregor's garden, Peter Rabbitgives Beatrix Potter's classic a modern makeover, complete with intricate animation, cute quips for older audiences and a sweet-natured journey that has you rooting for a happy ending for all involved. Vying for gorgeous grounds and his human next-door neighbor (Rose Byrne), the audacious Peter Rabbit (confidently voiced by James Corden) goes head-to-head with sour Thomas McGregor (Domhnall Gleeson), who unexpectedly inherits the beautiful property of his estranged late uncle. The only thing the finicky Londoner detests more than the English countryside is the "vermin" inhabiting the land, so naturally we're braced for a duel. Peter's shenanigans, though certainly adorable, could have been curtailed for the sake of pacing: One electrocuting gag is plenty. But the lovable supporting crew—Flopsy (Margot Robbie), Mopsy (Elizabeth Debicki), Cotton-Tail (Daisy Ridley) and Benjamin (Colin Moody)—makes up for any overdone mischief. Some may cringe at director-cowriter Will Gluck's modifications (a bunny that twerks, music from the likes of Vampire Weekend and the ubiquitous Rachel Platten), and the heart-wrenching backstory of Peter's parents might not be appropriate for the smallest of bunnies. (Save this one for young rabbits who can handle more mature content.) It's certainly a new spin, but those who make the leap will do so vigorously.  
Read more
If Wes Anderson's 'Fantastic Mr. Fox' was a joyful slice of whimsy, his latest foray into stop-motion creature features is a more complex beast. Set in a near-future Japan, it's a dystopian, fitfully funny tale in which crusading young people take on a corrupt establishment. But it's mostly about the dogs: Banished from Megasaki city after outbreaks of snout fever and dog flu, cute canines are dumped on Trash Island and left to fend for themselves amid piles of garbage. In an instant, prize poodles find themselves on equal footing with scrappy strays. Their barks are conveniently translated directly into English for us by a typically Andersonian voice cast: There's a tight pack led by alpha dog Rex (Edward Norton), gossip Duke (Jeff Goldblum), sports mascot Boss (Bill Murray) and pooch actor King (Bob Balaban). Snarling on the sidelines is Chief (Bryan Cranston), who'll rip your ear off to get to a can of maggots but who slowly emerges as the heart and soul of the story. Chief's story kicks in when a 12-year-old Japanese boy, Atari, lands a tiny plane on Trash Island, intent on finding his banished Spots. Atari is the nephew of Kobayashi (voiced by co-writer Kunichi Nomura), the mayor of Megasaki city who bought the animal as a guard dog, only to make Spots the first to be exiled to Trash Island. Atari enlists the help of the pack to roam the dangerous island, with Chief emerging as an unlikely ally. Depicting the bond between boy and dog is what 'Isle of Dogs' does best, an
Read more
After bringing us a cheerily egg-headed Charles Darwin in 'The Pirates! In an Adventure with Scientists', Aardman heads to the other end of the evolutionary scale for a caveman-imation with a football subplot. Like 'Escape to Victory' with mammoths, the result is a sometimes jarring collision of underdog sports movie and prehistoric adventure, but one that still offers all of Aardman's usual charm, daft jokes and glorious craft. In the spirit of its central sport, it's very much an animation of two halves. The first opens with the extinction of the dinosaurs and subsequent invention of football by prehistoric man (don't ask), before skipping forward a few millennia to introduce its loveable band of dimbulb cavemen. Its heroes are Dug (voiced by Eddie Redmayne), a doggedly optimistic teenager, and his puppyish pig sidekick Hognob (grunted by Nick Park), but time is taken to give shape to the rest of the band too. Timothy Spall, in particular, has a ball as jaded village elder Bognar. 'I'm old,' he sighs. 'I'm nearly 30.' Other joys include a sight gag involving a huge prehistoric duck, a hint that director Nick Park might have also added Gary Larson to his rich and offbeat pool of inspirations. The handmade backdrops, meanwhile, are astonishingly realised. When a sudden attack on the cavemen's valley shifts the action to the city of their Bronze Age conquerors (led by Tom Hiddleston's avaricious overlord, Lord Nooth), Dug and Hognob find a Tolkienesque metropolis replete wit
Read more
Nicholas Hytner directs a thrilling promenade staging of Shakespeare's political thriller of corrupted ambition and murderous intent, broadcast live from the noise-filled auditorium of The Bridge Theatre in London. The rabble-rousing citizens of Rome greet the return of Julius Caesar with a street party. However, the political elite are visibly alarmed by the autocrat's dizzying popularity and they secretly plot his assassination. Cassius lights the fuse on a bloodthirsty coup aided by Brutus.
Read more
Ferdinand the kind-hearted bull leads a peaceful and blissful existence as the oversized pet of a girl called Nina and her family. During a visit to the local market, Ferdinand accidentally sits on a bee, which stings him, causing the bull to rear up. Locals run in terror and authorities capture Ferdinand, believing him to be a dangerous beast, and send him across the country to be fodder for bull-fighting matadors including the legendary El Primero.
Read more
Construction worker Tad Jones fantasises about a life of archaeological discovery alongside the object of his affections, globe-trotting explorer Sara Lavrof. During a lecture entitled Midas: Myth Or Truth, snarling scoundrel Jack Rackham and his henchwoman kidnap Sara and an ancient papyrus that reveals the location of the mythical monarch's magic collar. Tad gives chase with Sara's plucky assistant Tiffany, Jeff the dog and Belzoni the mischievous bird.
Read more
Show more