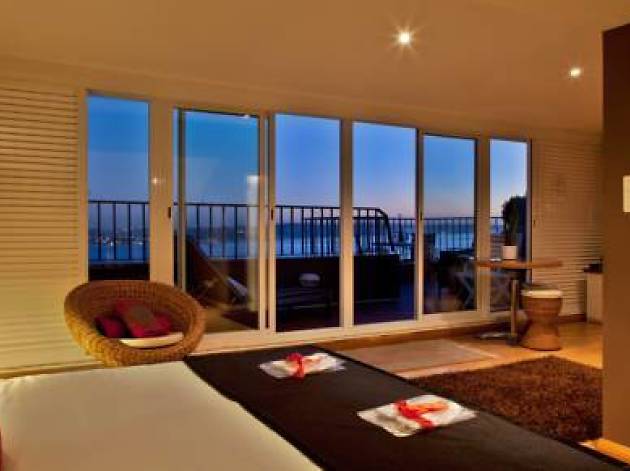 Coming to Lisbon without seeing the castle is like going to Rome and not seeing the Pope.
But we would be remiss not to remind you that going up to the castle might mean a hearty trek on foot, particularly if you're carrying luggage. Getting to the Solar dos Mouros, a small boutique hotel near the castle, is not easy, but staying in the historic centre does entail some walking. Indeed, you will walk, cut through narrow alleys that look like they're going nowhere, climb a few steps, turn around to enjoy the view, slip a couple of times on the pavement and right when you're about to question the accuracy of Google Maps, you will see, hiding among the trees, an old house with 13 rooms. The "old" part refers only to the facade – inside you will find a bold decoration based on chromatic shock – walls come in red, yellow, blue, green and orange (no, really). Your first impression will be that of an artist's studio, and you wouldn't be too far from the truth. The paintings on the walls are almost all by the owner, Luís Lemos. The remaining came from Africa, as did some of the furniture and most of the charm.
Some of the rooms have a balcony and a view of the city, but the Deluxe Suite has a terrace with an 180-degree view, although you wouldn't guess it from the outside.
The buffet breakfast is served in the back garden and, instead of a restaurant, there is a tapas bar with traditional snacks, wines and cocktails.
Venue name:
Solar Dos Mouros
Contact:
Address:
Rua do Milagre de Santo António, 6
Lisbon
1100-351

Price:
€€