The best hotels in Alfama
Where oldest district of Lisbon meets the trendiest vibes in the city, the best hotels in Alfama are a safe bet if you like tradition as much as you like novelty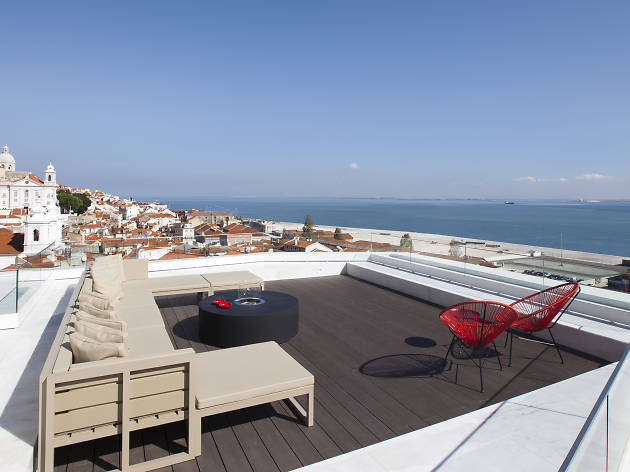 Alfama is the oldest district of Lisbon and its narrow streets contain some of Lisbon's most historically important buildings, including the Sé Cathedral, Lisbon Castle, National Pantheon and Saint Anthony's Church. And it's also in its narrow and traditional streets that you can find nowadays the youngest, trendiest and fashionable area of Lisbon. And thank God, it did not lose its old charm with the amount of novelties in the recent years. Can you imagine a better place to stay in Lisbon? Book a room in one of the best hotels in Alfama.
Recommended: the best places to see Fado music in Lisbon
The best hotels in Alfama
The 19 rooms are all different in size, and even the most affordable ones include a range of amenities that you would not normally find in a boutique hotel: lots of space, a large bed, a full bathroom including, in some rooms, an old-style tub. There is neither a pool nor a garden, understandably so given the sloping terrain. But the roomy building allows for some extravagances, including an abundance of places to eat and drink: three different venues, each with a different style and purpose. At the Audrey café – named after the glamorous Ms. Hepburn – breakfast is served à la carte and has an immense selection of eggs, pancakes, toast, tea, yogurt and fruit. For lunch or supper, there's two good choices: Fábrica de Santiago and Manny's Bar.
The Riverside Alfama is the perfect starting point for a random tour of fado houses and typical eateries in the neighbourhood. Its 21 rooms are both generous in size and cosy; they also seem out of the same conveyor belt, given how their layout and décor are identical – or at least very similar. Whatever they might lack in originality they make up in comfort (great beds) and convenience (the hotel is five minutes from downtown or the Lisbon Cathedral, and less than 150 metres away from the Tagus). Breakfast is the only meal served, but once you step out on the street you will find a wide range of dining options – many of them with unbelievable views. Needless to say, tradition remains strong in Alfama, and thus fado prevails over any other music genre.
Out of the former convent the only thing remaining is the frame; everything else was conceived from scratch. The old backyard became a hip lounge bar, with light wreaths and mood music to enliven the evenings; the old dining room is now a vibrant living room with a mezzanine for serving breakfast. Proud of its artistic side, the Convento do Salvador likes to lend its salons and walls to major Portuguese and Lusophone artists. Works by Sebastião Salgado, Júlio Pomar, João Cutileiro and Paula Rego are all on display. The lobby tiled panel was commissioned by the hotel to the Pedrita duo.