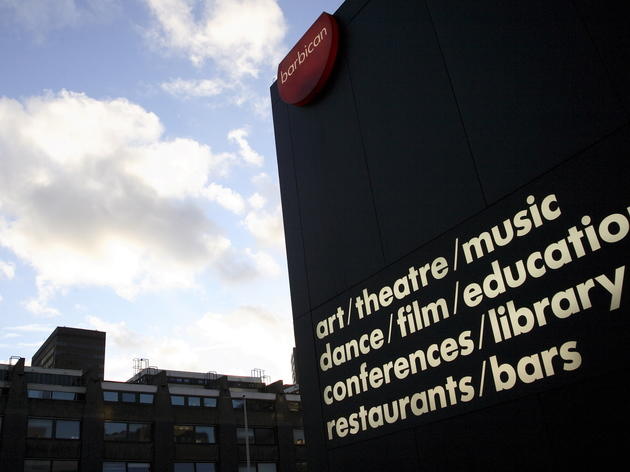 1/7
Tove K Breitstein / Time Out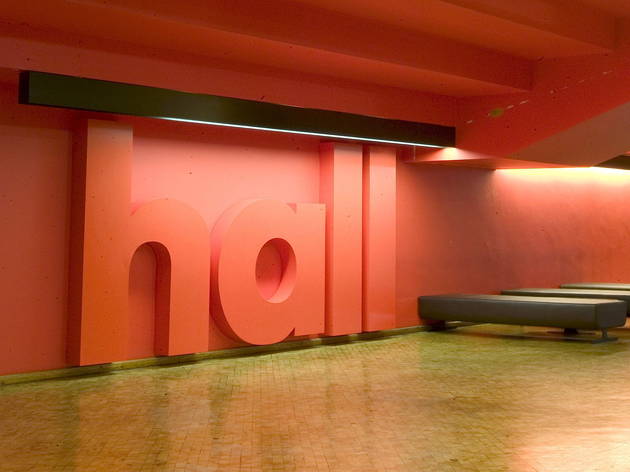 2/7
Rob Greig / Time Out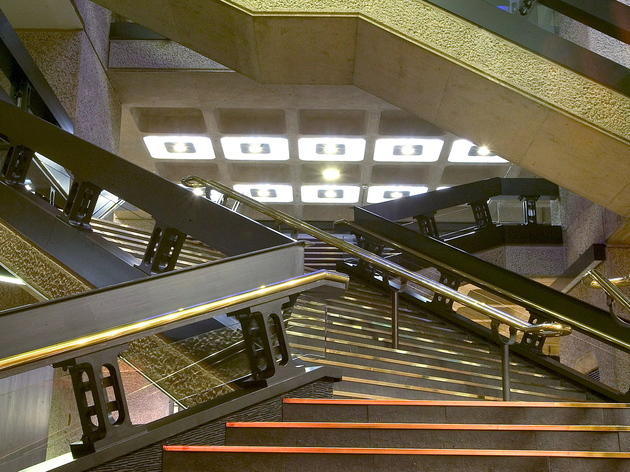 3/7
Rob Greig / Time Out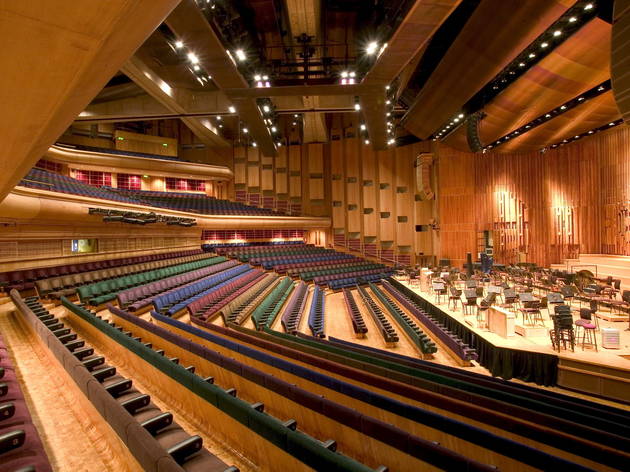 4/7
Rob Greig / Time Out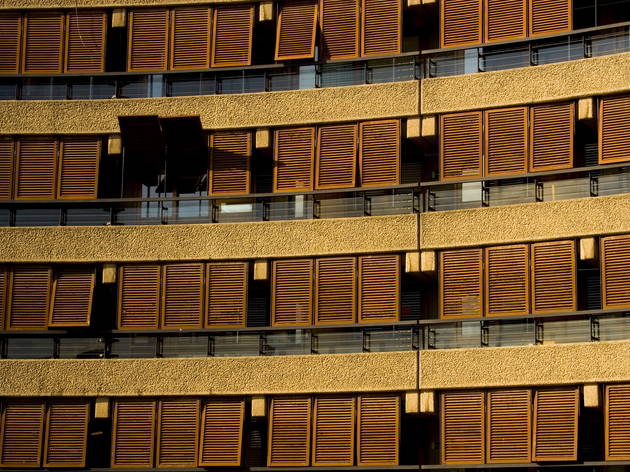 5/7
Nigel Tradewell / Time Out
6/7
Tove K Breitstein / Time Out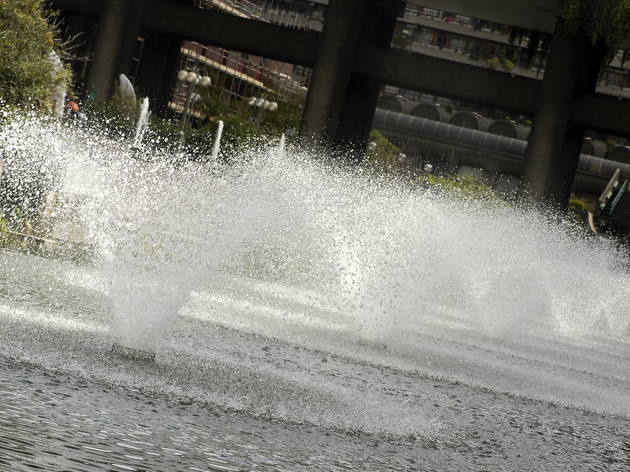 7/7
Andrew Brackenbury / Time Out
The UK's leading international arts centre
The Barbican Centre, a vast concrete estate of 2,000 flats and a leading arts complex, is a prime example of brutalist architecture, softened a little by time and rectangular ponds of friendly resident ducks. The lakeside terrace and adjoining café are good spots to take a rest from visiting the art gallery, cinema, theatre, concert hall or library within the complex. The art gallery on the third floor stages exhibitions on design, architecture and pop culture, while on the ground floor, the Curve is a free exhibition space for specially commissioned works and contemporary art. At the core of the music roster, performing 90 concerts a year, is the London Symphony Orchestra (LSO). The annual BITE season (Barbican International Theatre Events) continues to cherry-pick exciting and eclectic theatre companies from around the globe. The Barbican regularly attracts and nurtures experimental dance, and the Pit Theatre is a perfectly intimate space.
Find out more about the past, present and future of the Barbican with our complete guide to the Barbican Centre.
Venue name:
Barbican Centre
Contact:
Address:
Silk St
London
EC2Y 8DS

Opening hours:
Centre Mon-Sat 9am-11pm; Sun noon-11pm. Art Gallery Mon, Tue, Wed, Sat, Sun 10am-6pm; Thu, Fri 10am–9pm. The Curve Mon, Tue, Wed, Sat, Sun 11am–8pm; Thu, Fri 11am–9pm
Transport:
Tube: Barbican
Do you own this business?
The virtue of courage is high up on the list of Disney princess must-haves (just below kindness, beauty and a strapping prince in tight trousers). And three cheers for director Bill Condon and star Emma Watson for having the courage to make a live...

Read more

Amid all the shifting mirrored surfaces and hazy ambiguities of Olivier Assayas's bewitching, brazenly unconventional ghost story, this much can be said with certainty: Kristen Stewart has become one hell of an actress. The former 'Twilight' star ...

Read more

At the start of 'Elle', the final credit to appear in the darkness (over the sounds of fucking) tells us that we're about to watch a Paul Verhoeven film. Really? Call it a delicious redundancy. 'Elle' might just be the most Verhoeveny film yet, du...

Read more

Degree of difficulty apart - and difficulty involved making an entire farmyard of real animals talk - the merits of Babe are those of Dick King-Smith's classic, The Sheep-Pig. Piglet Babe beats the slaughterhouse and is adopted by a sheepdog who...

Read more

The British explorer Percy Fawcett – driven crazy by his obsession to find a lost Amazonian city – vanished in the jungle in 1925. His story has everything you could possibly want in an adventure tale: treacherous colleagues, cannibals with bubbli...

Read more
The Japanese House: Architecture and Life after 1945

This exhibition casts an eye at rapid growth of Japanese design following the Second World War. Architectural plans, cinema, art and photography will tell the story of how widespread destruction brought an urgent need for new and radical approaches to...

Until Sunday June 25 2017

Richard Mosse: Incoming

There's two things you need to know about this show. One: it will make you rethink the European refugee crisis. And two: it contains some of the most beautiful images you will see in a gallery this year. Or ever. Paradoxically, it achieves both these...

Until Sunday April 23 2017

Free

Room 29: Jarvis Cocker & Chilly Gonzales

See ghosts brought to life in this intriguing collaboration from Jarvis Cocker and Chilly Gonzales. They'll use clips from classic Hollywood movies, technical wizardry, historical research and music to probe into the secrets of the notorious Room 29 of...

Contemporary theatre

Until Saturday March 25 2017

The Japanese House

Explore how architecture and family life in Japan changed after 1945 with this new exhibition at the Barbican. The legacy of WW2 and the changing face of Japanese society wrought huge changes in the way the nation lived, and the way Japanese design principles...

Exhibitions

Saturday March 25 2017 - Sunday June 25 2017

Piano Day 2017

A concert that forms part of a worldwide celebration of the instrument. With two free concerts from keyboard sextet Piano Circus, including a world premiere of a piece by composer Angus MacRae, as well as Nils Frahm's Hammers; Steve Reich's Six Pianos;...

Classical and opera

Wednesday March 29 2017

New York Philharmonic

A spectacular performance of Beethoven's Excerpts From String Quartet No 14 In C Sharp Minor, and String Quartet No 16 In F, Grosse Fuge, John Adams's Absolute Jest and Berlioz's Symphonie Fantastique. Conducted by Alan Gilbert and featuring violinists...

Classical and opera

Saturday April 1 2017

The Winter's Tale

The internationally acclaimed British theatre company Cheek By Jowl calls back in at the Guardian with a sure to be fresh take on Shakespeare's stylistically unusual play of two halves. Orlando James stars as an unusally young incarnation of Leontes,...

Shakespeare

Wednesday April 5 2017 - Saturday April 22 2017

Show more
Average User Rating
4.3 / 5
Rating Breakdown
5 star:

8

4 star:

12

3 star:

0

2 star:

1

1 star:

0
The Barbican is always worth a visit if you are in the area, regardless of what's on. It's a beautiful complex which has so much to see, both inside and outside. I always wonder who lives around the Barbican as I understand the apartments / flats that surround it are housing designers / artists / locals which adds to its community feel.

This brutalism monster might seem scary on the first visit but the more you see it the more you love it! Ageing has definitely made it more special and in combination with the new activities it hosts, it's one of the most important cultural centres London is offering. Any kind of art exhibition can be found here from time to time, as well as theatre, music and cinema shows. And all of them always carefully selected and with special prices for young and older people. Even if you're not interested in anything that's on, visiting is still an experience itself -as it feels like a journey to the past- and you can always enjoy sitting at the ground floor cafeteria by the ponds or even next to them when it's sunny!
I would love to do a gig here as this is London's answer to Carnegie hall on 7th Avenue. It is however sad to read the comments from the dissatisfied bride below. So anyone getting married in London should have a look at recommended venues: www.youtube.com/watch?v=DIB4nvvLkNk Notwitstanding, the Barbican does other things very well and is worth a visit.
I love going to shows, the art gallery and cinema here. Really cool 60s building.
I had a lovely wedding, the location was spectacular and I had a fantastic day as did all my guests. It ended rather abruptly though with the music being turned off at 11 on the dot. I can hardly complain, but I do have some serious complaints regarding the service. The food at the wedding was a much lower quality than what I was served at my tasting. The appetiser, which had been lovely at the tasting, held no resemblance to what I was served at my wedding and the creme brulée instead of being luscious and creamy as it had been at the tasting, was a stiff gelatine. After the wedding the staff didn't pack up my crockery hire correctly which made me lose my deposit and they were completely unremorseful about it, ignoring my emails and not helpful at all. The cherry on top of the cake, 2 months after the wedding, after we had settle all accounts the wedding planner started bothering us for another 600 pounds. We had spent the budget, the invoices had all been settled and he was haggling us for more money. Quite unprofessional.
So looking forward to Blaze...thanks to the Big B!