1/2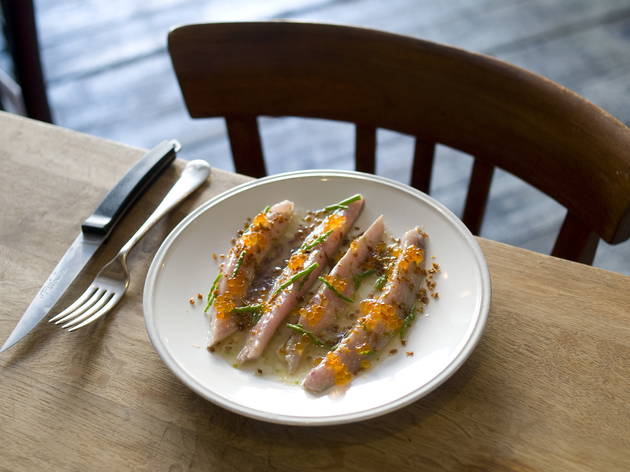 2/2
Toasted, 36-38 Lordship Lane, London SE22 8HJ
Please note, Toasted has now closed, but the site is set to reopen as a second branch of Terroirs in November 2017. Time Out Food editors, October 2017.
The term 'vin naturel' – natural wine – was revived in France during the 1980s to describe a process of 'natural' fermentation, with minimal intervention in the viticultural process. The resulting products can be unpredictable. Critics have described them as tasting sour, farmyardy, like stale cider, and other far less polite epithets. But there are also enthusiasts who like their distinctively different character.
The first wine bars specialising in 'vins naturels' that caught the attention of the drinking public were in Paris in the 1990s; places such as Le Chapeau Melon became the toast of the city. Terroirs in London pioneered a similar approach in 2001, and soon had branches, as well as imitators. The key to this great success, however, was not so much the odd-tasting wine as its sturdy French food.
Toasted is the latest in the Terroirs tradition; chef Michael Hazelwood has worked stints at a couple of its branches before taking over the former Green & Blue wine bar premises in East Dulwich. With business partner and manager Alex Thorp, he has transformed a once quiet venue into a buzzing neighbourhood bistro that's already a local sensation.
In a typical dish, fresh English peas are dressed with garlic butter and topped with raw egg yolk drizzled with lemon oil, then garnished with toasted almond. The result is dramatically colourful and savoury. Raw mackerel is soused with manzanilla sherry and white soy sauce, and topped with salmon roe, enhancing the Japanese effect. A finely diced tartare of rose veal sirloin, instead of tenderloin, is used for a chewier, more flavourful effect. The next dish was a setback in a near-perfect performance. A plate of roasted carrots was topped with lardo and garnished with golden raisins: the combination was a bit so-what. But dessert showed a return to form with a custard-like rice milk studded with prunes and white peach.
We tried a few wines by the glass, and can recommend the very affordable ones on tap from the stainless steel dispensing tanks – £3 for a great southern Rhône blend is a steal. Another, far dearer natural wine had 'Brett character', with the Brettanomyces aromas evoking sweaty saddle; fun for some, perhaps, but our glass remained unfinished. Swirl and sniff first before committing to any of the fancier natural wines.
More
Less
Toasted - CLOSED says
Toasted relaunched in February 2017, followed by our new Wine Shop! New Chef Ollie Lawrence, and Manager Basile Gueret, (from Terroirs Wine Bar) are sharing the Toasted philosophy of #TrueFood and #NaturalWine with our daily changing menu and weekly wine tastings (toasted.eventbrite.co.uk)
More
Less
Venue name:
Toasted - CLOSED
Address:

London
SE22 8HJ

Transport:
East Dulwich rail
Do you own this business?
You may be interested in:
Average User Rating
4.6 / 5
Rating Breakdown
5 star:

6

4 star:

4

3 star:

0

2 star:

0

1 star:

0
I've been to their weekly wine tastings before, but just discovered I can fill up my own carafe of wine from their tanks on the way to the park. Picnic sorted. Brilliant.
Great food and wine in a cosy atmosphere
Good food and wine and knowledgeable staff - love the Monday wine specials
great food - may be the best on Lordship Lane
Interesting wines and a great place for supper
Inspired dishes using fresh ingredients. Freindly, buzzy atmosphere and an amazing wine list
This place is an absolute gem in the heart of East Dulwich. But don't go expecting big plates full of hearty nosh. Toasted are all about small, delicate and delicious. It's not cheap, but for the standard it's not expensive either. The place is charming, wooden floors, buzzy atmosphere and in the summer daytimes they open out the floor to ceiling windows so you feel as though you're eating en plein air. The wine is very good - they do excellent knock down table wine straight from these massive tanks, which is well worth a drink, but the wine selection in general is really good. Staff are welcoming and it's the sort of place you'd be happy nipping into for one drink at the bar or a coffee.

Having had an OK breakfast and a nice but quite expensive lunch here before we went for dinner without great expectations and were blown away by the quality of the food. There has been a sense that the place was finding its feet but it was on top form last night. Its a bit of a complex plate based menu, but last night it gave room to create some really great combinations. Soft Nduja, highly flavoured but not outrageously hot was a brilliant complement to fresh oysters, while purple sprouting with bottaga and parmesan was splendid with a pork chop which, with its salsa verde was probably the best I have ever eaten
I have a weak spot for slightly metallic, mid range cotes du rhone so the stuff out the tank was a bargain as well.
Best meal I have had this year and while not that cheap for a local restaurant would be well worth it if its always on this form
More venues
Sponsored listings