Gay Bingo in numbers
Get yer dabbers out! The mama of London alt bingo nights turns ten. Host Jonny Woo tells us how the gang has kept those balls spinning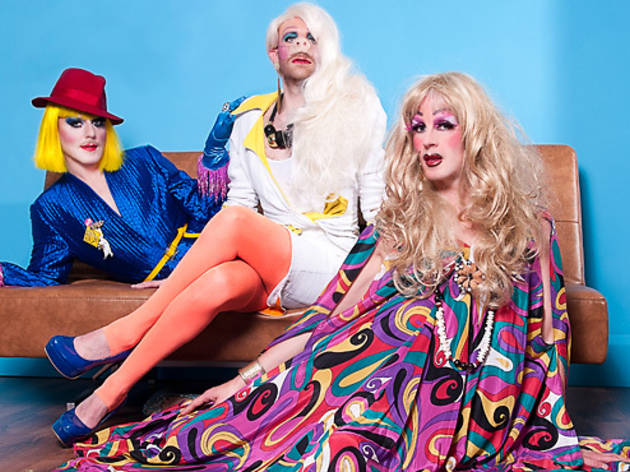 1/9
© Lorezno Rosi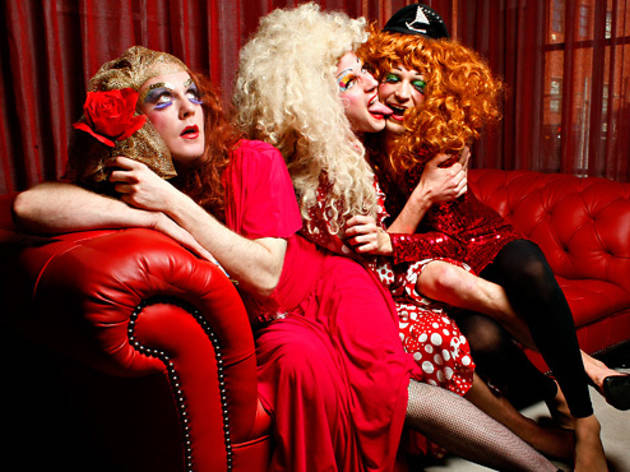 2/9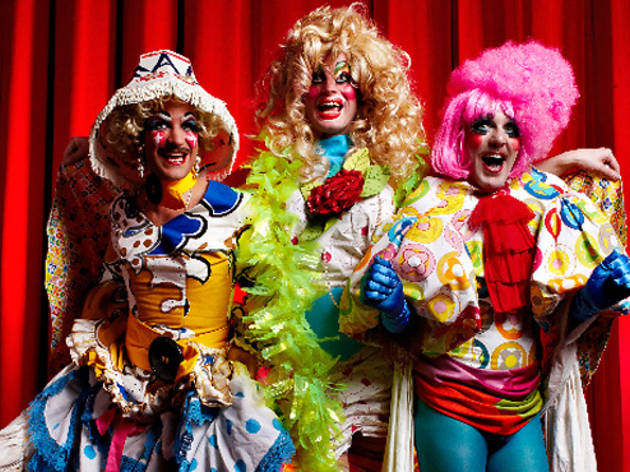 3/9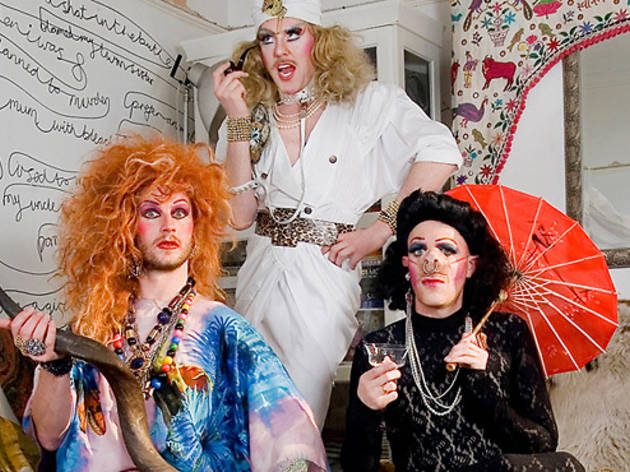 4/9
© Lorezno Rosi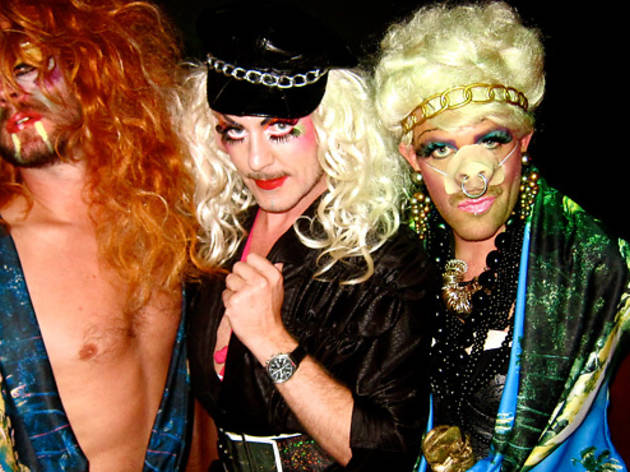 5/9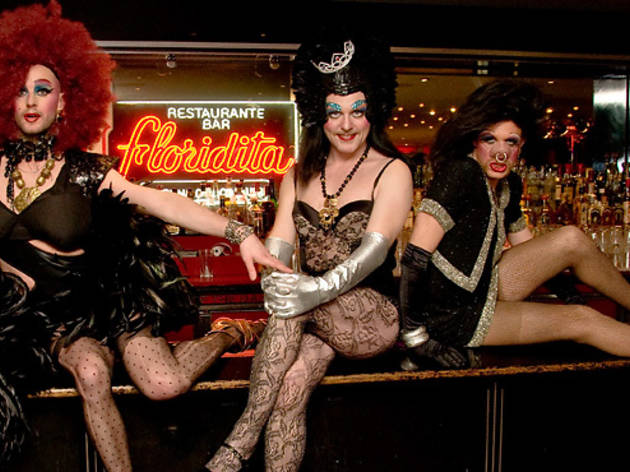 6/9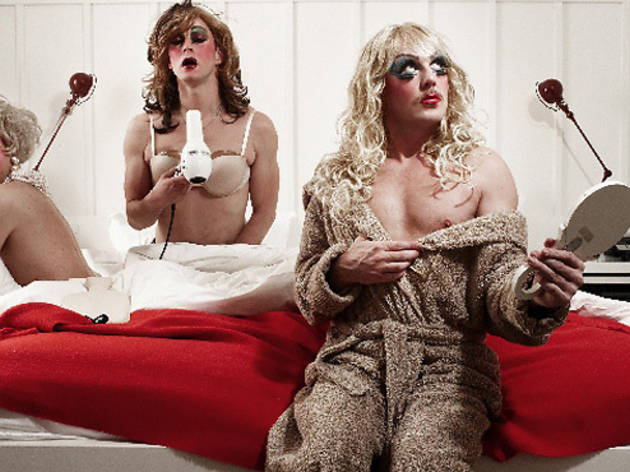 7/9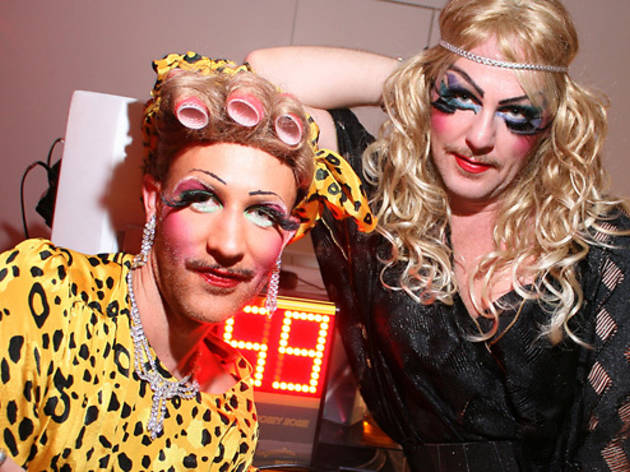 8/9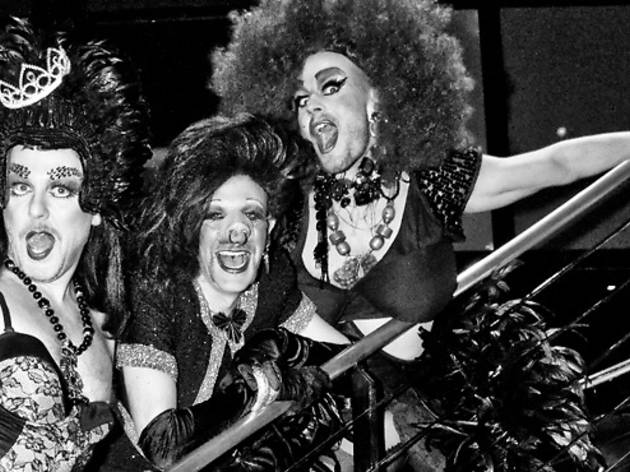 9/9
Below is a slideshow of the Gay Bingo gang – Jonny Woo, Ma Butcher and John Sizzle – in a range of looks from the past decade: These days, there are plenty of bizarre bingo nights around but back in early 2004 no one had seen anything quite like
Gay Bingo
. It was started by Jonny Woo – not long back from New York and helping reshape east London's LGBT scene with a fresh take on drag performance – alongside the equally raucous John Sizzle, who provided the tunes, and pig-snouted Ma Butcher, who handled much of the production.
Gay Bingo became a hit thanks to its hot mess of motormouthed bingo calling, high-octane dance routines, on-the-spot nudity and shameless audience interaction – or, with the calling of number 69, all of the above. Over the past decade, we've seen Woo improvise stories incorporating all the numbers from the bingo machine as they're called, Sizzle spray numerous venues with prosecco and Butcher shower the audience with cat food. 'Obviously, there's been nudity everywhere,' Woo adds. And mistakes have been made. 'There was the time I did a naked handstand over someone, misjudged it, buckled and landed on my nose…'
Now Gay Bingo marks its tenth anniversary at the
Hackney Empire
, in front of its biggest ever audience. We invited Woo to look back at its greatest hits in a form best suited to bingo: numerical.
After starting life at the
Brixton Bar and Grill
, Gay Bingo's other regular homes have included Tea Bar,
Shoreditch House
,
Lo Profile
,
The Green
in Islington, the
ICA
and
Soho Theatre
. Dozens of other bars and clubs have hosted it, as well as festivals, parties, weddings, cruises, Selfridges and even Australia. 'We almost did it in Switzerland but it got cancelled,' says Woo. 'Tea Bar was where Bingo was at its wildest, and some of the best shows were in Lo Profile. We got a whole new audience when we went to the ICA. The muscle gays started coming and 69 suddenly got more fun…'
Ah, 69: once it comes up, it's only a matter of time before Woo and a lucky (or petrified) punter have their heads buried between each other's thighs. '69 just kept getting bigger,' Woo says. 'The ones in Tea Bar weren't that wild but it got to the point where almost the only reason we're playing is to get to that moment. That's what everyone wants to see.' Underwear has frequently been optional. 'In Australia, people were far more liberal about getting naked,' Woo recalls of one encounter with an audience member. 'So we were both naked in the position and it was like, "Do we actually do a 69?" I did pull myself back – myself, not my foreskin – and thought, "If we do that, we've definitely crossed the line." You want to tease people, suggest it might happen. If it actually does, where do you go from there?'
'We've hosted the most outrageous parties in London for quite a long time. It's always been deliberately shocking. I don't see people walking out as anything to be ashamed of.' Have there been times when things got out of hand? 'The one that comes to mind is when we were doing a scat-themed show in Brighton – we had brown bingo cards – and I was threatening to do a poo on the stage. Everyone was going, "Do it! Do it!" The manager even went to the toilet and got some loo roll. I thought best not. But we did a rubber, leather and denim night at Tea. I was a skinhead and John Sizzle was like, 'Wee on me, wee on me!' So I weed on his wig and he span around and it went all over these girls in the front row. They loved it. They were going, "Weeeeee!"'
There's been an unprecedented amount of rehearsal in honour of the iconic theatre hosting Gay Bingo's anniversary shindig. 'This one has had full-on planning,' Woo says. 'It's all we've been thinking about the last few months. It's going to be carnage on the stage of the Hackney Empire! A lot of really big numbers, pyrotechnics, glitter, a huge finale. Oh, and a bouncing yeti!'
This is it! 'I feel we've exhausted it,' Woo says. 'I need to move on. I think over time I've fallen out of love with the actual bingo calling. But never say never – if someone paid us enough or if I opened my own bar and it was big enough, I'd probably do it again…'