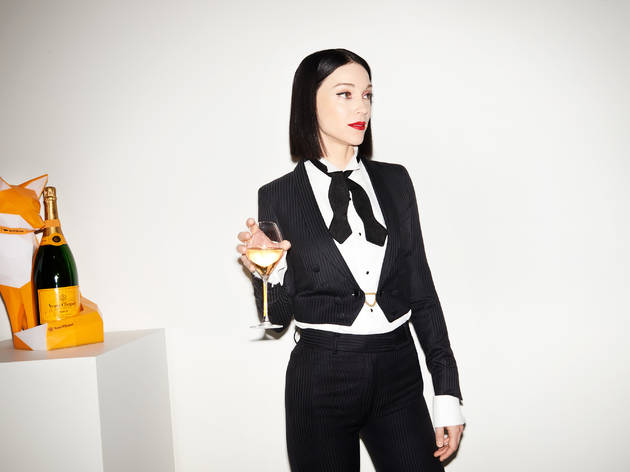 St Vincent + champagne. What's not to like?
The divine guitar hero on what's popping at her own personal Veuve Cliquot playground
As St Vincent, Annie Clark has released five amazing solo albums, collaborated with David Byrne, produced a Taylor Swift song and created a guitar designed to accommodate a boob or two. So the next logical step in her career is (obviously!) to host a champagne bar in Covent Garden. Working with fancy-pants bubbly brand Veuve Clicquot, she's created Souvenir: a pop-up bar where she's in control of everything from the lighting to the entertainment, and is even going to be performing among the attendees between sips. We called the musical polymath to talk vineyards, hangovers and… Zelda. Well, why not?
Hi Annie. I have to admit something: I'm deathly hungover today. The perfect time to talk champagne! What's the bar going to be like?
'I've assembled a lot of rad young UK artists to help me make it. It's based on the idea that when you're drinking champagne, you're looking for your happiest memory, right? So it's going to be a dreamy and beguiling experience.'
Did you have to drink a lot of champagne for research purposes?
'I did. It was very difficult, but I managed to come out the other side. I even got to go to Champagne, the region, and I visited the vineyards to see exactly how everything is put together. It got me thinking about how and why people drink champagne. You don't drink champagne at a funeral, do you?'
Well, it depends who's died, I guess.
'But champagne's specifically about celebration and the idea of celebration. So I was thinking about what makes people come together and celebrate.'
So what is it going to look like?
'I want to be careful about talking it too much... I want people to discover it for themselves. We've made sure everything's going to be perfect, though. The space, the sound, the light installation. There'll be ways for people to share things that champagne reminds them of. And then those will be transmuted into the future and integrated into the actual experience.'
That sounds complex. You're going to be there while it's open, right? Will you be singing?
'I'll be hosting and performing, and there'll be other performers. I've worked with this great designer, Matty Bovan, who's creating all the costumes, and an amazing mixologist, Pippa Guy, who's creating a signature champagne cocktail for us.'
I read that the outfits will be made of 'unexpected fabrics', which sounds potentially uncomfortable. What's the vibe of your costume?
'I'll be matador meets Helen of Troy. No, wait, matador meets psychedelic Helen of Troy.'
Is it nice to be working on something creative that's quite different from your day job?
'It's so exciting. At the end of the day, it's the same as making concerts and stage shows – you're designing an experience. But in this case, you get to have control over every single aspect of it. What does it smell like? What does it feel like? At a live show, you don't get to say "Actually, I wish the chairs were hot pink." '
Away from the high life, I saw on your Twitter feed that you've been playing Zelda.
'Oh, such a beautiful game, isn't it? I was introduced to a Switch sort of accidentally and then got completely obsessed with the game.'
And the all-important question: did you finish it?
'Of course!'
Congrats! Back to booze. What are you like after a few drinks?
'Not to brag, but I'm a pretty good drunk. I mean by that I don't dark out, I don't go all "Who's Afraid of Virginia Woolf?" But also, I hit a point of being like, yeah, this is great. And then I know my limit. I know if I have one more, I'm gonna really feel it tomorrow, so I chill. Not to rub salt in the wound…'
Can you tell us about a really good boozy night out you've had recently?
'I was down in Marfa, Texas, for my friend's music festival, called Trans-Picos. It was just a really fun tequila night. I got up and sang Joni Mitchell with the band under the West Texas stars and it was… a good vibe. Tequila and champagne are my favourite drinks.'
Do you have any tips for avoiding hangovers?
'Um, one I probably shouldn't say in a publication: a mother's little helper… No, just pound water. Pound water when you get home, before you go to bed. Like, all the water.'
Souvenir is at 6a Langley Court from Fri Nov 22-Sat Nov 23. Check out Time Out's guide to the best gigs in November here. Cheers!
Support Time Out
We see you're using an ad-blocker. Ad revenue is Time Out's main source of income. The content you're reading is made by independent, expert local journalists.
Support Time Out directly today and help us champion the people and places which make the city tick. Cheers!
Donate now