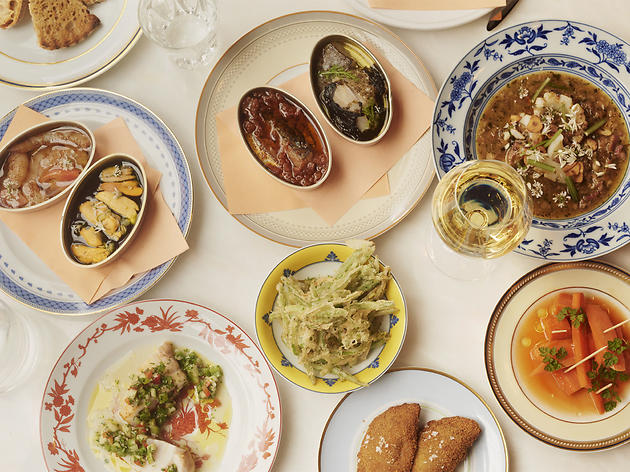 1/7
2/7
3/7
4/7
5/7
6/7
7/7
The newest venture from Nuno Mendes, of Viajante and - most recently - Chiltern Firehouse fame.
When the chef of the paparazzi-swarmed Chiltern Firehouse sets up his own restaurant, you take notice. But Nuno Mendes is not trying to attract red-carpet customers here. He's going back to his roots with a modest-looking Portuguese restaurant in Old Spitalfields Market.
This 'market tavern' takes classic dishes and plays around using the latest techniques and ideas. The wittiest example is the 'house tinned fish': prawns cooked sous-vide to mimic the pasteurisation effect of the canning process, then immersed in prawn-flavoured olive oil, with a tangy kick from Goan balchao tomato, and served in a tin with toasted sourdough. It's a treat that evokes Portugal, but does it better than even the best tin of sardines.
Every dish seems to come with a story, which our waitress was happy to detail. Persecution under the Inquisition meant that many Iberian Jews pretended to convert to Catholicism, and they adapted their food accordingly. One example was the alheira, a sausage made with poultry instead of pork; Taberna's version adds a sour kick.
Another story lay behind our pudding. Egg white was once used in Portugal to starch nun's clothes, so we were told, creating a surfeit of egg yolks which were then used in desserts such as pudim Abade de priscos. This is usually set with pork fat and red wine, but Mendes slow-cooks the egg to set it, and uses red wine to make a jus. Its meltingly rich texture, not too sweet, is extraordinary.
Even if you couldn't care less about clever culinary tricks, there's much to enjoy at Taberna. The wine list is affordable; the room is spacious and bright, with a large terrace in the covered market; and the staff seem genuinely passionate about what they do. If you found a restaurant like this is Lisbon, you'd be delighted. But you never will, because Taberna do Mercado's an export model, and a one-off.
No bookings taken for for dinner.
Lunch reservations by email only, to lunch@tabernamercado.co.uk
Venue name:
Taberna do Mercado
Contact:
Address:
Old Spitalfields Market
107b Commercial St
London
E1 6EW

Opening hours:
Open Mon-Sat noon-9.30pm, Sun noon-8pm.
Price:
Meal for two with wine and service: around £90
Menu:
View Menu
Do you own this business?
Average User Rating
4.5 / 5
Rating Breakdown
5 star:

8

4 star:

3

3 star:

0

2 star:

1

1 star:

0
Lovely place to while a way an hour or two over lunch. Very unhurried, great dishes, the tinned fish and the prawn rissois were brilliant. I'll be heading back for more soon, to try out the other creations.
Don't get all the fuss about this place.
I'm portuguese and found this restaurant really sad as a modern representation of portuguese food. Would not recommend it at all.
Found the food really tasteless and ingredients cooked in way that resulted in awful textures...
I've dined at plenty of good restaurants in my life, this is not a good one.
The service varies between waiters, some are quite arrogant while others are super nice.
But the food, a huge disappointment.
Good place to go if you're not planning on eating much. Prices are completely overrated also for the amount of food. Although I wouldn't mind the price if the food was mind-blowing, which was not, at all.
To be avoided, until they consider some changes on their menu and the way they confection food.
This was recommended to me by a friend who is a fan of Nuno Mendes. Prior to going, I had no idea what a feast I was going to have, and boy was I pleasantly surprised! All the dishes are a delight to look at and sample, everything tasted beautifully balanced and not too heavy, although there were lots of meat.I also liked how they served the seafood in cans - it was so innovative .
I particularly loved this place as I had never - before that day tried anything that tasted like what I ate. It definitely was a new experience for my senses. I would highly recommend this place if you have some cash to spare, and have at least 3 people with you in a group. They are all sharing plates - so the more the merrier!
Pleasant ambiance, friendly with some Portuguese speaking employees. The food is very Portuguese and very typical, enhance with a special "chef " touch. A fantastic Portuguese style in London. Congratulations!!! A restaurant to be saved in my shortlist
A fantastic relaxed place for lunch with all the dishes clever and creative but not over-clever, just good to eat small plates. As you might expect from NM an original offering and not a single disappointment. Don't miss out on the cheeses: good choice of Portuguese wines. NM himself was very much in evidence when we went - charming and modest.
More venues
Sponsored listings