1/13
© Robert Workman
Clive Rowe (Mother Goose) and Priscilla the Golden Goose (Alix Ross)
2/13
© Robert Workman
Clive Rowe (Mother Goose)
3/13
© Robert Workman
Clive Rowe (Mother Goose)
4/13
© Robert Workman
Clive Rowe (Mother Goose)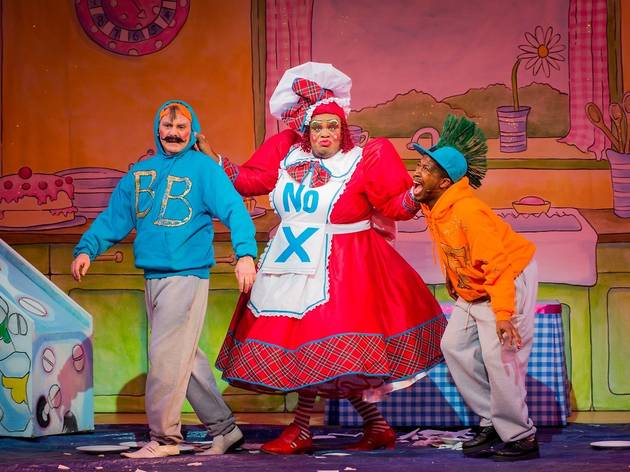 5/13
© Robert Workman
Clive Rowe (Mother Goose), Darren Hart (Frightening Freddie) and Tony Timberlake (Baron Barmy)
6/13
© Robert Workman
Kat B (Billy Goose) and Abigail Rosser (Princess Jill)
7/13
© Robert Workman
Matt Dempsey (Prince Jack) and Abigail Rosser (Princess Jill)
8/13
© Robert Workman
Sharon D Clarke (Charity) and Susie McKenna (Vanity)
9/13
© Robert Workman
Susie McKenna (Vanity)
10/13
© Robert Workman
11/13
© Robert Workman
12/13
© Robert Workman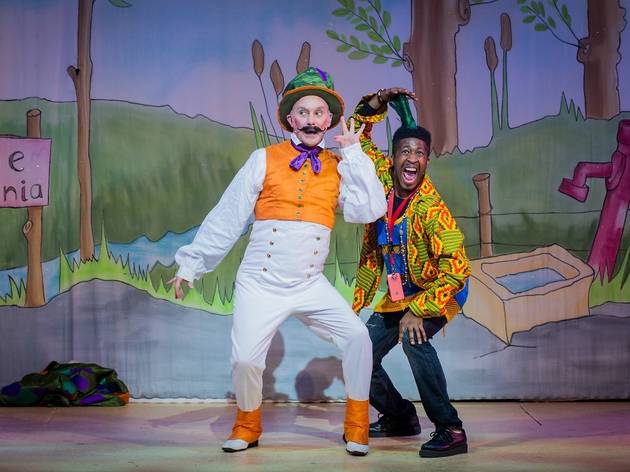 13/13
© Robert Workman
Tony Timberlake (Baron Barmy) and Darren Hart (Frightening Freddie)
I counted a dozen spectacularly daft costume changes for Clive Rowe, as London's greatest pantomime dame returns after three Christmases away. But the joy of the Hackney panto is that while critics know Rowe's reputation, and that this 'Mother Goose' is a nominal revival of Susie McKenna's Olivier-nominated 2008 production, none of the young core audience gives a damn.

Hackney can't rest on it laurels, and Hackney doesn't – this is as lavish a pantomime as you'll ever see, with wonderful costumes and beautiful sets from Lotte Collett and a hysterically brief cameo from a giant, scary monster vulture that briefly and unsuccessfully attempts to intimidate Rowe's marvellously fruity fowl farmer.

But the real joy is simply in seeing old pros (and old friends) Rowe, McKenna (playing the evil fairy Vanity) and Sharon D Clarke (the good fairy Charity) having a ball. All unashamed hams when it comes to whipping up the audience, they also boast world class singing voices that frequently stunned an audience raised on the histrionic mewlings of 'X Factor' contestants.

And if it perhaps inevitably leads to a long night, McKenna's script really does include something for everybody: chirpy audience interaction routines from Kat B's Billy Goose and Darren Hart's feckless Nigerian 'villain' Fearless Freddie went down a treat with the young 'uns; swipes at the London housing crisis were a wry treat for us old farts; and probably about two or three of us in the room were amused by an in-joke about Clarke doing a show at the National Theatre last year. And where I normally brace myself for the inevitable reworked yoof pop songs, 'Mother Goose' actually made me feel pretty good about the charts, for once: McKenna's belted out 'Let It Go' is spine-tingling, and Rowe wrapping his sumptuous tones around Pharrell Williams's 'Happy' says it all, really.


Find more pantomimes in London