People, Places and Things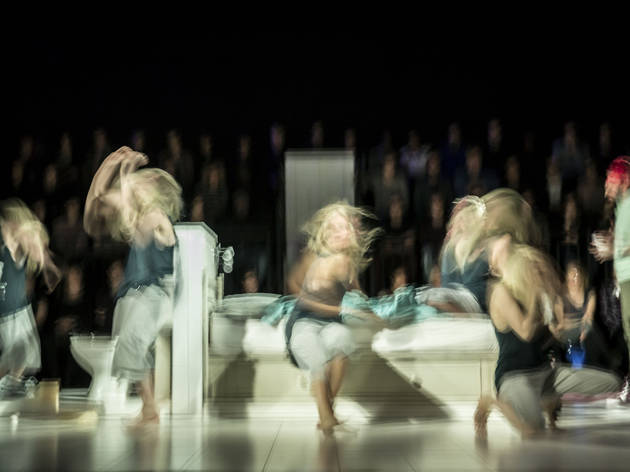 1/9
© Johan Persson
Denise Gough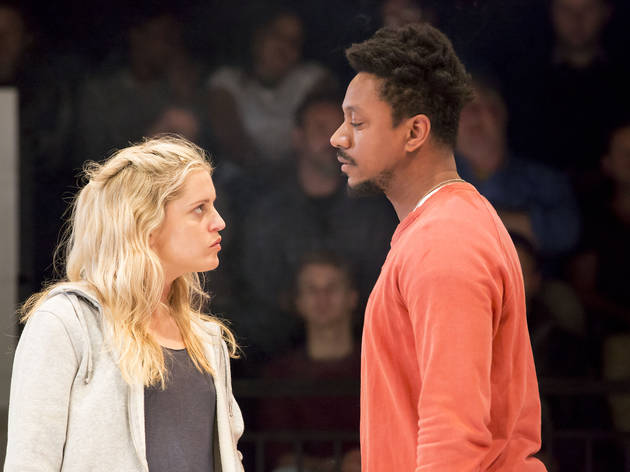 2/9
© Johann Persson
Denise Gough (Emma), Nathaniel Martello-White (Mark)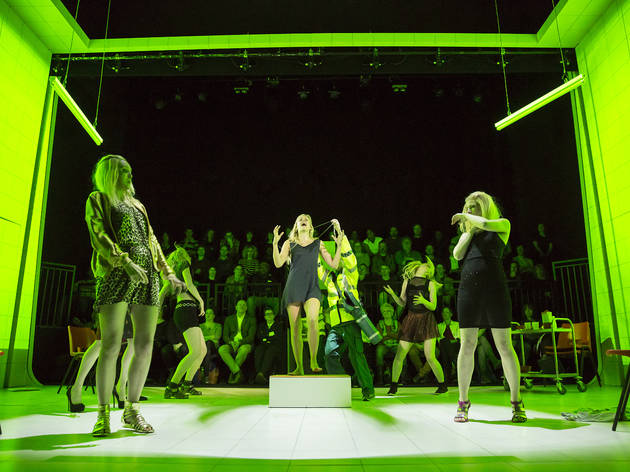 3/9
© Johan Persson
Denise Gough (Emma)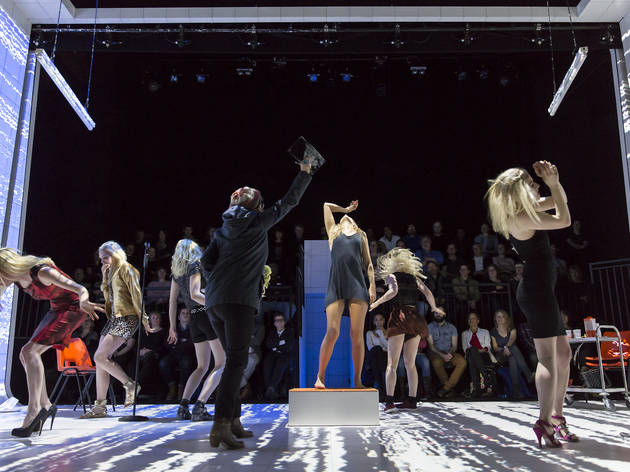 4/9
© Johan Persson
Denise Gough (Emma)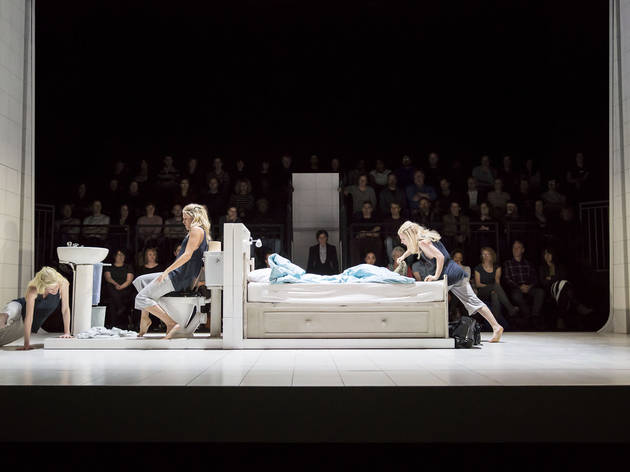 5/9
© Johan Persson
Denise Gough (Emma)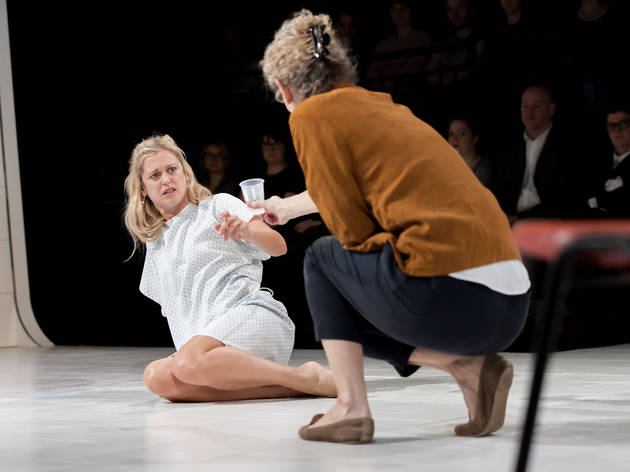 6/9
© Johann Persson
Denise Gough (Emma), Barbara Marten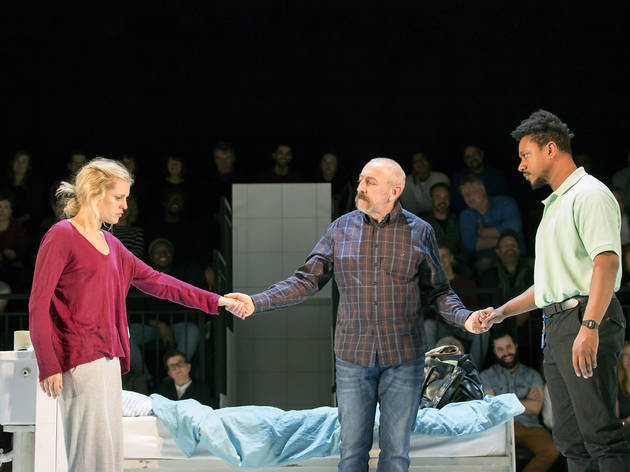 7/9
© Johan Persson
Denise Gough, Kevin McMonagle, Nathaniel Martello-White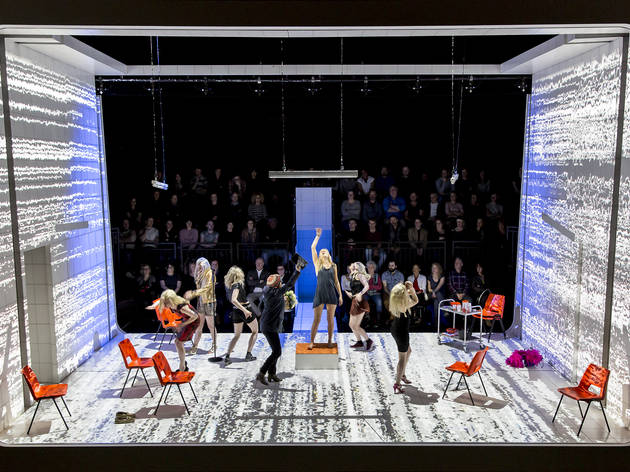 8/9
© Johan Persson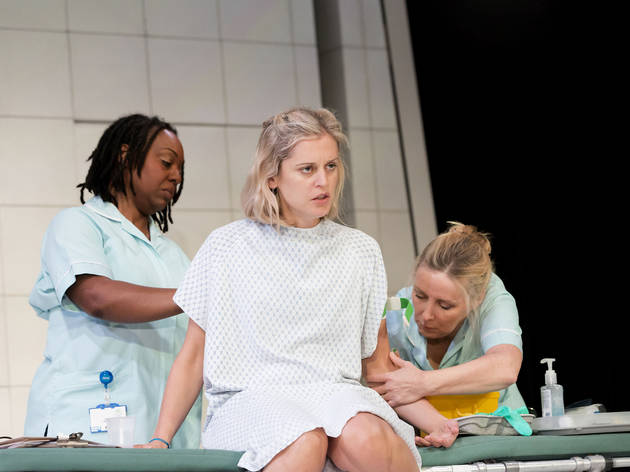 9/9
© Johan Persson
Jacqui Dubois, Denise Gough, Sally George
Denise Gough is stunning in this powerful new play about addiction and reality from '1984' scribe Duncan MacMillan.
Interview: Denise Gough – 'If this had happened when I was 23, I'd be dead'
Before I really get busy with the hyperbole, it may be worth noting that second time around, one of the best things about Denise Gough's astounding performance in Duncan Macmillan's addiction drama is how understated it is.
True, her chronically unreliable addict-actress character Emma spends most of the first half completely off her tits: Headlong and the National Theatre's transferring hit starts with its heroine slurring her way through the role of Nina in Chekhov's 'The Seagull', suddenly staggering into a nightclub, then shambling into rehab (groggily hoovering up a cheeky final line of gak first). It is undeniably pretty funny.
Yet, for all the initial, broad black comedy and the flourishes lobbed in by director Jeremy Herrin – multiple Emmas erupting out of the walls, floor and furniture as the cold turkey bites – Gough gives a masterclass in nuance and subtlety. It is the best London stage performance since Mark Rylance's in 'Jerusalem', but it's also the polar opposite of his larger-than-life turn.
Emma is a self-invented woman trying desperately to be normal, to be honest. She has lost all touch with herself, self-medicating through booze, drugs and pretending to be other people. As she reluctantly enters the drab rehab facility – presided over by Barbara Marten as a doctor and as a therapist, who both seem to be projections of Emma's mother – she is forced to try and remember who she is. And she doesn't like it one bit.
It's a painful process, at first amusingly so: Emma is like a petulant teenager squaring up to the idea of doing household chores for the first time. Self-reflection is excruciating for her: she simply feels she's too intelligent to swallow the 12-step-alike programme that requires her to surrender to a nebulous higher power. Gough's face is a remarkable battleground for Emma's weapons-grade cynicism clashing with her desperate desire to make everything all right again.
It is a titanic performance in a slightly flawed play. The only other cast member who can hold a candle to Gough is Marten, partly because she's the only other one with a decent role. Macmillan's writing is notably thinner when it comes to the minor characters in Emma's therapy group. And it has to be said that some of Herrin's fancier directorial interventions work better in the NT's high-tech Dorfman Theatre than at a West End playhouse.
But of course the play is all about Emma, who is at the heart of every scene. And Macmillan can be forgiven the odd moment of glibness for the extraordinary climax in which Emma confronts her mother – Marten, of course – in an agonisingly subversive sequence that laughs bitterly at the idea that rehab and redemption are the same thing.
'People Places and Things' is a play about the seduction of escaping reality, and it is resolutely ambivalent about whether that's an entirely bad thing (indeed, it acknowledges that as a play it is itself an escape from reality). But what might have felt like a clever-clever script in other hands has been taken over by Denise Gough, a long-term critics' favourite who must finally, surely be elevated to the stardom she deserves with a performance that burrows into the heart, the guts, the brain, the soul.
Average User Rating
4.8 / 5
Rating Breakdown
5 star:

27

4 star:

5

3 star:

0

2 star:

0

1 star:

0
If you watch one play this year, make it this one. It will grab you by the throat after half an hour or so and won't let go. It's by far the most powerful, yet simple story - told through the dramatic experience of a fantastic actress. It will make you teary, it will make you pity her, love her, hate her, and above all - love your life and appreciate all that you are and you have. You might want to call your mum after the end as well. An unforgettable play and a true revelation!
Terrific play from the beginning to the end. The mundanity of the theme could have led to a disastrous interpretation of the usual worn-out cliches about drug addiction. On the contrary, in 'People, Places and Things' there is no time to think about those. The pace is fast and furious and you immediately feel dragged into Emma's world (shall I say addicted?) - you just want to know more about her demons and find out how her journey ends. From the plot, to the scenarios, to the soundtrack and of course to the outstanding performances (oh, Denise Gough!), everything flows so naturally that you forget that you are actually watching a play. The play ends and you are buzzing and you cannot wait for the next fix.
Amazing. Loved it. Everything about the play - from Denise Gough's incredible performance to the lighting and sound design - was breath-taking. It was totally captivating from start to finish and the story line was both enthralling and thought-provoking in every sense. Vivid, stunning drama at it's finest.

Saw this play last month. Terrific with a truly outstanding performance by the actress Denise Gough
This is an amazing production in every respect. The story is mesmerizing; heart-wrenching and sad, yet hopeful and funny, in parts. Denise Gough's performance is incredible. All the performances are stellar, but Denise is brilliant. The staging is excellent and creative. It's exhausting to watch - I can only imagine how it is to perform it every night.
This show is a must-see.

Absolutely phenomenal. Probably one of the best plays I've seen and an absolute must see. Denise Gough's performance is outstanding, and the rest of the cast follow suit. I cannot praise this production enough and found it to be incredibly innovative and visually stunning as the play combines magnificent performances with marvellous tech to create an all round exceptional production.
Simply the best play currently running in The West End. It has made the transfer from The National to The Wyndhams without loosing any of its intensity. Denise Gough in the lead puts mind, body and soul into her challenging role. Its a performance to rank with Rylance in Jerusalem. An Olivier Award winner in my books. If you want to experience that rare magic of perfumer and piece being perfectly matched , go see People , Places and Things. It left me breathless.
this play is truly amazing but if you are going to see it you have to see it with Denise Gough. She is out of his world and going to be a massive star if this performance is anything to go by.

Just seen the most exhilarating piece of theatre
People, Places and Things is riveting.
Denise Gough soars in the lead.
This is very, very special
Go !

100% the best piece of theatre I have ever seen in my life. I can't put into words how much people should go and see this beautifully written & acted show. JUST GO!
If there's such a thing as a strong ensemble piece with a staggering lead performance, this is it - Denise Gough is sensational in the lead role and the play itself is deeply troubling and intelligent. A late scene with Gough's character and her parents, in her childhood bedroom, is one of the most powerful I've seen in a long while.
Not much point in writing a long review as the entire run is sold out, also not much to add to the other reviews here. Superb theatre: snappy script, compelling empathetic characters, good story, brilliantly acted, cleverly staged (designed by the same person who did the Curious Incident of the Dog in the Night Time). Makes you gasp, laugh in places, and think about it for some time afterwards.
Hi. Have one ticket for 14:30 22 September. Who wanna buy? Write to denowear@gmail.com