Heads up! We're working hard to be accurate – but these are unusual times, so please always check before heading out.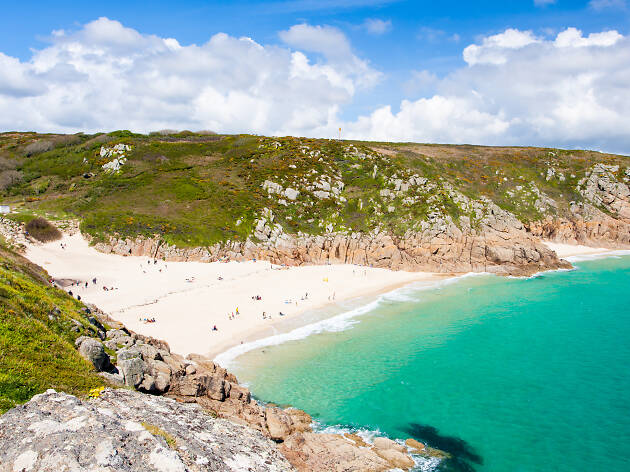 The best beaches in the UK
From surfing hotspots to peaceful coves, this country is home to hundreds of sandy spots. Here's our pick of brilliant UK beaches
UPDATED MAY 2020. PLEASE NOTE: Facilities and businesses in the towns and villages we mention will be closed at the moment. Government advice is to avoid public transport so don't travel by train. Please be mindful of the people who live locally, check whether car parks are open before you set off and always adhere to social distancing guidelines.
The easing of lockdown measures in England means that day trips are possible again – though subject to rigorous health guidelines. No wonder, then, that cooped-up city-dwellers' minds are turning to the beach. Nowhere in the UK is more than 70 miles from the sea – and the UK boasts some of the world's most beautiful beaches.
However, to save you scouring every coastline, we've rounded up the very best – the warmest, cleanest and prettiest beaches – right here. Consider this your bucket-and-spade list for the summer ahead.
Can I go to the beach during lockdown?
If you live in England, you are currently allowed to drive to visit the beach as long as you don't cross into another UK nation. Swimming in the sea is allowed – though take extra care, as many beaches will not have lifeguards right now. At all times, you must stay more than two metres away from anyone who is not part of your household.
Most facilities, including toilets, shops and cafés, will be shut, and some populated areas have specifically requested that visitors stay away for now. Please be considerate of people living near the beach, and visit remote and secluded beaches rather than urban beaches if you can.
If you live in Scotland, Wales or Northern Ireland, you are not currently allowed to go to the beach – so we've excluded beaches outside England from this list for now.
RECOMMENDED: The best day trips from London
The UK's best beaches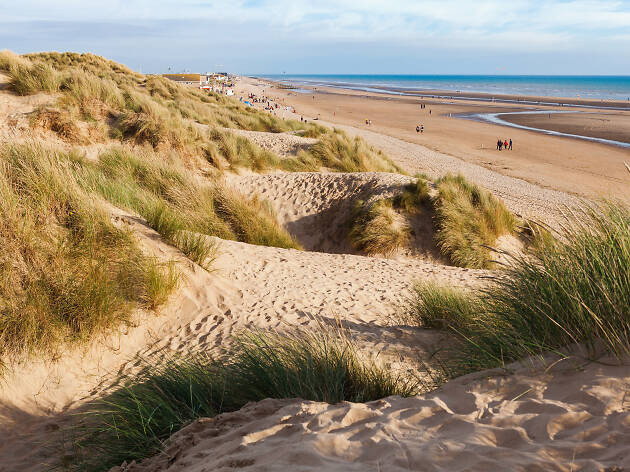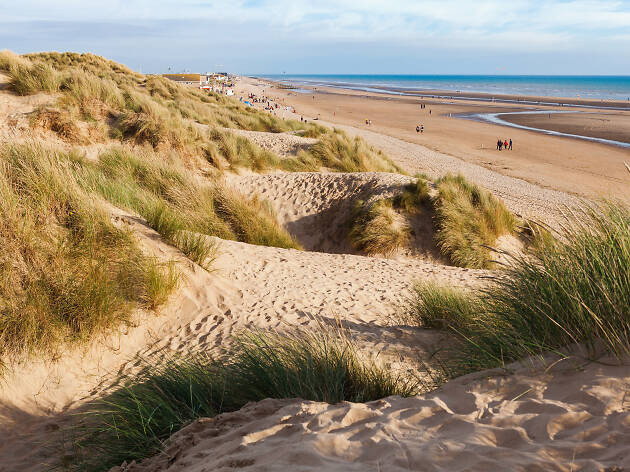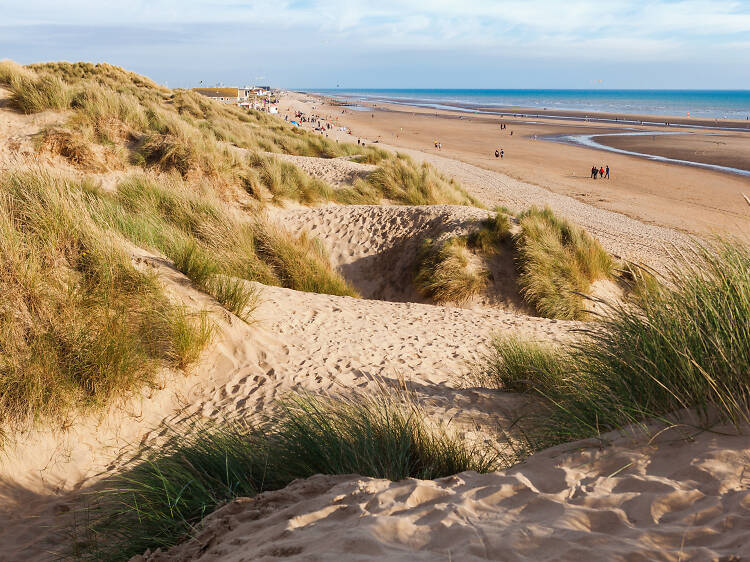 Best for Rolling your trousers up and splashing through the shallows.
Camber Sands is so wide and golden you'll be transported to other shores. In fact, this Arabian-looking beach has been used for a number of desert film locations, including 'Carry On Follow That Camel'. The sandy shore stretches for almost five miles, before it starts to turn into shingle towards the eastern end. Dogs on a lead are allowed on the beach, although there are restricted zones from May to September.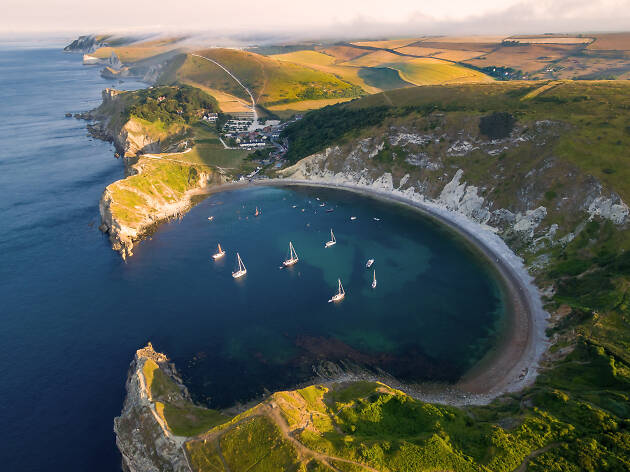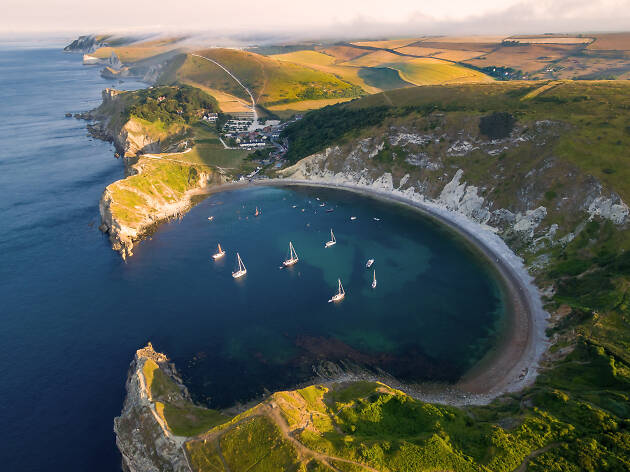 2. Durdle Door and Lulworth Cove, Dorset
Best for Traversing the most beautiful corner of the South West Coast Path.
Around 10,000 years ago, water broke through a stack of rocks on the Jurassic Coast and started to create one of the most stunning formations in the UK. Now, Durdle Door is a spectacular archway that frames the crystal clear waters beyond it. The rock formation is best paired with a visit to nearby Lulworth Cove. Just a 30-minute stroll on the coastal path brings you to a sheltered white pebble beach that is almost perfectly circular, offering a haven of relaxation as you watch the boats bobbing in the emerald water. The car park can get full at peak times – cycle or arrive early to get a space during the summer months.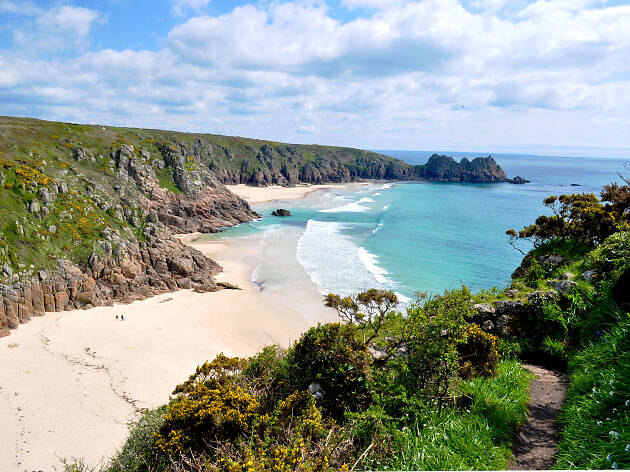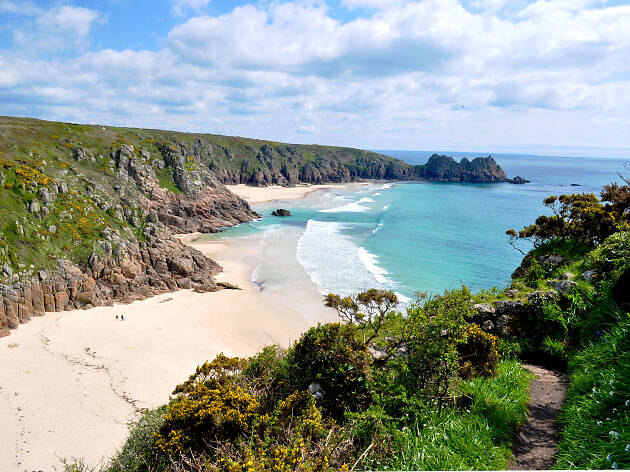 3. Porthcurno Beach, Cornwall
Best for Beautiful barefoot walks along soft white sand by a turquoise sea.
Small but perfectly formed, this little turquoise bay is the stuff that dreams are made of. At least that's what the 'Poldark' location scouts thought: they used this beautiful beach on the western foot of Cornwall as the location for a dream sequence in series two. But it's not just actors that like to hang out here: dolphins and basking sharks are sometimes spotted in the calm waters, too. The soft, white-shell sand and freshwater stream also makes this a popular beach with families. There's a dog ban from Easter to October 1.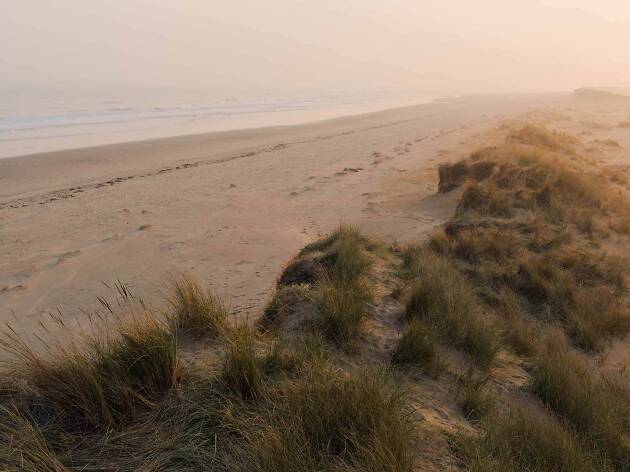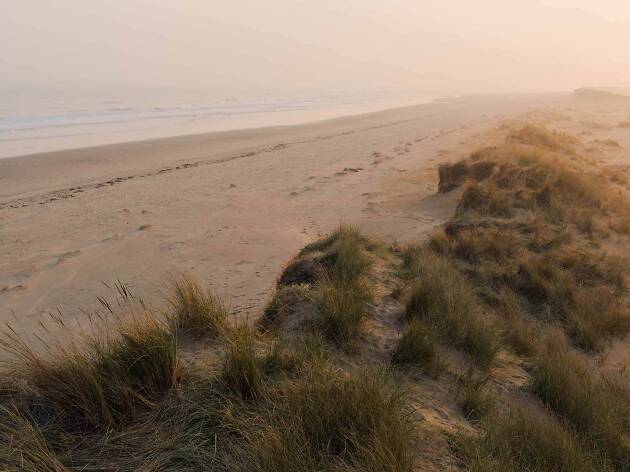 4. Holkham Beach, Norfolk
Best for Channelling your inner Gwyneth Paltrow and re-enacting the beach scene from 'Shakespeare in Love'.
Easily one of the best-looking beaches in the UK, Holkham would be flooded with visitors if it were just that little bit closer to London. The beach – which makes you feel a million miles from civilisation – has deservedly starred in many a film and pop video, including All Saints' 'Pure Shores'. An enormous sandy stretch is backed by a verdant nature reserve with a warren of well-signposted walking trails within it. Trek through the pinewoods and saltmarshes to see orchids, sea lavender and rare birds.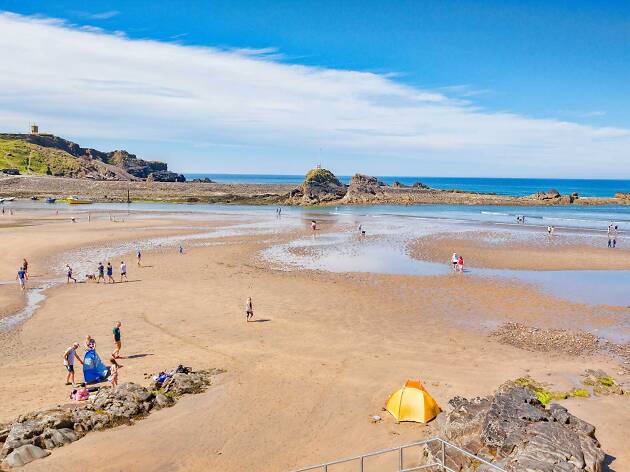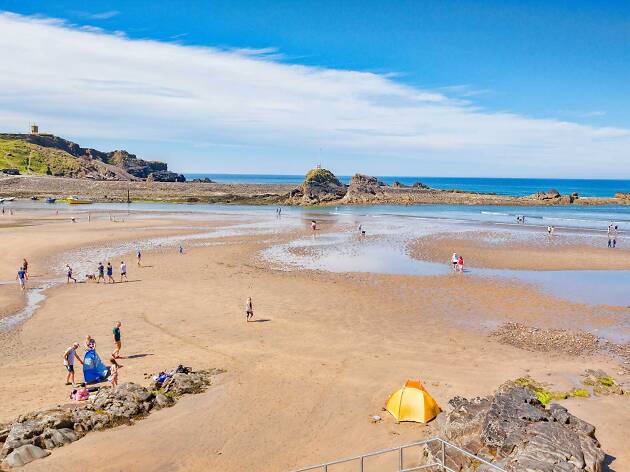 Photograph: travellight/Shutterstock.com
Best for A good ol' bucket and spade day beside a rainbow lineup of beach huts.
One of Bude's best-loved beaches, Summerleaze is the embodiment of the classic British seafront. At low tide a paddling pool emerges, as does an expanse of golden sand for walks along the coast. Dogs must stay on a lead from 10am to 6pm.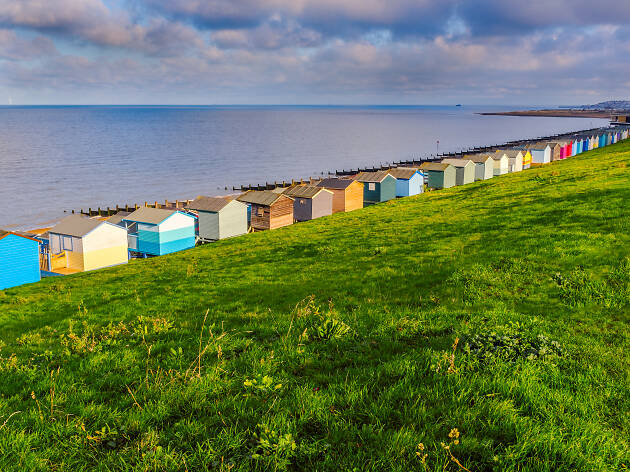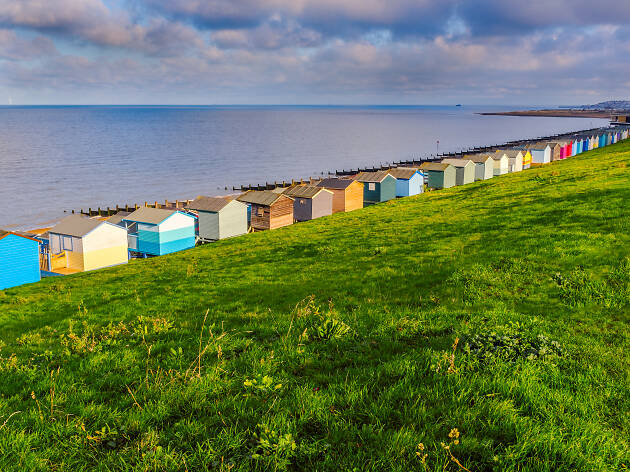 Best for Sunny picnics on the grass overlooking the sea.
Rolling grassy slopes, a long promenade, pretty beach huts, and of course, the sea: Tankerton Beach has the perfect combo. Between May 1 and September 30, it's a dog-free zone.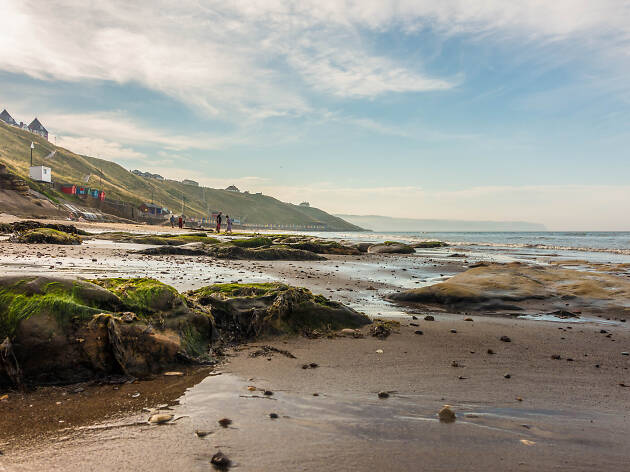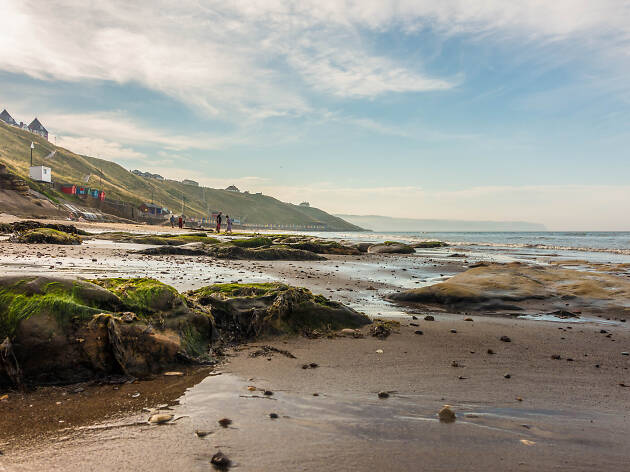 7. Whitby Sands, North Yorkshire
Best for Windswept walks.
Just a few minutes' walk from the idyllic former fishing town of Whitby, Whitby Sands is a perfect British seaside setting, with bright beach huts, sandcastles in the sand and miles of the big blue. Dogs are not allowed in the summer.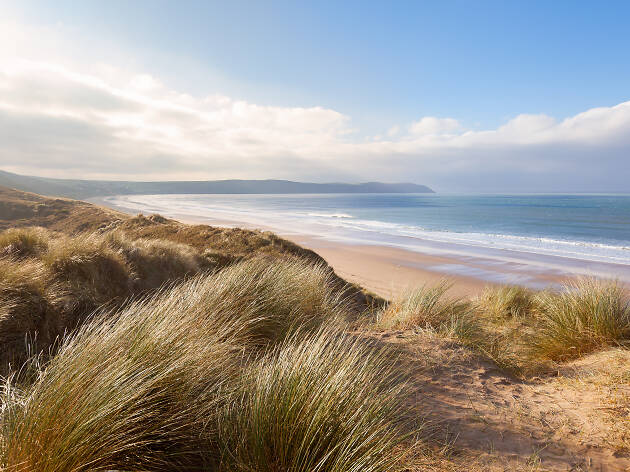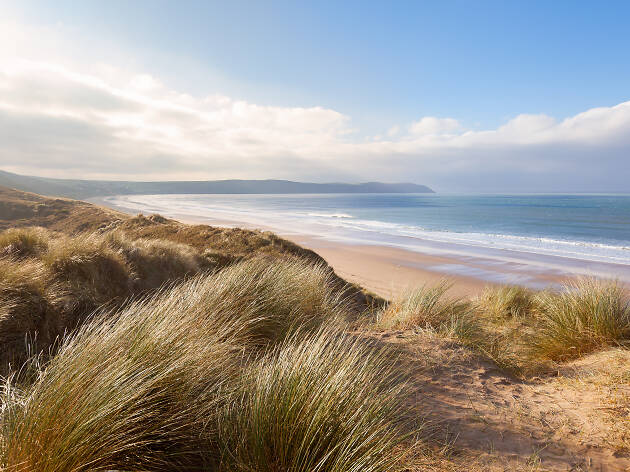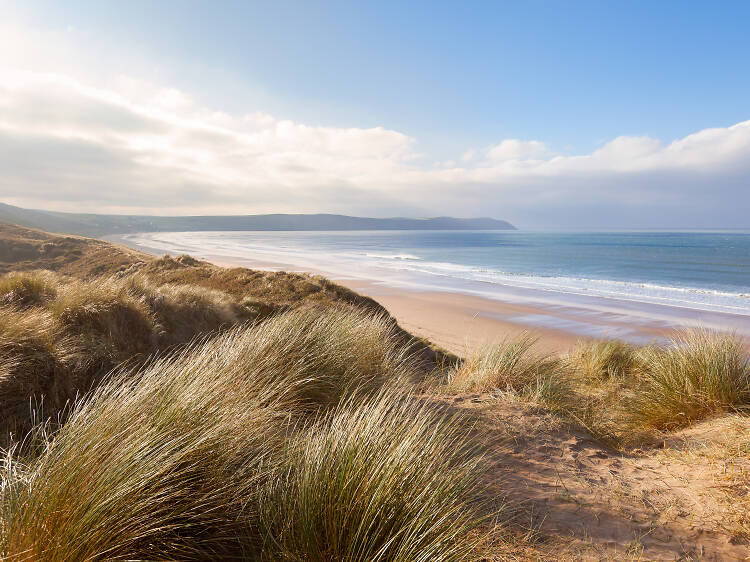 8. Woolacombe Sands, Devon
Best for Making more sandcastles than you can shake a spade at.
One of north Devon's best-loved hangouts, Woolacombe is a beast of a beach with miles of uninterrupted golden sand – get into epic sandcastle building and play hide and seek at the dunes. A favourite with surfers and families, this beautiful bay also has rock pools for kids to explore.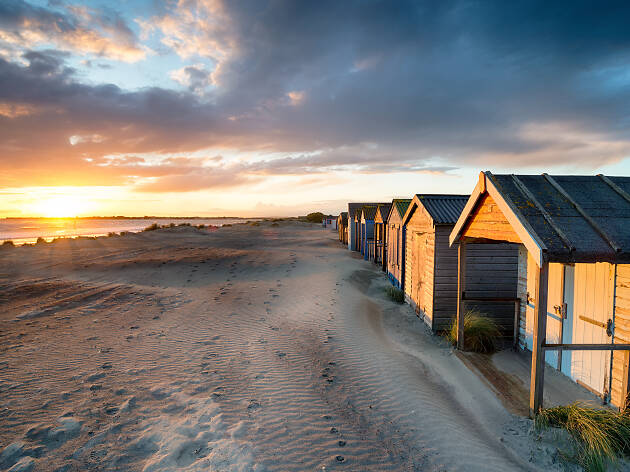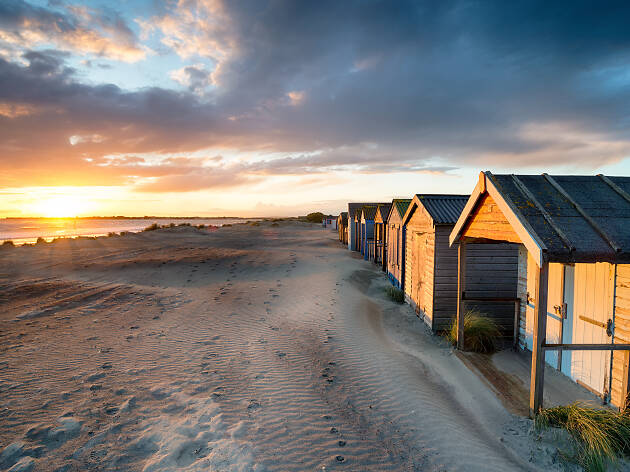 9. West Wittering Beach, Sussex
Best for Spotting red kite birds among the coastal salt marshes.
Backed by bushy dunes and lush marshland perfect for bird-spotting, West Wittering beach is a pristine destination. Dangerous currents occur at The Hinge, so don't go splashing around there.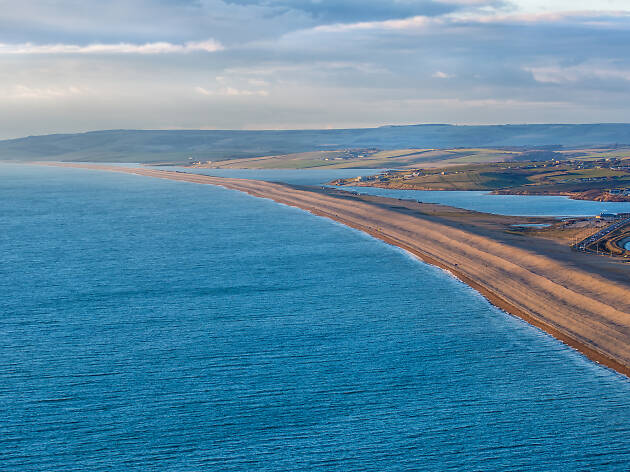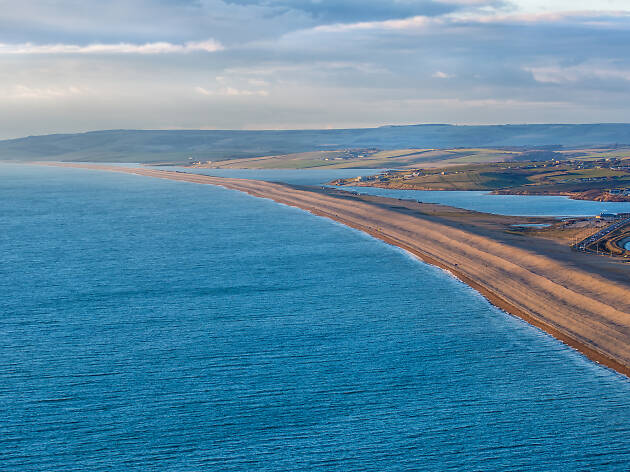 Best for An epic walk along seemingly endless rugged shingle.
Put away those buckets and spades – you won't be needing them here. Chesil Beach is as rugged as it is beautiful – an 18-mile strip separated from the mainland by a shallow lagoon. It's a breathtaking structure, best viewed from the top of the Tout Quarry Nature Reserve and Sculpture Park on the Isle of Portland.
Sam Crosby Photography
11. Watergate Bay, Cornwall
Best for Riding the salty waves on a surfboard.
You'll find big waves at this lively bay, which makes it a magnet for surfers and thrillseekers. The family-friendly spot is buzzing with extreme sports activities all year round, but you can just spectate from your deckchair on the two-mile long sandy shoreline. And dog owners can rejoice – there's no seasonal ban and pooches are always welcome.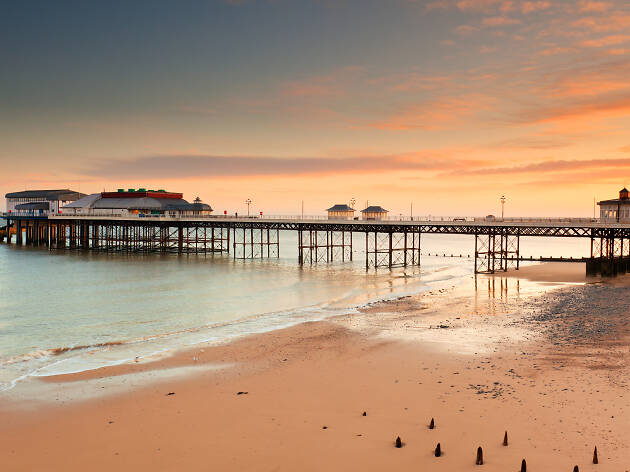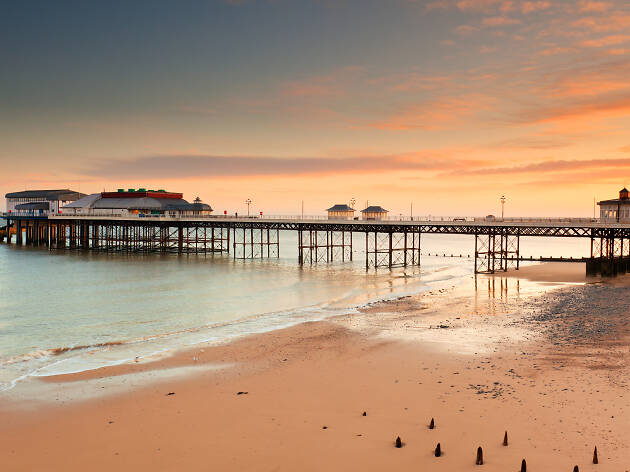 12. Cromer Beach, Norfolk
Best for Reliving your childhood against the pier backdrop.
The magnificent Victorian pier is usually the main attraction here. It's closed for now, but the peaceful beaches and crystal-clear rock pools remain. Time your visit with low tide for maximum sand action.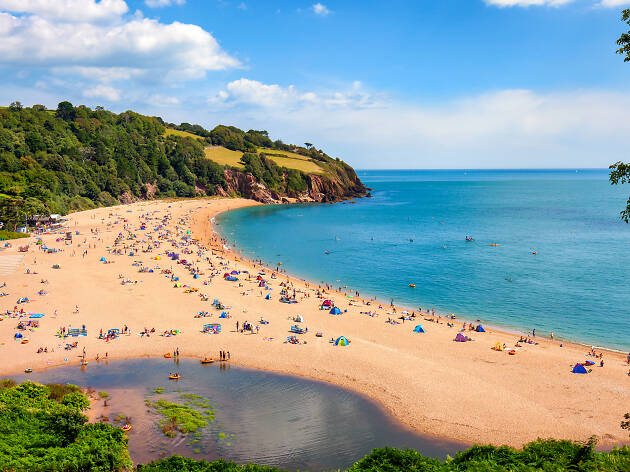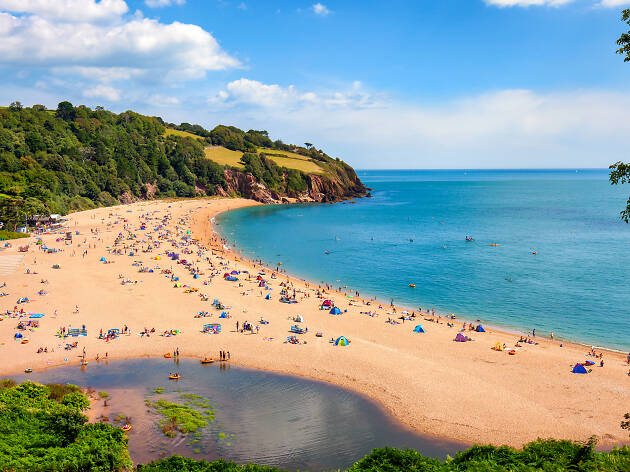 13. Blackpool Sands, Devon
Best for The best view in Devon.
A privately managed beach, Blackpool Sands is worth the trip for a spotlessly clean coastline despite a high number of visitors. The wide pebble beach is one of the cleanest in Devon, and is sheltered by pine trees and evergreens, while rocks at the far corners provide shade. After that, explore the menu at the Venus Beach Cafe, which has reopened as of May 2020.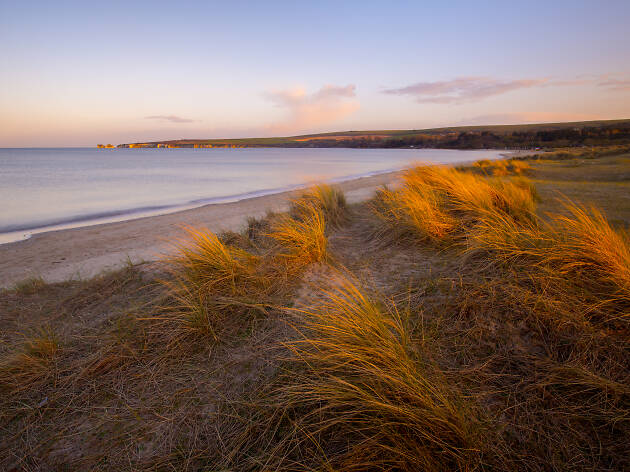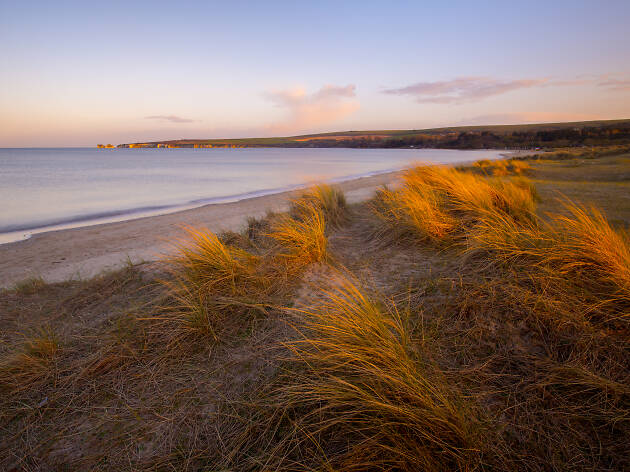 Best for Getting an all-over tan (wink, wink)
You might spot more than a few beach balls at Studland Bay: it's one of the most popular naturist spots in the UK. If skinny-dipping doesn't float your boat, keep to the south, which is backed by lush heathland and a wooded area marked with walking routes to spot wild deer and bird life. The nearby village of Studland is so ridiculously cute it inspired Noddy's Toytown.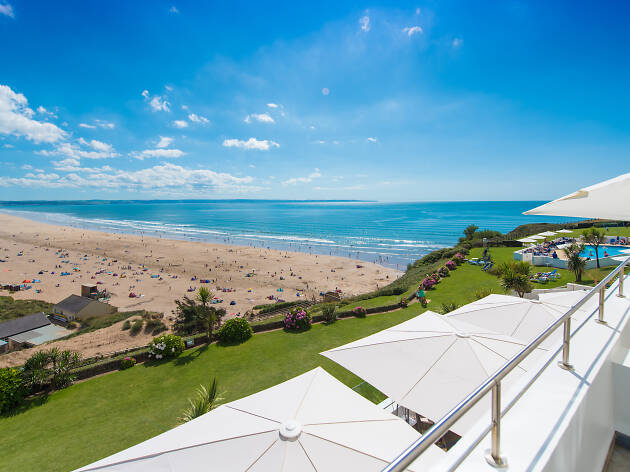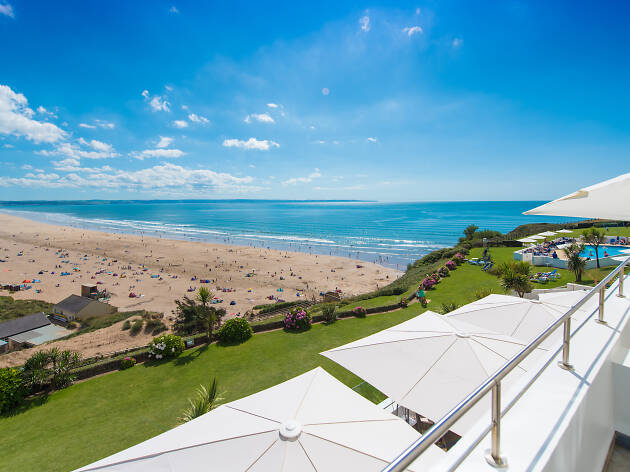 Kevin Nicholson
Best for Running into the sunset with your four-legged furry friend.
A favourite among families and dog owners, Saunton Sands is a vast three-and-a-half-mile stretch of the gold stuff, flanked by dunes with tufts of green and a row of colourful beach huts. There's room enough for dogs to run amok, without treading on the toes of sunbathers, surfers and beach-loungers. There's also a strong community feel here, with regular beach cleans and BBQ days, as well as (in normal years) spectacular D-Day events with military rallies and battle reenactments. Take care swimming here as there can be riptides by the cliffs.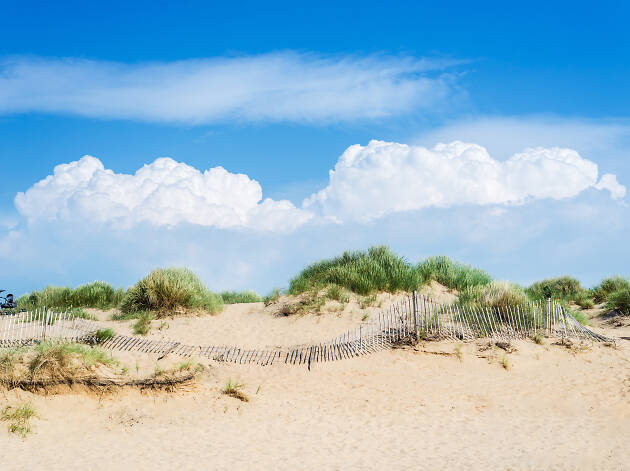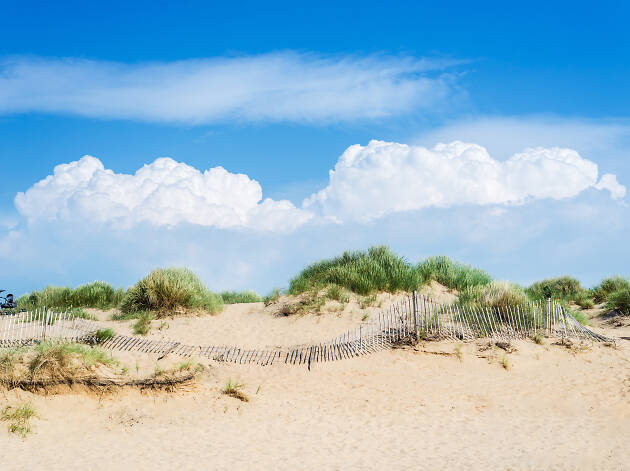 16. Formby Beach, Merseyside
Best for Spotting red squirrels on a wild walk from beach to woodland.
One of the National Trust's quickest-changing shorelines, the glorious, family-friendly Formby beach is hugged by a network of dunes which move at an alarming rate of four metres a year. The shifts are revealing prehistoric footprints: stroll along the sand to spot them and look out to the ocean for stunning views across the Irish Sea. The woodlands which shadow the beach are managed to preserve the red squirrel's habitat – visit the National Trust's site to download 'squirrel walks'. While you're here, make the 30-minute drive to Crosby Beach to see Antony Gormley's iconic public artwork 'Another Place'.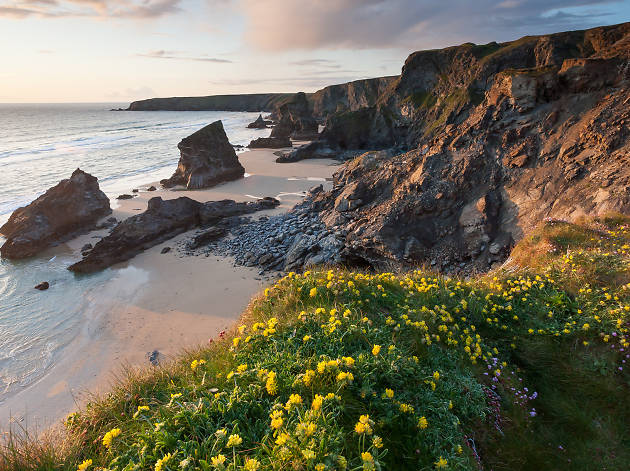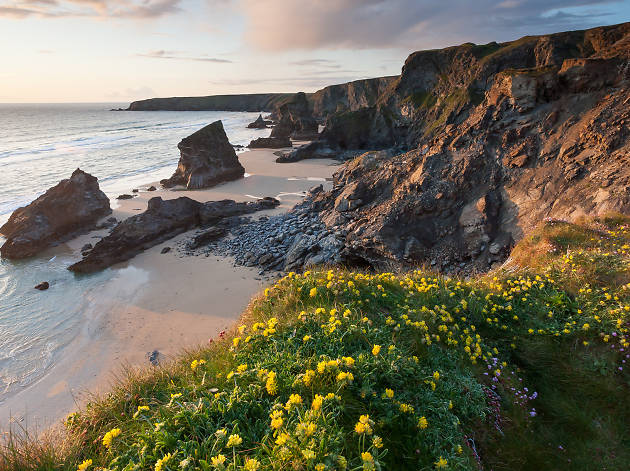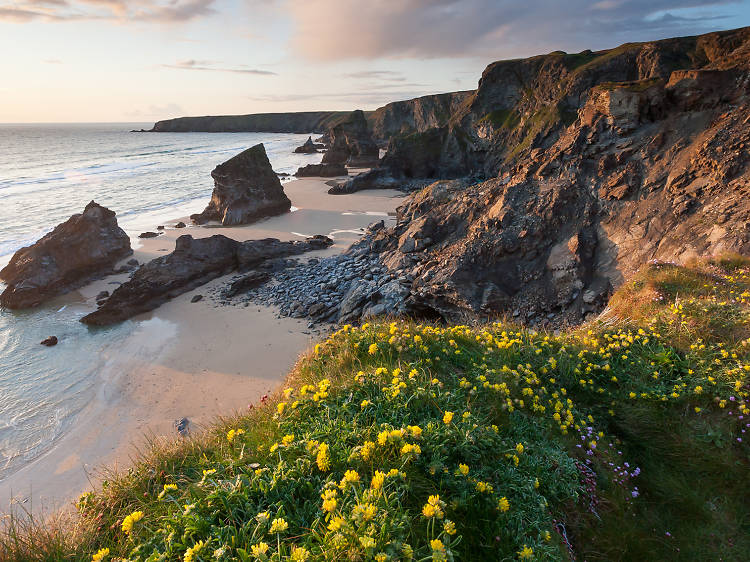 17. Kynance Cove, Cornwall
Best for Famous Five-style adventuring on the Lizard Peninsula
With its white sand, clear blue waters and dramatc rock formations, it's easy to see why Kynance Cove is one of Cornwall's most photographed. It almost vanishes at high tide, but time it right and the retreating waves will reveal a thrilling network of coves and caves with names like 'the Ladies Bathing Pool' and 'the Drawing Room'. In the summer it gets seriously busy, and the National Trust car park is often full before 11am – get there early to be sure of bagging a spot. The walk down from the car park is steep and takes about 10 minutes, so go carefully. Dogs aren't allowed between Easter and September.
What are all the rules around day trips now?
After two months of being confined to our homes, lockdown rules have started to ease in London. As of Wednesday (May 13), what we are and aren't allowed to do – and where we're allowed to go – has changed.