Heads up! We're working hard to be accurate – but these are unusual times, so please always check before heading out.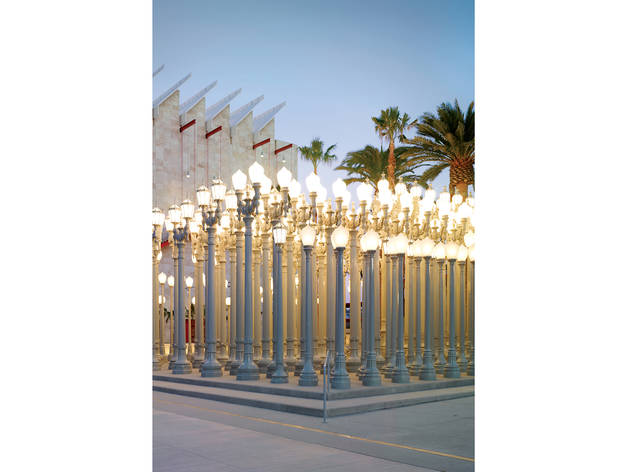 1/10
Photograph: Courtesy LACMA
Chris Burden, Urban Light (2008), view at dusk In the '70s Chris Burden was a performance artist so provocative (he once crucified himself on a VW bug; another time he had an assistant shoot him in the arm) that David Bowie and Laurie Anderson both memorialized him in song. Now in his sixties, the Topanga Canyon–based artist has turned to creating such mesmerizing installations as Urban Light, a dozen rows of vintage LA streetlamps—202 in total—that are arrayed and lit at the museum's entrance on Wilshire Boulevard. It's the best example of build-it-and-they-will-come—no matter what the hour, as there's always someone taking photos of the glowing piece. Also worth seeing: Burden's frenetic, kinetic Metropolis II—a whizzing racetrack of toy cars that snakes through and around a constructed megalopolis—currently on view on the first floor of the Broad Contemporary Art Museum (BCAM).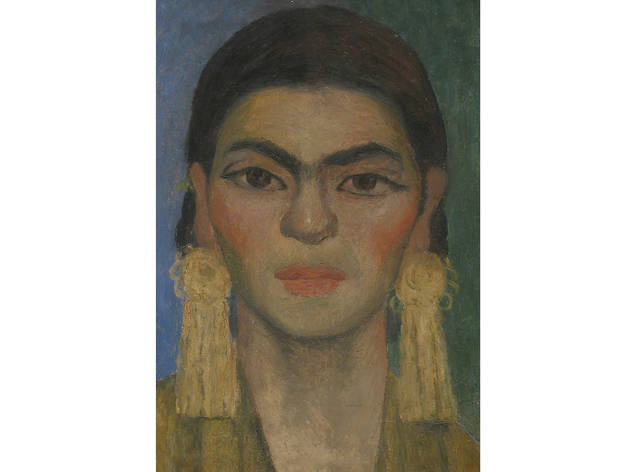 2/10
Photograph: Courtesy LACMA
Diego Rivera, Portrait of Frida Kahlo (Retrato de Frida Kahlo) (1939) Call it one of the most dysfunctional relationships in history or call it true love—either way, the sexy, doomed union of Frida Kahlo and Diego Rivera had a huge influence on the work of these two Mexican artists. Kahlo painted herself and her lover together and separately, but this small piece is the only easel painting that exists of Kahlo by Rivera. Done in oils on an asbestos cement shingle, the painting was created, LACMA curators speculate, when the two artists divorced briefly, before getting back together again in 1940.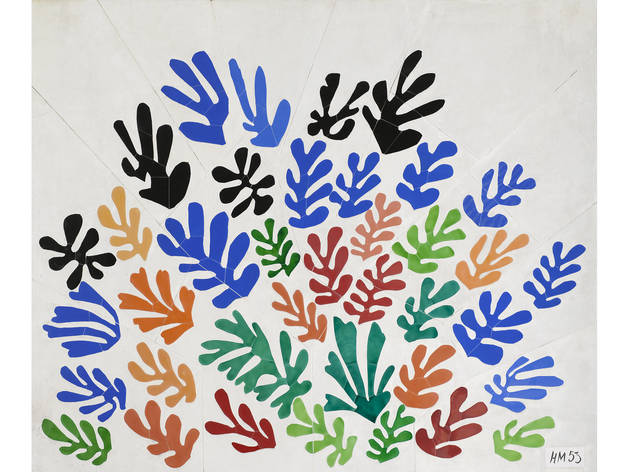 3/10
Photograph: Courtesy LACMA
Henri Matisse, La Gerbe (The Sheaf) (1953) Sidney and Frances Brody were two of the museum's founding donors; this large-scale ceramic piece was actually created by Matisse for the couple's A. Quincy Jones home in Holmby Hills, but not without significant input from the Brodys. The artist initially proposed a design with a face in the center, but they rejected it on a visit to his studio in France and directed him toward this bolder graphic treatment, based on his cut-outs, instead. La Gerbe was one of the last ceramic pieces that Matisse completed, and it hung in the Brodys' home until Frances' death in 2009.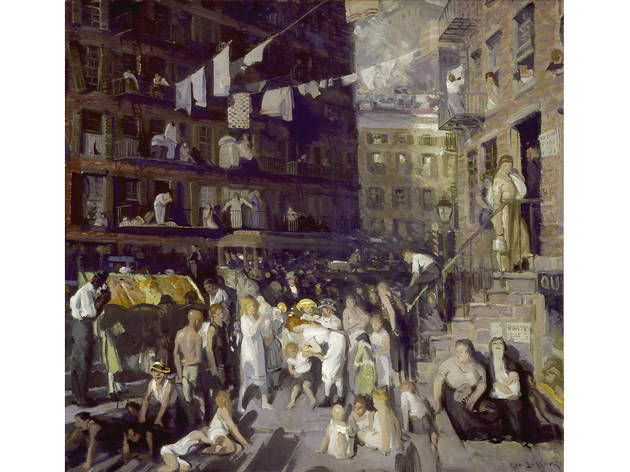 4/10
Photograph: Courtesy LACMA
George Bellows, Cliff Dwellers (1913) City life in the early part of the 20th century was just as raucous and messy as it is now—minus the air conditioning. It's a hot summer day in Bellows' Cliff Dwellers, and he depicts whole families who have taken to the streets, making this one of the most celebrated works of social documentary in American art. When it was painted, old-guard critics derided it a celebration of ugliness, but LACMA was willing to take a risk—it's the very first painting that the young institution acquired.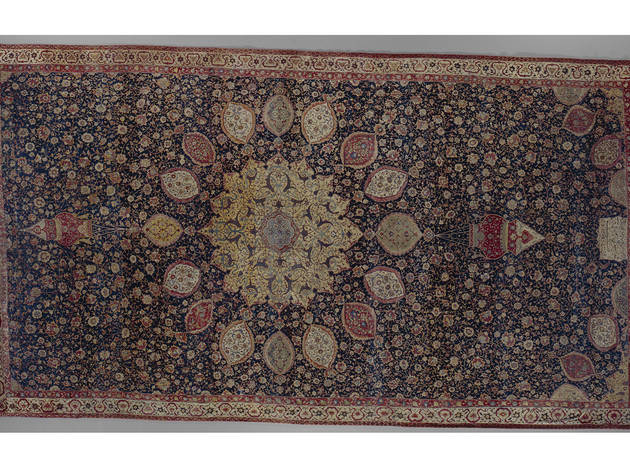 5/10
Photograph: Courtesy LACMA
Ardabil Carpet (1539-1540) This enormous (24 feet x 13 feet!) knotted carpet is literally one of the two most famous carpets in the world (the other one, its twin, hangs in the Victoria and Albert Museum in London). This masterpiece was believed to have been made in Tabriz as a royal gift to the shrine in Ardabil, which was sacred to the Safavid rulers of the time, who united much of modern day Iran. The 350,000 knots that make up the carpet portray a lush but stylized garden motif, a symbol of peace in the Muslim world. There's also a poignant incription: "Except for thy haven, there is no refuge for me in this world: / Other than here, there is no place for my head."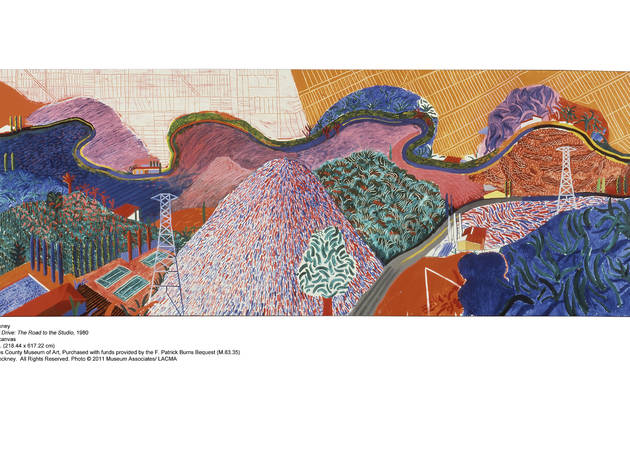 6/10
Photograph: Courtesy LACMA
David Hockney, Mulholland Drive (1980) David Hockney always loved LA for its light and color, its palm trees and swimming pools. This painting, inspired by his many drives from his home in the Hollywood Hills to his studio in West Hollywood, is a gorgeous tribute to his city. If you want to recreate the journey, just head down from the hills via Mulholland to his former studio at 7506 Santa Monica Boulevard—after he left, an arts and crafts gallery called Lifetime Gallery operated in the space, but it has since closed.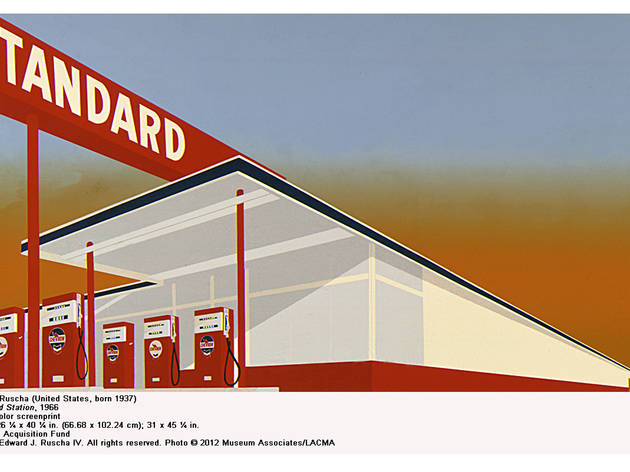 7/10
Photograph: Courtesy LACMA
Ed Ruscha, Standard Station (1966) In the '60s, when Pop Art master Ed Ruscha made this piece, Standard Oil stations dotted the Southern California landscape, making them the perfect subject and object for his work, which manages to be at once flat and full of emotion. Text is a hallmark of Ruscha's work, and with that word "Standard," say museum curators, he's putting up something that can be "a banner or rallying point, an established level of quality, and an oil company's brand name."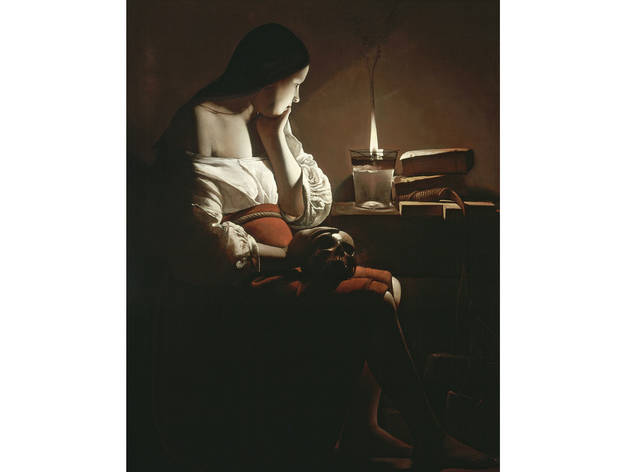 8/10
Photograph: Courtesy LACMA
George de la Tour, The Magdalen with the Smoking Flame (1638-1640) One of the museum's hallmark pieces: A moving portrayal of Mary Magdalen gazing at a bright candle, one hand resting on a polished skull on her lap. It represents a breakthrough in chiaroscuro painting, which was emulated by other artists of the time. De la Tour's artistic influence didn't stop in the 17th century—this painting makes an animated appearance in The Little Mermaid. It's part of the collection of worldly goods that Ariel looks at while singing "Part of Your World." It even inspired its own lyrics: "What's a fire and why does it—what's that word?—burn!"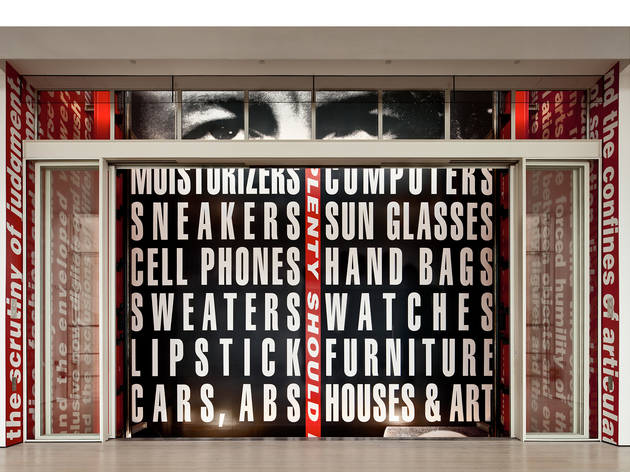 9/10
Photograph: Fredrik Nilsen, courtesy LACMA
Barbara Kruger, Untitled (Shafted) (2008) The absolute highlight of the BCAM building is artist Barbara Kruger's monumental elevator shaft installation. Step inside the giant elevator—a thrill in itself—and you'll find yourself surrounded by a 94-foot-high text piece that wraps around the rider, bearing a potent critique of consumerism that feels almost like an advertising message, calling out present day desires like "spirituality vacations," "jeans & BJs."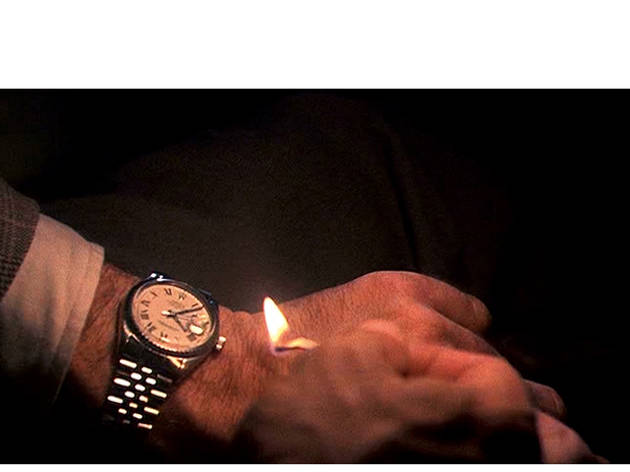 10/10
Photograph: Detail from The Clock, courtesy LACMA, via Paula Cooper Gallery, New York
Christian Marclay, The Clock (2010) At first, you'll wonder what the big deal is. Isn't this just a random jumble of film clips, spliced together chronologically depending on the time mentioned or pictured on screen? Sure. But as you sit in the darkened theater during one of LACMA's occasional 24-hour screenings (they happen about twice a year, check the LACMA website for schedules), this mesmerizing work by Swiss-American video artist Christian Marclay takes over your consciousness, becoming a moving meditation on the ways we order our lives in the face of death. Plus, For Your Art's gallery across the street might be serving all-night donuts. 
Art in Los Angeles: Top 10 must-see works at LACMA
LACMA holds one of the most impressive collections of art in Los Angeles. Here are 10 art works you don't want to miss.
There are more than 100,000 pieces of art in the Los Angeles County Museum of Art's (LACMA) encyclopedic collection of world art—we're sure that even Michael Govan, the museum's dashing director, hasn't managed to see them all. So what should you look for in a LACMA daytrip? Here are our 10 must-see art works, all with some special relationship to the museum, or to Los Angeles itself.
To take a segway tour of Miracle Mile, click here.
---
You voted for your favorite work of art at LACMA and the results are in.
The winner is:
Chris Burden, Urban Light (2008)
But man was it was a close race! Here are the statistical results:
1.37% - Ardabil Carpet
5.48% - George de la Tour, The Magdalen with the Smoking Flame
5.48% - Diego Rivera, Portrait of Frida Kahlo
6.85% - Ed Ruscha, Standard Station
8.22% - George Bellows, Cliff Dwellers
9.59% - Barbara Kruger, Untitled (Shafted)
9.59% - Henri Matisse, La Gerbe
16.44% - Christian Marclay, The Clock
17.81% - David Hockney, Mulholland Drive
19.18% - Chris Burden, Urban Light