7 coffee cocktails to try right now
Are you equal parts java drinker and cocktail sipper? These coffee cocktails are the best of both worlds.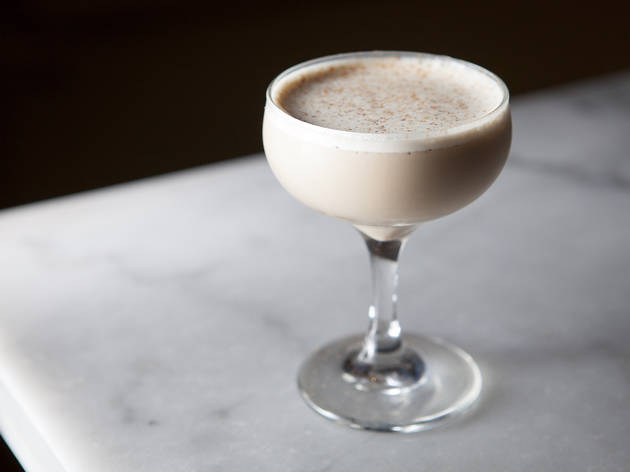 1/7
Photograph: Jakob N. Layman
Peking Coffee, with Red Star Bai Jiu, Caffè Borghetti and horchata-infused rum at Peking Tavern, $10. Discover China's biggest spirit, Red Star Bai Jiu (made from sorghum), in this cocktail that's a dragon in a glass. The spirit is combined with an Italian espresso liqueur and horchata-infused rum, with a dusting of fragrant cinnamon on top. Peking Tavern's coffee cocktail is the perfect blend of East meets West, served silky smooth and icy cold.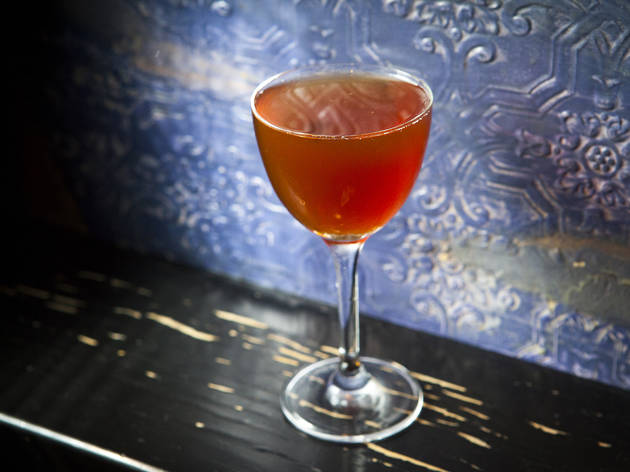 2/7
Photograph: Jakob N. Layman
Get Up 2 Get Down, with 100 proof Old Forester, Carpano Antica Sweet Vermouth, Pierre Ferrand Dry Curaçao, Stumptown Hairbender coffee, and Miracle Mile 7 Deadly Bitters at Honeycut, $13. Bartender Nick Griffith spent 14 years in the artisanal coffee world; now he transmutes those skills behind the bar. His Get Up 2 Get Down cocktail at Honeycut is guaranteed to get you moving: Stirred with an orange peel, it wraps you in an amber embrace, with the bitter notes from Old Forrester bourbon balanced by the subtle sweetness of the vermouth—and only a quarter-ounce of actual coffee. It's liquid alchemy.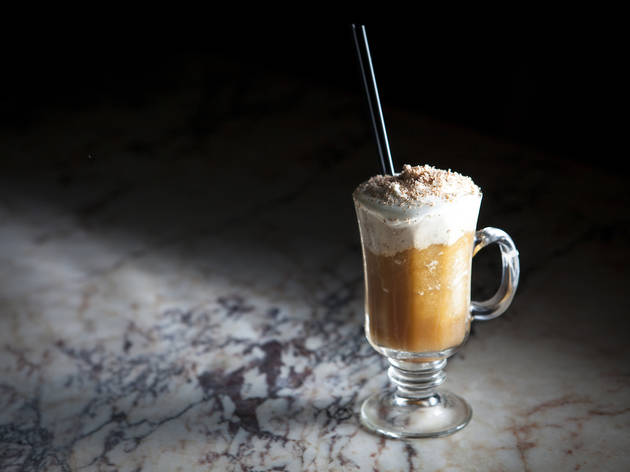 3/7
Photograph: Jakob N. Layman
Frozen Jamaican Iced Coffee Blackwell, with Blackwell rum, coffee, cream and sugar at Sunny Spot, $12. Not everyone wants to drink tomato juice and vodka in the morning. The Sunny Spot, Venice's hot brunch ticket from Roy Choi, delivers the breakfast cocktail you didn't know you needed. Bartender Brian Butler uses his slushy machine for good: Blackwell Jamaican rum meets coffee and runs off with nutmeg for a morning after love affair that everybody wants in on.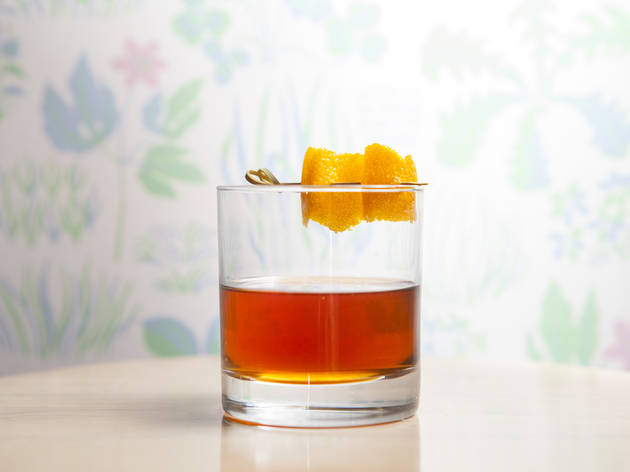 4/7
Photograph: Jakob N. Layman
Second Wind, with George Dickel Rye, Amaro Montenegro, coffee liqueur and barrel aged bitters at littlefork, $12. Simplicity is key in littlefork's Second Wind cocktail, designed by bartender Dino Balocchi as an homage to Italian fishermen. Served unadorned, not even an ice cube, it takes the old world pairing of espresso with a twist of orange and delivers a digestif that's a balance of bitter with a whisper of sweet. George Dickel Rye plays perfectly with Amaro Montenegro's orange, herbal edge—because sometimes simplicity is complex.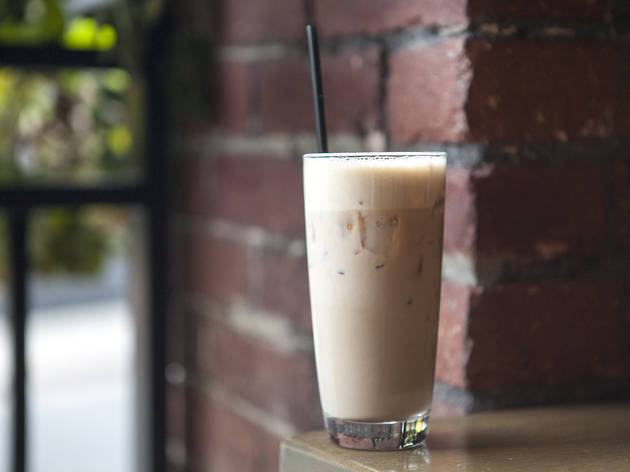 5/7
Photograph: Jakob N. Layman
The Espresso Train, with house made espresso liqueur, bourbon, Irish cream, almond milk and Aztec chocolate bitters at The Must, $12. The housemade espresso liqueur at DTLA's friendly neighborhood gastropub, The Must, uses beans from Caffe Luxxe—and the spirit that emerges is as complex, spicy and strong as your favorite cup of Joe. The resulting Espresso Train cocktail has not-too-sweet notes of cinnamon, vanilla and molasses: a peppery, grown up version of your favorite afternoon iced coffee.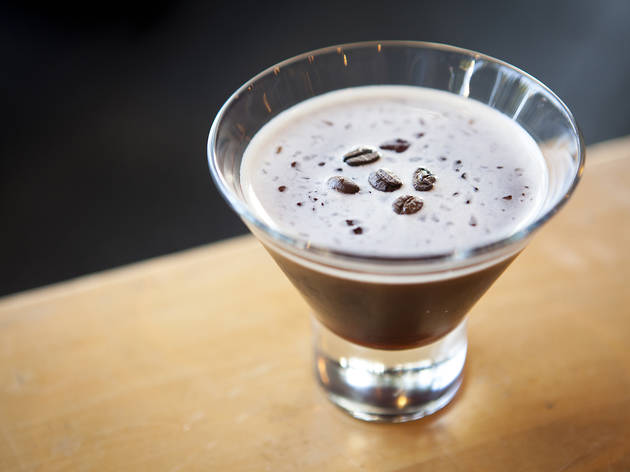 6/7
Photograph: Jakob N. Layman
Espresso Noche, with Patron XO, Baileys Irish Cream and Kahlua at Loteria Grill, $12. Skip dessert and go straight to the secret, off menu Espresso Noche cocktail at Loteria Grill and you won't be disappointed. This tequila-based drink has a clear and concise coffee flavor and smooth, supple texture that's like a caress for your mouth. Patron XO provides the caffeinated edge, while Irish cream and Kahlua deliver decadent sweetness.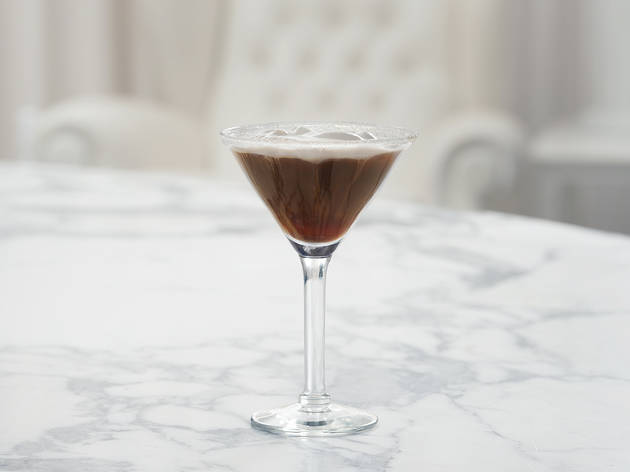 7/7
Photograph: Ryan Forbes
Spanish Coffee, with Spanish brandy, LAMill espresso and coffee, and cream at The Bazaar by José Andrés, $14. If José Andrés is involved in a cocktail, you know there's going to be a surprise. The Spanish Coffee served in the Patisserie at The Bazaar can stand as its own dessert—upon arrival, the scent of a chocolate orange dipped in coffee entices, but beneath the delicate foam is a cocktail that's actually slightly bitter and delivers quite a punch. LAMill coffee and espresso parlay with the brandy, but as the orange-sugar rim tinges the lips, the last sip ends sweetly after all.  
In a city full of fashion-forward coffee and Ph.D-level cocktails—well, sometimes two worlds collide and you actually can have it all. If "coffee cocktails" conjures images of your grandfather clutching a mug of Irish coffee in a haze of stale cigar smoke, then hold on to your fedora: This collection of LA's seven most delicious, buzzy and boozy drinks will open your mind (and palate) to some thrilling new delights. Whether you want to stay alert and let loose at a Downtown hotspot, or enjoy a caffeinated-meets-boozy brunch, these java-inspired swills have you covered.
RECOMMENDED: The best coffee shops in LA