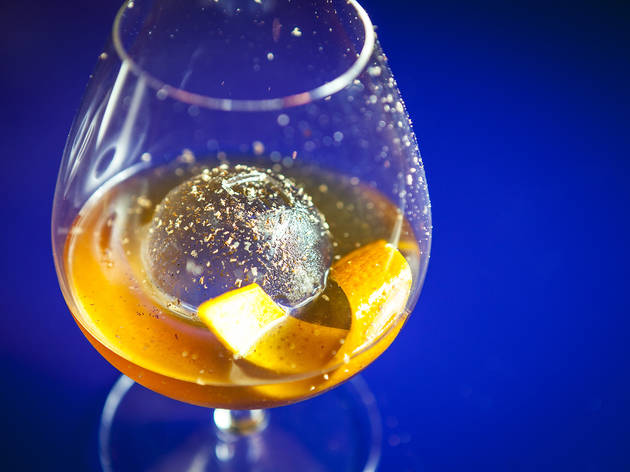 1/7
Photograph: Jakob N. Layman
Black Walnut Armagnac at Hakkasan ($188) Heriberto Lausell, head bartender at Hakkasan in Beverly Hills, can take months to research and execute a new cocktail. "When you make something from start to finish, that's your baby," he explains. At Hakkasan, his baby is the Black Walnut Armagnac ($188), which he created in November 2013. The 1967 Armagnac runs around $80 per shot and is coupled with vanilla bean, orange zest, sugar, freshly ground nutmeg and black walnut bitter. Also adding to the hefty price tag: Hakkasan's custom made ice balls featuring the restaurant's logo. While the drink, which tastes like a more sophisticated cousin of the Old Fashioned, has only been sold three times, it will be listed on the menu officially for the first time this spring. In the meantime, you can ask for it at the bar—Lausell is more than happy to show off his creation.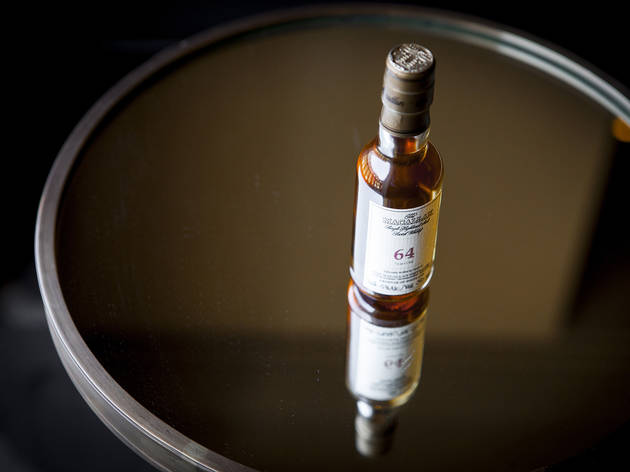 2/7
Photograph: Jakob N. Layman
Dram of The Macallan 64 at £10 ($64,000) Would you pay $64,000 for a little more than a teaspoon of scotch? The measurement of a dram operates on a sliding scale—at the Glenfiddich factory in Scotland, it once meant "enough of a taste to keep workers from stealing whiskey"—but a more common comparison is roughly a teaspoon. At £10, an intimate whiskey lounge above Scarpetta at the Montage Beverly Hills, a $64,000 dram of Macallan 64 sits locked in a safe (on a recent trip to see the rare whiskey, two security guards were on hand to display the liquor). The swanky lounge acquired the 64 at a Sotheby's auction in November 2010; while it is for sale, it's also hard to imagine £10 parting ways with the rarity. Can't afford the 64-year-old? The lounge has an extensive Macallan collection, starting with a 12 year Sherry Oak Macallan.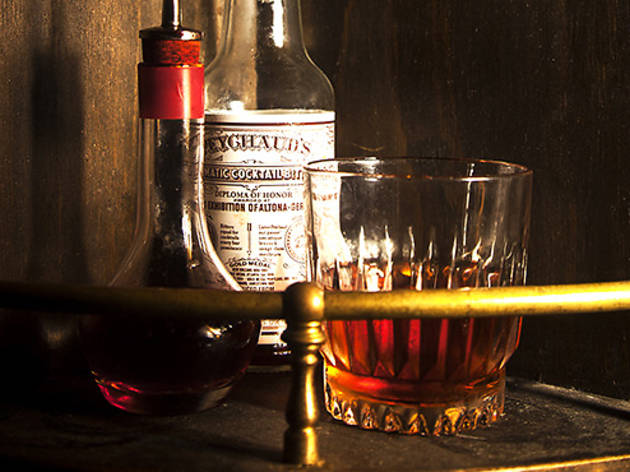 3/7
Photograph: Courtesy Pour Vous
Last Drop 1950 Sazerac at Pour Vous ($153) At $153, this cocktail is more affordable than some of the other drinks on our list—relatively speaking, of course. Part of its allure surely comes from sipping the cognac in Pour Vous' intoxicating Parisian lounge, where burlesque dancers twirl from the ceiling as couples cozy up in red velvet booths. Made with Last Drop 1950 Cognac (a vintage brandy from the Petite Champagne region), Pernod Absinthe, Peychaud's bitters, sugar and lemon peel oil, the classic New Orleans drink's hefty price tag is primarily a result of the brandy's limited production—only 478 bottles were released. Still, the cocktail is ordered one to three times per month. "Usually when someone wants something special...we suggest the Last Drop," says François Vera, Pour Vous' general manager. "Most of the time they'll just drink it straight, but here and there some will ask if the bartender can make something special with it, and we tend to recommend the Sazerac. It still allows you to taste the beauty of the spirit."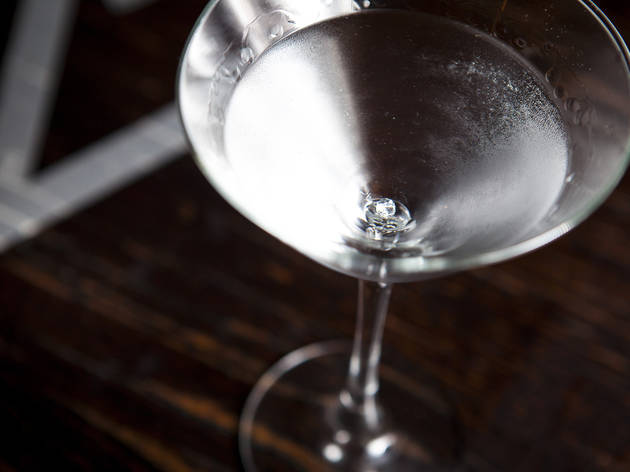 4/7
Photograph: Jakob N. Layman
$10,000 martini at Vaucluse When owners Brad and Claire Cox opened Vaucluse on Sunset Boulevard in January of this year, they imported a few of their signature cocktails made popular at their previous bar in Sydney, Australia. One of them, however, is a little more extravagant than the others: the $10,000 martini. "We sold 12 in Sydney," explains Brad. "We thought that in West Hollywood, it wouldn't be a hard sell." The concept is simple enough—choose any vodka to be poured into a martini glass and wait for a Raffi Jewelers representative to arrive with a briefcase holding a one carat diamond, which is then ceremoniously dropped into the glass. The Cox's are still waiting for their first customer.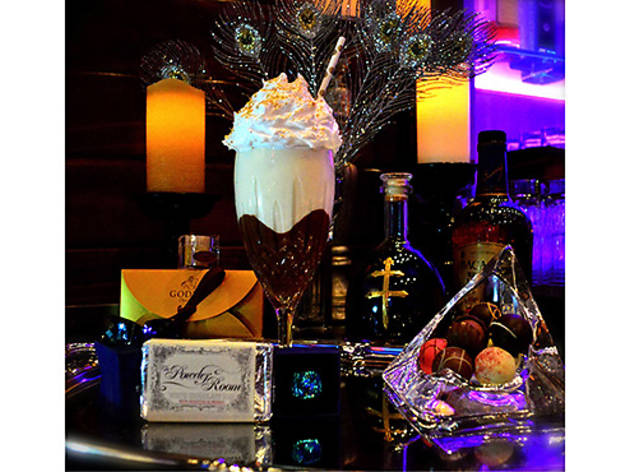 5/7
Photograph: Courtesy The Powder Room
The Velvet Goldmine at the Powder Room ($500) It may be the sweetest drink on our list, but that doesn't mean that The Velvet Goldmine, a $500 milkshake offered at the Powder Room in Hollywood, is any less blinged out. Bar owner John Araki wanted to create something that stood out in the crowd, and turned to Powder Room mixologist Adrian Biggs (formerly at No Vacancy) to help concoct the drink. What emerged was a Willy-Wonka-meets-Breakfast-at-Tiffany's mash-up: served in a crystal goblet, the milkshake uses ice cream from Neveux Artisan Creamery, Bacardi Reserva Limitada, D'USSE VSOP Cognac, dark chocolate ganache and elements of 23 karat edible gold. Oh, you want more? A Swarovski Nirvana Crystal ring tops off the glamorous treat (and is yours to take home). So far, only a handful of well-off sweethearts have purchased the shake (on Valentine's Day, no less), but we feel confident that this swanky beverage will continue bringing all the boys to the yard.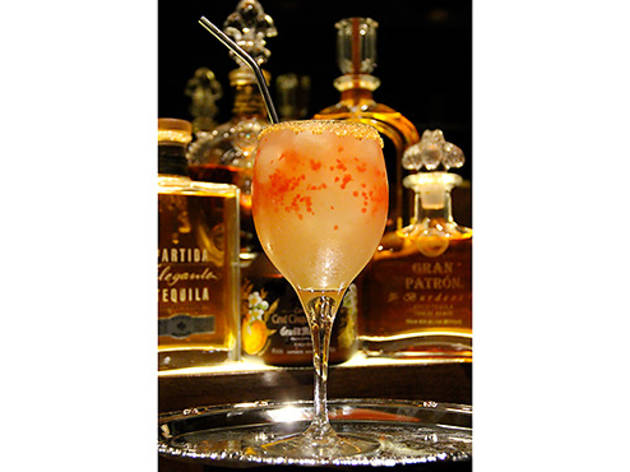 6/7
Photograph: Courtesy Red O
The Benjamin at Red O ($100) It's all about the Benjamins at Red O, West Hollywood's upscale Mexican restaurant by chef Rick Bayless. In this case, The Benjamin is Red O's $100 margarita. After a $40 version proved popular, bartender Steve Calabro created LA's most expensive margarita in 2011. So what's in this glitzy goblet? Three shots of tequila—Patron Burdelos, Herradura Selection Suprema and Partida Elegante—Gran Marnier Cuvee du Cent Cinquentanaire, blood orange caviar, homemade lime sorbet ice spheres and, oh yeah, a little Louis XIII Cognac to top it off. The glass rim is lined with golden kosher salt (such a thing exists), and the goblet is brought out on a silver platter with a stainless steel straw. Once available only on Fridays and Saturdays, the restaurant now serves up this pricey beverage every day of the week, selling between 10 and 20 each weekend.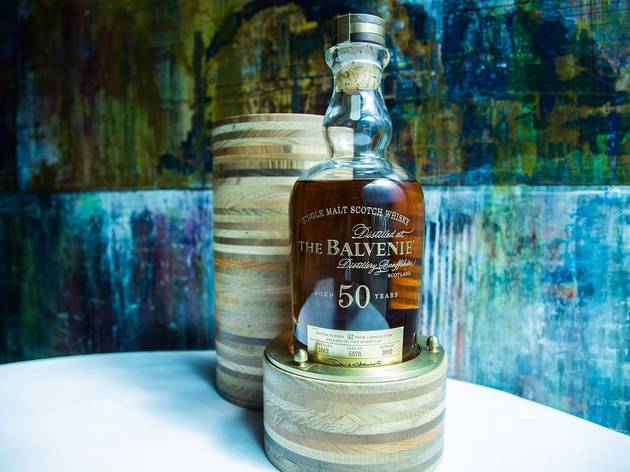 7/7
Photograph: Joshua Thaisen
The Balvenie Fifty Year Single Malt Scotch at Mastro's Penthouse ($30,000/bottle) How long would it take you to drink $4,000? As a shot, that chunk of change may be gone in seconds. At Mastro's Penthouse in Beverly Hills, a $31,000 bottle of The Balvenie Fifty sits on a shelf in all of its complex, woodsy glory. The 50-year-old scotch whiskey was barreled in 1962 in a European oak sherry hogshead—a rare occurrence in today's whiskey making process—and released as a single cask reserve late in 2011; only 88 bottles were produced. So what does a shot of this whiskey-for-the-one-percent taste like? Velvety and sweet, with notes of citrus, honey, spice and oak—but really, when you're spending that kind of dough, it tastes however you want it to taste.
7 drinks in LA that break the bank
Talk about liquid assets. Some of the most expensive drinks in the city involve diamonds, a security detail and edible gold.
There are drinks, and then there are drinks—and we're not just talking Belvedere martinis on a rooftop lounge. The cocktail bars (and one swanky whiskey bar) on our list offer some of LA's most expensive beverages, from a $100 margarita to a $64,000 dram of Macallan 64. If you're anything like us, you die a little inside every time you pay $15 for a whiskey sour and prefer cheap eats above all else. Save your dough and live a life of luxury through our slide show—a little window shopping never hurt anyone.
RECOMMENDED: Best restaurant secret menu items in LA

---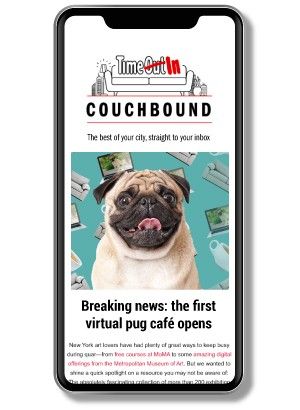 An email you'll actually love
Sign up to our Couchbound newsletter and bring the city to your sofa
Subscribe now