Gilbert Marquez wants you to drink more mezcal
The head bartender behind Santa Monica's new Tacoteca shares how even the most mezcal-averse can embrace this smoky spirit.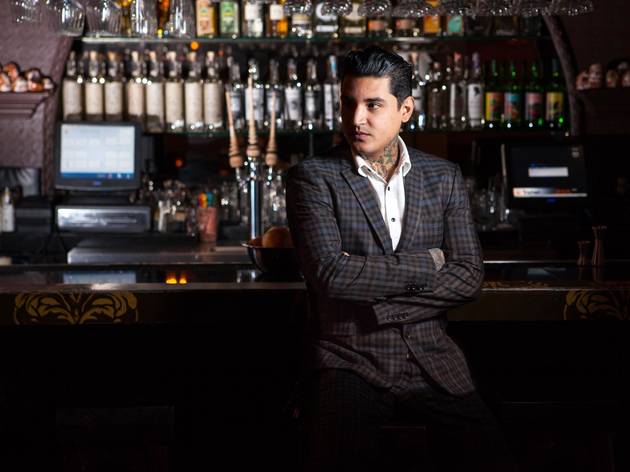 1/6
Photograph: Jakob N. Layman
Gilbert Marquez at Tacoteca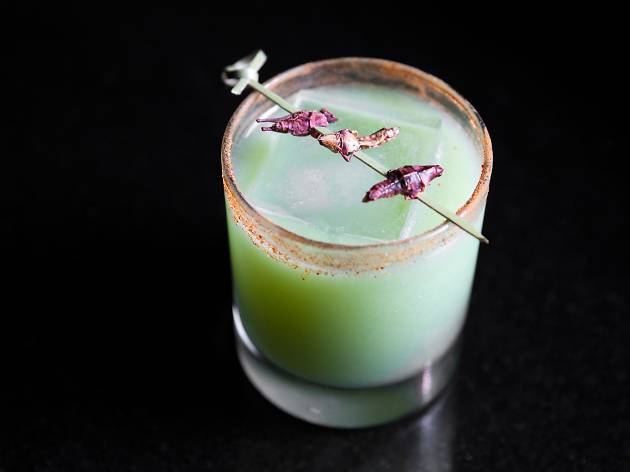 2/6
Photograph: Jakob N. Layman
Aguacatero at Tacoteca: mezcal, avocado, green Chartreuse and lime.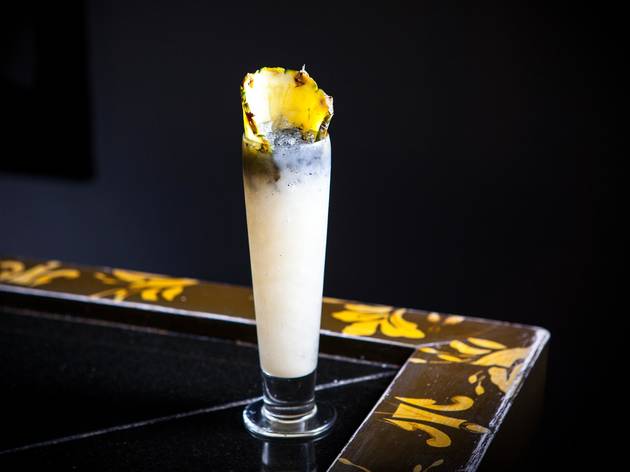 3/6
Photograph: Jakob N. Layman
La Bruxa at Tacoteca: japaneño-infused mezcal, banana, lime, cilantro and activated charcoal.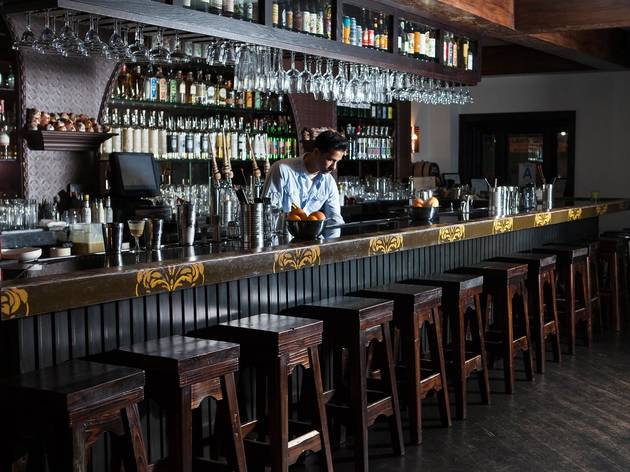 4/6
Photograph: Jakob N. Layman
Tacoteca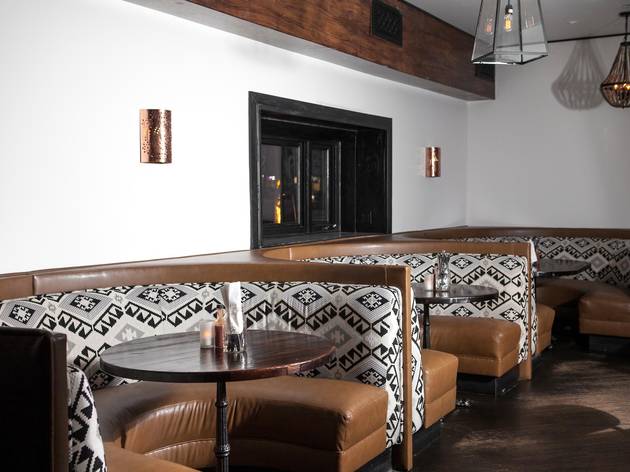 5/6
Photograph: Jakob N. Layman
Tacoteca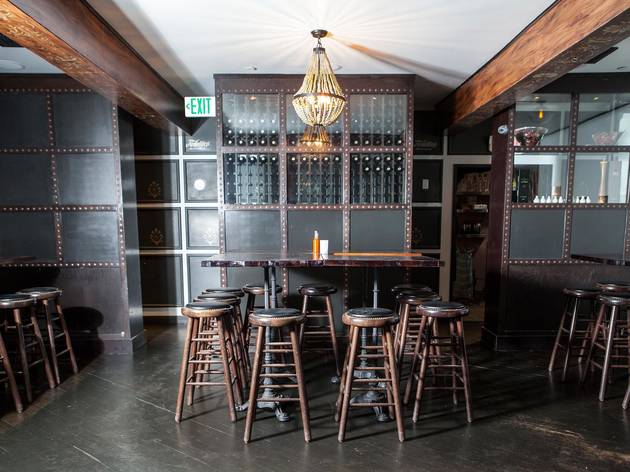 6/6
Photograph: Jakob N. Layman
Tacoteca
"We are not a taco and tequila place," says Gilbert Marquez one recent afternoon, tucked in a booth at the new Tacoteca in Santa Monica. Marquez, Tacoteca's head mixologist who also ran the bar programs at Mercado and El Carmen, is no stranger to tacos and tequila, but here it's all about the mezcal. A bar stocked with over 90 variations cranks out cocktails featuring active charcoal and herbs, or garnished with crickets or bubblegum. Marquez is hoping to make mezcal both intriguing and accessable, turning skeptics—myself included—into fans. I sat down with Marquez to talk about his strategy for bringing more mezcal to the people, and how he fell in love with the smoky spirit.
RECOMMENDED: Meet these LA bartenders
Time Out: When I first visited Tacoteca, I couldn't get over how good the cocktails were. I'm not a huge mezcal fan, but so many of the cocktails I tried here didn't have that super smoky flavor that I always associate with mezcal.
Gilbert Marquez: That's something that mezcal has struggled with since the beginning, because people tend to think of it as a smoke bomb. One of the things I teach the bartenders here is that not all mezcal is smoky. There are some people who come in and want that smoky flavor, and there are some that don't, so I teach them which ones to use. Generally, the [mezcal] that I taste on my trips to Oaxaca...are complex and have a kiss of smoke. That's what we're proud of, too—we get a lot of people in here that are like, "Oh I don't like mezcal," but they love the mezcal cocktail they're drinking.
Time Out: When did your love affair with mezcal begin?
GM: I started working in a speakeasy where I learned most of the classic drinks. I was also doing Aztec dancing [at the time]. I started learning more about the Aztec gods, including the Aztec goddess of maguey, which is where agave comes from. I drank mezcal for the first time in a very basic drink—it was a smoky margarita and I fell in love, oddly enough, with the smoky flavor, which is now something that I compete against as a bartender.
Time Out: If people have this preconceived idea of mezcal being smoky, what drink should they start with in order to really appreciate the spirit ?
GM: It's not so much the drink, but it's the type of mezcal. We have about 90 different types here...so you should start with a light-in-smoke mezcal. For mixers, I'm a big fan of tonic, quinine, Campari and, of course, lime juice—anything bitter. When you look at our cocktails, there's not a lot of amaros or other liqueurs from other countries. It's more focused on Southern Mexico, or even Southern California, because I feel that if it grows together, it goes together. But a spicy margarita or any savory cocktail works; the spice will mesh well with the smokiness.
Time Out: Tell me about your infused mezcals.
GM: They're called curados. They're traditional, in a sense. The men make the mezcal in Oaxaca, and will drink it raw, straight. The housewives would come up with household remedies that would make you feel better, like something for digestion. Rosemary is used to cure envy, so we have a cocktail that uses that. We have another cocktail that uses chiltepin, which is a chile from the north, with cinnamon, which is good for digestion and energy. It also tastes like Fireball, which is weird. But I know my [Santa Monica] market, and I know there's going to be a lot of people coming in at night asking for shots of Fireball, and I would rather give them that cocktail, which is a higher-proof mezcal infused with cinnamon and chiltepin. It's a lot more natural, too.
Time Out: Do you infuse your own mezcals at home?
GM: I do if I'm [participating in] cocktail competitions, but the mezcal that I have at home is so rare that I just drink it straight from the bottle. I'll open the bottle and I'll be reaching for a deli cup, and it just goes straight to my mouth.