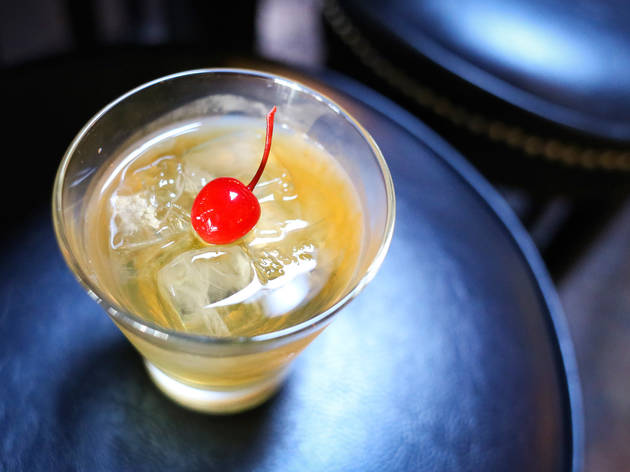 1/9
Photograph: Eugene Lee
The Mr. Furley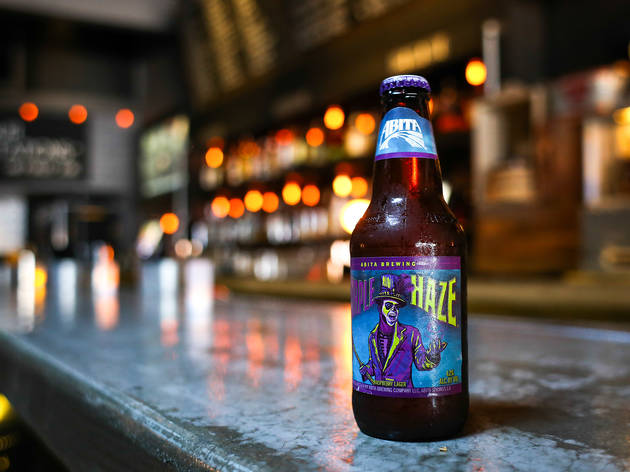 2/9
Photograph: Eugene Lee
Abita Purple Haze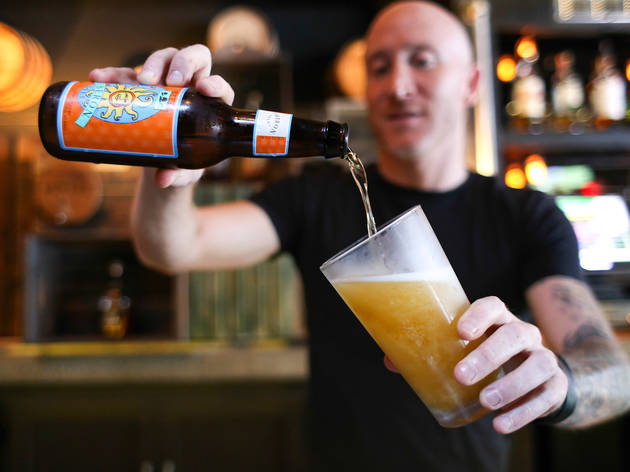 3/9
Photograph: Eugene Lee
Bell's Oberon Ale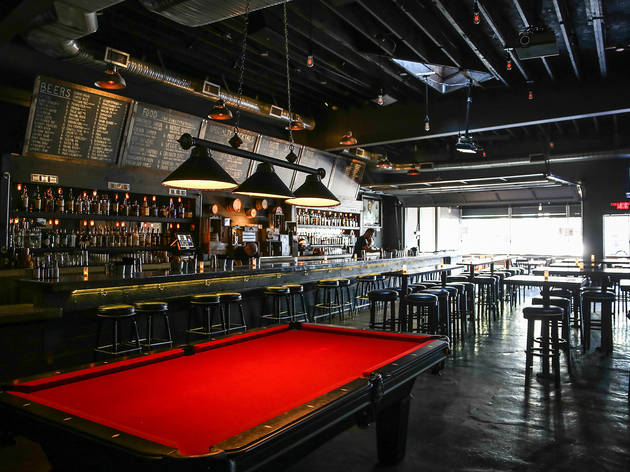 4/9
Photograph: Eugene Lee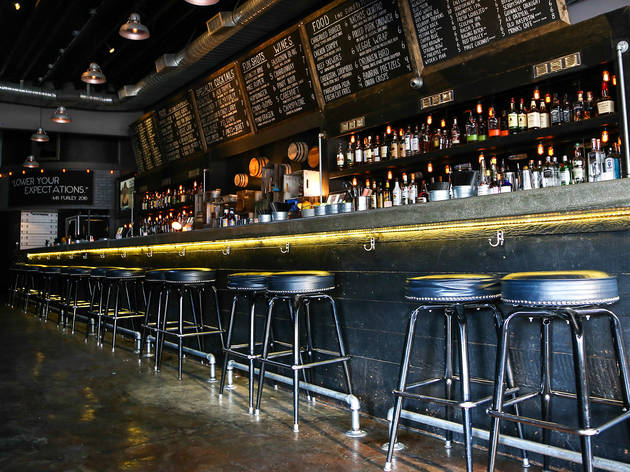 5/9
Photograph: Eugene Lee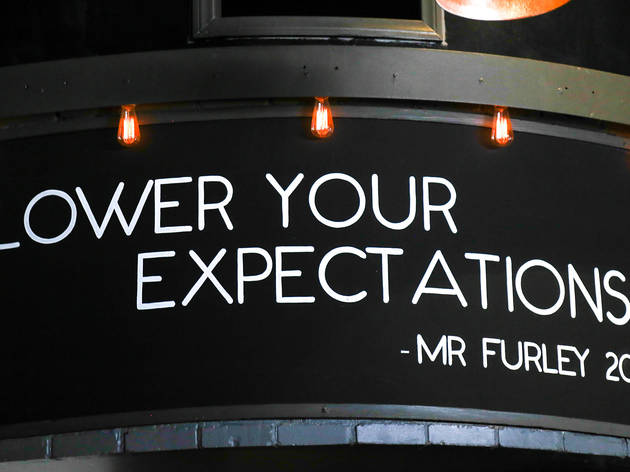 6/9
Photograph: Eugene Lee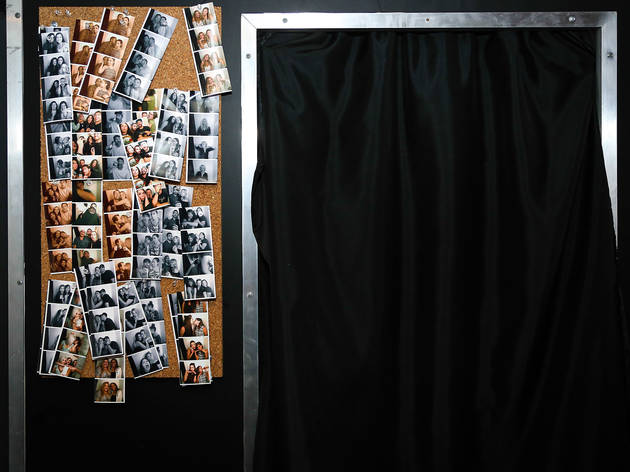 7/9
Photograph: Eugene Lee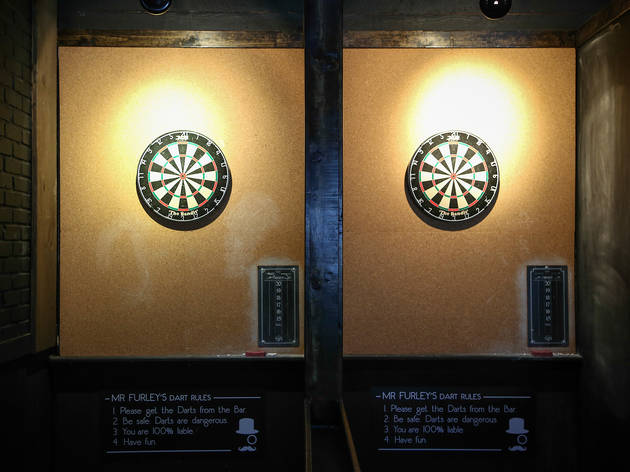 8/9
Photograph: Eugene Lee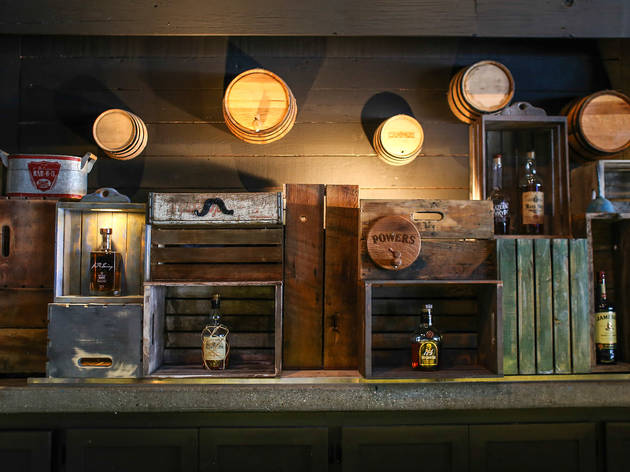 9/9
Photograph: Eugene Lee
If all you're expecting is cheap beer and darts, Mr. Furley's is good enough.
"Lower your expectations," reads a quote printed on the rear corner wall of Mr. Furley's Bar—attributed, apparently, to the great Mr. Furley himself, a mysterious character portrayed only by a top hat, monocle and mustache that comprises the bar's logo. Some patrons speculate that the cavernous, casual Sherman Oaks bar is named after a character in Three's Company—a theory stoked by the inclusion of drinks like the Regal Beagle and Dirty Chrissy on its cocktail menu. The bartenders, however, contend that the Mr. Furley in question actually refers to the owner's former neighbor in Pennsylvania, loosely described as "crazy as shit." Whoever he is, the important thing is that you heed his advice, because if you expect this place to be anything more than another high-capacity Ventura Boulevard drinking hole, you're setting yourself up for disappointment.
For a while, it seemed that the San Fernando Valley was on the up and up, with destination dining and drinking establishments like Tipple & Brine, Tunnel Bar, The Gadarene Swine and The Fiscal Agent riding a wave of innovation and refinement. Sadly, one by one, all of those places have since shuttered—one reason being that local interest couldn't match the mystique generated by outsiders. It seems that the Valley wants what the Valley wants, and what it wants is more of the same old formula. It doesn't matter what the name or meaning behind Mr. Furley's is. It's a large, unpretentious bar with cheap, strong drinks, a shot menu, a late happy hour and pool, darts and shuffleboard—and if that's what you expect, it's good enough.
Vitals
Good for: Marathon drinking with your roommates, Ventura Boulevard bar crawls, pre-25 birthday celebrations and any occasion that requires you and your friends to get drunk as quickly and cheaply as possible. To its credit, Mr. Furley's at least knows its audience, and it ticks all the right boxes in terms of getting the job done, including offering an affordable, tasty and starch-filled food menu to take the edge off its Fun Shots and placate late-night munchies.
The scene: Mr. Furley's feels a lot like a college bar, and the clientele, save for a few older guys in baseball caps, seems to reflect that. Most of the crowd appears to be in their early 20s—young, loud, full of energy and completely oblivious to the 70s sitcom references and the late 90s/early 00s alt-rock singles that make up the playlist.
Drink this: If you, like us, enjoy good cocktails and have come to expect a certain standard of craftsmanship and drinkability in the ones you order, we'd advise you to steer clear of them here. The alcohol-by-volume content seems to take priority over balance, flavor or even standard composition, so don't expect to play it safe even by sticking with a classic like a Moscow Mule ($8) or an old-fashioned ($7), which are sloppily-prepared representations of drinks that are so easy to get right. The Regal Beagle ($7) is essentially a gin and tonic with a slice of cucumber that barely registers, while the Mr. Furley ($7) is truly an abomination, combining bourbon, brown simple syrup and apple bitters with the subtlety of sucker punch. Your best bet is to go with beer, which, fortunately, Mr. Furley's offers in abundance. While there's oddly nothing available on tap, there's a wide selection of eclectic bottles and cans both domestic and foreign, like Bell's Oberon Ale ($6), A.V. Oatmeal Stout ($6), Franziskaner Hef ($5), Monk's Café Flemish Sour Ale ($8) and Abita Purple Haze fruit beer ($5). Of course, if you like Fireball or Apple Pucker, there's always the Fun Shots.
Our tip: If you're broke but still want to leave the house, go to Mr. Furley's for Happy Hour with three of your friends. Between 7 and 9pm, every three drinks purchased comes with a fourth one for free. By the time your friends figure out they've been conned, they'll be too drunk to care. Just do us all a favor and Uber, okay?
Venue name:
Mr. Furley's Bar
Contact:
Address:
14649 Ventura Blvd
Los Angeles


Opening hours:
Mon-Thu 7pm-2am; Fri-Sat 6pm-2am; Sun 7pm-2am
Do you own this business?